Successful Chatbots and How to Design Them

Chatbots are on everyone's lips right now. Media prophesize the soon-coming chatbot revolution in the way people interact with services and companies. With all the fuss around, it may seem that chatbot development is the next IT Klondike. However, launching a chatbot is one thing, but seeing it accomplish its business objectives is another. So, let us talk about successful chatbots, what they are made of, and how exactly they benefit their businesses. You will also learn the most popular chatbot development platforms and – the last but not the least – the chatbot development cost.
What's in the Name?
The broad definition of a chatbot is an AI conversation simulator. This is pretty much what most chatbots do – they maintain a textual conversation (chat) with the user. Of course, it`s not a meaningful conversation – although there are bots specifically designed for that purpose . In this article you will learn about those lightweight apps that live inside online messengers. The purpose of these bots is to deliver a product or service to the user. Such bots don't necessarily need to be overly sophisticated in order to succeed.
Benefits of Chatbots
How exactly are chatbots better than conventional websites or apps? Well, in most cases a chatbot will not replace a full-scale online service. But there are some unquestionable benefits of launching a chatbot, compared to the traditional user interaction methods.
 

Potentially enormous user base. Registration with a website or an app requires a certain amount of effort from the user. Furthermore, not every user is eager to share their personal data. A chatbot engages the user with one simple question, and instantly adds him to the user base. Launching a chatbot in WhatsApp or Telegram gives you a potential access to the whole 1.8 billion daily audience of these messengers' networks.

 

No installation required. Having to download and install a software, and even browsing a website to get to the desired goal can be a serious barrier for the user. A chatbot allows to skip the preliminary interaction, and get the user straight to what they need.

 

Chatbots are cross-platform. It really doesn't matter for a chatbot which device, or even which messaging platform is used. A well-designed bot will work in every environment with an equal success.

 

Lower production costs. You will close up on the financial aspect of chatbot development further in the article, but it is fairly obvious that expenses to develop and launch a chatbot are way less than for a website or app.
So, with all their benefits, how are the chatbots faring on the market right now?
State of the Market
The chatbot business is only roughly two years old, and it is still not fully fledged. Chatbots market was estimated at only $88.3 mln. in 2016, but it is expected to witness exponential growth during 2017 - 2022. Several major brands, such as Sephora, Uber, Bank of America, and Pizza Hut (just to name a few) are successfully implementing this technology, and by their example, a lot of smaller companies are likely to strive for their own chatbots very soon.
Within the next two years, we will most definitely witness the emergence of official chatbots for our favorite services and brands. This is already happening, although most users are not aware of the full interacting potential of popular bots. According to Ted Livingston , the founder of Kik, 'Messengers will come to be thought of as the new browsers, with chatbots being the new websites.'
If this is to happen, then we are indeed witnessing the birth of one of the most rapidly-growing markets in the history of IT. Let's see what instruments are available for chatbot development companies to design and launch a good product on this market today.
Top Chatbot Development Platforms
As per recent 2017 Chatbot Survey conducted by Mindbowser, there are five chatbot development frameworks that greatly surpass all others in popularity: IBM Watson, Wit.ai, Microsoft Bot, Chatfuel, and Pandorabots. Of all five, only IBM Watson has been on the market for more than two years, while the majority were launched not long ago.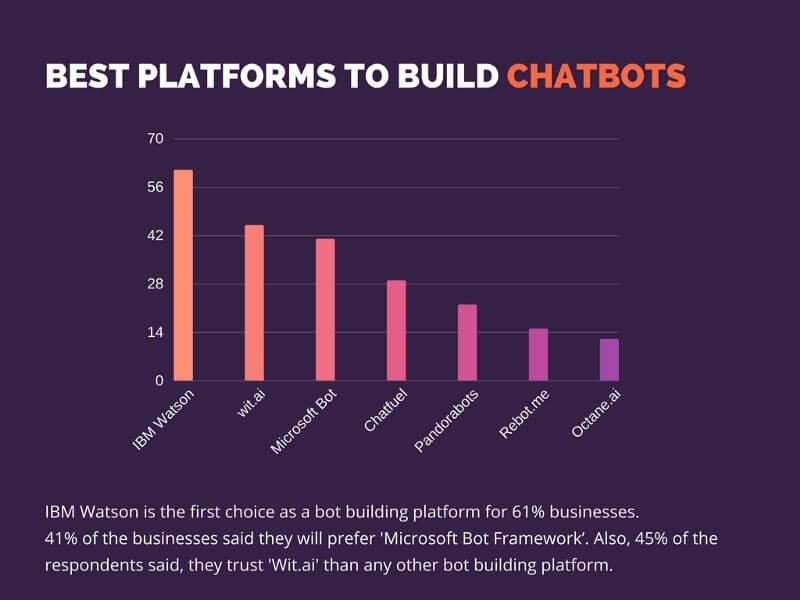 Image credit: Chatbots Journal
Which chatbot builder to use? Well, this depends greatly on two things: your level of skill with the platform, and what you want your chatbot to accomplish. For rookie developers, semi-professional Smooch or Botsify may suffice. If you only need your bot to work in a specific messenger, then you may try using native Facebook Messenger or Telegram Bot platforms.
Tips on Chatbot Design
But how to actually build a successful chatbot? Below are the most important aspects that a chatbot creator must take into account.
 

Define your goals and expectations. First, you have to ask yourself: 'How exactly will my bot help my user?' A conversational UI is one way of many to deliver what your customers need. Will your clients reach their goal faster and in a more simple way with the help of a chatbot than they would through a website or a hotline? If yes, then such chatbot is indeed worth designing.

 

Create a natural conversation flow. In a chatbot, conversation will be the only interface available to the user. This means that if the conversation cannot guide the user to their goal, nothing else will. That is why you have to design a series of simple dialogue chains, equally comprehensible to both the user and the bot. A good example of how to do this is portrayed by Yogesh Moorjani in his chatbot interaction guidelines.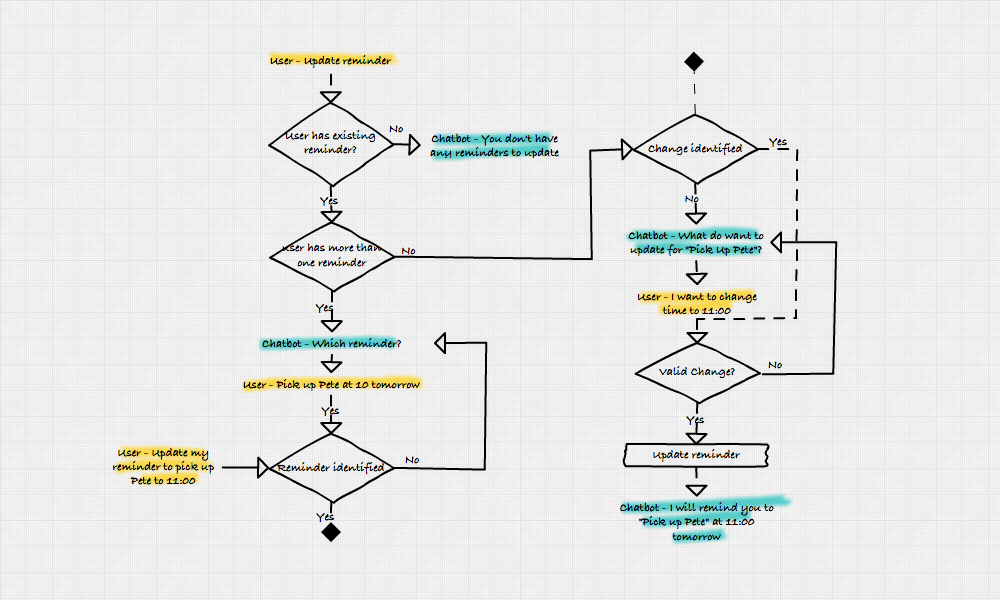 Image credit: Uxdesign
 

Choose your bot's features carefully. You want your bot to be lightweight and process user requests momentarily, don't you? Well, one of the ways to achieve that is not to overload the bot with excessive functionality. Define the list of goals your chatbot must achieve for the user, and then narrow down your features to the ones that help accomplish these goals. Everything else will probably just be a gimmick for the user.

 

Give your bot a personality. After dealing with an average pizza order chatbot, this fact may be hard to embrace - yet, Siri, Cortana, and Amazon Echo are basically chatbots, too. Of course, they are very sophisticated and can do many interesting things, but one of the reasons people love using them is that they have distinct personalities. Put some effort into writing a set of catchy phrases and memorable greetings, which will distinguish your bot from many others of its kind.

 

Treat your bot as a customer service tool. What many companies will do - and are already doing - is launching a chatbot just because it's cool. It is similar to what happened to websites a decade ago. Having one was a sign of status, but no one really knew what to do with them. Chatbots are the new websites. Build them with a clear strategy in mind, and treat them not as online presenters, but a full-fledged commercial tool.

 

Evaluate and optimize your bot regularly. The whole success story of chatbots is based on constant AI 'educating'. No matter how well you have designed your bot, you are never able to predict how every user will interact with it. What phrases they might use. What questions they might ask. That is why it's crucial to keep track on your bot's performance, identify user interaction patterns and optimize your service on the go.
There is one more chatbot design tip, which will be useful for those who wish to stay on this market long-term: ecommerce platform optimization. Marketers predict that at some point chatbots may turn into a primary means of paying for something online. But chatbots for ecommerce is quite a broad topic to cover, so we will leave it for another article.
Growth Strategies (with Actual Chatbot Examples)
Building a chatbot is nothing compared to attracting actual users to it. According to Botanalytics, 40% of average chatbot users churn after a single interaction. With dozens of bots launching every day, what growth strategies distinguish successful ones from useless?
Below we underlined the seven most business-driving strategies for newly launched chatbots. We also provided some good examples of chatbots that already benefit from these strategies.
Embrace existing customers
Poncho and TheScore instantly integrated their freshly released chatbots into their Facebook follower databases. Every time a user logs in to their website or app via Facebook, they are presented with the option to use a chatbot. In such a manner, you can build an audience for a new interaction method with people who are already using your service.
Advertise 'outside-the-box'
It is also a good idea to suggest your chatbot to broader audiences. The success story of Mitsuku - one of the most popular 'chit-chat' bots today - began with being a fun add-on on a music website. Eventually, the chatbot popularity surpassed that of the website itself. Thinking of unconventional places to advertise your chatbot may get you users who would never be attracted with traditional approach.
Educate users
Despite IT industry's craze over chatbots, it appears that ordinary people still don't really know how to interact with them. Swelly, a community polling bot, has tried aggressive advertising, but came to the conclusion that it is counterproductive, if users don't know what to expect from the bot. Instead, Swelly started to work with YouTube influencers, and skyrocketed from zero to 800k users in less than three months. People who converted from influencer videos came in educated on Swelly's functionality, and were excited to engage.
Facilitate response speed by limiting options
1-800-Flowers chatbot initially used an open input for delivery selection date. However, this method was proven to increase the number of failed transactions due to simple input errors. So, they eventually limited the options suggested by the bot to three: Today, Tomorrow, or three days from now. It may seem that such scheme leaves the user with less options. But the number of successful transactions actually increased! Sometimes, the less choice, the better, and limiting the options can lead to engagement boosts.
Update and furnish to retain users
User retention is the key to business success. Poncho's engagement tactics includes continuous testing and optimization of language, onboarding, and notifications. Writers have simplified the language and minimized slang, which led to engagement of international users. Think of potential difficulties your target audience may experience when using your bot, and try eliminating these barriers.
Adapt to feedback
An average Swelly user uses the bot three times a day and votes over 600 times in total. This has been achieved by the QA's reacting to user feedback, and timely implementing critical improvements. Fast user engagement automatically promoted Swelly bot to Facebook's featured list. And being featured, in turn, drives thousands of new users per day.
Share the knowledge
Chatbot onboarding remains an industry-wide problem. People are familiar with conversational interfaces, but they are clueless how to communicate their goal to a bot. "We need everybody to jump on bots so customers learn how they work," says Jon Mandell, Marketing VP at 1-800 Flowers. "The community will only truly thrive when bots become mainstream", he adds. It is important to share chatbot basics not only with your potential customers, but across all players in your industry as well. The broader the network, the bigger the customer awareness.
Chatbot Development Cost
Firstly, and most obviously, you can turn to a software development company. (For instance, Apiko team offers it as an inalienable feature for the web and mobile marketplace development). This is the most costly option, both in terms of money and time. However, the advantage here is that you will get continuous support, and the bot will be able to expand to new messaging platforms quickly. Expect to spend a minimum of $5,000 - $10,000 per bot, if you seek professional chatbot design.
Secondly, you can set up an in-house development team. This is only advisable to large and tech-savvy businesses who wish to 'keep it in the family', because the costs here are even higher.
And finally, there are these popular self-service platforms, where you can design your bot with your bare hands. Here is where things get confusing. Due to the market immaturity, there seems to be no standardized pricing approach. We have sampled the business models of three DIY-type chatbot development platforms, which currently offer the following:
 

$19/month for 15 bots and a maximum of 2500 interactions. The question here is how to estimate the number of interactions. If an interaction is simply suggesting the bot to the user, then it doesn't accomplish anything.

 

$50/month for 25 bots and maximum of 20,000 messages. With this option you're paying more per bot than in option A, but significantly less per message. But does one message equal one interaction?

 

$29.99/month, 1 bot, maximum 1000 users. So, does it mean that user cap is reached, people will not be able to find the bot on the marketplace?
As you can see, these price models produce more questions than answers. But one thing is for sure - DIY platforms are the cheapest way to build a chatbot.
Conclusions
Whichever instrument or method you choose, remember that building a bot is not even half of the process. In order to make it successful, you have to get it spread out, distributed, optimized, and monetized. A true full service would be one that makes your business successful through instant messaging, provides value to consumers and constantly improves itself by mining the data. Today, chatbot development market is so fresh that you can only rely on yourself to oversee such a complex process. If you invest your time and effort in building something of a great value, people will know very quickly how much they want — and should — pay for it.