Apiko's ESG research: the outcomes
Over a year of extensive research allowed Apiko Team to spot the most common ESG reporting challenges, and to better understand our clients' needs.
Location covered: Europe and North America
Companies average size: 1000 employees
Number of the employees contacted: 8300+
Number of video calls with the ESG managers and consultants: 190+
The main challenges of ESG reporting
Time
"I'm constantly running after people to get the invoices for ESG reports"
Need to validate data
"I need to check if the data is correct by comparing it to the previous data"
Cost
"We hired a manager to collect data and prepare reports"
Lack of understanding
"I'm constantly running after people to get the invoices for ESG reports"
No unified standards
"There are no ESG standards at the moment, and everyone uses a different framework"
Scope 3 emissions
"We can't properly estimate Scope 3 emissions, because we don't have all the data we need from our suppliers"
Scopes of emissions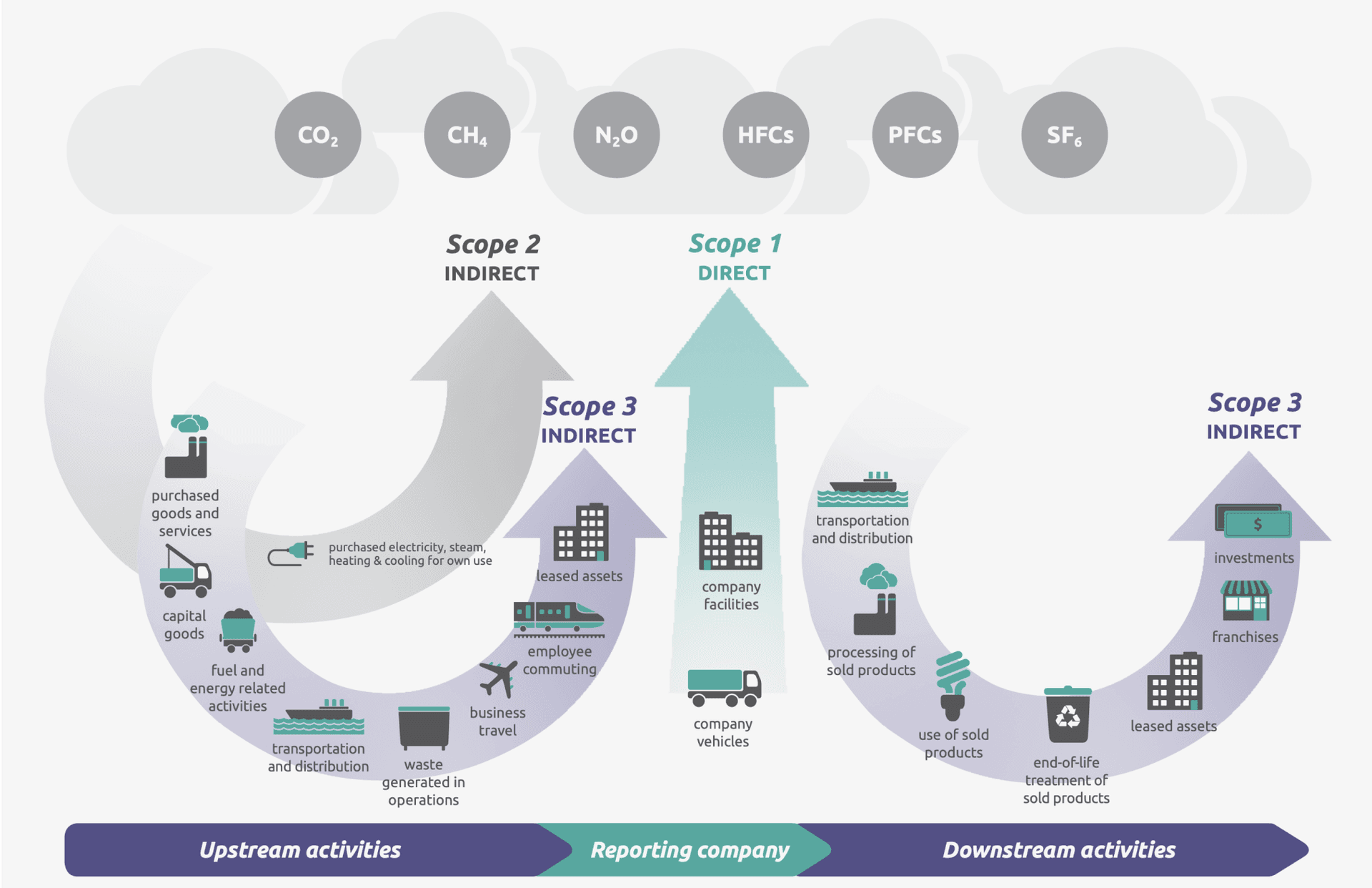 Source: Greenhouse Gas Protocol
The defined three scopes cover the emissions produced during the whole product lifecycle, from the product's design and pre-processing, through its actual creation, and to exploitation and utilization. While the direct company emissions and the purchased electricity and natural resources (scopes 1 and 2) are relatively easy to calculate, the data disclosing the emissions produced by third-party supply chain members (scope 3) is challenging to collect and validate.
Digital tools used for ESG
50%
Excel
Small & Medium businesses
Pros:
Enough when company is in the beginning of it's ESG journey
Cons:
Lacks customization, error prone
45%
Off-the-shelf tools
Small & Medium businesses
Pros:
There are products for every need Great for improving established processes of data collecting & reporting
Cons:
Lack customization and can be eventually outgrown
5%
Custom-made ESG software
Large & Corporate businesses
Pros:
Tailored to cover all your business needs
Cons:
Lack customization and can be eventually outgrown
Why to choose ESG services
Collect, Validate, Calculate, Foresee & Communicate with ease: save time, cost and effort while reaching your business sustainability goals!
Define measurable ESG KPIs for your business and automate their monitoring
Streamline the workflow for ESG data collecting and validation
Ensure ESG compliance. The regulations include
Global Reporting Initiative (GRI)

Greenhouse Gas Protocol (GHG Protocol)

Carbon Disclosure Project (CDP)

Sustainability Accounting Standards Board (SASB) standards

Corporate Sustainability Reporting Directive (CSRD EU), and others
Use data-driven approach to plan sustainable development strategy
Reduce ecological footprint
Leverage sustainability communication to increase trust and respect of customers, investors, and employees
Optimize the workflow for ESG commitments
Investigate different ESG roles and their responsibilities within your company. Talk to your employees to find out what processes are the most troublesome or causing dysfunctions. Create a software solution with multiple user roles tailored to your needs to provide just the right functionality for streamlining the ESG processes workflow.
Implement data-driven decision making
Determine the problematic ESG areas of your business and build a reasoned feasible strategy for their improvement. Automated measuring and monitoring of the defined ESG KPIs allow analyzing the dynamics of their change over time. Use the collected data to optimize the business processes and supply chain, and to get your company on the sustainable growth track.
Gain convincing clarity and transparency
Leverage the automatic generation of ESG reports to get an informative and explicit data-based summary of your environmental, social and governance efforts. Level up your

sustainability communications

by strengthening your messages with the corresponding evidence of significant actions.
ESG software features
Multi-user architecture
Provide the personnel with software functionality that directly corresponds to the ESG processes they are involved in. User roles may include but are not limited to operational managers, third-party ESG data providers, sustainability managers, etc.
Emission factors list customization
Keep track only of the emission factors that occur along your supply chain. Easily add, delete or prioritize them to get the most comprehensive and on-point ESG insights.
Data integration from all structural units of a company
Recreate your organization's structure within the ESG software to collect the data from each unit of your company.
Tasks management system
Split the ESG activities into smaller stages, e.g. data submission and validation, reports submission, etc., and assign the related tasks to the employees. Benefit from comprehensive functionality
Tasks templates for recurring activities

Tasks search and filtering by their type, status (current, upcoming or expired tasks), name of a person responsible for the task completion, etc.

Document attachments, e.g. for the invoices on electricity and other resources consumption

Ability to leave related notes and comments, and much more.
Agile dashboard
Check your company's most recent ESG metrics, tasks progress, or reach out for the historical data whenever you'd like: with an agile dashboard they are always at your fingertips. Select which KPIs should be shown simultaneously for more comprehensive ESG processes analysis. Monitor how the actions your company takes impact its product footprint, quality and cost to refine your ESG strategy.
Automated ESG data submission and validation
Submit the necessary ESG data and validate it within a few seconds. By automatic comparison of the new entries to historical ESG data, and with access to the related comments you can quickly make sure that the data one enters is correct. Enable data submission via a mobile interface for more convenience.
Comprehensive reporting
Split the ESG activities into smaller stages, e.g. data submission and validation, reports submission, etc., and assign the related tasks to the employees. Benefit from comprehensive functionality
Shape and strengthen your business strategy with data-driven decisions

Make the most of automating ESG communication and providing the stakeholders with the clear and informative summary of your activities and resulting ESG KPIs.
Check out the ESG software demo
Take a look at a simple solution for complicated problems
Software development workflow at Apiko
Here is how we develop your project
Your application development
Apiko is all about predictable software engineering. Before starting a project, our experts conduct direct, so-called ping-pong communication with you to picture the business logic and all respective ESG software requirements. We outline the scope of work needed to accomplish all your goals, and make a ballpark estimate of the project.
Technical planning and UX/UI development
Apiko Project Manager and Tech Lead define the required technology stack and application architecture to deliver an outstanding product within your budget. They also spot possible risks and foresee the ways of their minimization. UX/UI Designer and Business Analyst work together to define key user stories, and create the app wireframes and clickable prototypes for main user flows.
The result of discovery phase
Project discovery phase is an essential part of ESG services which assures you build a reliable foundation for your digital solution. As a result, you'll eliminate risks such as lack of usability or unexpected expenses. Moreover, you'll come up with a well-planned strategy, fully-developed software requirements specification, DevOps plan, ready-to-go wireframes and UX/UI design, and accurate, professional estimation of your project.
ESG services
Entrust Apiko the implementation of ESG best practices to discover and fulfill your sustainable business growth potential. We visualize ESG KPIs for their efficient analysis, and design the software solutions suitable for your company to
Facilitate reporting and sustainability communication by automated monitoring of ESG KPIs, building customized reports templates, and more

Increase your business processes efficiency

Cut down resources consumption and waste

Minimize production costs without compromising on the quality of your product

Get alerts if any anomalies are detected

Set further achievable sustainability strategy benchmarks

Increase your company's competitiveness and strengthen its position on the market.
As a result, you will reduce the ecological footprint of your company without affecting the product quality. Drive business value while reaching your ESG goals with a well thought-through sustainability strategy. The following software solutions may come in handy.
Carbon accounting software
Calculation of carbon emissions is a complex and time-consuming process, often taking more than 6 months for its completion. With automatic emissions measurements and calculations it's possible to reduce this procedure duration and cost in a few times, while getting accurate and comprehensive data.
GHG emissions management software
Define the pollutants contributing to the greenhouse gas emissions within your supply chain. Set up their automatic monitoring and measurements. Customize the metrics prioritization for enhancing data-driven decision making.
Predictive emissions monitoring system (PEMS)
Use both ongoing monitoring and statistical methods applied to the obtained data to predict the future emissions of the currently established manufacturing process. Get alerts when the system forecasts approaching critical levels of caused pollution to take timely measures for this scenario prevention. Build your sustainability strategy based con efficient and predictive ESG data analysis.
Waste management software
Track the whole waste life cycle within your enterprise, from its generation to recycling or disposal. Ensure a safe working environment and ESG compliance by implementing and streamlining a wise waste management strategy.
Reliable tech stack for advanced ESG solutions
For custom ESG software development we use only the proven technologies