GHG Emissions Management Software: How to Effectively Calculate, Track, and Report Carbon Emissions Data

With climate change on our hands, we have to protect our planet for the next generation. Just imagine, according to the WHO, its negative consequences such as pollution, ultraviolet radiation, and chemical exposure are the cause of deaths of about 12,6 million people annually.
All these are a direct reflection of the earth's rising temperature which is caused by greenhouse gasses or GHG (such as carbon dioxide).
How can we cope with this threat?
The answer is both simple and yet needs a complex approach. We need to conduct the decarbonization of the atmosphere and aim for carbon-zero emissions by employing the ESG tracking (environmental, social, and governance) in all business processes.
Many countries have already started implementing regulations and related policies at the governmental level. That is why global businesses that still haven't adapted their operations and implemented carbon accounting software won't be able to function properly.
What is more, 81% of consumers prefer dealing with businesses that protect the environment, making it crucial for companies to meet this need and implement a greenhouse gasses calculation and reporting system.
So, what is GHG emissions management software?
GHG management software is designed to effectively help businesses of all sizes to accurately measure and record their emission level. It can be used to inform stakeholders about the current situation or when planning your own business sustainability strategies. It also helps better manage and find useful insights on how to reduce your operational carbon footprint.
The rise in popularity of GHG emission management software among businesses is undeniable. Just imagine, its global market was estimated at $10,4 billion in 2020 and is expected to grow up to $43 billion in 2030. Sounds like a great deal, right?
GHG protocol: why is it important?
There is great responsibility on businesses to measure and reduce their emissions, especially those in the transport, energy, and industrial sectors. To do this effectively, companies need to use widely-accepted standards such as the GHG protocol. Its use will help businesses to meet stakeholders needs as well as be recognized for their transparency, accountability, and climate leadership.
The main part of the GHG protocol is differentiating between emissions that companies control directly and indirectly. The protocol categorizes emissions into three categories - Scope 1, 2, and 3 emissions - to help guide businesses on how to effectively track and manage their emissions.
Scope 1. This type of GHG emissions is caused by the sources owned or directly controlled by an organization. Scope 1 emissions are the result of industrial processes, on-site manufacturing, vehicles owned by the firm, as well as burning fossil fuels to produce electricity, among others.
Scope 2. These greenhouse gas emissions are caused indirectly by a company by consuming purchased energy, such as electricity, heating, or cooling, needed to run operations. Tracking Scope 2 emissions is important because nearly 40% of global GHG emissions can be traced to energy generation, and half of that energy is utilized by industrial or commercial organizations.
Scope 3. Until recently, most organizations have been concentrating on keeping track of emissions from their own operations and electricity consumption, which are included in Scope 1 and Scope 2.  However, all the emissions a company causes indirectly, outside of its own walls - from buying products from its suppliers, business travel to the disposal of the products it sells - are just as important. Scope 3 emissions are usually the hardest to calculate as they are produced by a third party.
Sticking to the GHG protocol in business emissions management streamlines compliance, helps to improve transparency with public reporting, and boosts companies' understanding of their carbon footprint and potential opportunities of its reduction.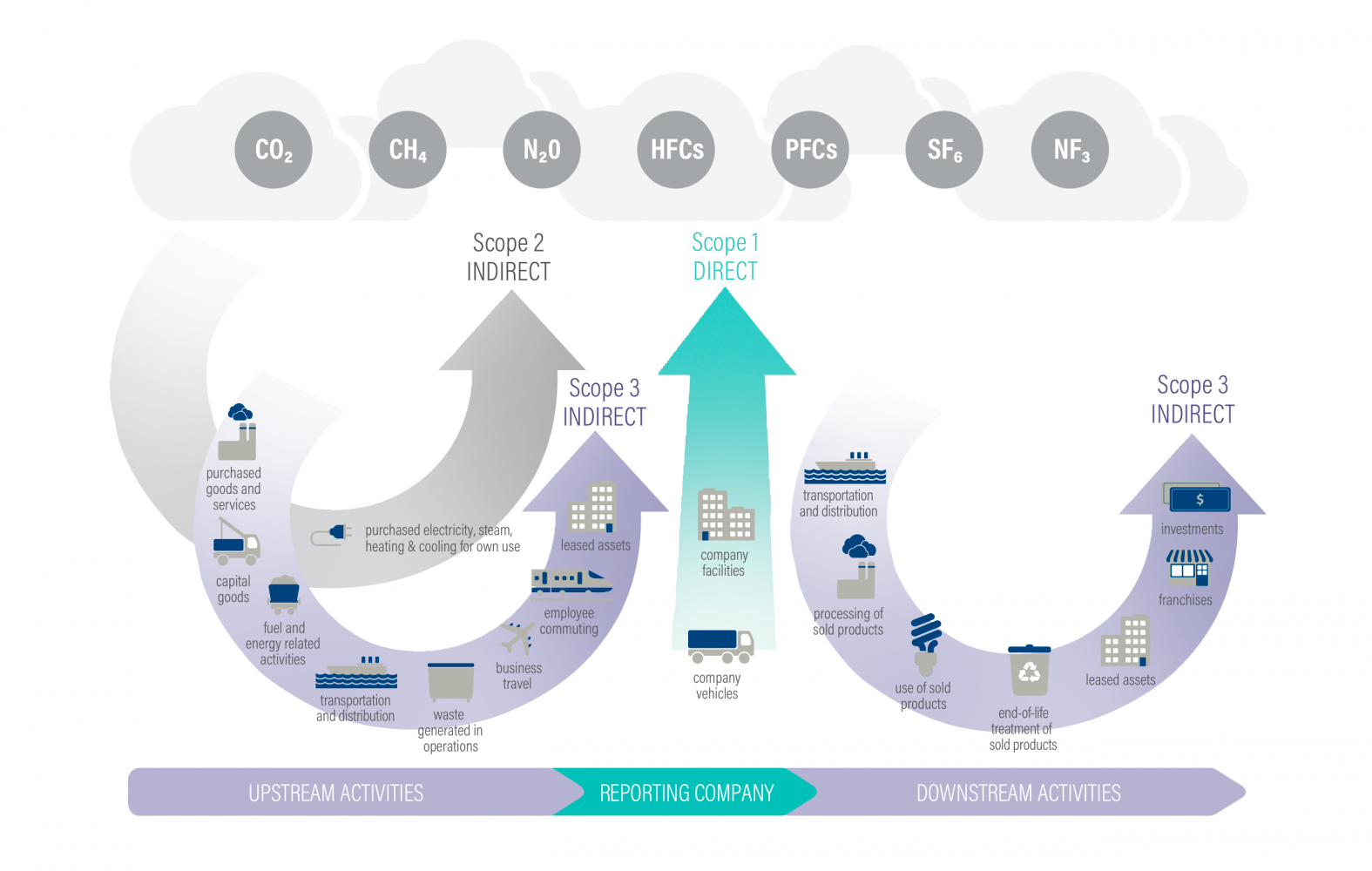 Source: World Resources Institute
Reasons to use GHG reporting management software
Environmental consciousness has become a crucial factor for both customers and investors. While people around the world are looking for companies that they can trust and that share common values, investors are searching for transparency in operations and strong ESG policies among businesses. So, there is no surprise that ESG investing has become extremely popular among environmentally conscious people. 
A study made by Allianz back in 2019, stated that 73% of Americans consider the presence of carbon footprint tracking when choosing where to invest their money while 71% will stop any investment if they find out they deal with a business that doesn't care about the environment. Among the key reasons why they choose a certain company for investments are:
Company's transparency about all the business operations and finances 

Safe environment for all employees 

Conservation of natural assets  

High-quality health insurance for employees
If you opt for carbon software and start tracking your greenhouse gas emission level to reduce carbon footprint, you make your contribution to the global sustainable development goals. And, if every company, even the small one, in your city or your industry starts doing the same, your overall impact will be huge. 
Off-the-shelf vs custom-made GHG reporting management software
At Apiko, we do know how difficult it is to find the right software and choose between buying an off-the-shelf or custom-made solution. Many companies stumble upon these two options, not knowing which one will suit their needs better. So, let's figure this out together. 
Of course, both of the options have their pros and cons. Here, we will review each type of software and present you with all the pluses and minuses of each variant so that you can form your own unbiased opinion.
But let's start with definitions.
Any custom software is designed to solve unique business challenges. Whether you want to integrate your GHG reporting management software with your whole business ecosystem or start a completely new system, custom development has got you covered. 
To create such software from scratch, you hire a dedicated team of developers with wide expertise in this field who will build GHG software based on your requirements exclusively. Project managers and developers study the list of needed functions and features provided by you and find the best ways to implement them during the development process. 
Off-the-shelf software is already built GHG software ready for public use. Such software can be easily implemented just as it is, without any customization. Besides, it usually doesn't require a tech team for its deployment, either.  
Now that you know what both options are, let's have a look at their key differences.
Implementation time
When you employ custom-made solutions, this process usually takes more time than ready-to-use ones. However, this time is needed to make your system best fitted to your requirements. Such software is built from scratch, that is why the implementation process also requires a testing stage to find out all the issues and solve them professionally. 
On the contrary, off-the-shelf software comes with predefined functionality and what you need to do is simply decide on the needed features, install this software, and configure it. Usually, the process of implementation of such software is pretty straightforward and fast. However, not all ready-made solutions can be integrated into your already existing business ecosystem. In this case, custom-made ones are more flexible and adjustable. 
Budget
The upfront price of the custom-made solutions is quite expensive as you also need to cover the costs for developers and QAs. 
Ready-to-use solutions often have subscription fees that are much cheaper. However, you should keep in mind the fact that these fees tend to increase over time. Plus, if you think of expanding your company in the future, you may need to buy extra features. When you pile up all the extra spending you get in the long run, the sum you need to spend monthly can become quite large. 
Functionality
Probably one of the main differences between custom and ready-made software lies in their functionality after deployment. Custom solutions allow you to easily adjust the system to your business needs in the future while off-the-shelf ones come with a limited set of features. 
The same goes for integrations. If you choose ready-made solutions, you may face the issue of lacking the necessary integration options, so you won't be able to connect your GHG reporting management system to your existing databases and software.
If we summarize all the advantages and disadvantages, the whole picture we get will look like this:
Pros and cons of custom GHG reporting management software
Pros 
Adaptation:

when you opt for custom software, it means you can completely adapt it to your exact business requirements. Besides, you are directly involved in the process of its deployment, so you may think of the needed functionality and extra features on the go and the development team will make them live. 
Total ownership:

with custom GHG reporting management software, you get total ownership of the software you get. This means that you do not need to rely on any third parties. And no ongoing subscription fees are just a cherry on top. 
Competitive advantage:

with custom solutions, you get maximum productivity due to the unique set of features and can better meet the requirements of your customers or markets. 
Cons
Resource consumptions:

when you develop a custom GHG management software, you need to find a reliable development team and testers that will do all the heavy lifting for you. Besides, depending on the complexity of the project, the whole development process may take some months. 
Upfront investments:

although the upfront costs of the custom solutions are quite high, they will pay off in the long run as you do not need to pay any fees in the future.  
Pros and cons of off-the-shelf GHG reporting management software
Pros
Fast implementation:

buying off-the-shelf software means that you can start using their functions just right after the installation, which is pretty fast and does not require a tech team oftentimes. However, mostly, you get a basic set of features and pay for more advanced features if you need them later. 
Lower initial price:

this is a much cheaper option than developing software from scratch. 
Cons
Lack of needed features:

when you are deciding on choosing ready-made software, always consider whether the existing set of features will fit all your business needs. Otherwise, you will only waste your money or extra features will cost you a fortune. 
No scalability:

are you going to scale your business in the nearest future? Or do you need a flexible solution with lots of integration options? Then off-the-shelf software is not your perfect fit. 
Extra spending:

any extra features and extensions will cost you money. Besides, for their implementation, you most likely will need an expert who will look under the hood of your software and change it if it is possible. 
Key features of carbon emissions management software 
Today, you can find numerous variants of emissions management software (or simply EMS) on the market. Their main features and functionality vary according to the business needs and industry. 
Some of them are quite basic (like emission tracking and data analysis) and can be found in many EMSs. Usually, those are ready-made solutions. 
However, if you need a more robust system that prioritizes supply chain emissions tracking and management, basic options won't work for you. In this case, your go-to option will be developing software from scratch and choosing the needed functionality yourself.
Above is just an example of how your GHG emissions management software may look like and what features it may include, created by designers and a business analyst at Apiko. 
What you may find most useful when choosing or building carbon emissions management software are:
Advanced GHG emissions reporting & analytics:

emissions data, smart and detailed analytics, and reporting according to the GHG protocol for any EMS. With the received data and metrics, you will be able to better set your business goals and benchmarks, measure your performance and productivity as well as manage any changes to make your business ecosystem more sustainable and aligned with the requirements of both customers and investors. 
Relevant industry expertise:

choosing an EMS provider with relevant industry expertise is a must today. Before buying sustainability management software, study both the founder and the team to find out whether they are what you need.
Target setting & progress tracking:

GHG reporting management software allows you to conduct efficient strategic planning and decision-making processes through data collection, analysis, progress tracking, and sustainability reporting. Besides, by analyzing the historical data, you will be able to better predict the future and set the right business targets. 
Are you ready to employ your first GHG management software? Learn how our tech experts can help you accelerate your GHG tracking and reporting efforts.