What Gets Recorded Gets Reported: What Is ESG Reporting and Why Is It Important?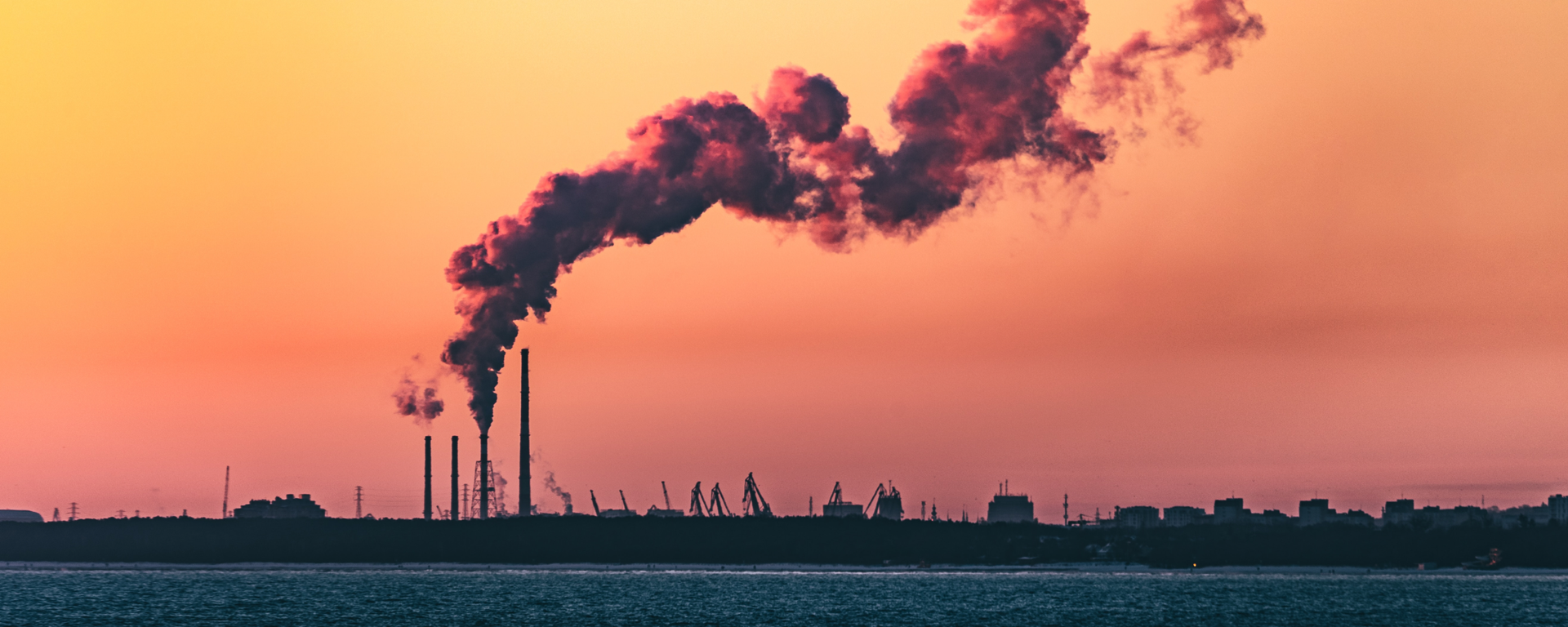 In recent years, the growing relevance of ESG reporting, intertwined with corporate sustainability, has been deeply embedded in today's economy. 
The overwhelming majority of investors willingly support companies that align their operations and strategies with measurable ESG commitments and proactively shape ESG stance. 
Moreover, global consumer goals are experiencing a tectonic shift towards conscious consumerism, sustainable awareness raising, and diversity commitments.
According to the PWC
Pulse Survey
, 80% of customers tend to reward companies, targeting net-zero emissions and accelerating progress on ESG concerns. 
Though the demand becomes more compelling both for consumers and investors, ESG reporting still remains confusing and inconsistent. Indeed, integrating sustainability into core business practices, product development, cultures, and processes requires fundamental changes. 
Therefore, digital transformation as a service is a game-changing option while finding ways to create value and eliminate negative impacts on consumers and the planet. 
This article provides a finer understanding of how the twin transition of digital and sustainability are linked and how to approach ESG reporting through digital technology to enhance business opportunities. 
What is ESG reporting? The basics
How exactly does advancing ESG criteria minimize regulatory interventions, optimize capital expenditures, and close the gap with evolving consumer expectations around sustainability? 
So, what does ESG sustainability reporting literally mean? First, let's briefly consider the ABCs of ESG:
The

environmental aspect

is the central hotspot behind the

"E"

in ESG. 
This component indicates the firm's role as a steward of the natural world and considers the effect of its operations on the physical environment. Neglecting the impact of environmental damage your company causes, often leads to the loss of corporate reputation, market share, and financial and social capital. 
The

"S"

refers to the

social factors

and corresponds to the social efforts that affect a company's performance in terms of sustainable investing. 
Social standards to consider within ESG strategy include human rights, racial justice, workplace safety, geo-political events, customer or product data protection, policy on diversity, equity and inclusion, and other staff-related issues. In general, this list may be extended with a number of aspects that showcase the way companies build their relationships with the workforce, the societies, and the political environment in which they operate. 
The

"G"

is determined by

corporate governance issues and opportunities

. 
This element addresses the viral questions that investors have always considered before engaging with a company. It reflects whether the organization is prone to mismanagement or effective decision-making, which is associated with maximized financial returns.
According to the Chartered Governance Institute, UK & Ireland "Organizations that have good governance use clear decision-making processes, behave openly by reporting on their activities, actively engage with their stakeholders, effectively manage the risks they face, and take responsibility for controlling and protecting their assets, including their reputation. Each of these areas of government activity contributes to an organization's success".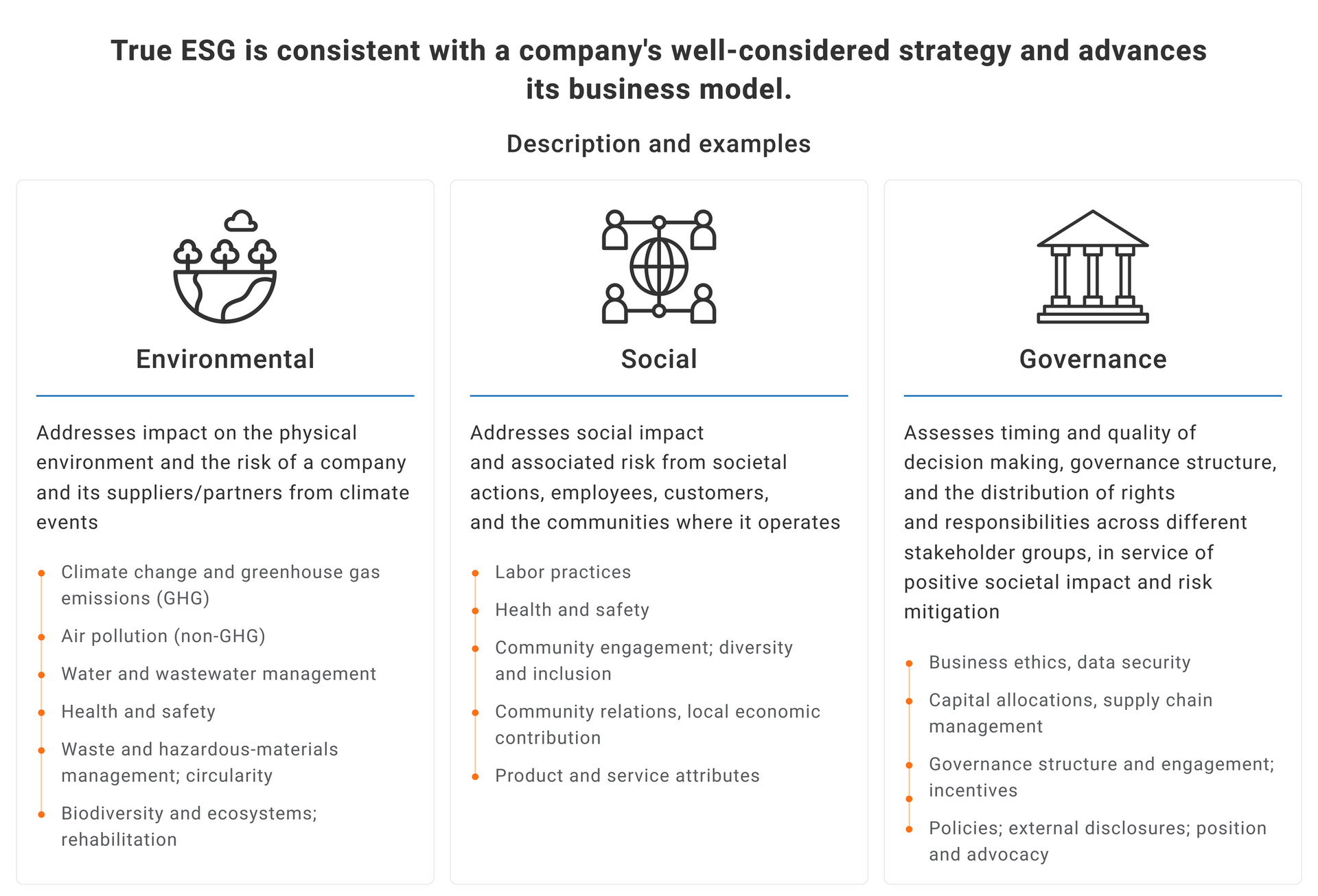 Yet, many organizations are allocating more resources toward improving their sustainability performance, to maintain their social license. That said, there is no turning back in the obvious future and ESG considerations reveal themselves to be more important. 
The twin green & digital transitions
Today, sustainable digital solutions (or so-called digital twins), focused on robotics, automation and smart tech are key pillars that shape a carbon-neutral future. By merging an eco-recovery mindset with digital innovations, we can accelerate the circular economy transition, regenerate ecosystems, intensify recycling rates and resolve climate-related issues. 
What is the twin transition?
The so-called "twin" transition is a synergy of digital and sustainability transformations, that refers to the modernization of industrial processes by the implementation of Key Enabling Technologies. 
KET is considered a driving force for achieving global decarbonization goals and includes cloud computing, advanced manufacturing, Big Data & Analytics, artificial intelligence (AI), security, and connectivity. 
Digital transformation as a solution to accelerate the Green Growth 
Sustainability-focused solutions allow companies to collect data from multiple siloed systems across operational processes and assure unalterable progress towards a carbon-neutral economy.
Through the integration of Industry 4.0 technologies, organizations reinforce the transition from take-make-dispose to a circular development model by better recycling and maintenance.
With green and digital goals being vital for business growth, there is an increasing demand for implementing sustainable digitalization to manage emissions and align ESG reporting with financial reporting. 
Latest ESG insights: Apiko research and analysis 
Before entering the ESG market with custom-made digital solutions for sustainability transformation, our team researched the niche to explore the issues, opportunities, and IT software presence.
We contacted more than 2200 employees from numerous companies of different sizes.
Our team conducted 80+ calls with ESG Managers and Consultants.
Special attention has been given to Manufacturing, Construction, Energy, and Fashion sectors within the European Union and North America. 
The average number of surveyed companies' staff is around 1000 employees.
Having processed the results, we can distinguish the following challenges with ESG strategies implementation: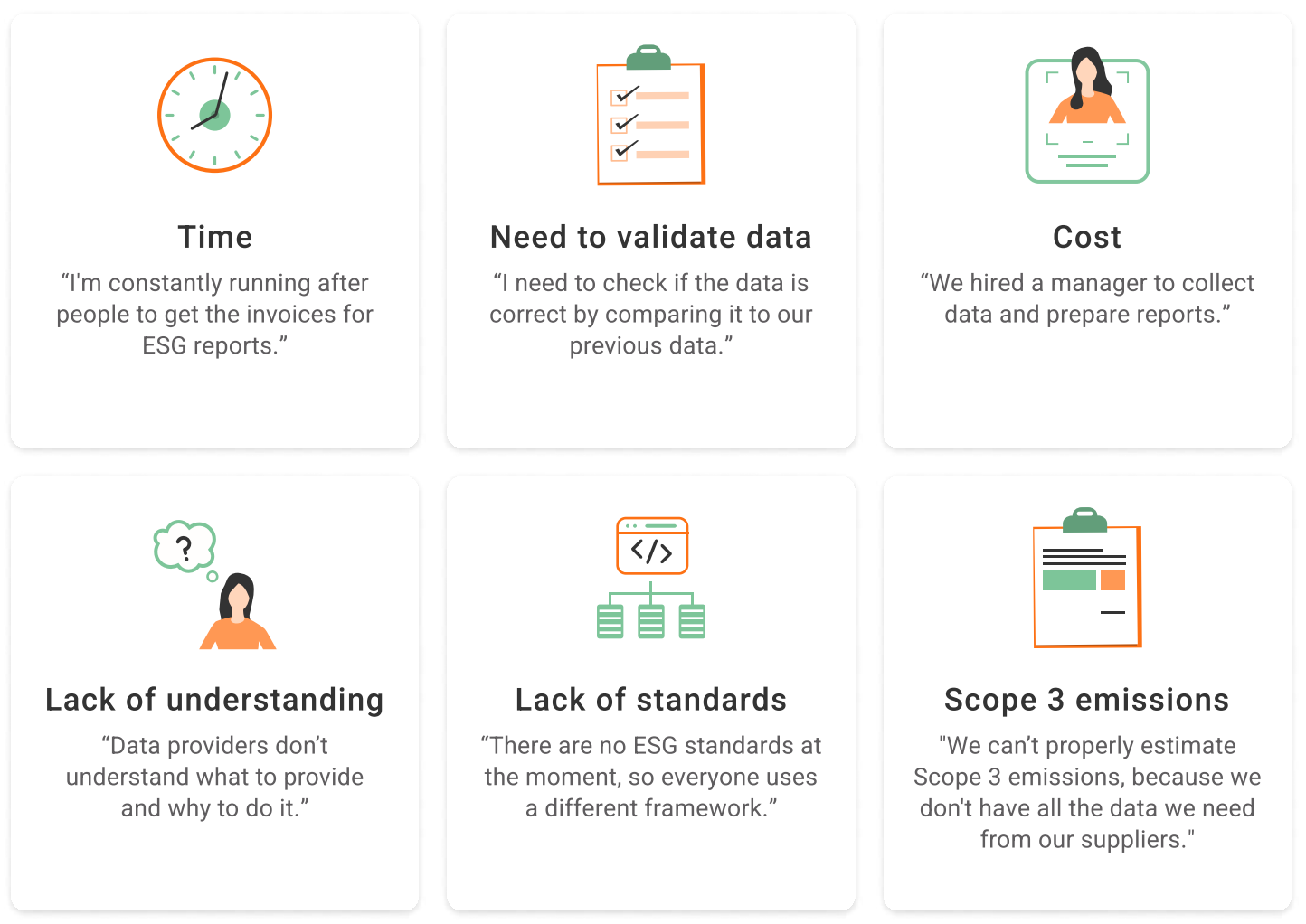 To ensure more accurate, consistent and reliable emission  measurement by data connection and automation, companies use the following tools: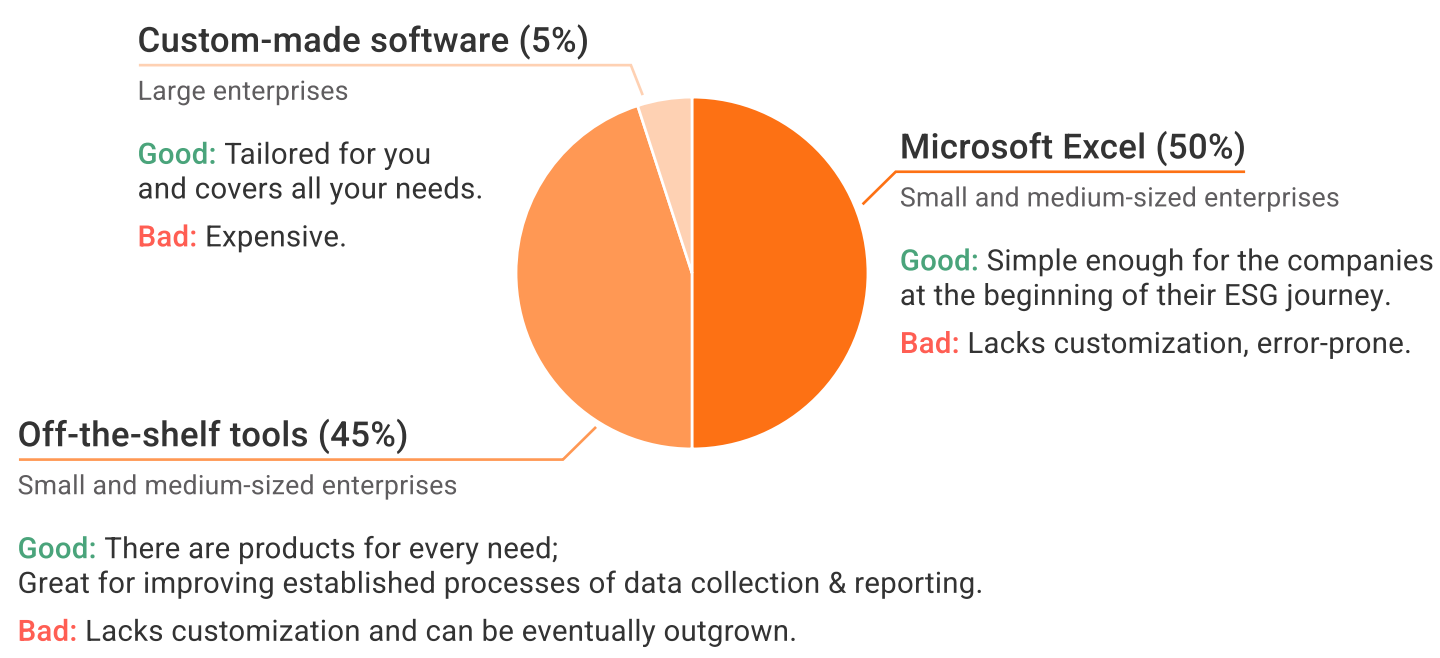 Though Microsoft Excel can't provide reliable data for actionable insights, as well as most ready-made solutions, being industry-agnostic and fine-tuned to solve heavility-restricted issues. 
Adoption of an enterprise ESG reporting solution to reduce carbon footprint 
With the increasing pressure to manage ESG data and meet sustainability standards, companies are intensely setting and disclosing carbon-neutral goals. 
Across industries, countries, and company sizes, corporate sustainability is based on three pillars - people, planet, and profit. We partner to provide value on each of them, creating the immaculate sustainability strategy and building the most meaningful and intelligent digital solutions.
Working with established organizations across industries, we can help customers to engineer a sustainable future with the most impactful and intelligent digital solutions.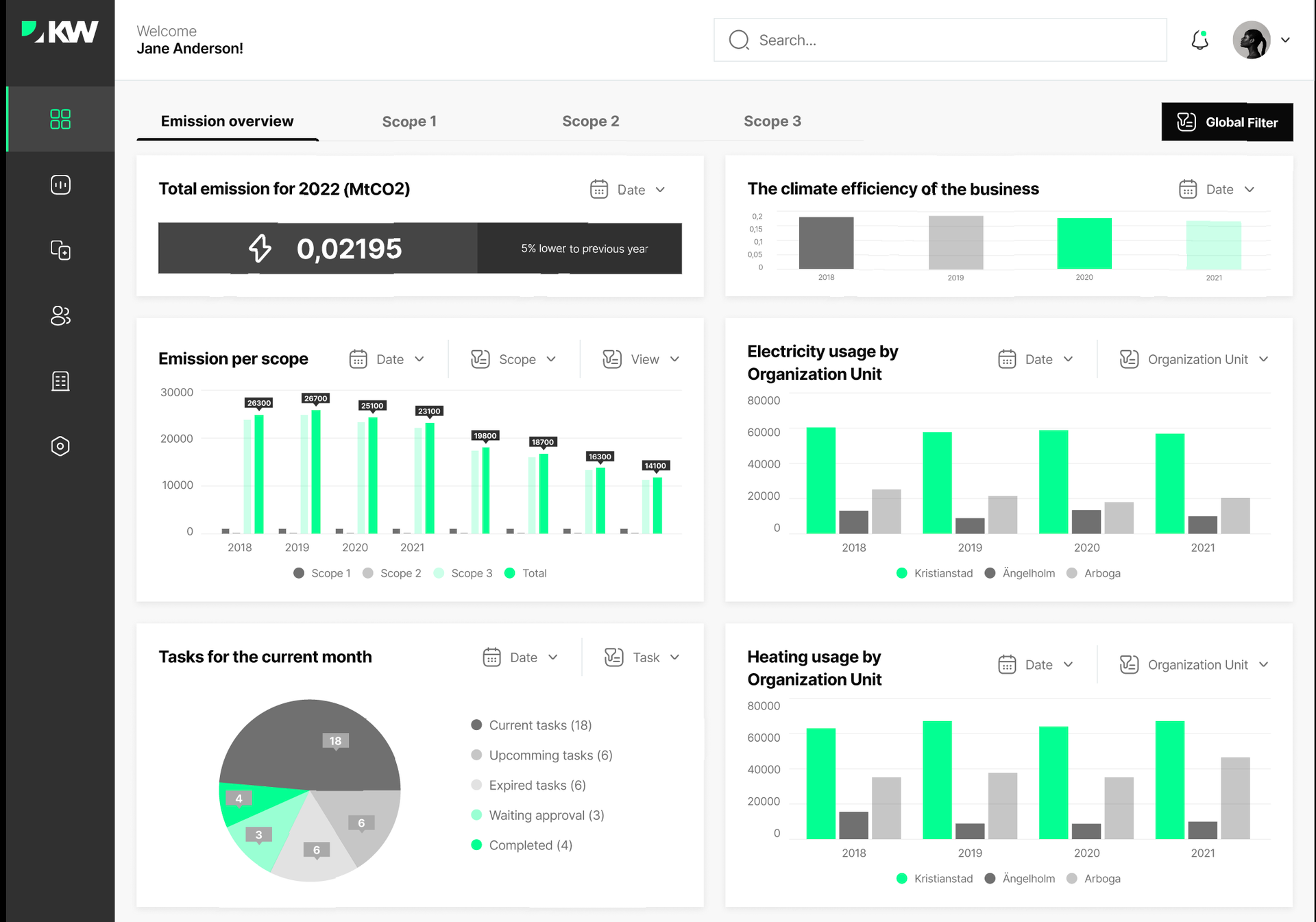 Our ESG data reporting software enables customers to
define and track the precise amount of ESG data and metrics they need 

rebuild their operations to align with international reporting protocols and corporate sustainability disclosures

acquire independent verification of sustainability disclosures progress, based on accurate, reliable, and well-structured information  
So how to achieve sustainability and propel your business relevancy through digital transformation effectively?
Learn more about our ESG reporting software, which may be developed and precisely tailored to your niche, company size, and business objectives. 
Our digital solutions unlock sustainability benefits and begin the transition process from a linear supply chain to a circular value chain. 
Based on lessons learned, our clients are usually looking for a vendor who could demonstrate domain-specific expertise, and dynamic market knowledge and lead them through the development process. 
During the pre-sale phase, Apiko team elicitates customer's requirements, solution scope, and vision, partnering closely with the client side. At this stage, our tech experts use their ability to dive into industry peculiarities and recognize the drivers behind the project.
By the beginning of the digital transformation process, a lot of companies use Excel to measure corporate environmental impact. This "off-label" approach shapes the fragile and error-prone process of data collection because of human-made mistakes and wrong calculation algorithms. It also lacks functionality for validation and estimation to indicate the future implications of actions taken today. These and other glitches result in the total inability to define and track long-term sustainable goals effectively.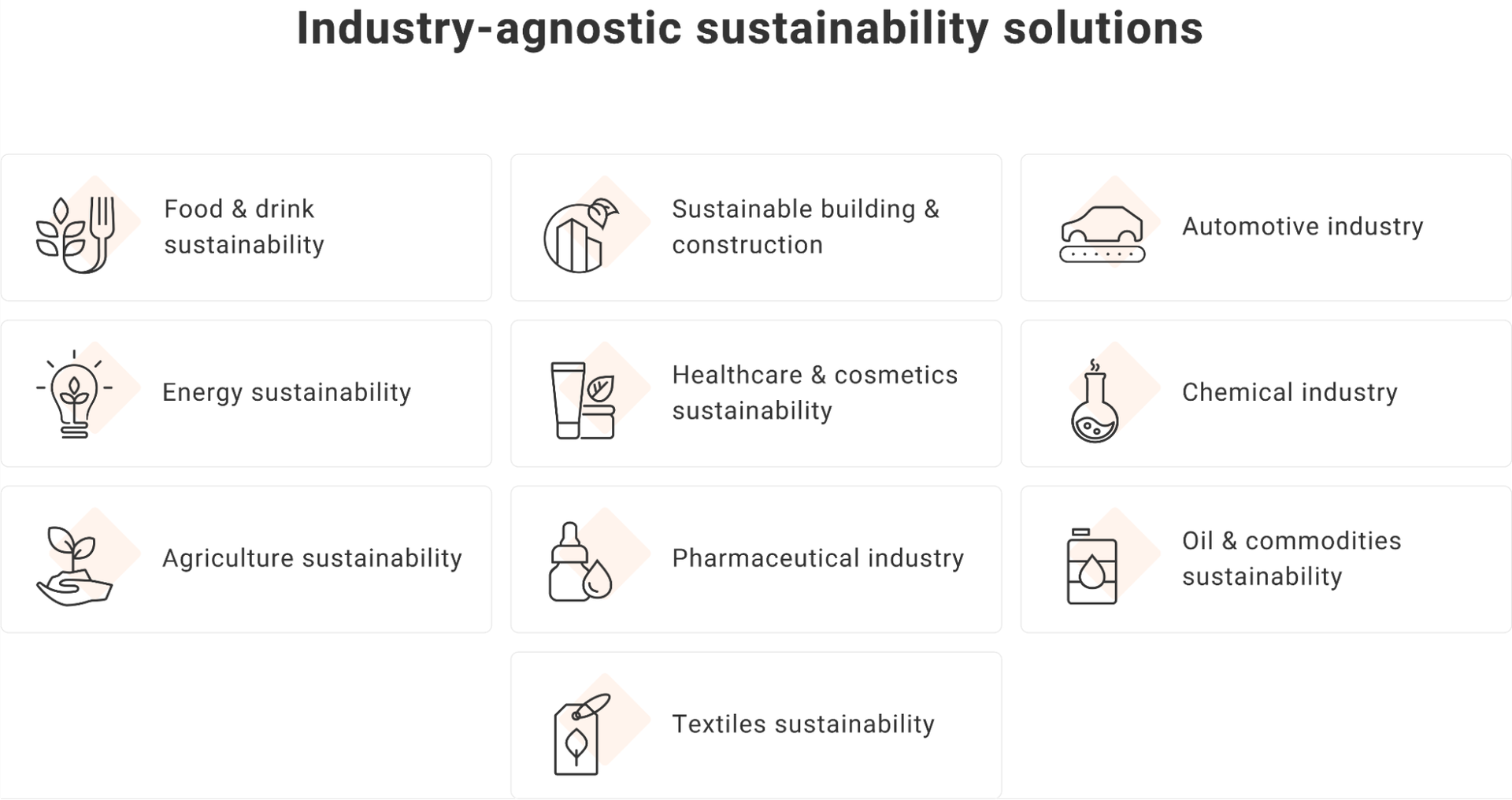 First, we conduct the Discovery Phase to review your current process and advise on what improvements could be made. If our customers embark on a sustainable transformation for the first time, we guide them through the objectives and possible risks beforehand. 
Our team focuses on creating an intuitive custom solution, precisely tailored to their operational processes - intuitive and sustainable at scale.
The feature-set of the ESG reporting solution should process sustainability data in the following ways:
collect

ESG metrics,

validate

received results,

provide

data-driven

estimations

,

make

data-based

predictions

,

communicate

ESG disclosure to a board of directors, employees, consumers, and investors
Through the ESG reporting software, our client can pursue the threefold business objective, associated with three different groups of stakeholders:
Track the progress and record benefits

from centralized and integrated ESG recommendations

for the board of directors

,

Inform and notify

the audience, clients, and society

about

the improvements made to achieve carbon-neutral transition in the shortest time possible, articulate your carbon-cutting impact or proclaim net-zero status,

Dispel

the investors'

concerns about possible reputational and financial losses caused by a social rejection of your brand, associated with the unacceptable environmental policy of a company
Here are the challenges, you will be able to tackle within our custom-made ESG reporting software: 
Determine the baselines for sustainability metrics collection 

Monitor data for established KPIs using a dashboard with ESG indicators 

Identify possible risk issues to reduce or disclose 

Conduct analyses and assessments 

Generate reports on a selected framework(s)

Progress consistently towards forward-looking sustainable goals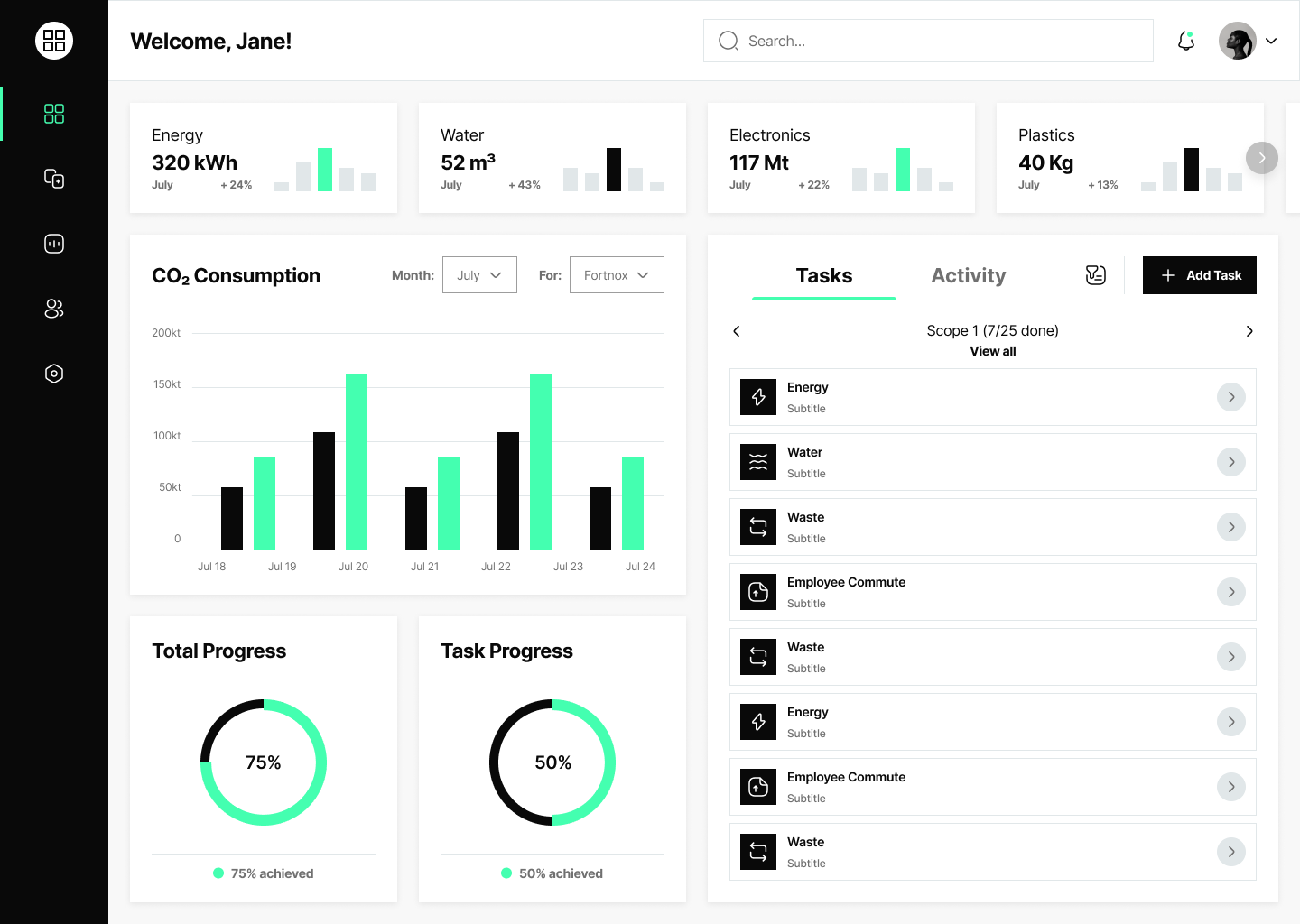 After adopting our digital ESG reporting platform, your company will enjoy
100% increased accuracy

in sustainability measures, ratings, and benchmarks,

improved

operational efficiency, time savings, and scalability

greater

flexibility

through configurable software design and customization

faster

progress towards net-zero strategy through sustainable operational performance

tangible

cost savings on cutting energy consumptions

more than

50% reduction

in effort required for ESG data collection, processing, and reporting
Must-keep modules of ESG reporting and performance management software 
The sustainability data reporting platform is literally aimed to:
build a centralized data warehouse

optimize reporting and disclosure

accelerate net zero strategy
Ultimately, we aim to develop a comprehensive platform for consolidating ESG data, tracking progress towards emissions reduction goals, enhancing benchmarking, and improving energy management across the organization.
Key features across the sustainability reporting software include:
ESG dashboard with sustainability indicators, such as energy, greenhouse gasses, environmental and social responsibility metrics

Scope 1, 2 and 3 tracking, processing, and reporting, based on the GHG calculation guidance

Net zero targets setting and monitoring

Anomaly detection and alerting 

Advanced reporting and comprehensive performance analytics
With a custom ESG reporting & data management solution, precisely tailored to the current sustainability objectives, our customers can enhance their operations and environmental efforts. As a result, they will streamline decision-making, improve staff deployment by using data-driven analytics, predetermine KPIs and benchmarks, minimize energy waste (and costs), enhance data capture, simplify audit & assurance, and reduce reporting time & costs.  
2023: The year the new sustainable business imperative is getting more important 
The global market has evidenced an ever-growing demand for clear and transparent Environmental, Social, and Governance (ESG) information. This unprecedentedly changed narrative to align globally on holistic sustainability reporting is partly caused by government regulation increase and stakeholder expectations rising. 
The cancel culture is spreading all over the world and consumers are looking for companies they can trust - those who share their values and beliefs. 78% of investors claim that sustainable investing is a risk mitigation strategy and seek more transparency in addition to strong ESG performance. 
For decades to come, consistent ESG reporting is a key component for prospect assessment and risk negotiation. Through sustainability data reporting, organizations are able to foresee and communicate the challenges and opportunities they face from their corporate activities.
Corporate sustainability software with an advanced feature-set is a powerful solution for companies to set goals, measure performance, and manage change. 
We are here to support our clients with end-to-end ESG reporting software development services. Driven by the unique combination of sustainability, technological, and auditing capabilities, Apiko delivers a full-cycle corporate ESG software development program, providing organizations with total peace of mind on all aspects of their ESG journey. 
From strategy setting to software architecture development, our tech talents help achieve, validate and communicate with your stakeholders on ESG and sustainability commitments.  Contact us to provide independent verification of sustainability disclosures' progress with increased confidence, trust, and accuracy.