Energy Software Development: 101 Guide

Just imagine, in 2018 the global energy consumption doubled at the average growth rate since 2010.
The global climate crisis is quickly approaching us, making custom energy management software an inevitable solution for companies who find themselves under pressure to legally regulate their energy consumption. 
According to the bp Statistical Review of World Energy report, carbon dioxide emissions from energy use, industrial processes, flaring and methane (in carbon dioxide equivalent) rose 5.7% in 2021, with carbon dioxide emissions from energy rising 5.9%.
The need to save energy is pressing, hence the growing demand for the energy management software development.
An energy management system (EnMS or EMS) itself can be very versatile. It varies from smart energy management to maximize your productivity and decrease your power costs to creating the best energy-saving plan for your business.  
In our article, we will talk in detail about what an energy management system (EMS) is, how it works, and what benefits it brings to businesses. 
But let's start with the definition.
What are energy management systems (EMS)? 
Energy accounting software is the first step toward improving your energy management. To put it simply, energy software solutions are aimed at helping businesses track their electricity, water, and gas consumption and skyrocket all the processes to improve productivity and decrease environmental impact. 
The global market of energy management systems has reached $35.78 billion in 2021 and is expected to get a CAGR of 13.2% from 2022 to 2030. 
With energy software development services onboard, you can lower your energy bills, increase your energy security, strengthen your long-term planning, and ensure continuous improvement. 
According to the ISO, EMS consists of creating and implementing an energy policy and standards, setting targets for the use of energy, and developing an action plan to track the progress and reach the goals. 
How energy management systems work
The process of energy saving oftentimes consists of tracking, controlling, and conserving energy within an organization. Typically, this process has such steps as:
Renewable energy software collects your energy metrics, compares them, and evaluates their performance compared to the current equivalence on the market (it can be linked to the gas and energy markets and collect prices and indices). Such a system can easily visualize your energy consumption as the tech data can be linked to the sensor measurements that hold finance data of your bills and contracts. 

The system finds opportunities for how you can save energy and the amount of energy that can be saved with each opportunity. It also helps to find out your energy waste, and potential energy savings that you can get when you replace some equipment or upgrade insulation. 

Implementing the plan on how you can save energy.

Tracking the progress to find out how your efforts have worked out.

Starting

Step 2

again to find new opportunities.
How energy software development can benefit your business
There are numerous benefits that an energy management software can bring to your company with the right energy-saving solution development. 
Among the most crucial are:
Effective risk management:

energy analytics software allows you to find out the weak points of your energy system and effectively address them. Besides, you will be able to predict any potential risks and take necessary preventive measures. 

Efficient energy distribution management:

with HVAC energy management systems, you get a stable, sustainable, clean, and accessible energy supply that ensures power data security, reliability, and quality. 

Enhanced system stability:

if you have real-time power system tracking and management, it helps your power ecosystem remain accurate, reliable, and free of errors and losses. 

Better system reliability and security:

today, regulators require a power system to be secure and highly reliable which can be easily achieved with data analytics and sensors to measure real-time system performance. 

Meeting of industry regulations:

power and energy companies must comply with strict and changing regulations and standards. EMS can help you better increase compliance along with reducing costs and expenses.

Optimization of the resources consumption:

a custom EMS solution can help you track your energy use and efficiency in real time and make informed business decisions by analyzing the data from multiple sources. 

Better flexibility and agility:

harnessing new data-driven technologies can help you improve your energy management strategies drastically. Plus, you will get the flexibility to meet any new business challenges. 

Capital and operational efficiency:

digitalization of your operations will give you both capital and operational effectiveness as you will be able to track and manage them to the fullest spending less effort, time, and costs.
Energy management software types
Adopting a custom energy management solution is an essential step for all modern manufacturers and power-consuming companies. Today, you can find different types of solutions that help to collect, process, and report your energy data on the market. 
The most common ones are:
Energy management system (EMS)
Key goal: track the energy data on the site level
This is probably one of the most common software used for business energy management that is built to track the energy in the facility. Its main goal is to provide energy managers along with building operators with data regarding energy use. Some smart modern types can also track the data at a device level and notify of anomalies in energy use.
Key goal: help manage your emissions reporting as well as environmental compliance 
Sustainability software appeared because of the rising demand among businesses to report on their sustainability. Collection of such data regarding various aspects is challenging but it becomes easier with the right sustainability software onboard. Typically, such software provides information on carbon emissions and sustainability, reports on water, energy, waste, social impact, and many more. 
The drawback of sustainability apps is that they are not primarily focused on energy and have fewer integration options than EMS, which means no possibility for automated data sourcing and more manual data processing.  
Renewable energy monitoring software
Key goal: collect and process data on the energy source and emissions
Renewable energy monitoring software has become popular recently due to the commitments of global businesses to fight against climate change. Such apps can give you highly accurate and relevant data on renewable energy as well as related emissions. However, it won't give you information that is non-energy related for your reporting. 
Energy management software use cases and main functionality
The type of energy management software depends on its functionality mainly. The key functions of EMS include reporting, tracking, and engagement. Such a system can deal with any of such functions, or cover all of them. 
Reporting:

in other words, it means collecting data on your energy use. You can automatically collect and then review such information as the consumption and costs of your energy from various locations. Automation helps you avoid any potential risks and mistakes caused by manual work. Besides, you get very accurate and thorough information that can help you in creating your energy-saving strategies.

Tracking:

this is probably the most important feature of an EMS. An energy management system tracks the data on energy in real time and then compares the received data with historical data. It is extremely helpful if you need to monitor energy in some specific locations of your facility or take the weather under consideration. All the received information can give your helpful insights to skyrocket the use of energy. For instance, you can find out which locations consume more energy, replace old parts, and achieve better energy conservation.

Engagement:

some types of EMS can come in handy with improving the engagement level. For instance, if it is used in an apartment building, it can show residents how much energy they are using. It can also help find ways on how to conserve energy, identify possible mistakes, or set the necessary energy savings plans. Some of the EMS can be solely used for industrial buildings and deal with only a certain aspect like electricity, natural gas, or water.
This is the example we've created to show you how the sustainability software for emissions tracking and energy management may look like.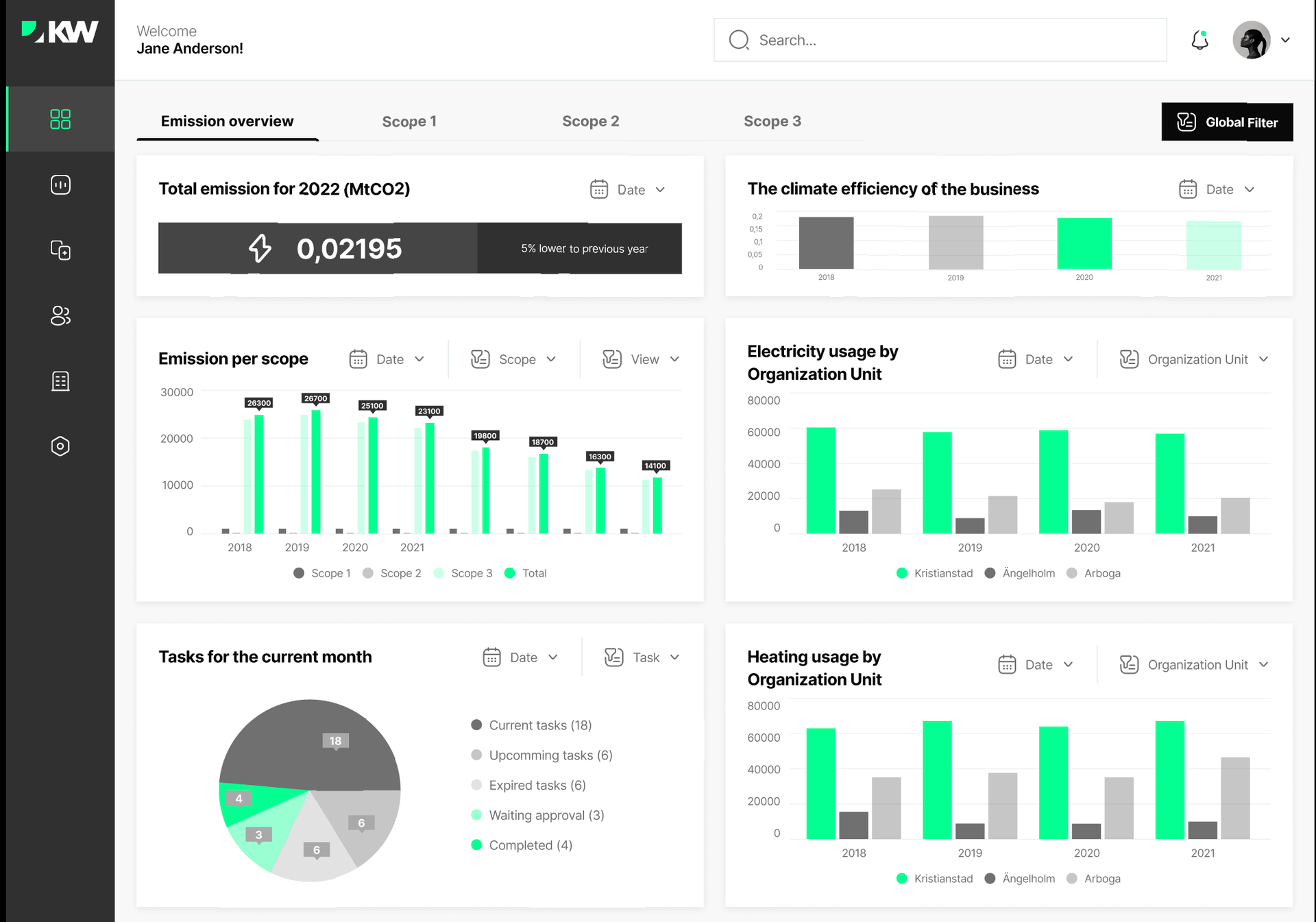 Source: Apiko
5 reasons to choose custom energy management software development 
No matter what industry you're operating in, your business is unique. Of course, there might be common challenges that many companies face, however, each of them handles them differently. 
That is exactly why the off-the-shelf energy management software can't resolve all your challenges, unlike custom software development services that are aimed at addressing all your existing and future issues. 
Here are some of the reasons to say 'Yes' to custom EMS development services:
Flexibility and agility:

as your business grows, investing in off-the-shelf software means becoming restricted in a number of functions over time. But this won't happen with custom-ready solutions, which allow you to grow your functionality alongside your business.

Single system:

with custom solutions, you get all the necessary features and integrations for managing your energy under one single platform. You won't need to switch between multiple apps and will be able to generate helpful insights into your energy business operations. 

Vast integration options:

if you opt for custom energy solutions, you get a wide range of integration capabilities to create a connected business ecosystem. Oftentimes, off-the-shelf solutions don't have such possibility and can't be enhanced. 

Personalized solution: personalization is a key advantage of custom EMS. This means that a custom EMS development company can create an app that will be tailored to meet all your business requirements.
Enhanced security:

security is a strong concern for many businesses that work in the power sector. With a reliable energy software development provider, you can be fully safeguarded against any security breaches or internet threats as they employ reliable data encryption protocols and standards. 
Key Takeaways
Many governments across the globe have already started implementing various policies and programs aimed at faster adoption of the EMS. Moreover, energy management systems are treated to be an innovative solution for power management across multiple industries.
Most SMEs are already searching for energy software development because of the versatility and ease of use of such solutions. Besides, energy management systems are key to saving energy in your company as well as your input in the global need to fight climate change. 
With efficient custom energy software, you will be able to save lots of money and reduce waste if you work with management of vast production or storage facilities. Energy companies and providers can benefit too as EMS can help with manufacturing, managing, and distribution of the power flows. If you work with ordinary power consumers, you can take advantage of such energy solutions to search for power plans and optimize costs for your customers.
Ready to give EMS a try? Get in touch with our Tech Experts to build a smart energy management system that will monitor, control, measure, and optimize energy consumption in a building, factory, or any facility.