How to Build City Guide App: Tech Stack, Costs and Great Examples

With the emergence and development of city guide apps, mobile phones have become the digital gateway to unexplored cities and their unrevealed secrets. We should confirm that technology has reshaped the way we travel and, without a doubt, the best is yet to come. Lots of people use handy travel apps to learn more about a new place, its history, and must-visit spots. Interested in how to build such an app? In this article, we will review the main city app types, their benefits and, of course, time and cost needed to get your app on the road.
City app: what makes it popular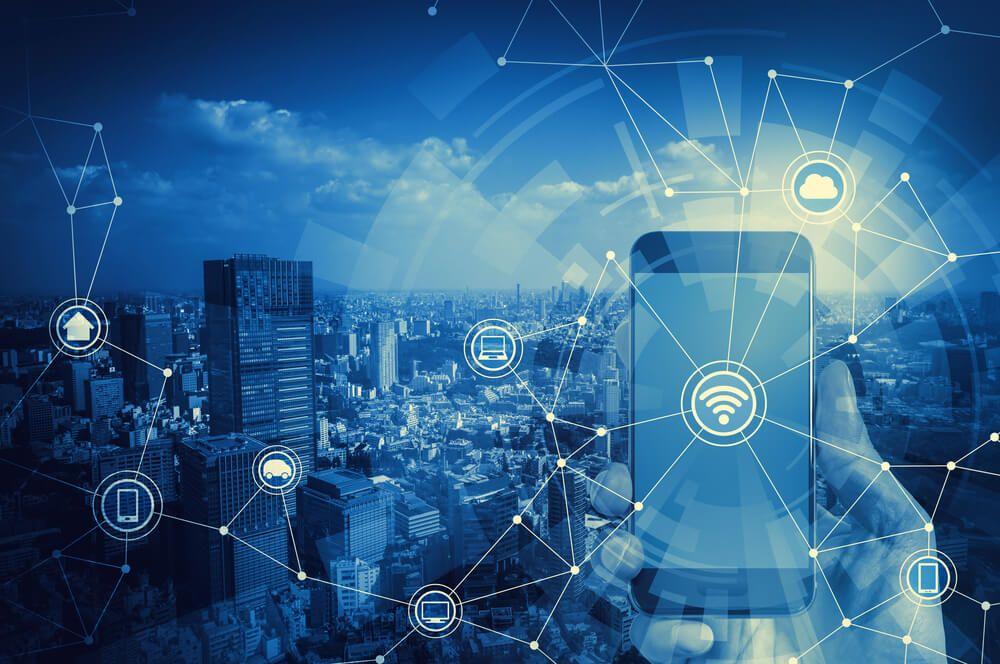 The main purpose of city guide app is to provide truthful, up-to-date and useful information about everything tourists need to know when visiting a new place. It includes main attractions, events, places to eat, hotels, transport, tips and reviews and even weather. When you have all this information, it is much easier to plan your trip. When you have all this information in one mobile app - wow, you are fully equipped! Numerous types of city guide apps will fit the taste of any traveler. Let's review them in more detail!
Types of city apps
Augmented reality city guide app
Augmented reality city guide app will revolutionize the way you explore new places. Its main concept is to layer the digital enhancement over the reality. With such app, you can easily take virtual tours around the streets, hotels and restaurants, follow navigation maps, scan buildings and exhibits and instantly receive interactive information about them.
City audio walking tour app
These apps use your phone`s GPS to determine your location and automatically start telling you about the attraction once you approach it. Pretty good substitution of the guide!
The concept of this app is to provide the most important information for tourists. Its main features are: list of the most popular attractions, list of the most interesting tourist and non-tourist routes, bus and tram timetables and fully zoomable offline maps.
Such application shall provide users with a list of cultural events and an opportunity to buy tickets or make a reservation online. Other additional features may include a calendar with reminders and notifications about upcoming events and maps that will guide you to the destination.
Real-time journey planner app
This app shows you the best ways to get from point A to point B by transport, bike or foot. It gives you a lot of options, so you can decide what way to choose.
It offers information about department stores, shops, bookstores and groceries. Just type in what you need to buy and it will provide you with the list of appropriate places and instructions how to get there.
This app will help you to discover and reserve a table in the restaurant or cafe, read reviews about the place, scan the menu and view interior photos or even take a virtual tour. This type of app gives a large space for imagination as you can add such features as tips calculator, online ordering system, augmented reality, etc.
This app allows you to organize travel plans, synchronize them with your calendar, store all important documents for traveling and integrate the database of hotels, flights and tours to plan your trip in the best way ever.
Who may need such app
City guide apps may become a very income-generating business if you plan everything right . You can sell advertisement of restaurants, hotels or cinemas, get % from orders, restaurant reservations and hotel bookings. You can also host local events or sell event tickets within your app.
City government may use such apps for providing their services, reaching citizens and tourists, accepting citizens feedbacks about any problems in the city. Users of such application may access city news, request city services or connect with a city official. This is a great way to set a connection between government and citizens.
Touristic organizations and agencies may need this app to provide statistics about tourism in the city, increase brand recognition, get new leads, provide info about city tours and inform clients about travel destinations.
Main goals of the city app
Provide valuable info about the city, its main attractions and must-visit places
Offer both online and offline maps for mapping a route and getting directions
Offer booking service for hotels and restaurants
Provide weather reports
Outline interesting events in the city
Provide transport tips
City App Features
Of course, features of the city mobile application will vary depending on what app type you want to choose. Here is its basic functionality.
Navigation/geolocation
Offline mode support
Map of public transport and its schedule
Ability to choose several types of transport
Ability to choose another city
Integration with Yelp and Tripadvisor
Search by name, category, location, type
Use filters
Integration with Facebook / other social media
Recommendations and reviews
Development team
The number of developers that will work on your app depends on what type of application you choose. For example, if you decide to go with cross-platform development only two developers are needed: one will work with React Native and one with Express. If you want to have a native app, you need to hire three developers: Java developer for Android, Swift or Objective-C developer for iOS and Express developer for the back-end.
Cross-platform vs Native: What is better for city app
Let's define the difference between cross-platform and native development. Native apps can run only on one platform as the code is specifically written for iOS, Android or Windows. Cross-platform applications are built in one code base and can be used in multiple operating systems.
Сross-platform app can achieve almost native performance and look, so a user will not notice any difference at all. In addition, cross-platform apps are faster to deliver to the market and their creation takes fewer development efforts. This is a great choice for startups that have a limited budget and can not afford to develop a native mobile app.
Native mobile apps are developed specifically for one platform, so they take all the benefits of all the device features. The design and UI of such applications are built from scratch for each operating system and, as a result, the development of a native mobile app takes more time and development effort.
Each type of mobile development has its pros and cons, everything depends on what you want to achieve. Here are some important aspects to remember before making a decision.
Your timeframe and budget
The market you want to cover
Features you need to include
Are you a React Native developer? Get into the pros and cons of React Native development and the ways to deal with the challenges: 'React Native Limitations and Best Practices to Deal With Them'.
City guide mobile apps are always used on the go, so their performance must be flawless. If you want to bring your product to market in a short period of time and have it on web, iOS and Android simultaneously without sacrificing the quality, React Native is just the right choice.
Cost to develop city app
Now let's review how many hours are needed to develop the city guide app. First of all, take a look at the estimation of application both for iOS and Android in React Native.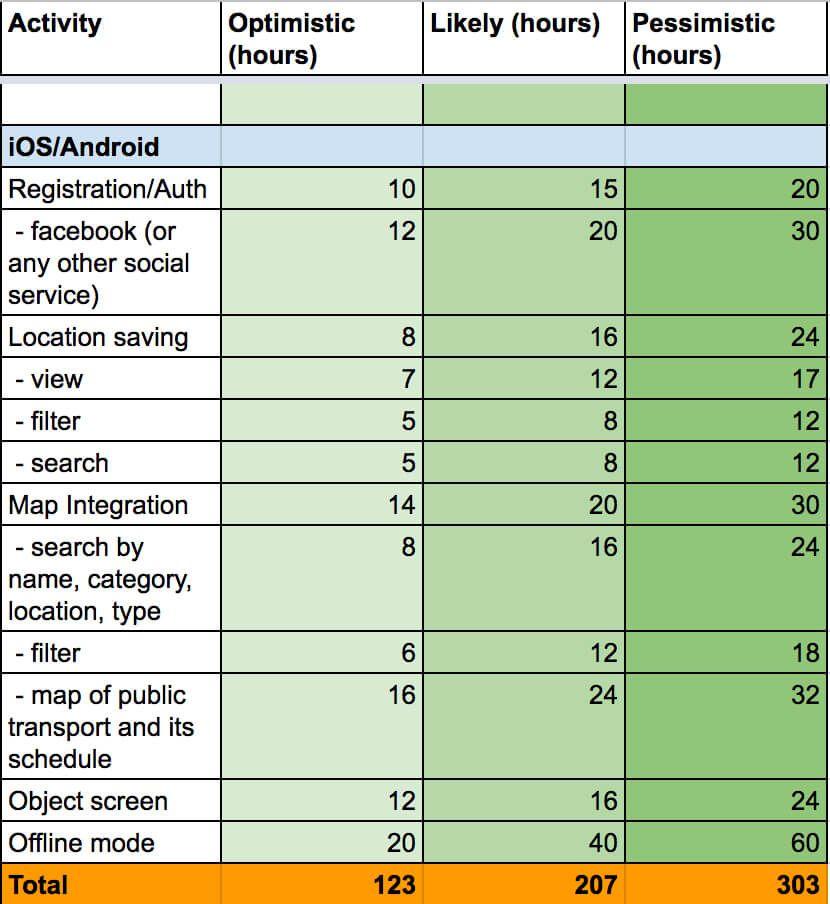 Here is the estimation of the back-end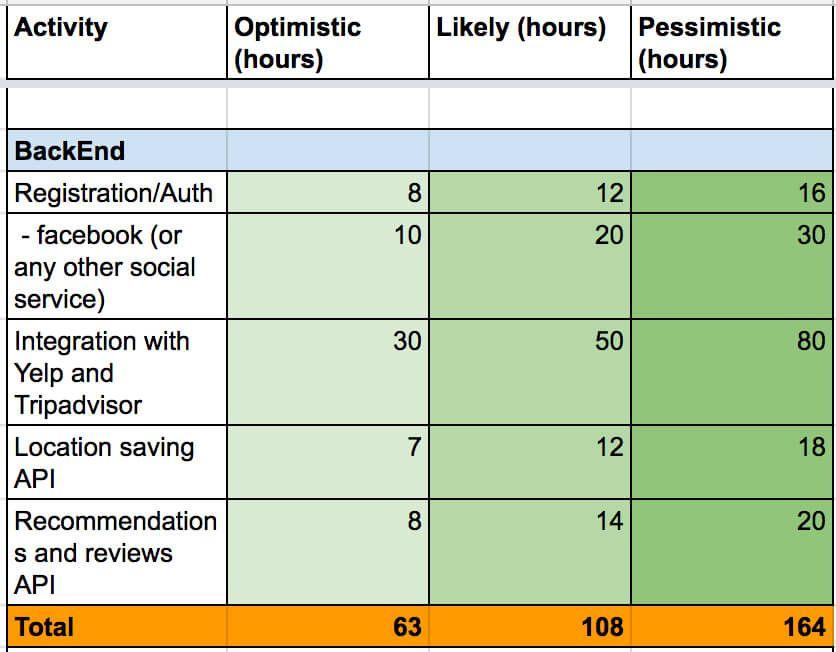 And, of course, the time needed for bug fixing, manual testing and management.

The total sum of hours needed for this app will range from 269 to 677 hours depending on the function you choose and its complexity. The cost of city mobile app development will vary on the developer's rate. For example, in the US prices for app development range from $100 to $250 per hour, while in Eastern Europe where our development offices are located, you can hire a senior developer for $40-$70 per hour.
Timeline
The time needed for development is calculated by dividing the number of hours by 160. Thus, building such an app will take from 2 to 4 months.
Examples of Great City Mobile Apps & Overview of unique features
Now, take a look at the most useful city mobile apps and their main features.
Citymapper
Citymapper is a famous trip planner app that shows you the best routes to your destination. It provides you with different variants of getting there: on foot, by bus, subway, train, ferry, cab or bike. Check out its main features!
Transit maps that show the best routes to get from A to B
Real-time data about transport arrival and departure
In-app notifications about transport delays and automatic display of alternative routes
"Where to get on the train " feature that tells you where to get on a train to be close to the exit where you get off
Go smart assistant , which adapts to the route changes made by user and even provides estimated time of arrival and send it to the person who is waiting for you
Musement
This app will help you to feel like at home, wherever you go. Apple named this app one of the best to start off in 2016. Musement is an online platform that gives you access to the local attractions, museums, restaurants, events in more than 50 destinations. Here are its main features.
Online booking and reservation system with no printing needed
Access to priority tickets that allow you to skip the queue in museums, galleries, concerts etc.
24/7 support
Listing of attractions and events
Real-time interactions with hotel concierges
 Trip.com
One more app for perfect trip planning. Its main advantages include:
Automatic suggestions to your phone`s lock screen on what to do and where to go based on what type of traveler you are
Map-based search of hotels, restaurants and attractions
Integration with Google Street View for Android that turns your device into virtual window with 360-degree views
Reviews and "Ask a question" section
Creation of postcards and custom guides
Profile, where you can save the places you`ve visited and plan your next trip
 Foursquare
Foursquare city guide app will help you to find the best places to eat, shop and have fun in any city in the world. Its additional features are:
Search places to visit in your location
Lists of places and spots you want to visit
Check-ins that are instantly posted to your Twitter and Facebook feeds
Ability to add your tastes, so the app will learn your preferences and customize the travel suggestions, especially for you.
It identifies the best local places for your unforgettable vacation. You can search for events by address, category, or your current location, check the event's details, create your own events, and bookmark events that appeal to you. The app is available on the web, iOS and Android.
The market for such kinds of applications is crowded enough but you can always find a way to be different. Think about concentrating on several main features and working all the kinks out of them. Remember, that the right planning and strategy will bring you the desired benefit!