Case Study: How We Created On-Demand Compliance Management App

"Determine what behaviors and beliefs you value as a company, and have everyone live true to them.These behaviors and beliefs should be so essential to your core, that you don't even think of it as culture."
                                                                                                                  Brittany Forsyth
It doesn't matter what your role in a company is, you are the mirror that reflects its culture. To ensure that everyone is aware of the company's principles and rules, organizations use a tool called "compliance management system". 
Let's find out how it can improve the internal processes and boost employee performance. We will review the main сompliance management features and show you our experience in developing such type of software.
What is a compliance management system?
To effectively manage the processes in a company and maintain the company's culture, employees and сhiefs have to stay on the same page. Сompliance management system (CMS) helps big organizations to create and manage their key processes, policies, and standards.
CMS can be compared to an interactive book, where everyone can discuss its сontent and introduce improvements.
It usually consists of the following elements:
Board of directors oversight
Board of directors is responsible for approving and implementing rules and regulations.
Documented compliance program
Key policies that should be reviewed and updated regularly. Management needs to ensure that all the stakeholders are aware of these rules, сonduct employee training and report about the rules execution.
Consumer complaint management program
The company's success is measured by number of satisfied customers. To keep the compliance management effective, a company has to be armed with tools for consumer complaint management. It usually includes complaint tracking, analysis and quick resolution.
Compliance audit and verification
Regulations monitoring and reviewing is an essential element of a robust CMS. An audit will help you to determine "weak" points in your policies/regulations and take quick actions.
How can you get benefits from compliance management software?
Compliance management system can transform the way your company manages work processes and relationship with customers.
It fully automates the control of company compliance activities and helps to manage all related documentation, reporting, and workflows
Compliance management system allows organizations to conduct audits, get real-time feedback and, as a result, achieve flexibility and full transparency in their internal processes
With the help of CMS, companies can quickly identify and tackle potential risks
Employees actively take part in improvement of the company's policy and culture
Сompliance management software features
Before choosing a compliance management system, each company needs to ensure that it is fully customizable and can adapt to organization specifics.
Here is the list of general features that will automate the compliance activities in company of any size.
With the help of documents database, users can store all their documents with standards in one place, discuss them with coworkers, and give each standard a unique identifier to easily find it.
Notifications may pop up in the following cases: when new standards appear or changes are made to the current ones, as well as to remind about compliance actions and deadlines.
Task management system will help your employees easily manage, update, and improve compliance processes. Tasks can be linked to each document with standards and marked with different statuses (e.g. in process, completed, scheduled). The management team may also get notifications about the task status, as well as reports about the work done.
Compliance training can take a form of an audit, where senior management determines whether the company follows its policies.
With the help of compliance reporting dashboard, users can view and monitor reports about submitted tasks and audit results, as well as track the analytics about users' activities.
Сase study. Our experience in a compliance management software development
Apiko team has created a compliance management system from scratch that is run in the cloud. It aims at helping organizations improve profitability, quality, and compliance.
"We came up with the idea for Plio after seeing the need for a more structured management approach in a number of small/medium-sized technology businesses that we'd worked in.  It can be difficult to apply structured management techniques in smaller companies because most of the available software applications were designed for larger companies." - our client says.
Let's review main Plio features in more detail
Plio provides a set of risk management tools that help to identify and analyze risk exposure.
Users can attach certain risks to each standard and assign its analysis to a responsible team member.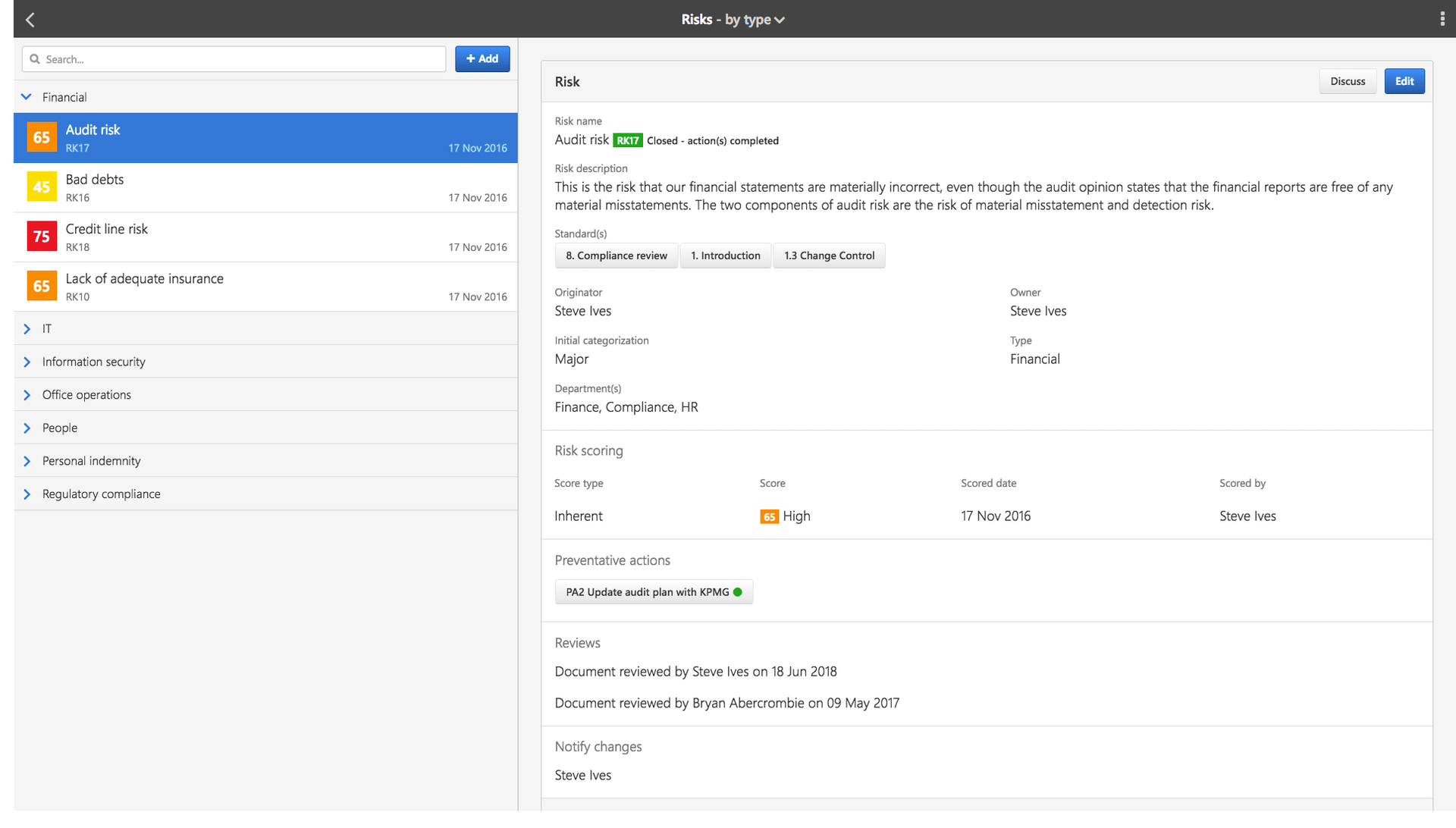 See the image full size here
It includes a framework for risks identifying and scoring, that organizes your risks by impact and probability.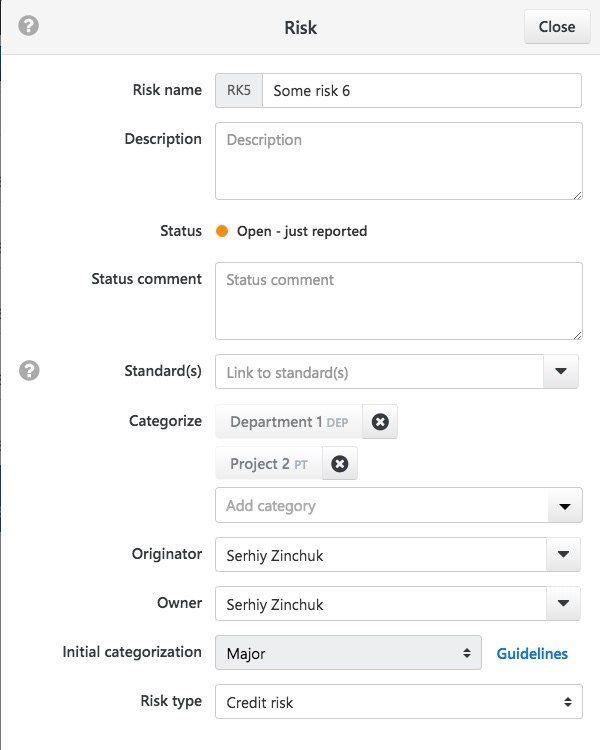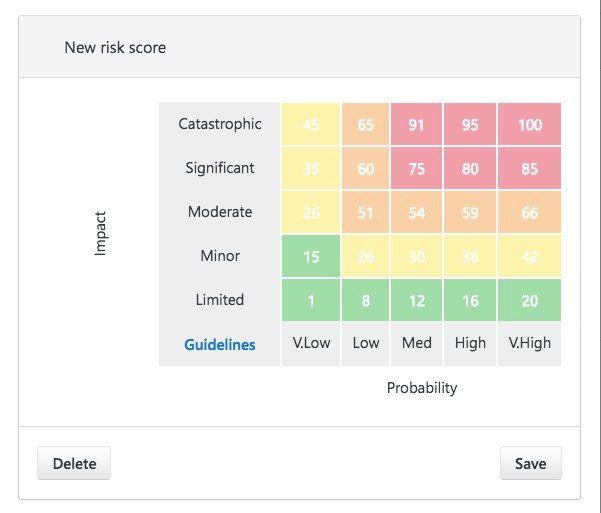 In Plio, risks are split into categories according to the type, status or department. You can add corrective actions to each risk in order to tackle it as fast as possible.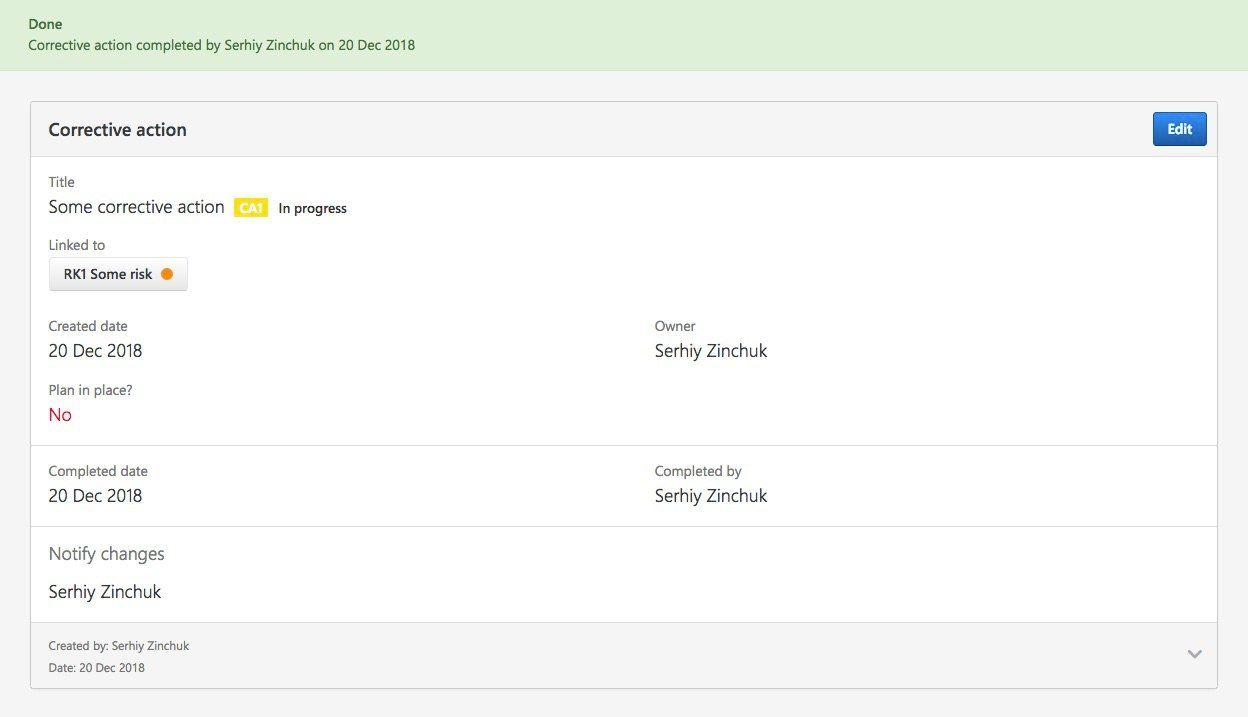 You can also export data and create custom risk reports for your team.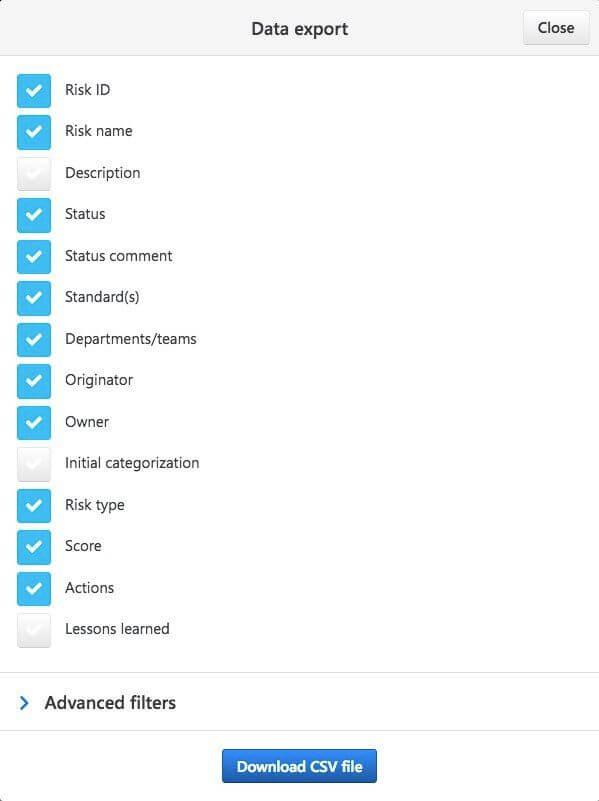 You can upload your compliance documents right into Plio, split standards into comprehensible and individual documents, and give each standard a unique identifier to not get lost between the number of documents.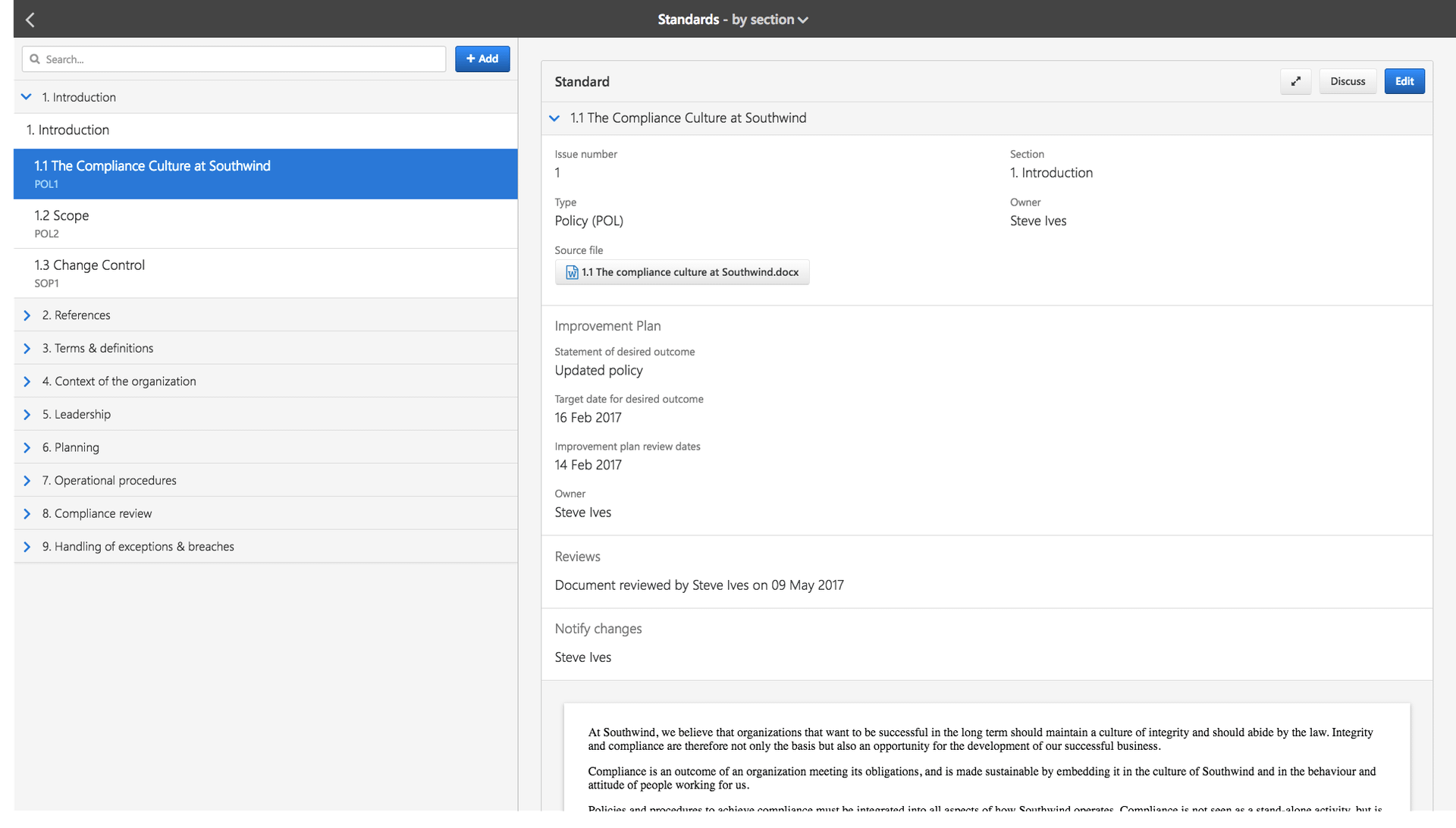 Users can view documents by content hierarchy or by type (such as policies, process descriptions, standard operating procedures).
Each document has its own status (draft or issued) and users can track the successive versions with issue numbers.
One more useful feature is discussion section, where team members can leave comments about certain standards.
Plio allows to track the following types of actions:
Corrective actions
Verification actions
Preventative actions
Document update actions
Actions are linked to the risk or standard document and are assigned to a responsible person.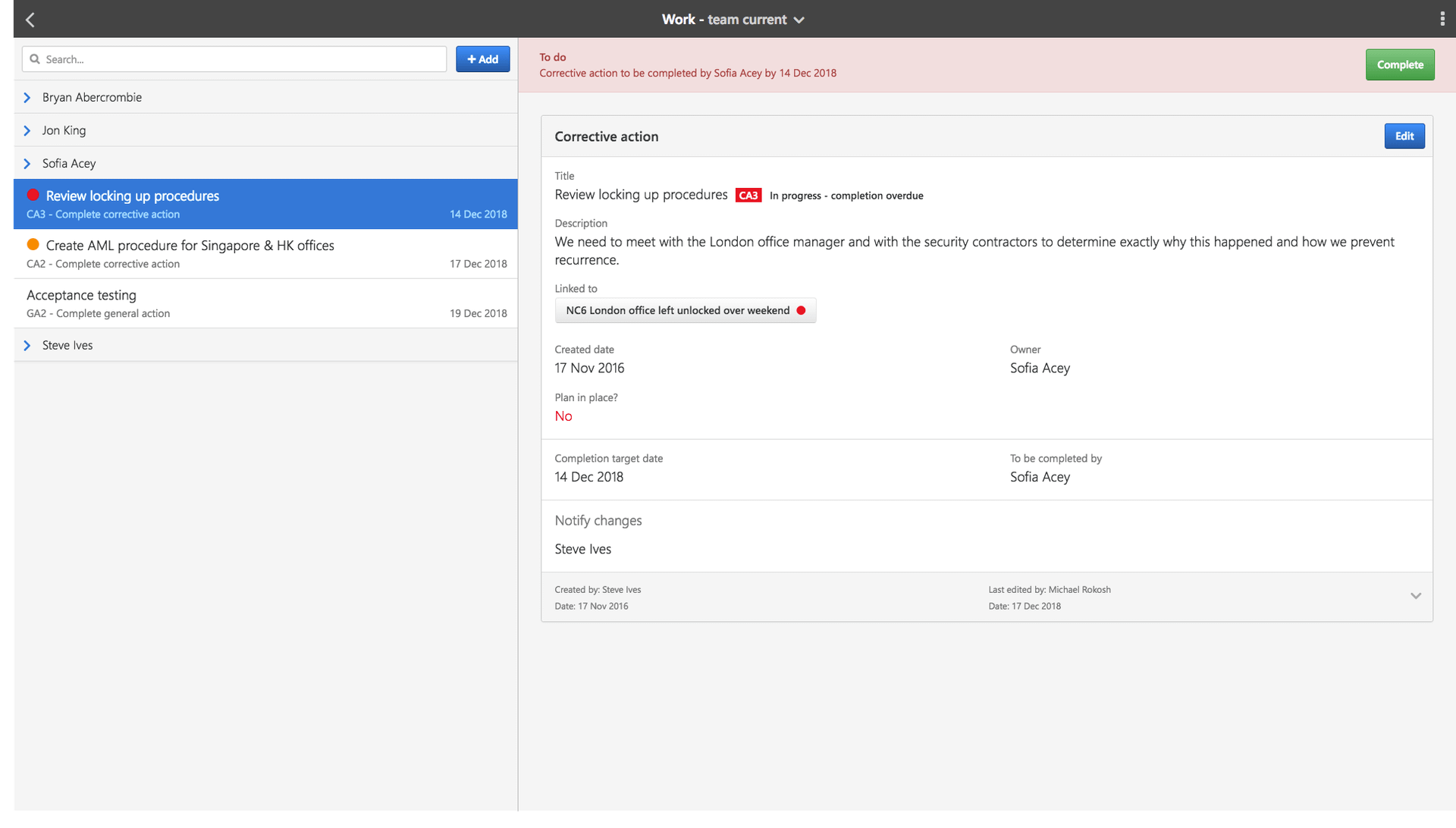 Users can apply filters to different types of actions, e.g. my current work, team's current work, my completed work, team's completed work, etc.
Plio has also a notification system that reminds you about the action status via email or optional desktop notifications.
Non-conformity management
Sometimes there are cases when operational processes mismatch with what is stated in the compliance manual. This is when nonconformity concept comes to help.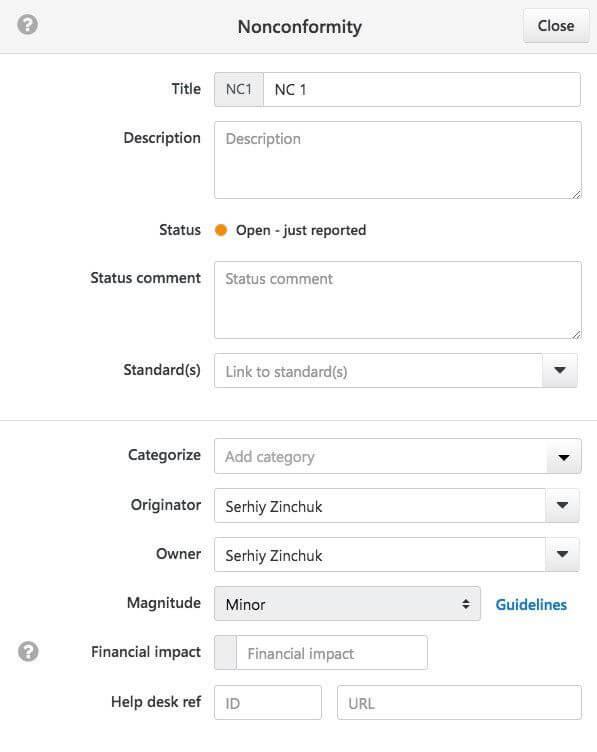 With Plio you can record any nonconformities and link to the appropriate compliance standard. Then a non-conformity manager creates improvement plans and assigns them to the responsible team.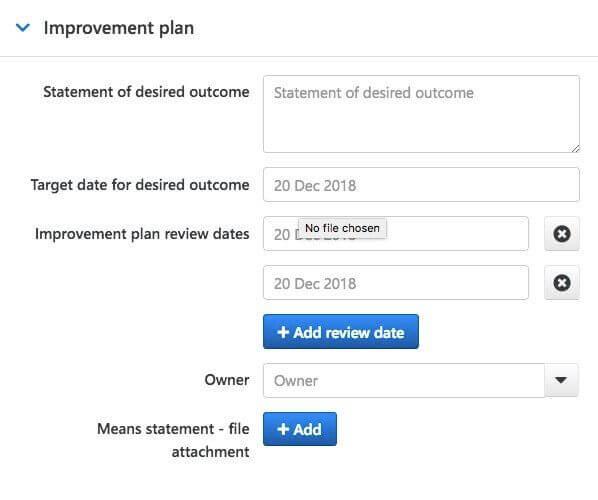 One more useful feature is a root cause analysis that helps you to find the route of the problem that caused nonconformity.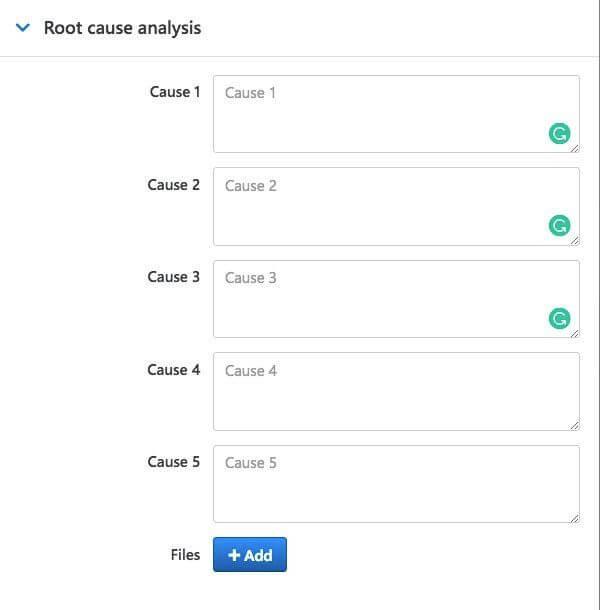 These features allow you to continuously improve your compliance program, keep it fresh and effective.
Business model canvas in compliance management system
Compliance management system is often associated with something standard and conventional.
However, our client knows how to make a difference and add more value and "color"to the product.
Plio team is in the process of extending it into an emerging new area in management systems, which is business model design.  They are building an integrated tool to help people create business models using the Strategyzer Business Model Canvas.
Here is how it works.
In Plio, users can fill each block of business canvas with the help of different tools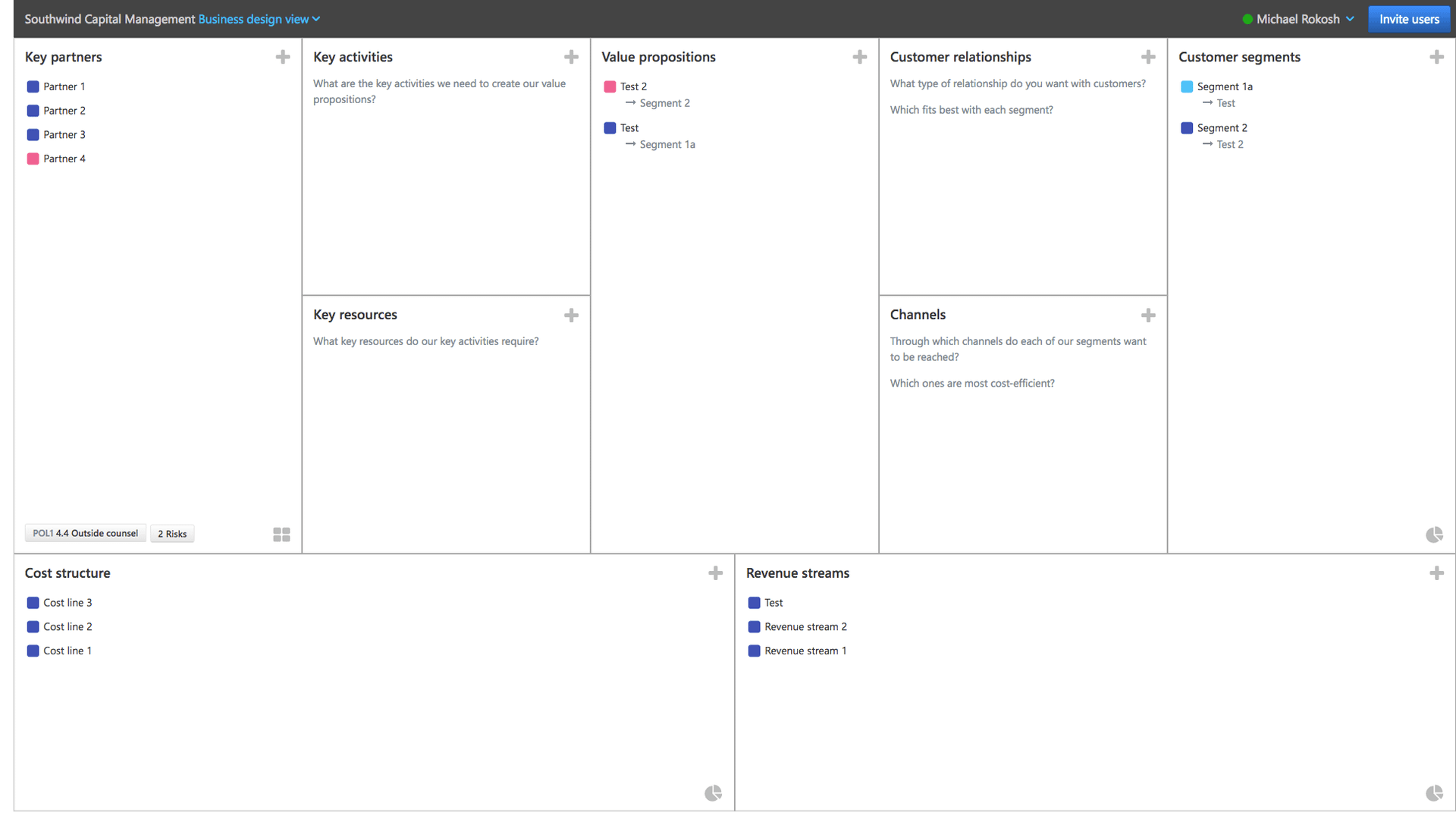 Сlick here to see the image full size
The information they use is then represented in form of canvas charts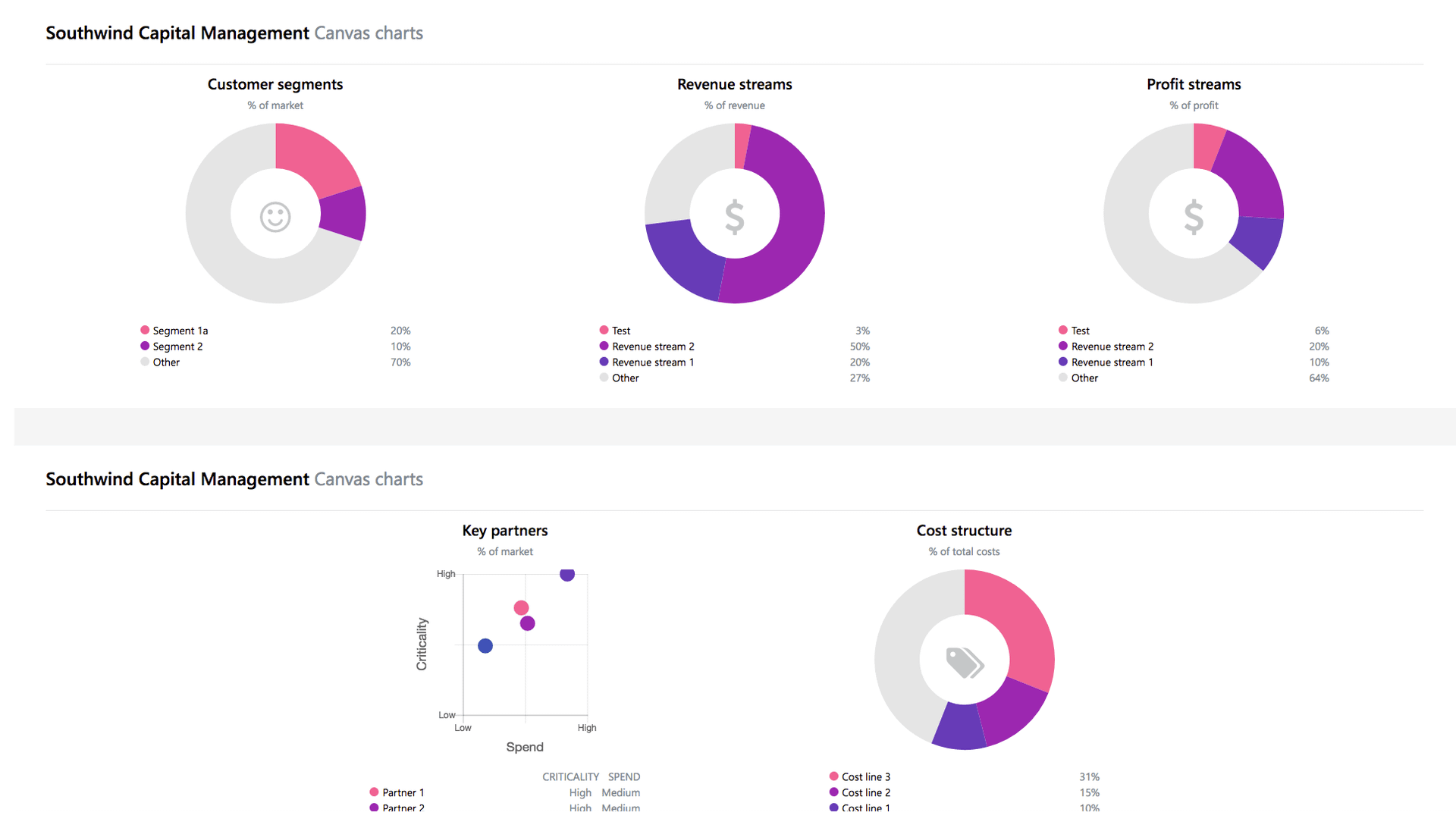 Let's see the example of creating value proposition. You can match each value to a corresponding customer segment.
Then, you can also connect benefits your users want to the corresponding features of your product.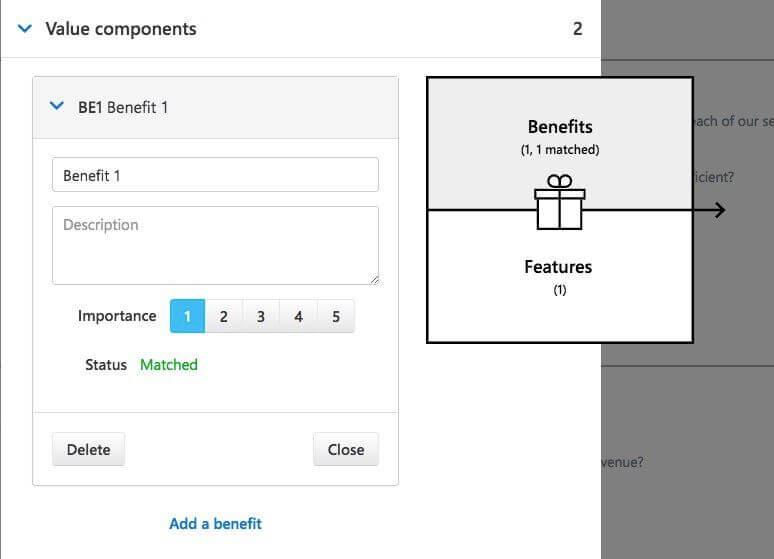 You can do the same by connecting features and benefits to needs and wants of your users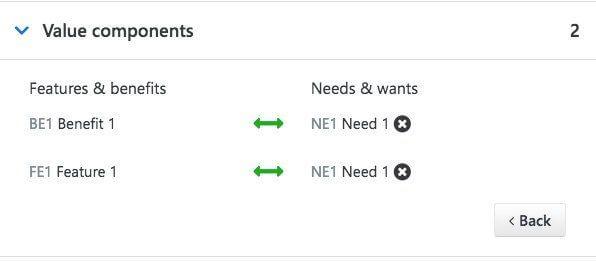 All the information will be shown in the chart, where you can see the whole picture and find weak points in your value proposition.
By working in the similar manner with each business model block you will validate your product-market need, set your key goals and activities, manage risks, and decide what customer segments to work with.
Conclusion
A compliance management system helps an organization to create and maintain a standards book for its key processes and policies and support real-time discussion around each process. It also helps streamline the management of corrective and preventative actions that are implemented to improve these processes and policies.
The features of a compliance management system can be very diverse. If you plan to develop such a system for your company, a number one requirement is to make it customizable for different needs and industries. Contact us to know more about the development process and business details.