How to Develop a Doctor Booking App for Healthcare Appointments

Almost everyone has a need to get a quick answer from a doctor without waiting in queues and wasting a precious time. I am sure you know how it feels.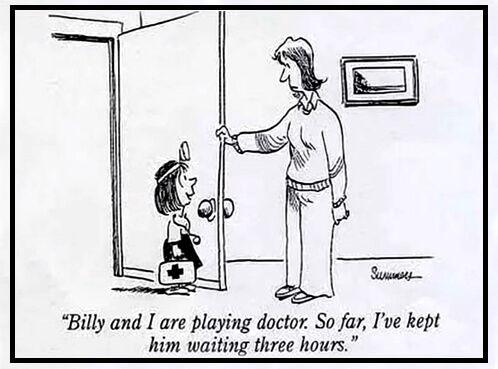 Thanks God, there is a way out. This is when healthcare apps, especially doctor booking apps, come to rescue.
This kind of app helps you to instantly find a doctor near your location, read reviews, book the appointment at any time convenient for you.
No annoying queues and thief of time. Such application is very useful in cases when you need to get instant consultation and support.
Interested in how to create a healthcare booking app and make users trust it and get back to it?
Don't worry, this article will cover the main features of a doctor booking app, tips on how to bring it to market and prove its authority.
Let`s dive right in.
Popularity of Online Doctor Appointment Apps
According to IHS, the number of doctors` virtual consults will double by 2025. This proves a great demand in high-quality healthcare services no matter where you live. Here are the main benefits of online consultation for both doctors and patients.
Advantages for doctors
24/7 access for your patients
Advantages for patients
No need to wait in queues
Online access to the best doctors in any specialty
Opportunity to see all the important info about doctor`s experience and expertise
Famous Doctor Booking Apps for Online Consult

Practo is the largest doctor-search platform in Asia with almost 25 million appointments and more than 100,000 verified doctors on the platform. Its main features are:
Online doctor appointment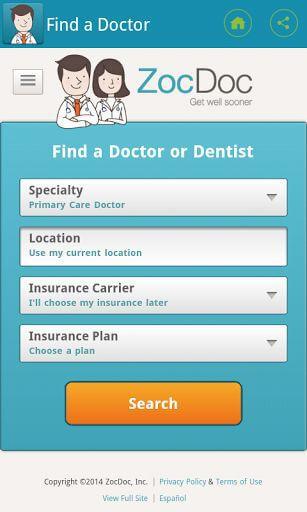 ZocDoc is another popular app for booking appointments with the doctor online. It`s available all across the United States with more than 6 million patients every month. The doctors pay a flat yearly fee of $ 3000 and get the following features:
Map for finding doctors in your location
Patient powered search where patients can search for one word (for example heartburn) to be connected to the right provider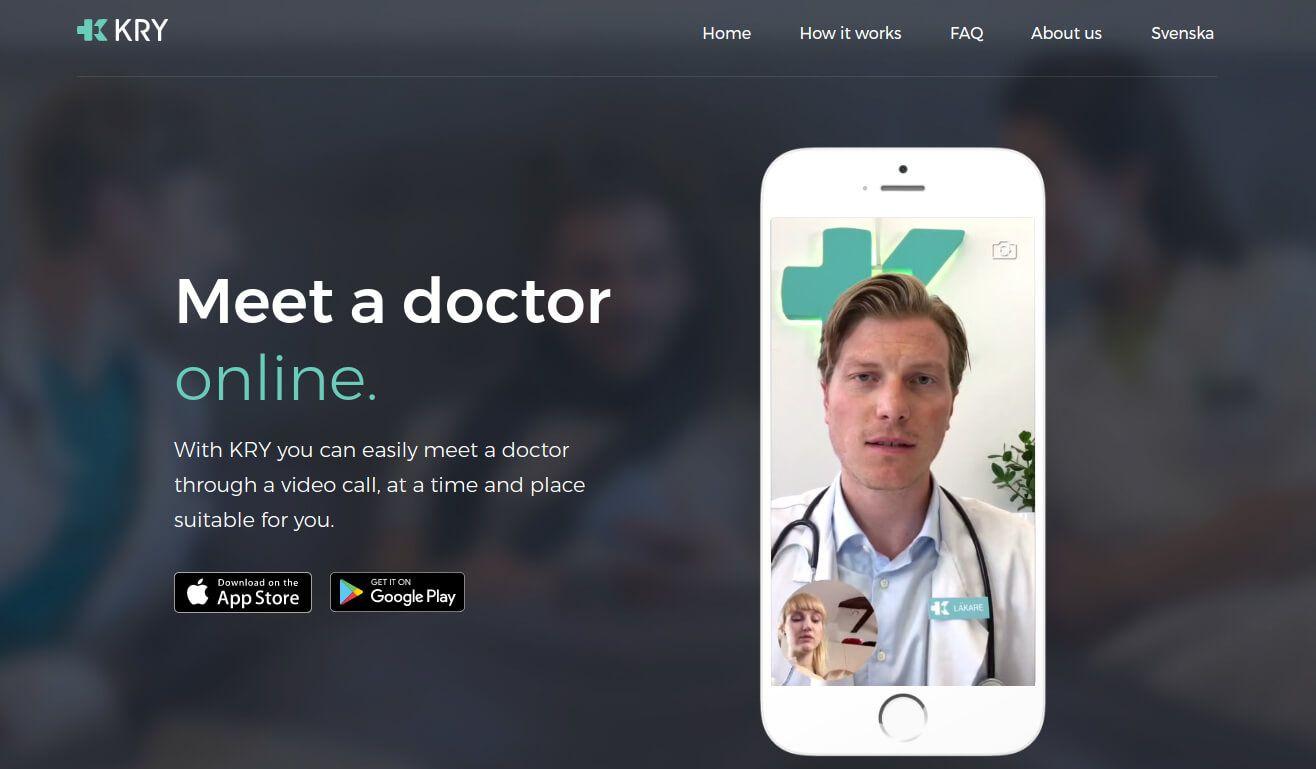 KRY is a Swedish telehealth startup founded in 2014. Here is why users love it:
Secure log in with Bank ID
15 minutes video chat with doctor

Ring MD is a Singapore-based company that lets people connect with the doctor online. The main features of the app include:
Video, audio or text consultations
Provider directory with the database of verified doctors
Now, when you got a general idea of doctor booking apps, it`s time to outline their basic functionality.
A Doctor Booking App: Main Features of Healthcare Apps
24/7 Online consulting via video, chat, or audio.
Doctors search by filters
Search may include such filters as location, specialty, experience, rating, etc.
It is important to include all the necessary information about doctors experience, languages spoken, place of work, appointment experience score, available appointment time, feedbacks, rating, etc.
Online appointment scheduling via calendar
A calendar with available dates and hours for the appointment.
Usually doctor booking apps automatically withdraw a fee from your account depending on the consult duration.
Push notifications (reminders)
In-app notifications both for the doctor and the patient about the upcoming appointments. Also, when the doctor gives an electronic prescription, user may set notifications for the time of
After the appointment, the doctor can give the patient an online prescription with the list of medicines and dosages.
Include an online pharmacy in your app, so users can buy medicines online with home delivery.
Safety Information about different drugs, their prescribing, list of recommended dosages, and side-effects.
Checking out the harmful drug-drug interactions to avoid a harmful treatment.
You can enrich your healthcare application with such features as weight, fat, glucose, and blood pressure tracking. Users may export these data to spreadsheets, calculate statistics, generate interactive charts, and take notes in the diary.
Video appointments recording
Allow your users to record the appointment with doctor to remember all the instructions and recommendations.
Map with doctors and clinics in the area
Such a map with the guides on how to get to a certain clinic will be really helpful, especially for the big city.
Here you can include generic suggestions about the best clinics, pharmacies, and doctors in the area, as well as custom suggestions about the reasons of pain and tips on how to cure it.
How Can I Get the Initial Listing for My Healthcare Application
Here are some tips on how you can make your app popular.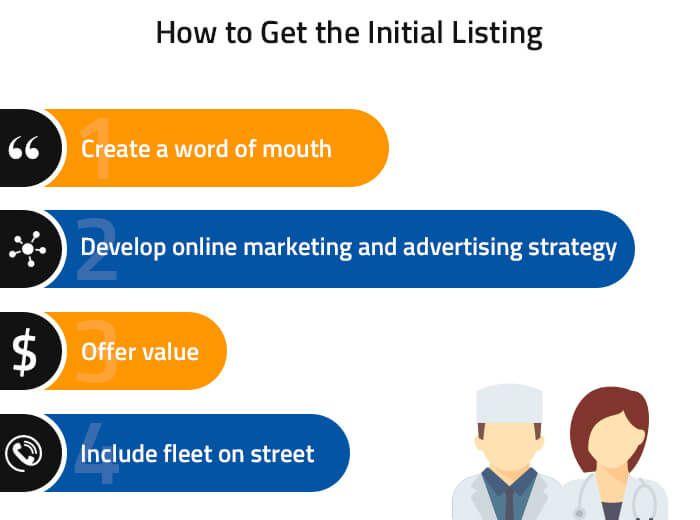 You need to find influencers in the healthcare industry, advertise the benefits of your app, and offer them a free listing. Start with a small number of doctors and ask them for referral. Continue until you reach a considerable number of healthcare professionals.
Develop online marketing and advertising strategy
Advertise your app on different forums, websites, and social media channels where your target audience gets together.
You should know what value you offer to doctors who will use your app. Express this value in a short, but very convincing form. Your offer should sound сompelling.
Except for traditional doctor booking app benefits such as additional revenue, increased number of referrals, collaboration with other specialists, etc., you should include some unique features. Here is what you can pick.
Awards for the best doctors who contributed to the community
Award the most popular doctors with accolades, certificates, and other pleasant bonuses. It will boost the doctor's motivation and desire to contribute to your app.
It`s a place where everyone can read information about the doctors, their experience, qualifications, publications, etc. You can give doctors the opportunity to introduce themselves via video, upload photos, write articles and short posts, add professional awards, etc.
You can offer doctors to go through a variety of online courses(digital marketing course for example), pass exams, and receive online certification of achievement.
This strategy may seem a little old-school in our digital age, but it still works. It helps to get authentic and accurate information first-hand. This is actually what Practo did to advertise their app. Shashank ND - Practo Co- founder and CEO said:
"We built our own tech to calculate what to do, where to go, and have our own app which the operations team members all use," says Shashank. "This shows them the map locations of the places they have to go to, shows them the routing, and reminds them of appointments. You could think of it like the driver's app for Uber."
Why not to visit the hospitals in person and provide them with information about your app. Of course, it will not give the results at once, but it`s still worth trying!
How to Build Trust in Your App for Doctor Appointments
Incorporate thorough verification process. For example, Practo only publishes a profile when the doctor provides his registration number and scanned copies of degree, ID and registration certificate.
Accurate indication of a doctor's experience
You need to find as many ways as possible to check out the doctor's experience before approving their profile. For example, David Vivero, CEO of Amino hired a data science team for information processing.
This company has an interesting approach to data gathering. This is the first company that uses electronic insurance claims that contain such info as facts on the doctor, facility, treatment, costs, etc. As a result, users can get access to detailed stats about the doctors in America.
"We have almost 30 people at our company," says Vivero. "Probably half of them work in our data science team trying to build pipelines in clean data."
The company also has access to anonymized data from 188 million people who have filed five billion claims. Thanks to the Affordable Care Act, as well as Medicare data.
Your other goal is to сonvince users in the authenticity of reviews within your app. Here is a handful of tips on how you can do this.
Only verified patients can give reviews after they confirmed an appointment.
The feedback can be given only once in a lifetime (it can be checked through mobile number verification).
SMS can be sent on patients mobile number after the appointment. After the patient gives a missed call on the number they get access to the full text review.
Business Model of Healthcare Apps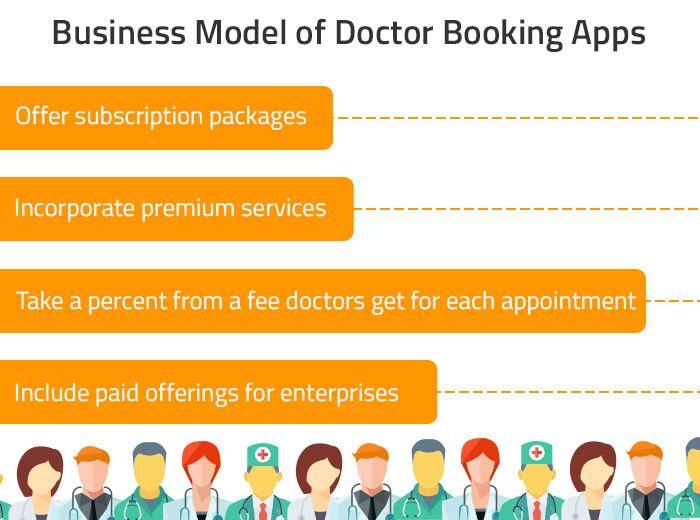 look at the main ways on how you can make money with healthcare apps.
Offer subscription packages
Sell monthly or yearly packages with useful features for your users.
Incorporate premium services
Such premium services may include unlimited access for doctors, access to artificial intelligence physicians, online prescriptions, medicine delivery, etc.
Take a percent from a fee doctors get for each appointment
That's how actually most of the healthcare apps make money. But remember that you need to ensure that doctors really get benefit from your app before taking a commission from their appointments.
Include paid offerings for enterprises
When your app is promoted enough, you can include enterprise service for managing employee health care conditions, sick days prescription, referrals to specialists, etc.
We would also like to share the lessons from ZocDoc on how to promote your healthcare startup. It will be definitely useful!
Our experience in healthcare app development
Apiko has created a healthcare real-time mobile app for monitoring patient's vitals. Its main features are:
The functionality of both an online consulting app and a care coordination product
Real-time chat, video, audio calls and file sharing
Inegration with such medical devices as weight scales, blood pressure monitor, findger pulse oximeter, continious teperature monitoring
Vitals live streaming between the patient and the doctor
Secured files exchange using WebRTC technology
Wrapping up
To conclude, we have to confess, that the market of the healthcare industry is crowded. But there is always room for improvement. A lot of healthcare apps (especially doctor booking apps) available on the market are still in need of a better user experience. Now it`s your turn to contribute!