E-learning App Development: 5 Tips for Creating a Successful Marketplace

E-learning websites give us a chance to discover new information, specialize in any industry and improve our skills. Now you don't have to attend classes or a certain institution to broaden the outlook. Just find the right online learning platform and the whole world of knowledge is in front of you!
According to Imod Education, at least 50% of all classes will be delivered online by 2019. Additionally, more and more companies incorporate e-learning to increase the qualifications of their employees. As you can see, online courses are changing the way we imbibe knowledge. If you want to contribute to this trending niche, roll up your sleeves and prepare for the hard work.
We keep insisting that planning is a must. In this article you will learn about the main types of e-learning platforms, their features, estimation, and useful techniques that will help you to create an education marketplace of your dreams.
What Is an E-learning Platform

E-learning platform is a software application that allows you to store all of your e-learning content in one place. It usually consists of different management, communication, evaluation, and monitoring tools that optimize the learning process.
Types of E-learning Platforms
To create your own e-learning website you need to decide on its type. Here is our list of e-learning platform types.
Open-source learning platforms
The biggest advantage of open-source learning platforms is that they give you an opportunity to customize the software for your organization, choose the most essential features, and make the modifications any time needed. You can integrate third-party add-ons to make your learning courses more informative and engaging. One more benefit is that a development community always tests, finds bugs, and improves open-source platforms. The most famous examples of open-source learning platforms are Moodle, Litmos, BrainCert, Claroline, and DotLRN.
Massive open online course providers
Massive online courses are designed for large audience and available for anyone who has Internet access. They focus either on one specific industry or offer various categories and fields of study. Massive courses are usually provided by top universities and companies, offering students to get their certification online. The first online course was created in 2008 with around 2000 registered participants. 4 years after, two Stanford professors created the startup called Udacity. Within one year, other popular MOOC such as Coursera and EdX entered the market. As a result, now we have a wide choice of courses that will fit every taste.
Content management systems for e-learning
CMS usually have very basic functionality and are used for content generation within the system. The most popular Content Management Systems are Drupal, CoreMedia CMS, etc. They enable you to develop websites and web applications of any complexity. You can choose the necessary components, integrate third-party plugins, and extend the functionality at any time.
Web conferencing software
This type of software allows to conduct online conference calls or classes, videoconferencing, phones, and live chats. It is very useful for complex topics or one-to-one tutoring. Most of these tools offer a free trial, so you can test them and decide which one best suits your needs.
How to Create an E-learning Platform
Before starting to search for the best development company, take your time and think about what you actually want to create. How will it look like? What features should it have? What colors do you want designers to use? To make it easier for you, we have prepared the following tips.
Make a list of the e-learning platform features
We have outlined the most common features of an e-learning platform, but it is up to you what functionality you e-learning platform will have. Any extra features can be easily added later.
Typical E-learning Platform Features
Authentication/registration via email or social media
Viewing courses
Filtering courses by category, subcategory, language, price, etc
Reading information about courses
Enrolling on courses
Profile creation
Display of recommended, recently viewed and completed courses in the profile
Calendaring with upcoming classes
Displaying streaming web video
Chatting
Notifications
Certification
Reports of activities
Evaluation tools
Managing users
Managing courses
Create a mind map for an e-learning platform
Mind map is a graphical way to represent your thoughts. It will help you to invoke the creativity, deviate from the standard way of thinking and just let your ideas flow. Mind map of e-learning platform may display its main categories and the features they provide. Put yourself in the user`s place and think about the actions you would like to perform and what features are essential for you at the beginning. Here is an example of how it may look like: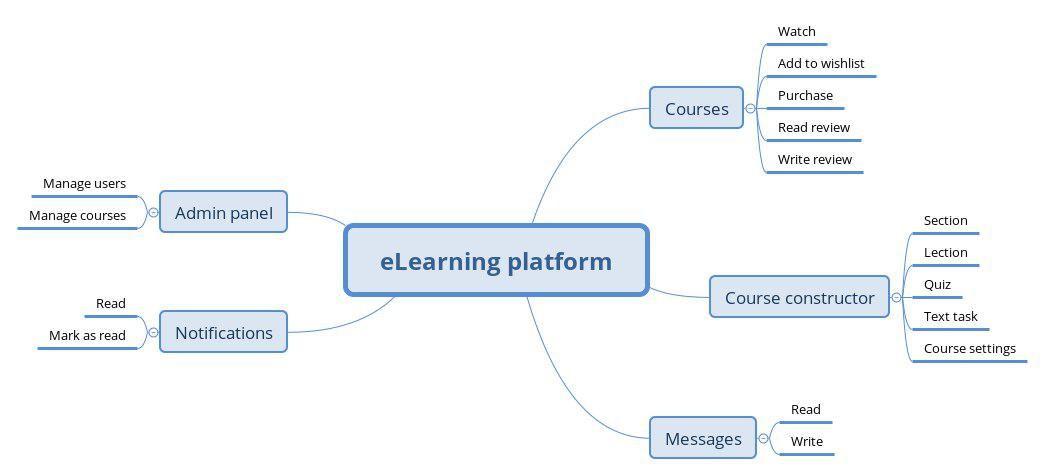 Your scheme may seem a bit raw at the beginning, but you can add new features and improve it anytime. Take a look at the main tools that will make your mind map look more professional.
A wireframe is a graphical layout of your web page that represents its interface elements. Frankly speaking, it is a blueprint of your website that gives a clear vision of how it will look like. With wireframes both development team and client are on the same page about how the project will function. Here is the list of the best tools for creating wireframes.
Coming with an idea is great. But nothing can compare to the feeling that your potential users adore this idea and can't wait to test your product. You may wonder about how the users may test your product by having only its blueprint. Here is what you can do. Show your wireframes to at least three users and ask them the following questions: What features would you like to add? What elements would they like to move? Is the navigation convenient for them? If not, what element should be replaced or added?
The wireframing stage is perfect for making amendments. This testing will help you to fill the gaps and improve the layout of your web pages. It will speed up the process of development and, as a result, you will receive the desired end-product.
UI design focuses on ensuring that the interface elements are easy to access. Keep the page layout simple, choose soft color tones and carefully place all the items. Here is an example of how your e-learning platform UI design may look like.

Choose the Platform Type
You can either choose a custom-made platform or customize the open-source platform. We have already discussed the approach to planning a custom e-learning platform, so if you decided to settle on open-source e-learning platform, keep in mind the following tips:
Check carefully if the platform has all the features you need
Ensure that the platform you choose will provide you with all the essential features needed to start. Customization and adding new features may be really expensive, and the cost may grow exponentially. Also, there are platforms that charge you for the number of users, so if you plan to have thousands of users check it out as well.
Ensure that it is updated regularly
An e-learning platform should always suit the needs of users and please them with the different novelties. If it's not, the user will choose another platform. No one wants to waste time on the platform that is updated on rare occasions.
Learn about the support provided by LMS
There are several types of support the LMS can provide: FAQ, online forums, phone or email support. Before choosing an e-learning platform, specify what kind of support they provide, how often, and for what period of time.
Cost of Educational Application Development
The total average time needed for developing an e-learning platform ranges from 526 to 1374 hours.
E-learning apps are becoming more and more popular. If you want to create your own e-learning platform and stand out from your competitors, you have to invest. Invest your time, money, and effort. Remember that right planning will prevent you from various unexpected problems that may appear during the development process. And, without a doubt, investments in planning will give you the desired benefits!