How to Build the Effective Business Plan and Revenue Model for Online Marketplace?

If you're engaged in digital business, you're probably aware that to produce the world-known project, you should sweat well not only on its technical realization but take into consideration its business logic too. In this article, we'll unveil what is so special about the creation of online marketplace business plan.
We offer you to check out how to develop online marketplace business model canvas and the answers to 'how to monetize a marketplace platform?' question.
Let's consider marketplace model examples. How is each marketplace platform business model unique and different?
Currently, the marketplace world revolves around 3 major business types, which are B2B (business-to-business), B2C (business-to-community), and C2C/P2P (peer-to-peer).
Online marketplace business plan for B2B, B2C or C2C solutions might be different. Let's see why.
First of all, for building a B2B or B2C or C2C platform, you should learn a particular marketplace model example meticulously. For instance,
B2B audience - there's always a supplier and a manufacturer/producer. A manufacturer and a supplier can list on a single platform and offer their services. It usually works like this: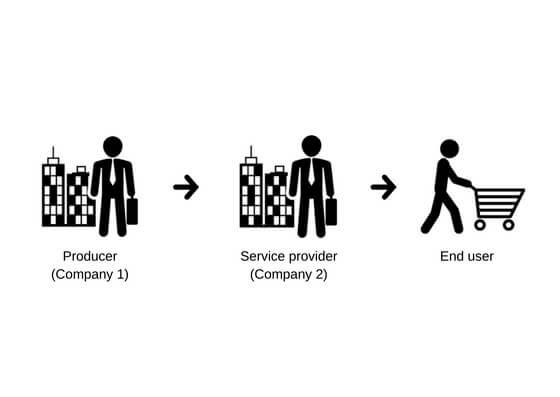 B2C - a company/organization which offers their product(s) directly to the end user. 

This includes dropshipping companies that don't actually handle or ship their products themselves. With that said, an EDI solution for dropshippers is still necessary to send and receive data, so it isn't as if dropshipping is completely hands-off. 

C2C - users can buy and sell things from each other
If we drill a bit deeper, we find out that marketplace types can be divided to horizontal (marketplaces of universal scope, where we can buy and sell anything, i.e. Alibaba, Amazon,etc.) and vertical (niche-oriented, single-focused, i.e. Hertz, Booking.com). Below we can see the examples of several popular marketplace solutions:
By the way, you can check out Meals Unite in our 'Portfolio' section and try it on your Android device.
Building your two-sided marketplace platform. Let's craft online marketplace business model canvas for your project
The 'startline' is where you determine what kind of marketplace platform you want. Is it supposed to be B2B or B2C or C2C project?
What we're going to do, is to draft a simple online marketplace business plan for the P2P web/mobile shared economy solution. This is a two-sided marketplace platform where the users can offer comic book rarities to exchange or sell.

First, we determine the category of people we create our marketplace model example for.
- Adult comic book enthusiasts and readers who want to sell, exchange the specific comic book issue or the entire collections between each other
- Original authors and/or artists of comic books, who want to showcase and sell their own already written, drawn, printed, and published works.
Several ideas on what customers' demands we should fulfill to make our product more 'distributive'
(note: this is just a sample, so we recommend to not take it too seriously :) )
We can get a better picture of how to monetize our marketplace project by detecting our users' needs, first of all.
Comic book enthusiasts and readers
- I should have the opportunity to establish my own reader's profile via different methods. Add comics collections and attachments effortlessly, preview them, browse other readers' profiles and get the preview of their comic book collections.
- I need a worldwide platform, where I can sell and ship my comic book issues to other comic book enthusiasts like me
- I need a worldwide platform, where I can exchange my comic book issues to the comic books other users have listed on their profile
- I need a marketplace platform, which would supply me with different payment and shipping options
- I need to be available to store and read the purchased or exchanged comic book in my collection/archive for unlimited number of days
- Analytics to monitor my earnings, purchases and views.
- Chatroom and messaging options to make connections
- I need to see pricing options of your platform, to determine which one fits my needs
- 'Comic book near me' - look for various comic book shops/events near you.
Comics authors and artists
- I want to be signed in as an original comic book author and comic book distributor/seller
- I need to enlist my creation in your platform to offer it for purchase to the comic book readers
- Various payment-receiving options would be great
- Analytics is a must-have to browse my profile views and selling stats.
- Chatroom and messaging options
- Privacy Policy and sensitive data proper protection
- Author's rights (watermark, trademark, brief preview, unavailability to download image, etc.)
- Pricing plan for comic book authors
- [Possible feature] switch between reader and author profile categories comic books related events, and exhibitions near me
Now, what is the functionality that can satisfy our customers' needs?
The solution a P2P platform for comics purchase & exchange can offer:
OAuth, authorization methods via G+, Facebook, e-mail and/or phone number

Ability to choose between profile types: you can create the 'reader' profile to list your comic books rarities for selling and for the exchange. Or if you're a comic book author, you can create the 'author' profile and start selling and showcasing your comic books.

Various payment methods available: PayPal, Stripe, Credit/Debit card (Visa, Mastercard), SEPA. Secure payments

Cooperation of the marketplace with delivery services to ship the orders inside and outside the country.

User's dashboard, where they can add, edit their personal and public information. Access to my comic book showroom, where they can list comic book issues for sale or exchange

Embedded analytics which allows users to monitor page/profile views, comic books exchange, purchasing and sell performance

Cloud storage where you can keep your purchased comics for the unlimited number of days

The so-called 'virtual reader system', where users can read purchased comic books

Chat and messaging functionality

GPS and tracking functionality for such features: 'comic book near me' and for finding comic books related events

Pricing plans for each user category

Author's rights protection and impossible comic book leakage
As you can see crafting the well-detailed online marketplace business plan can help us foresee the scope of our product's distribution.
How to monetize a marketplace project? App monetization strategy and ideas for B2B, B2C, or C2C solutions
Here are several online marketplace revenue models that would help you earn money on your project.
Let's consider P2P marketplace app monetization strategy for our comic books exchange, buy, and sell platform. We've chosen to implement 3 Pricing Plans, one of which is Free plan, the second is extended for readers, and the last one is for comic book authors. Next, the user has to pay or upgrade to the specific pricing plan to get access to such special features, as:
Cloud storage where you can keep your purchased comics for the unlimited number of days

Virtual reader option

Comic book near me option and looking for comic books related events

Add the unlimited number of comic book issues/collections

Possible: expanded author's rights options
You can consider other app monetization strategies, which include:
Fee collection per sold item/completed work (think of Etsy, Upwork)

Implementation of in-app advertisement

Provide your users with the opportunity to use trials to try out the product before the purchase

Paid subscriptions. Let your users get access to specific functionality only after they've subscribed
When you apply a certain online marketplace revenue model, remember that it should be based on such factors:
Monitor your customer's preferences, level of interest, and attitude towards your product. Create questionnaires, A/B testing, and introduce beta features to try. Based on the collected results, think of how your users can get even more from your marketplace platform.
Follow the trends but at the same time stay true to your own uniqueness. Want it or not, but people will always follow trends. You can be a certain trend follower too. Or you can start your own mainstream thing that people will monitor and follow.

Visit your industry-related events and make new connections

Mix up several revenue models and see what your customers' response will be
Summary:
We hope that this article and C2C marketplace app development extended example have helped you to clarify how to monetize an app idea and line up more clearly an online marketplace business plan. Determine the direction towards which your marketplace should move, think about the people you're creating your solution for and get it going.