Marketplace Analytics Visualization: Reveal Data That Matters

"Visualizations act as a campfire around which we gather to tell stories"

Al Shalloway
Today we want to tell you a story about data visualization as a feature for your online marketplace. You will learn about benefits of data visualization for your marketplace analytics, what metrics to visualize, how to present them, and what tools to use for data visualization including our own open-source analytical and reporting solution for MongoDB- Databazel
What data visualization is and why it's important
Generally speaking, data visualization is a presentation of a big amount of data in the visual form. Depending on the type of data, it can be presented in bars, columns, charts, line graphs, sunbursts, etc.
Data visualization allows you to dig deeper and discover the hidden gems in your data.
It makes the processes of analysis, comparison, search of relationships, and progress tracking more comprehensive and effective.
As a result, you make better data-driven decisions, track the performance metrics, analyze the areas that need improvement, and get insight into your customers' behavior.
Benefits of data visualization for your marketplace KPI analytics
When it comes to the multi-vendor marketplace, the way you arrange and analyze data directly influences your marketplace performance.
When you have all the data at your fingertips, it is much easier to see the gaps that should be filled or the areas that can bring you more revenue and customers.
Here are the perks data visualization will bring to your online marketplace business.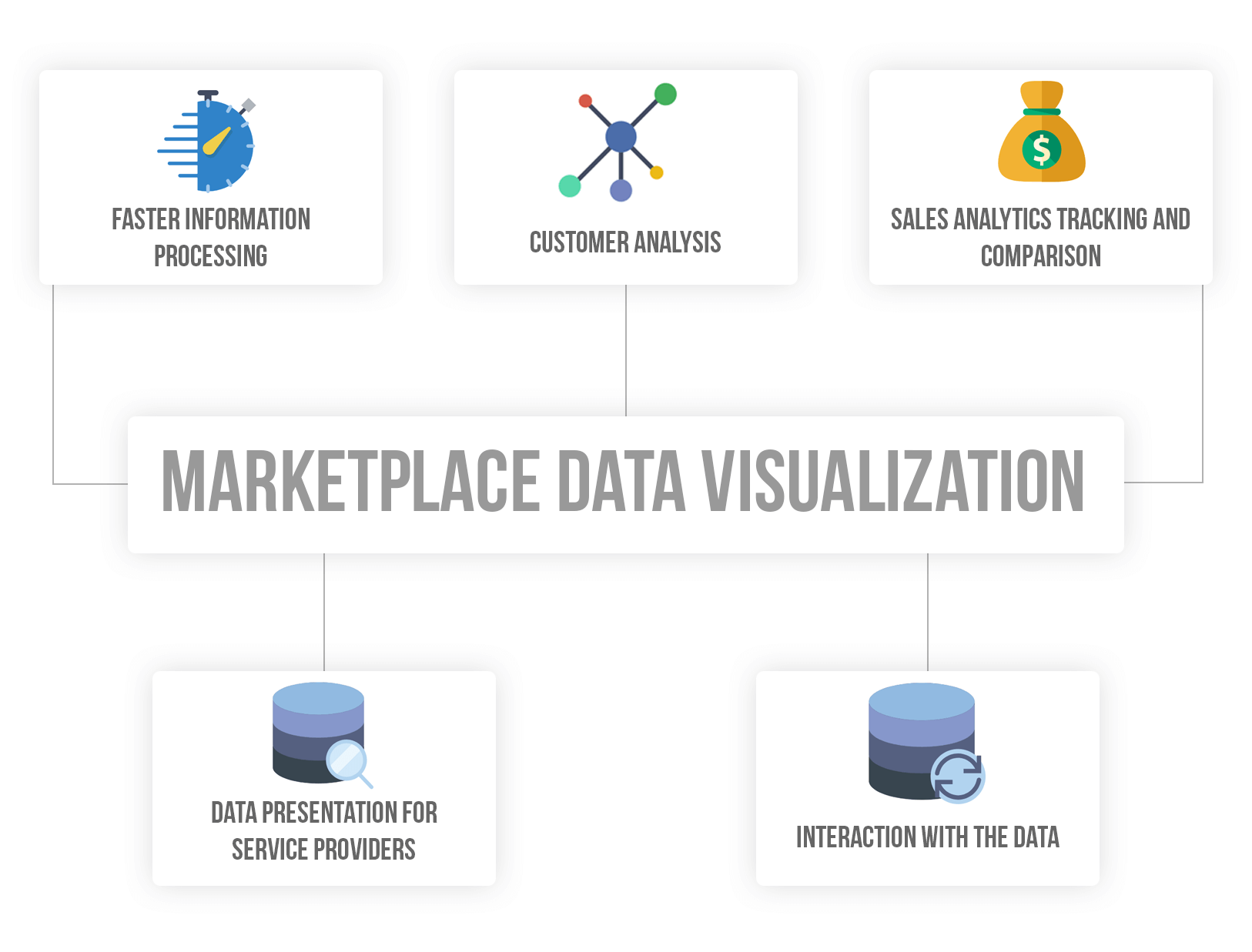 Faster information processing
Our brains process information easily if it is structured and organized in a convenient way for us. As a result, you can focus on one area without getting distracted by things that don't matter at the moment.
Data visualization will help you to identify your clients, track their behavior, and compare their interests, age, buying preferences, budget, etc.
Sales analytics tracking and comparison
You can easily track, analyze, and compare the transactions made via your marketplace.
Constructive data presentation for service providers
You can offer data visualization as a feature for service providers that are listed on your marketplace. It will give them an opportunity to improve their services and increase the number of customers and transactions.
Most data visualization tools allow you to interact with charts, resize them, place them in a convenient way for you, and share them with your team.
What metrics are important for the marketplace
Marketplace data varies for marketplace owners and service or product providers. Each of these segments needs different analytics. Let's review the metrics that come in handy.
Data for service providers
Number of buyers per day/month/year
Activity tracking per day/month/year
Customer liquidity (probability that a visit will lead to the transaction)
Profit by countries/cities
Number of orders per buyer
Analysis of customer segments
Market conditions and trends
Data for marketplace owner
Number of listings on the marketplace
Provider liquidity (percentage of listings that lead to transactions)
Total sales value of the products or services sold via your marketplace
Tracking the steps user takes before buying
Customer acquisition cost (how much money you spend on new customer e.g. customer support or paid ads)
Revenue by location, market, acquisition channel or time
Take rate (percentage of the Gross Merchandise Value retained by your marketplace)
Data visualization tools
Our solution - open-source data visualization app - Databazel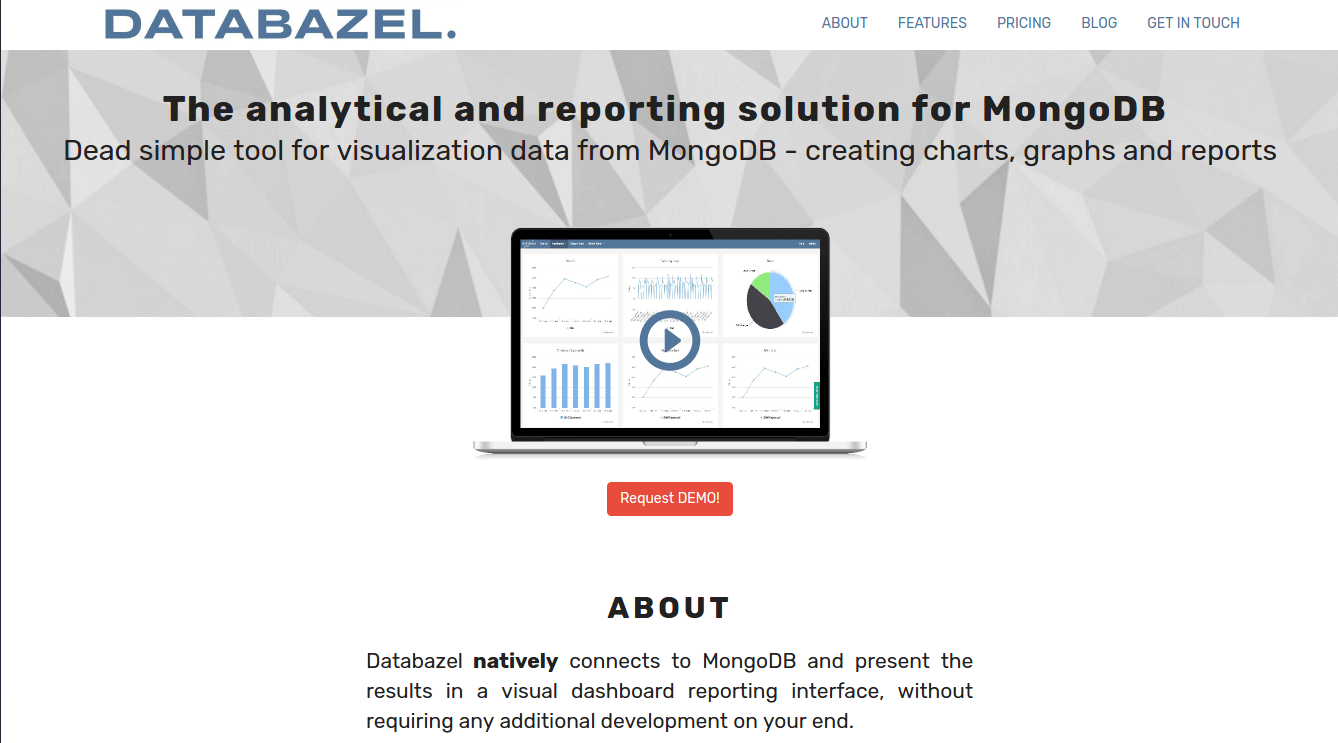 Apiko has developed the analytical and reporting solution that allows to visualize data for MongoDB by creating charts, reports, and graphs. This is the open-source tool and our developers are currently working on it. It is flexible, so we can add tailored features depending on the specific needs of your company.
Databazel natively connects to MongoDB and presents the results in a visual dashboard reporting interface. It also allows you to control, analyze, and share your reports in real-time.
Its main features include:
Connection of a database to the app (you can add more than one database if necessary)
Choose collections to work with
Data filtering
Build a chart of a chosen type (Bar, Line, Pie, Scatter, Radar, Polar, Donut)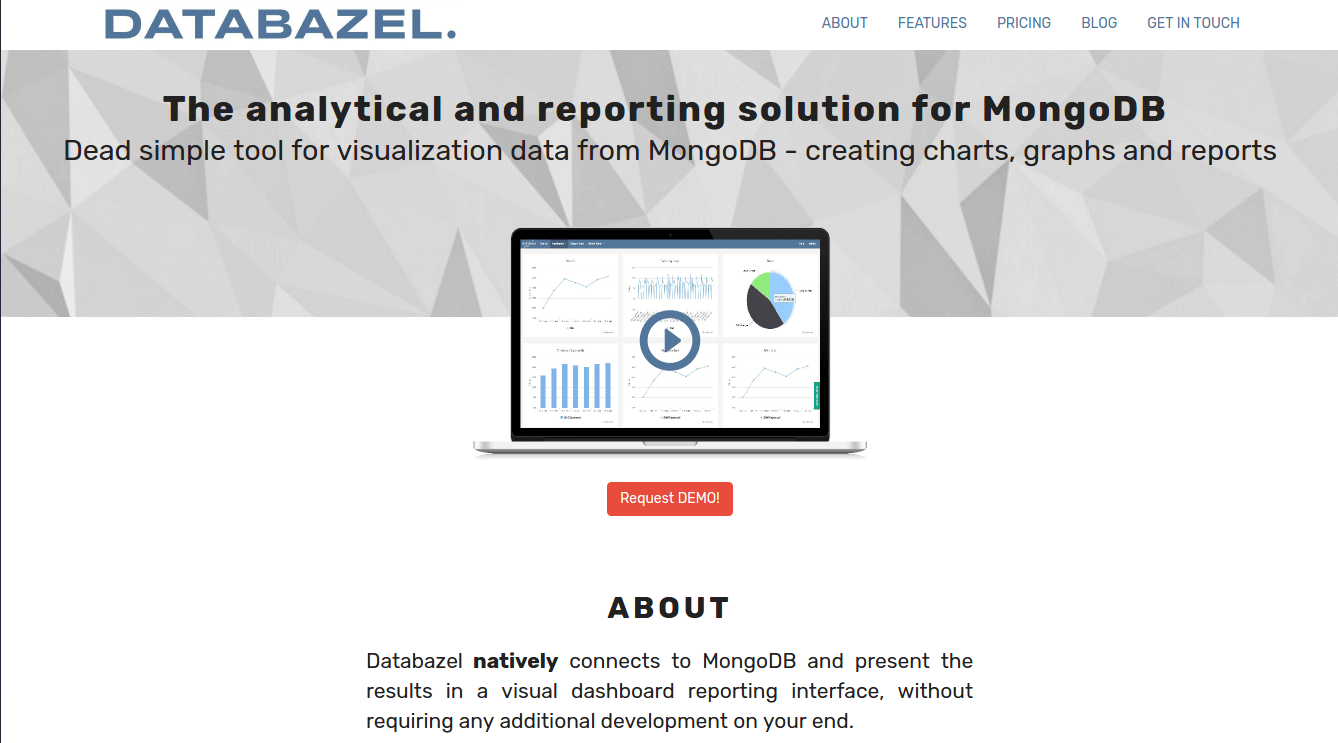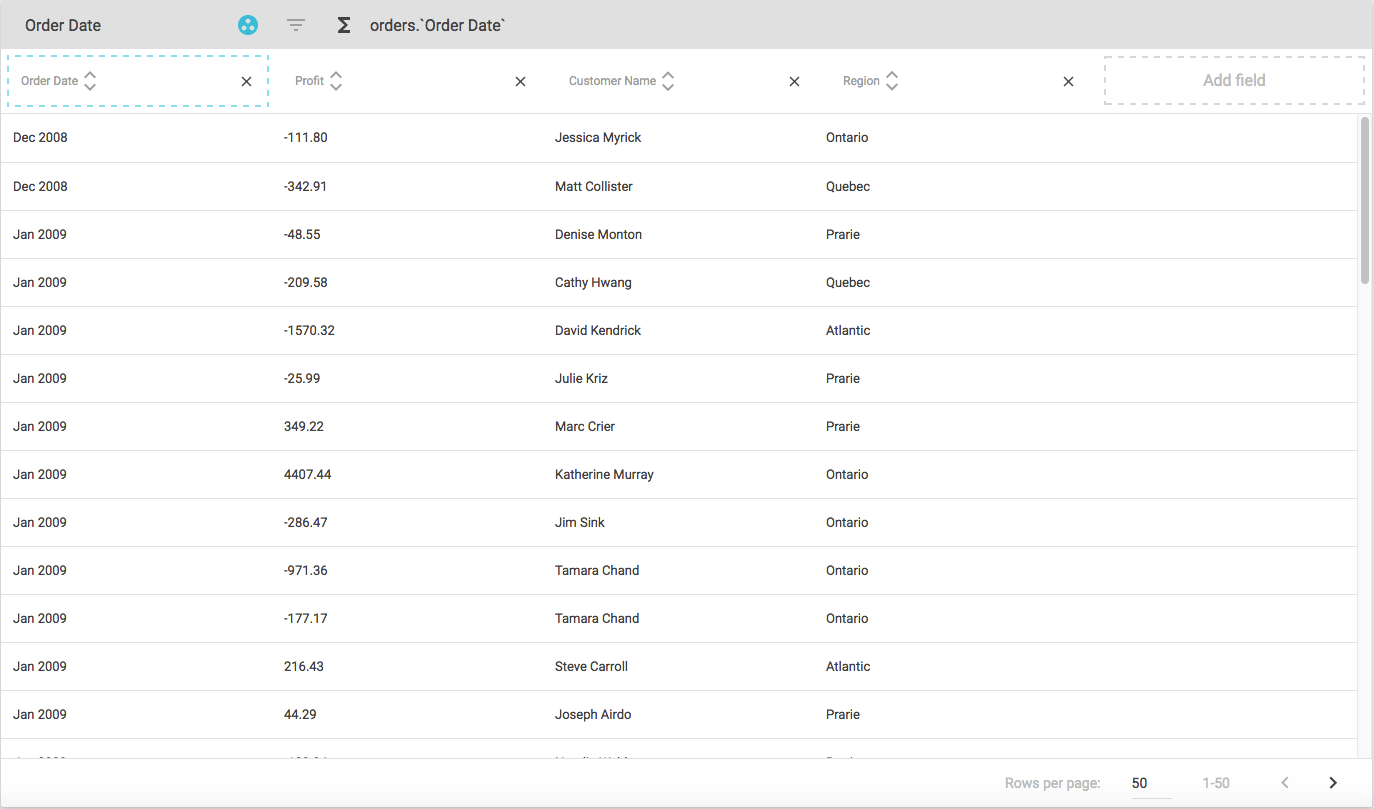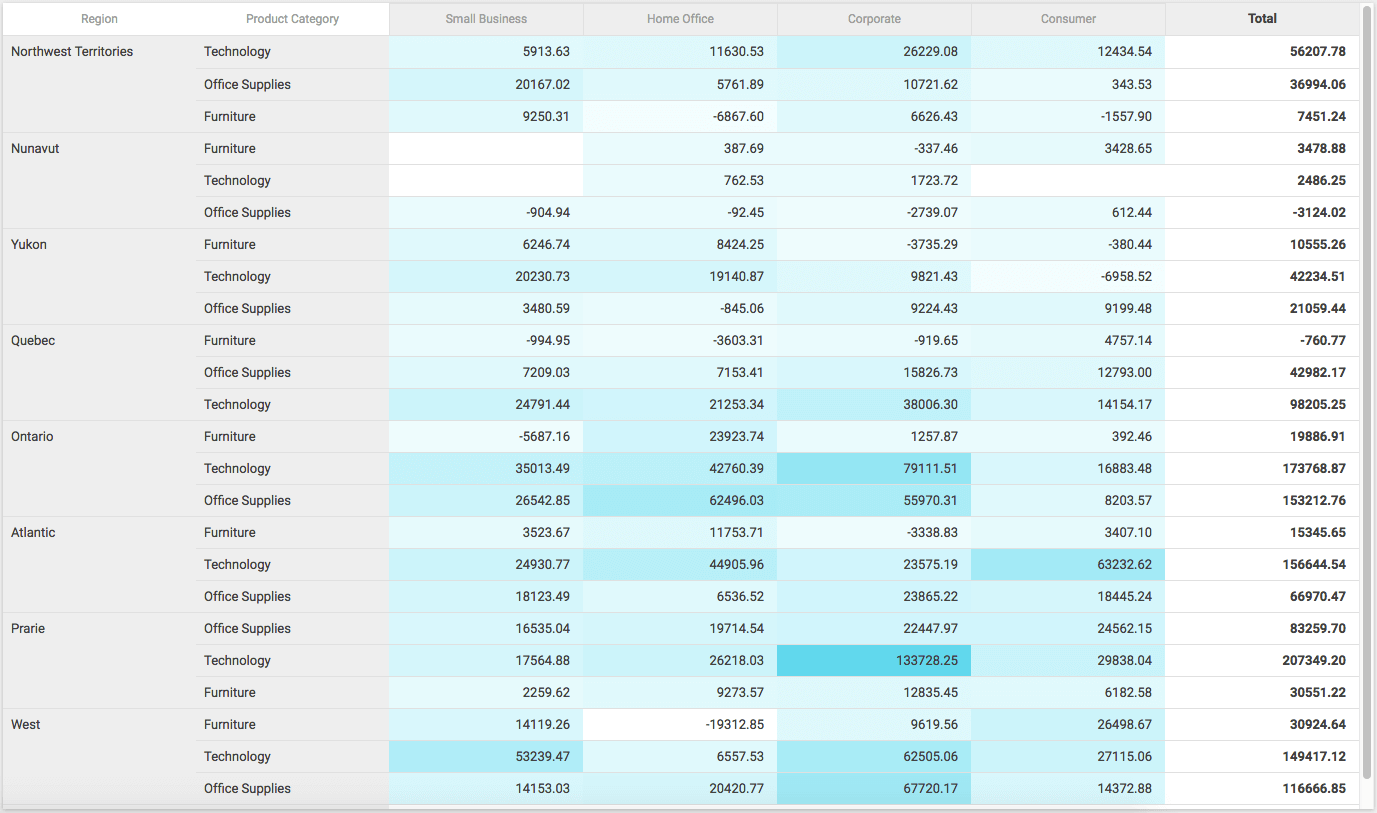 Pagination
Dashboard

Resize and place saved charts and tables any way that is convenient for you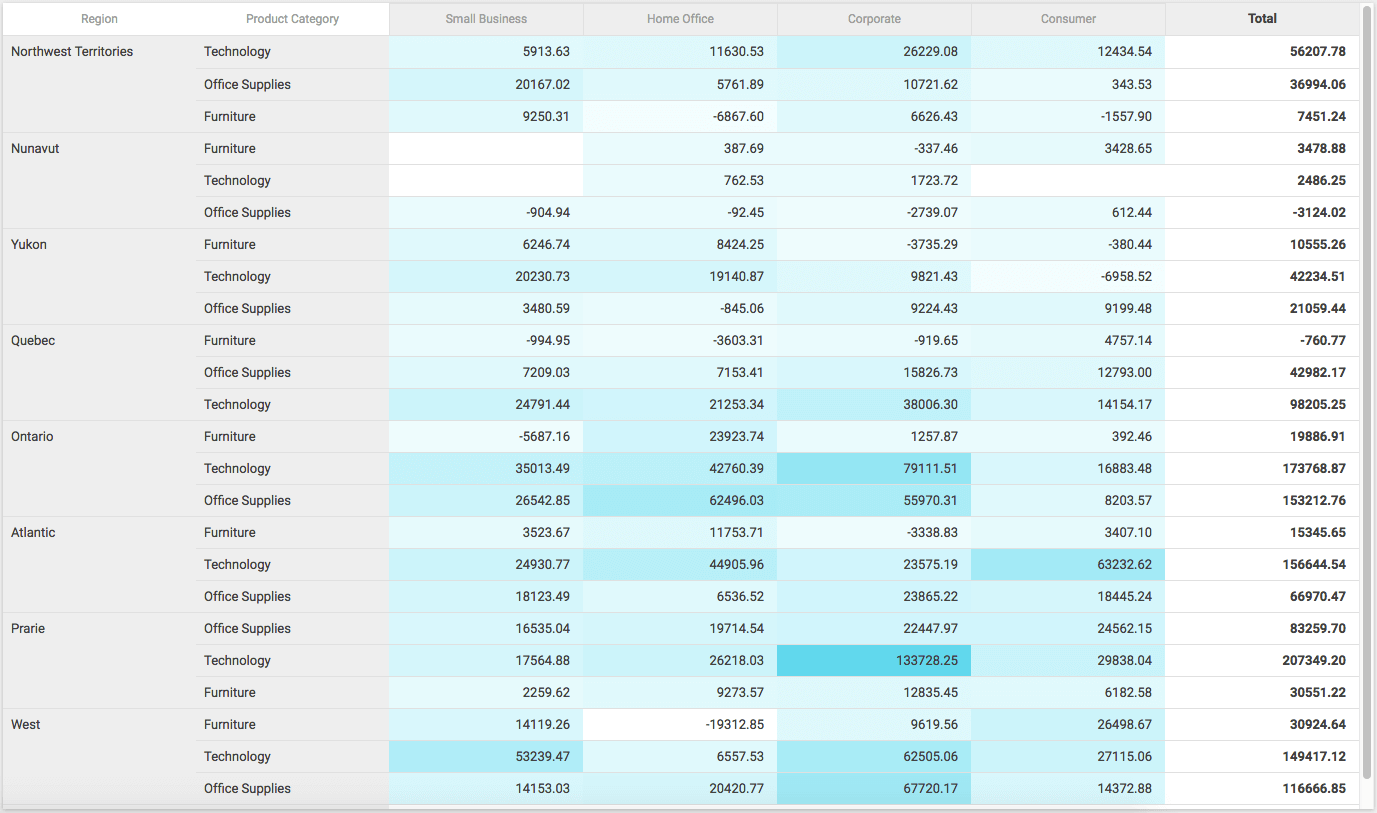 Share the interactive dashboard with your colleagues via URL

Invite new users to work on your dashboard

Ability to check the SQL-like query to MongoDB
Databazel allows you to analyze all the important metrics of you marketplace mentioned above, such as profit by different dimensions, product and profit correlation, customer segments, product categories, sales tracking, etc.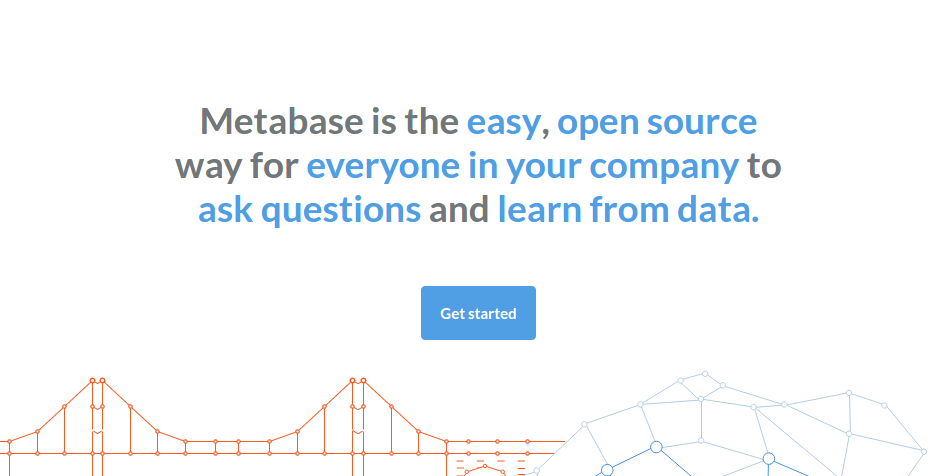 Metabase is an open-source Dashboards&Data visualization software that allows to share data and analytics across your company.
It allows users to run their queries (even if you are not tech-savvy) and pull the answers to their questions from the database.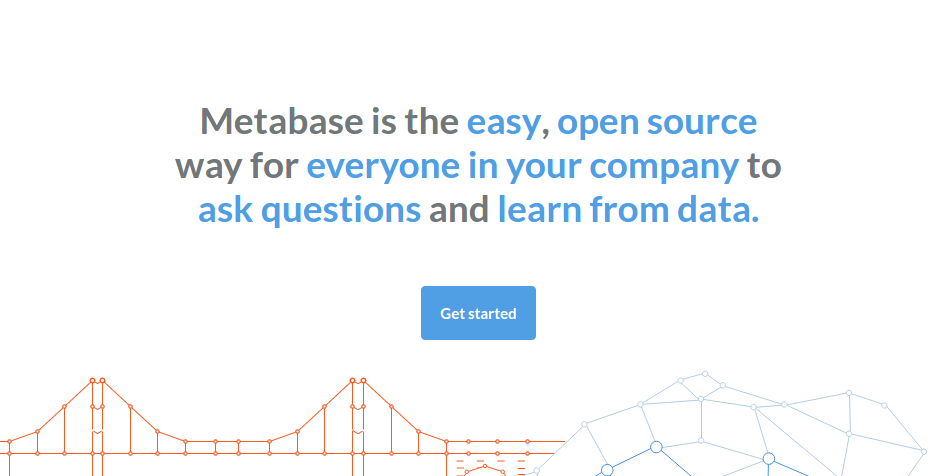 Users can also turn these data into various graphs and charts. With Metabase, you can also improve existing questions, create, organize, and share the necessary data.
Here are the examples of how companies use it.

Apache Zeppelin is an open-source web-based notebook that enables data analytics, visualization, and collaborations.

ReDash is an open-source tool that allows you to connect to your data source, convert the data into visualizations, share with your team, create dashboards, and interact with the data without writing SQL queries.

Bime allows you to integrate data from various sources (flat files, CRM, databases, and web apps), create reports, dashboards, and metrics with no SQL.

RJMetrics is a business intelligence tool for e-commerce that enables you to get insights into your Magento. With RJMetrics you can track and analyse deep analytics such as cohort analysis, churn analysis, marketing ROI, e-mail segmentation, holiday performance, etc.
To wrap it all up, marketplace analytics visualization will turn your data into the mine of discoveries and insights. It will help you to deepen your analysis, and, as a result, improve the strategy and fill the gaps if any.
Find out more about marketplace development: