Peer To Peer Bike Sharing Marketplace: How To Make It Successful

Nothing connects more than sharing.
Sharing thoughts, values, information, and experience - this is what makes us feel rich in spirit.
Without a doubt, the popularity of collaborative sharing economy effaces the cultural and geographical boundaries. It gives us the sense of purpose. That`s why people like it.
Airbnb, RelayRides, eBay, TaskRabbit, BlaBlaCar - these companies have proved that we can make money by sharing the assets we own.
In this article, we will review the type of marketplace that despite its infancy is still far-reaching. We are talking about the peer to peer bike sharing marketplace. You will learn about the successful peer to peer marketplaces, their features, and business models. We have also prepared a bonus for you - free PDF checklist on how to build a successful startup: from business idea to MVP development.
Let's dive right in.
Peer To Peer Bike Rental Business. What's Inside?
P2P rental business opens a lot of opportunities for the startups that want to become a part of the sharing economy.
According to a Pew report in 2016, 72% of Americans used a P2P service.
Read also
:
How To Build a Peer to Peer Car Rental App
The impact of these P2P economies is just beginning—a PWC 2014 report estimated that P2P economies would grow to $335 billion in 2025 compared to $14 billion in 2014.
If you decided to create a peer to peer marketplace, today is a is high time to do it.
In general, bike sharing world is expanding with the lightning speed. Just look at this map.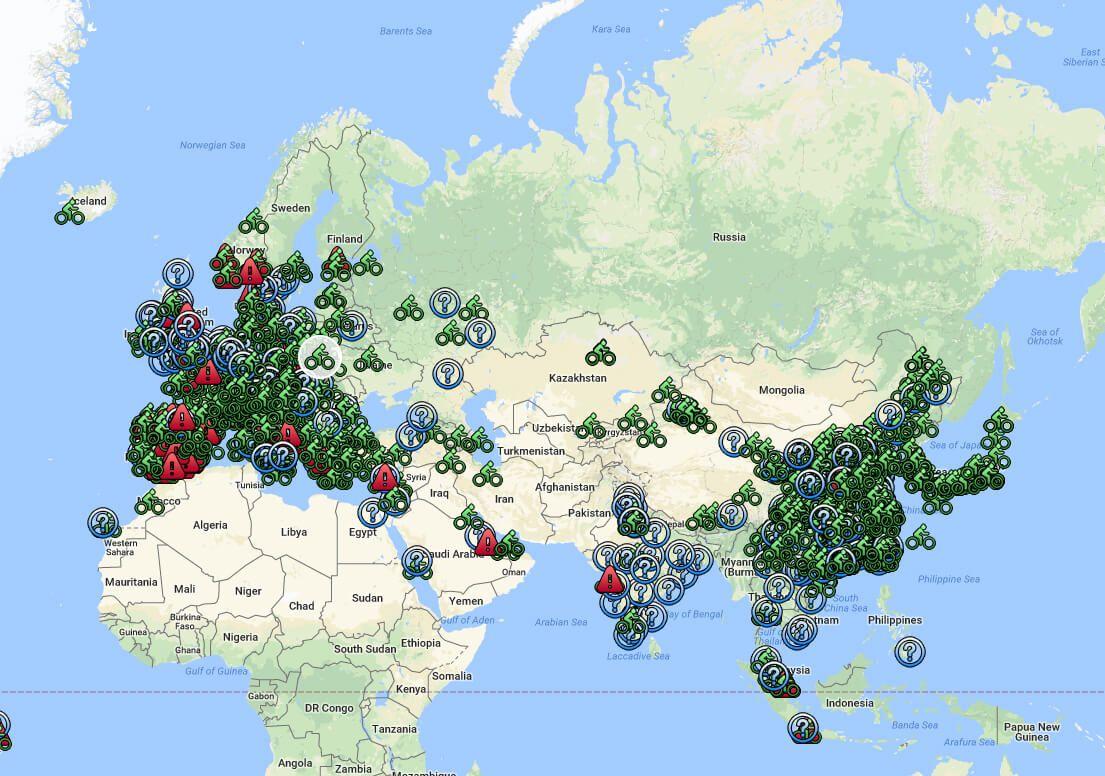 The bike sharing popularity in the USA is also growing. Between 2010 and 2016, the number of bike share systems climbed from 4 with 1,600 bikes to 55 with 42,000 bikes.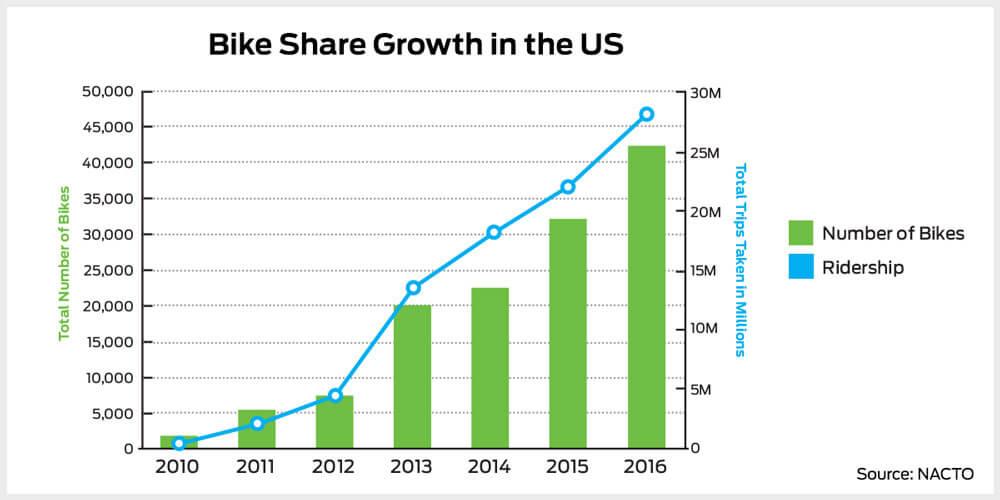 But the idea to rent bikes not in rental companies but from ordinary people from different parts of the world sounds great!
The founders of the most famous P2P bike share marketplaces have ignited the idea of not simply renting a gear, but getting the unforgettable traveling experience, meeting new people, and giving others a chance to explore the world on two wheels.
Let's dig deeper into the concept of some online bike sharing marketplaces.
Popular Bike Sharing Marketplaces

Spinlister was started by USC students as a peer to peer bycycle sharing platform. It was released in 2013. During this period of time, the platform gained almost $450, 000 from the investors and was a real boom among the cyclists.
The concept is pretty easy. You post your bike`s photo, mention the rent price and short description. When a person comes to explore your city or is just in need of a bike for some period of time, they can easily rent it via the app.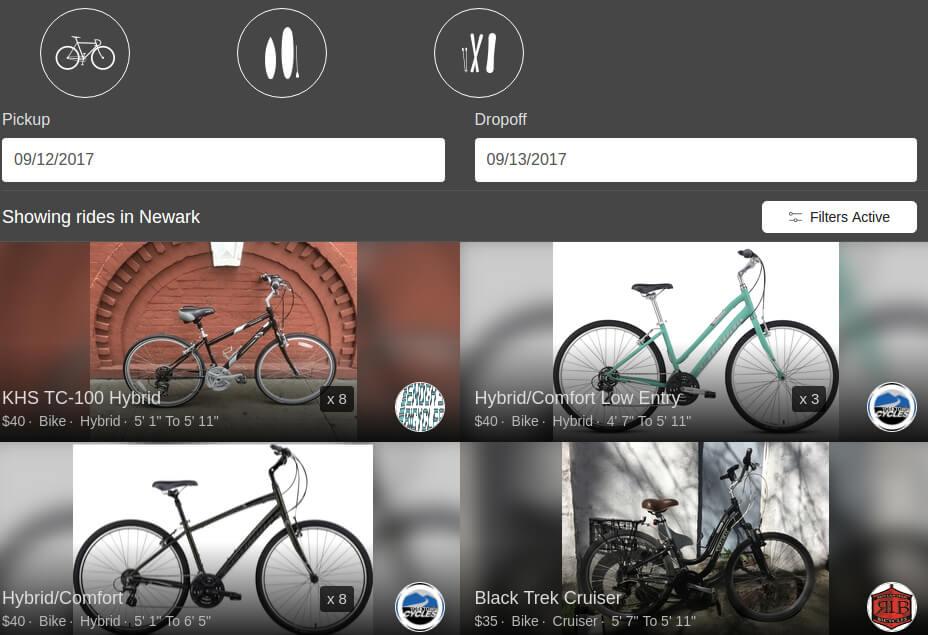 The security issues are also thought out to the last detail. If your bike is damaged or stolen, Spinlister provides you with up to $10,000 insurance.
The idea of this app is more than just renting a bike. The founder of the platform said:
"It's way more than just a rental; you're renting from someone else, so you respect way more their gear, their bike, and also you feel grateful for him allowing you to use his bike, for a small fee"
Later on, they decided to rebrand and expand their platform and make it trending in any season. How did they do it? They started to rent not only bikes but also other outdoor rental gear and changed their name into Cycleswap.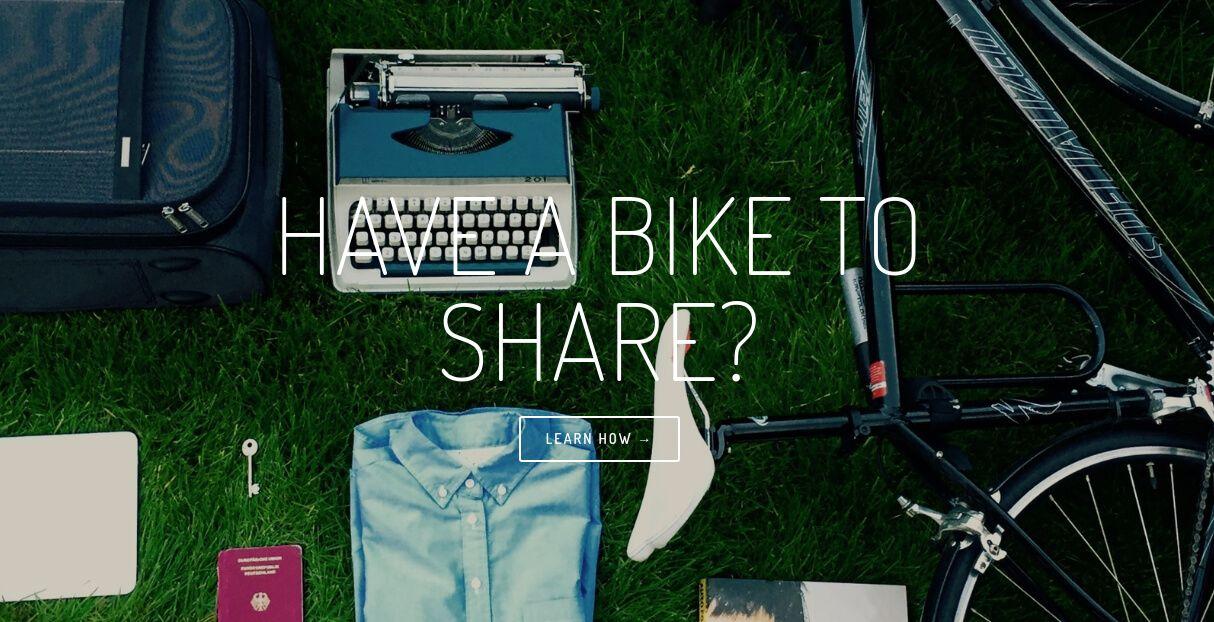 The story of this app is really worth to mention.
It was created by an Oxford college student and became very popular among locals.
She started by inviting her closest friends and family to share their bikes. Then it was supported by the Oxford University Innovation and other institutional partners.Since its launch three months ago, the business has generated revenues of more than £20,000.
The founder of Cycle Land thinks of bike sharing as of a way to unite people.
"I see cycling as the best way to get around, but I am biased; I was born in a Lithuanian town that has been a bike city since the 1940s. Bikes united people. There were cycling races and bands that played music inspired by bikes and cycling. When I moved to America my first purchase was a vintage blue bike to get around in Connecticut. I remember once being introduced as 'that girl who cycles to school'. Since then, I have lived in different cities in the USA and Europe, and had a bike in every one.
Now their strategy is to build a liquid bike sharing community in Oxford and in other cities with no public stations or high demand for peer to peer bike sharing.
The company has got a solid number of investments around $524.92k. Now it is going to expand in other cities and even become the largest community of bike renters.
Bike Sharing Business Model
Focus on one category and city
Focusing on one category (bikes) and one geographical area will help you to reach your target audience faster and become popular in small communities. If you concentrate on one city, it is easier to figure out where cycling admirers are hanging out, visit them, and share your idea about peer to peer bike rental app. In addition, you can get featured in the local press or a television broadcast.
Combine different models of bike sharing to get more revenue
To receive a revenue faster, you may focus not only on peer to peer bike sharing, but also offer "shared bike mobility as a service" to communities, colleges, universities, accommodation providers,couriers, etc.
Use crowdfunding programs
Getting shareholders that will invest in your marketplace is a real luck! Crowdfunding platforms make it easier for the startups to receive money from the investors and create a campaign. The examples of such crowdfunding platforms are Seedrs, Kickstarter, Indiegogo, RocketHub, etc.
Broaden your marketplace to the outdoor gear rental hub
After settling your bike share app on the market and gaining a great number of users you can expand your bike share marketplace with additional services. Except bike sharing, it can include renting other types of outdoor gear. As we have already mentioned, Spinlister has used exactly the same strategy.
Incorporate bike shop partner program
Shop partner programs are beneficial for both sides. For example, Spinlister partners with IKEA, so IKEA family members can enjoy the Spinlister services without the fees. You can also partner with bike shops allowing them to access the community of renters and make revenue from unsold bikes.
What About Safety? Essential Bike Sharing App Features
Damage and theft protections
The users of your bike sharing app should be sure that any damages received during the rental period are covered by the insurance. Provide damage and theft protection that covers both damages and theft.
All accounts on your bike share app should be verified. Include credit card, phone number, and social media verification to build trust in your marketplace.
Genuine reviews about the renters and listers are essential for safety and confidence.
All the users` private information should be revealed only after their confirmation. Make sure that your messaging system is secure and private as well.
Free rental of sturdy combinations locks
You can offer combination locks for the most active community members. In such a way, users can find your bike in any location without having to meet in person.
Stay in touch with your customers in case they have any problems or just want to leave a feedback about the service.
How To Grow Your P2P Bike Rental Marketplace
Let`s confess that building a strategy for P2P marketplace is much harder than other types of marketplaces.
As the major users of peer to peer marketplaces are average people from different countries, it may be difficult to monitor the service.
Here are 5 strategies that will help you to keep control over your marketplace.
Control the quality of your listings
It is important to curate the listings that appear on your marketplace as well as people who list them. Peer to peer marketplaces in general are maintained by their users. However, it is you who is responsible for building the trust and nice business relationships between them. Control of the supply and service quality should be the priority for you all the time.
Concentrate on short milestones
Entrepreneur has published a great picture about dividing your strategy into short milestones and getting the trust of users.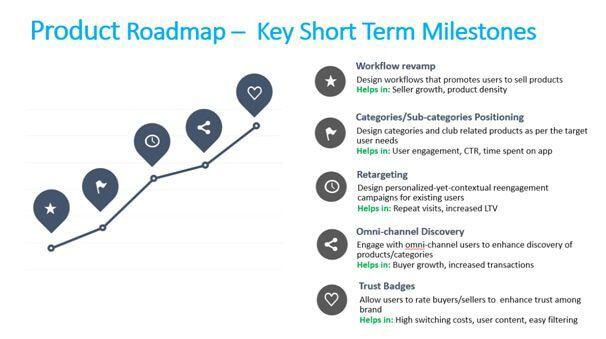 The good example here is Peerby. This is a marketplace where you can borrow the item you need in just 30 minutes. The main reason people use this service is convenience.
Actually, it has seemed that sharing low-value items can not offer any unique experience. But this company has proved the opposite. When we are talking about p2p bike sharing think about how you can make bike sharing convenient, fast, and problem solving.
Think about the order value
According to Techcrunch, one of the problems of rental marketplaces is that the average order value is too low for them. Why should I rent a bike to the unknown person? What is the sense? For example, the idea of Spinlister is to help bike owners collect money on bike repair or buying different accessories. Such approach will help you to become not only a peer to peer bike sharing platform but a place where people can promote the culture of cycling.
To wrap it up, peer to peer marketplaces are all about people. Users always love services that solve problems and bring benefit. Most marketplaces fail because people stop seeing value in them. Your task is to always treat your users with different bonuses and benefits. Believe us, it really works!