How to Monetize a B2B Marketplace: Examples of Most Popular Revenue Channels

In our  set of business articles, we constantly keep telling that business model is the first thing to focus on before creating a product.
Business model is a pillar of your project that keeps it afloat and сombines the main principles for its successful operation.
It consists of 9 main blocks:
Сustomer segments
Value proposition
Distribution channels
Relationship with clients
Revenue channels
Key resources
Key activities
Key partners
Cost structure
In this article, I will focus on the revenue channels. You will learn about the B2B marketplace business model examples or, more precisely, their monetization.
Most common types of business model in B2B marketplaces
These are 4 most widely spread business models of B2B marketplaces:
Subscription fee includes monthly or yearly payments for a certain set of features. Subscription fee may be a part of freemium model, where the basic  functionality is free, but to get more advanced opportunities users have to pay a recurring fee.
Featured ads are a great way  for the providers to get more visibility on your marketplace and promote their offers.
However, this type of business model is very specific. Most of the users are tired from annoying ads and such approach may push them off your marketplace.
The only way out is to make these ads tailored and personalized. That's why this revenue channel works best for niche marketplaces that are focused on one industry. In this case, the ads will be relevant to most of the users.
Transaction fee is the most popular type of revenue channels out there. Most of the marketplaces charge a commission from the transactions on their platform.
However, this business model is lucrative only when your platform facilitates the cooperation between service provider and customer. Users will pay a transaction fee if they get a lot of value from what you offer.
On some marketplaces, providers have to pay a fee for the listings they place. Before charging a listing fee, you should attract a big volume of customers to your marketplace. In this case, the providers will know that their listing will be placed in front of a large audience.
Let's review how successful marketplaces use the business models mentioned above.
Marketplace business model examples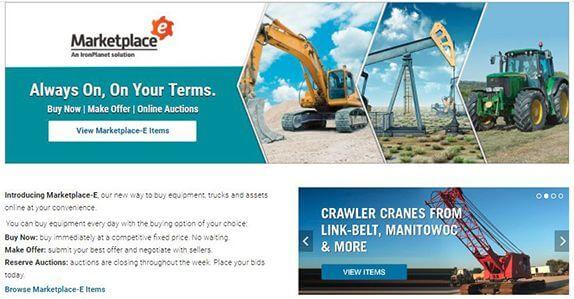 Ritchie Bros is an online asset management and multi-disposition company.  It offers different solutions for buying and selling pre-owned heavy equipment. They provide their customers with multiple selling platforms that operate around the world.
There are three main selling options: create an offer, set a fixed price, or start a reserve auction.
Revenue model
Straight commission from auction proceeds
Admin fees and fees from value-added services ( it assists with the purchase of equipment, including financing , inspection services, etc.)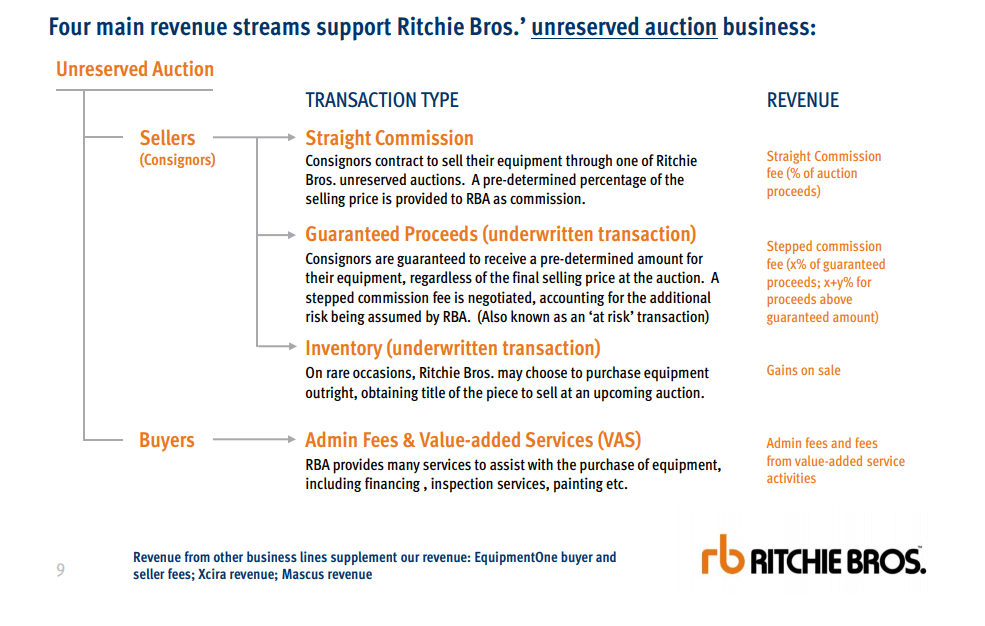 Source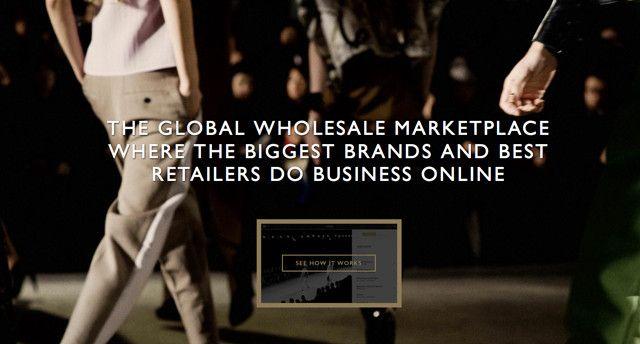 Joor is a global wholesale fashion marketplace that connects top brands with retailers.
The well-known chicken egg problem here is whom to attract first: retailers or fashion brands. In this case, fashion brands will not use the platform if there is no large database of retailers that will promote their products. Moreover, if retailers love the platform, they will tell the brands to get on board. For this reason, Joor focuses on attracting the retailers first.
Revenue model
Joor is free for retailers, but fashion brands are charged for service. They pay a subscription fee (about 5,000 to 20,000, depending on the brand size and the level of customization they need). In addition, Joor charges them 3% of sales.
In its turn, Joor verifies all the brands and gives them an access to all important tools for order tracking, lead generation, shipping and billing management.
To attract more retailers, Joor provides them with functionality for planning and comparing product assortments, tracking sales data, and access to omni-channel reporting and bulk orders.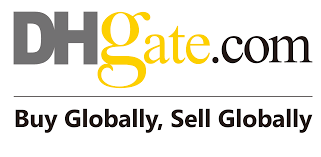 DHgate is a Chinese B2B ecommerce platform that offers 33 million consumer products at wholesale prices from more than 1 million suppliers. Compared to other similar sites (e.g. Aliexpress), the prices on DHgate are significantly lower.
Revenue model
DHgate uses a multi-sided business model and its main customer segments are consumers and vendors.
It charges commissions to vendors for successfully completed transactions. Commissions depend on the product category, but usually it's 4,5 % on sales of $300 and more and 8% on sales less than $300.
If you decide to use commission fee as one of your revenue channels, make sure that your platform provides value for both sides: buyer and seller protection system, rating system, reliable payment system, order management, etc.
Bonus: How building B2B marketplace will take your business to the next level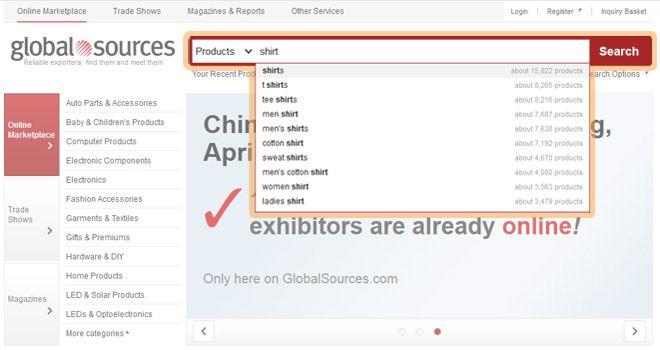 Global Sources is a Hong Kong based B2B media company that was founded as an open market for export / import of goods to and from China. It focuses mainly on electronics, fashion, and corporate gift/homes categories.
Revenue Model
Global Sources marketplace is based on horizontal distribution and has 2 revenue models: per trade brokerage and advertisement fee.
Suppliers pay Global Sources a commission for each successful transaction that happened on the platform.
Suppliers can post ads to feature their products and reach wider audience.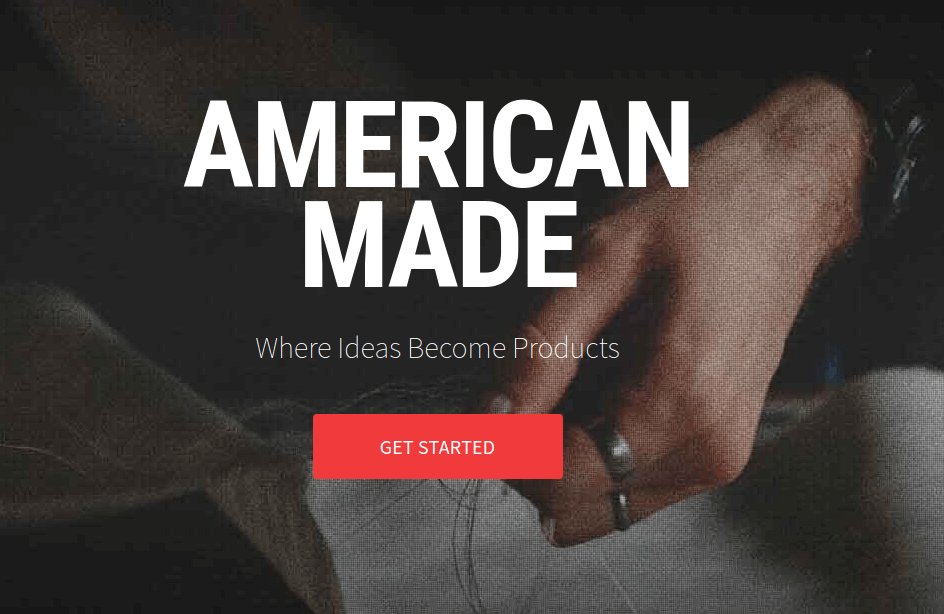 Maker's Row is an online marketplace that connects American manufacturers with small and medium-sized businesses. People who want to create a product can visit the marketplace, search by category or keyword, and get the selection of manufacturing companies who can develop it.
Revenue model
Factories pay a monthly or yearly subscription fee to be listed on the site. Maker's Row does not take any commission from the transactions. A fee depends on the features users get access to.
They have different plans for brands and manufacturers
If you choose a membership fee as the revenue channel, your platform has to provide a high value for all the customer segments.
For example, Maker's row provide a robust software, where factories can manage the whole process from ordering and management to delivery. It also helps brands find and organize their supply chains, as well as build an online presence. In addition, they have an online academy, where entrepreneurs can take courses on how to create a successful product.
How to create a scalable business model for your B2B marketplace
Create the list of main customer segments your marketplace will serve
Think about the value proposition for each of this segment
Read also:  Concept development from A to Z: How to turn your idea into product
Find the main channels, through which you can interact with your target audience and communicate your value proposition
If you are only beginning, gather a solid user base first, build an authority and trust in the community before сonvincing them to pay
Use only one revenue model first
Don't be afraid to try out different business models when your platform grows, see what works for you best, and adapt to the market.
Have any questions about the best way to monetize your marketplace? Leave a comment below or get in touch with Apiko B2B marketplace expert and let's deal with it together!