CRM for Hospitality Industry: Custom Software Development for Efficient Hotel & Restaurant Management

Want to keep track of all the digital interactions, historical customer data, phone calls, and emails connected to each of your visitors? A hotel/restaurant CRM may be the most suitable software choice.
By adopting CRM for hospitality industry, you can streamline your guest services and help successfully deliver excellent customer experiences. It also collects organized sets of data, which you can use to create detailed reports that reveal deeper guests' behaviour trends. 
To stay on top of things, here we'll examine new digital trends that are shaping the hospitality industry, outline the main requirements for choosing the right CRM for your hotel and restaurant business, and define the key steps necessary for custom CRM software development. 
What drives digital transformation in the hospitality industry?
The hospitality industry is consistently growing and bringing $3.41 trillion annually to the global economy. Though it suffered a major blow when the pandemic struck, now it's beginning to recover looking for ways to attract more customers and ensure their safety.
With the changes in modern people's lifestyle, the hospitality industry cannot continue going without thinking about the hotel and restaurant service's potential and future. Some of the most important criteria driving innovations and digital transformation in the industry are:
An increase in the customer comfort levels

Workflow automation

Widespread use of IoT technologies

Revenue growth

Increased competition
While the hospitality industry is rapidly growing, there's a great need to keep up with the pace and put to use new technologies to empower businesses. Here are some of the technology trends that are dominating the market and can be useful for your business, so let's discover. 
#1 Creating exceptional digital experiences for hotel and restaurant clients with mobile apps
Hotel and restaurant apps are vital in managing the services businesses provide. In this way, companies in the hospitality industry can control different aspects of the guest cycle and offer better customer experience.
The trend for contactless services has been only increasing with the Covid-19 pandemic. While everyone tries to minimize human contact to stay safe, such options as mobile check-in, contactless payments, voice control, and biometrics are becoming even more wide-spread and in demand. 
Though mobile apps aren't completely new to the hospitality industry, new features are being added to meet changing customer needs.Some of the apps include the functionality that allows hotel visitors to:
Get room access via an electronic room key 

Order room services or meals

Get in touch with hotel reception or restaurant management to make additional requests with no physical contact

View a calendar of entertainment events

Explore special offers

Book services which are offered within the app, like transportation, sport court, etc.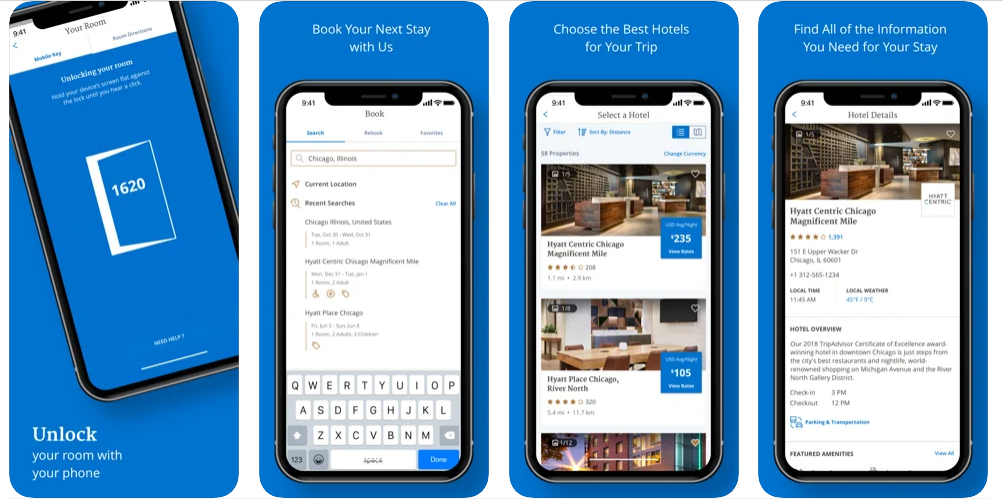 #2 Customer analytics 
Data is everything. Understanding what makes your visitors satisfied with the service and what doesn't can shape your business in meaningful ways. That doesn't only include existing guests but also impacts your potential customers. 
Being aware of what your customers do while they are at a hotel or restaurant enables you to better target your offers and distinguish between different types of guests. Knowing who your customer is allows you to upsell more efficiently. With analytics, your hospitality business can improve pricing, create more effective loyalty programs, boost marketing ROI, and more.
#3 Personalization
Modern hotel and restaurant visitors want to be treated as individuals and expect to receive offers and recommendations based on their personal preferences. If establishments are willing to go the extra mile to create such personalized experiences, they will get higher response rates and more satisfied customers.
With the use of modern technology in the hospitality industry, it is now more possible to leverage such customization and personalization that it was even just a few years ago. Customer information databases, CRM systems, and additional digital tools are transforming guests' experiences.
Business owners can use the data on past buying habits, previous interactions with the brand to customize offers they send and automatically provide services their clients prefer.
#4 Cybersecurity
With so many digital tools being in use and sensitive data stored in the system, it only makes sense to protect it thoroughly and restrict access to the system not to compromise the safety and security of the entire workflow and even organization.
Cybersecurity aims to protect the system from attacks and human error within the organization. Also, adopting cybersecurity best practices means the customer data is recoverable, stored and backed up securely so that you may not worry about it being vulnerable.
#5 Automation and technological developments: restaurant and hotel management systems
Though this category relates to a great many things, technological advancements are being made and adopted to reduce waiting time, automate manual processes, and streamline operations. For example, AI-powered chatbots have already proven to revolutionize the way businesses manage customers, their booking and requests.
Hotel and restaurant operations are distinguished by the widespread use of management systems to track financial transactions, property, channels, and manage customer relationships. This makes operational, mobile and integrated solutions highly in demand.
The restaurant and hotel staff can efficiently use the CRM system to manage booking, checking-in, tracking the working schedule, etc. It also enables integrated messaging, predictive analytics, and customer profiling, which all helps to measure the business performance and think about its further development.
Hotel and restaurant software: What to look for in your hospitality CRM?
Though there are many aspects to consider when it comes to CRM systems for hotels and restaurants, a good hospitality CRM must always be:
Easy to integrate.

When your business uses multiple systems and tools, it's quite common to be frustrated going back and forth between them. Though restaurant & hotel CRM is powerful on its own, you can expand its functionality by making it work with the other tools you already have. 

Automated

. CRM systems for hotels and restaurants are used to automate business processes which enables teams to more efficiently manage customer data, support marketing teams, increase customer satisfaction, provide insights, and boost customer support. They also help sales teams to save time, nurture leads, and convert them faster automating the sales cycle.

Using multichannel communications.

Modern customers vary as to their preferences in communication and your CRM for the hospitality industry should support the different ways you reach out to them. A good system keeps track of all interactions whether via email, text messages, online or in-person.

Flexible.

A restaurant and hotel CRM solution must be adaptable enough to keep data your business needs now and in the future as it grows. Build your hospitality CRM around your specific needs, business model, and objectives. Make sure you can customize it to meet the growing needs of your business.

Cost-effective.

You can choose either to build a custom CRM for the hospitality industry or use a ready-made solution. Consider which option best fits your goals and long-term strategy. Think carefully about the functionality, so that you don't end up paying for something you're never going to use. 

Mobile-friendly.

To streamline operations in your hotel or restaurant even more, a mobile solution is a must. In that way, your CRM will be accessible not only from the office but on the go as well.

Secure

. And, last but not least, your hotel/restaurant CRM should be secure, so that no data of your organization is compromised. 
Learn more about how to develop a  custom CRM Software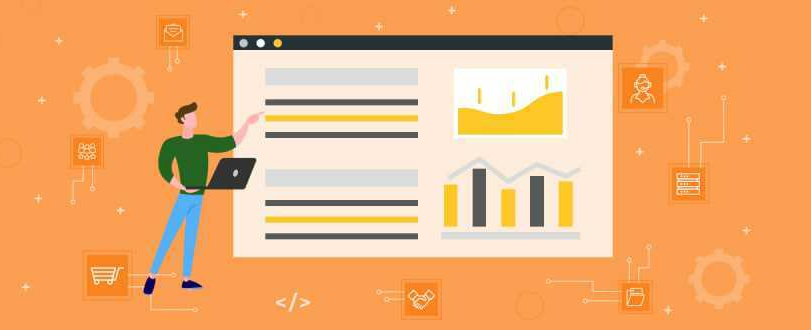 After we've considered some of the most important characteristics of CRM for hotels and restaurants, let's discover what you need for the right system implementation.
Hotel and restaurant CRM functionality
CRM systems aim to assist you in maintaining your relationships with guests. This connection will keep them engaged and satisfied enough to come again, bringing in more revenue for your business as a result.
Actually, a 5% increase in your guests' retention can boost your profits by 25% - 95%. Around 50%-60% of revenue comes from repeat visitors. So, a restaurant/hotel CRM system can be a valuable asset if it performs its main functions well, mainly:
Gather and keep personal guest information, not only their contact details but also their preferences, dietary restrictions, allergies, and others.

Monitor and keep data about each guest's interaction with your hotel or restaurant, such as order history, response rate, dates of previous visits, etc.  

Create and send targeted emails with offers for guests based on their preferences.

Track the performance of your marketing campaigns and analyze why your customers responded in a certain way.
So, what functionality should your CRM for hospitality have?
Not every CRM will suit the needs of your hotel or restaurant business, so look for the software or even better create the system that best corresponds to your ways of operating in the hospitality industry.
The following features are the basic pillars of a successful hotel and restaurant CRM system:
If you want to plan effective marketing campaigns, you need to gather all kinds of information about your customers as a priority. Make sure your hotel and restaurant CRM software easily runs through a listing of your guests or leads and provides information about the clients, their buying habits, conversations, website activities, etc. 
Such data allows you to widen your understanding of guests' needs and preferences, and help with future reservation forecasting. With the right set of data, you'll be able to identify strengths and weaknesses of your business operations to provide excellent customer service and manage upsells better.
Keep in touch with guests and encourage return visits by creating targeted emails with personalized content and offers that build customer loyalty. The hotel/restaurant CRM your business will use needs to be flexible enough so that more tools can be integrated according to your marketing strategy.
Here are the key features of a good marketing software for your hotel or restaurant:
Multi-channel campaign management (emails, events, social media, your website)

Collaborative tools to ensure better cooperation between sales and marketing departments (such as task allocation and reporting)

Full email marketing automation

Analytics and reports

Marketing segmentation features to create marketing lists and target an audience based on demographics, geographic location, and behaviors
While you keep track of your lead activities and follow every step of their buyer's journey, you'll understand better what prompts them to take a desired action. Your restaurant & hotel CRM software can classify your customers based on their purchasing journey stage. 
The CRM will collect all types of personal data such as spa visits, use of mini bars, child-minding facilities, etc. You can use this information to send out the best offers. In this way you'll be able to build customer loyalty and increase the amount of repeat bookings. 
Therefore, such functionality as lead identification, pipeline and workflow management as well as lead scoring should be part of your CRM software functionality.
Sales operations management

 
The marketing team can transfer warmed-up leads straight to the sales team in the system, who then can analyze campaign results and know what information the customer has been served. Sales operations management also includes sales forecasting, sales processing, recording, and tracking. 
This CRM component can help evaluate sales as well as results, thus uncovering the potential for increased revenues.
Tracking prospects through the various statuses (from closed to won)

Forecasting

Quote generation

Calculating commissions

I

ntuitive upsell – offering customers to buy based upon previous purchases or typical combinations
Your business can benefit immensely from adopting outside applications and functionality they provide. Linking your CRM to Twitter or a customer support system can streamline your sales, communication, and organizational efforts.  
With third-party integrations, you can create schedules, enhance marketing, get in touch with customers, manage your property and bookings. Some useful services to add to your CRM in the hospitality industry are:
Restaurant & Hotel CRM: Your business-specific strategy
If you want to get the most out of your CRM software, it's best to have a well-thought-out strategy in place built upon your core business needs and objectives. 
Whether you are building a custom CRM or implementing the existing one, start with defining how this technology will give you a competitive advantage in managing key business operations (marketing, sales, customer service). 
The best CRM your hotel or restaurant can have is the one that meets the individual needs of your business. Even the most sophisticated software available on the market may not meet your direct business objectives, therefore, try to answer these questions first: 
Why do you need a CRM system?

What KPIs are important for your business?

What functionalities and capabilities are available on the market and what exactly does your business need?
Here are some practical steps to design the best CRM strategy for your hotel or restaurant business. 
Define vision, goals and objectives you want to achieve with the help of a CRM system. 

Outline features and functionalities of the CRM that will help you reach your business objectives and goals.

Perform a technology audit to understand what tools are already used and identify potential uses for your new software.

Develop step-by-step use cases that will help you map out the most essential processes for your business. 
By performing all these steps, you'll be able to eliminate many systems that lack your business-specific functionality or see that some systems you wanted to use have unnecessary features that would only waste your budget. 
Custom CRM software development for the hospitality industry
If the search has led you nowhere, it's probably because you need highly customized CRM software. Building a custom CRM system has lots of advantages such as business-tailored functionality, flexibility, no subscription fees, adding third-party integrations you want, integrating with your existing systems, possibility to add new features as your business grows, and much, much more.
That's what Apiko encountered when we decided to streamline our sales processes a few years ago. While available CRM platforms were too complex for our small sales department at Apiko at that time and too costly on a long-term basis, we decided to build our own custom CRM system.
A certain benefit of this decision was total CRM customization: the possibility to completely adapt it to internal company processes. We started with a simple custom CRM version with basic functionality and continued to add new features as our needs grew.
If you plan on running your business for the long term and want to be in full control of your CRM system functionality, custom CRM software development can truly benefit your hotel or restaurant business. Need any technical help? Just get in touch with us!