Educational App Development: How to Create a User-Friendly E-learning Process

Elearning startups continue to attract investors and raise funds. Did you know that the worldwide e-learning market is projected to be worth $325 Billion in 2025? This means that there is and will be a lot of demand for e-learning platforms.
In this article, I will provide useful tips on how to develop an e-learning app, what are the features of successful educational apps, and how to make your users come back to your platform more often.
E-learning market
First of all, let's see the types of educational apps which are popular nowadays and the main players in each niche.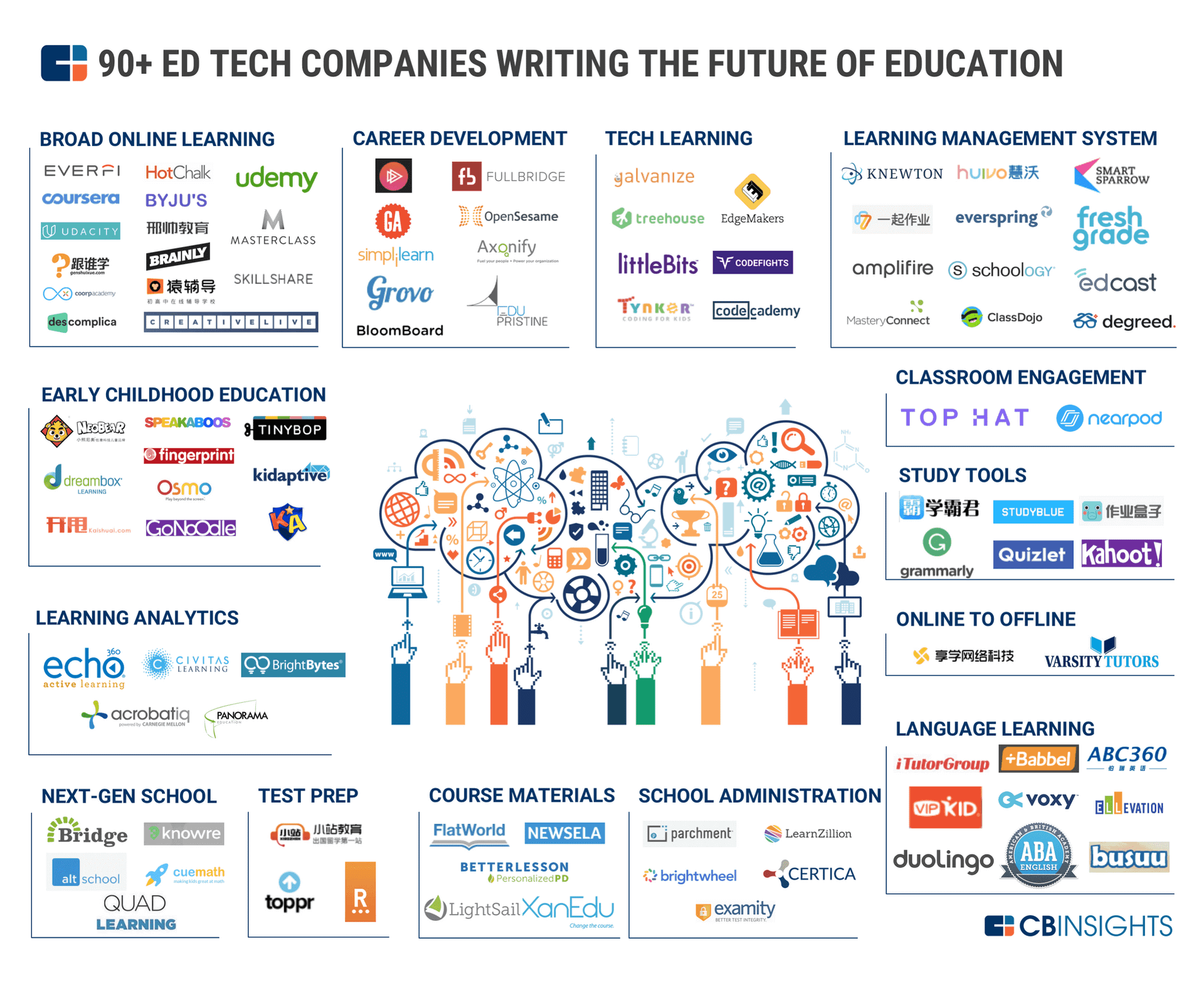 The variety of these products impresses, but all of them are united by one goal - make the education simpler and accessible to everyone. All these companies gathered by CB insights сlose the gaps in the educational industry and have raised a number of investments.
To stand out among your competitors, you have to provide a unique value to your customers and solve their real problems.
Check out the examples of how successful products close the gaps in the modern educational industry and grab something useful for yourself.
Typical problems of e-learning apps and how to avoid them
In this section I have gathered the most common mistakes of online educational apps and examples of how other companies solve them.
Problem 1. No customer segmentation
Each person comes to your e-learning website with different skills, the purpose of learning, and level of motivation. To make your users finish the course and come back to your platform again, you need to understand what are their pain points and purpose of studying.
For example, a mother of two kids wants to start a new career and earning a certificate is essential for her, when a student just wants to catch up with his fellows and improve his skills in some subject without spending too much money on certificates.
Solution - buyer persona analysis
Buyer persona analysis will help you to personalize your offering to different types of learners. It will also allow you to create a separate user flow for each type of customer and tailor your value proposition for their needs. Check out how to do this in this guide.
Problem 2. Don't test the product on the target audience
When you push your product onto the market too fast, you risk ending up with the product your audience doesn't need.
Solution - continuous potential customer interviews
User interviews and continuous testing will help you to understand what challenges users may face when navigating your app and solve them before your product goes to production.
Example - Udemy
Udemy asks existing and potential users to go through their product and voice their thoughts about it aloud. Except of this, they also ask customers (or prospects) to visit the products of their competitors and compare experiences.
Why does this work better than surveys? That's because you get an instant feedback about your product right when a user navigates it. So you get a chance to find out the real emotions of the user and difficulties they may encounter throughout the customer journey.
Problem 3 - Students don't complete online courses
Udemy reports that the average student enrolled in a Udemy course completes just 30% of the content. A low course completion rate can become one of the reasons users leave your website.
Solution - Gamification elements
Online learning is often compared to gaming. Such gaming components as engagement, competition, and rewards are the great way to motivate your users finish the online course.
Example - Coorpacademy
Coorpacademy is called Netflix for corporate learning. Because of different gamification elements they make users addictive to the learning process. Here are some of them:
You choose an opponent and start answering the same questions in the battle. The one who will finish faster and with less mistakes will get the stars and go up in ranking.
When we're analysing our battle data, we're comparing engagement
and performance indicators of learners who play battles and learners
who never play battles. We found that battle players are up to 4 times
more engaged with the learning material and are successfully
completing two times more modules.
Another example of how Coorpacademy motivates its users is a leader board. According to the stars, badges, and earned certifications users from one organization can compete with each other on the leaderboard.
Problem 4 - Focus on theoretical lessons
Don't turn the process of studying on your platform into the total cram. Even if the material is deep and useful, sooner or later it will make the user bored.
Solution - practical approach
Practice makes perfect. Incorporate practical tasks into your training course that will help users consolidate the learning material.
Example - Courseera
Courseera has incorporated retrieval-based learning to make the studying more effective.
How does it work? When users view the lecture, the video pauses in a particular moment and the question appears on the screen. If the answer is wrong, a right answer and a short explanation appears below and then the video resumes.
Example - Skillshare
Skillshare uses a project-based approach that involves students into the process of creation.
Each class has a project gallery and a work space area where students can apply their knowledge on practice. For example, if students are learning entrepreneurship, their task can be to create a business model for some product.
E-learning app features: How to make a user-friendly product
Navigation
Guide the user throughout the process
Think out navigation to the last detail so your users don't have to guess what to do next. Use different hints, such as arrows or words "scroll down" or "click here" or include animated navigation tour before each course.
Let users control the way they learn
As different users have different skills, let them skip content back or forward depending on their knowledge level.
Tooltip appears when you hover on the course card. It gives you a short information about the course. The user don't have to click and open the course page to decide if the course is appropriate for them.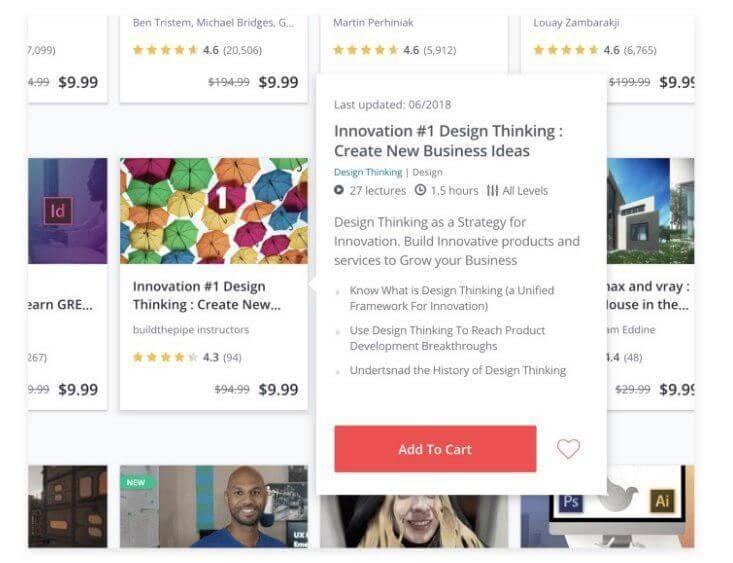 Courses navigation
Help users easily identify what videos they didn't watch till the end by including a progress bar on each video they've started watching.
Let the users schedule studying by adding the videos to the calendar.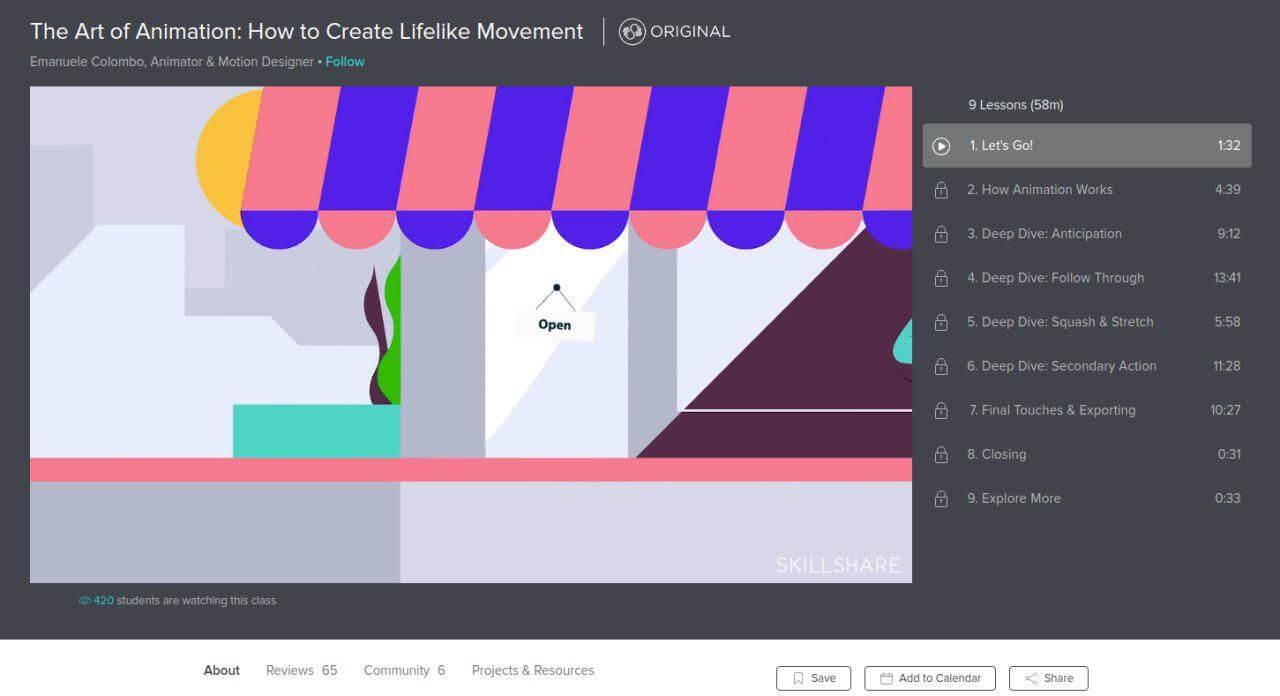 Include a progress bar for every course a user is actively working on. Here is the example of how Courseera does it.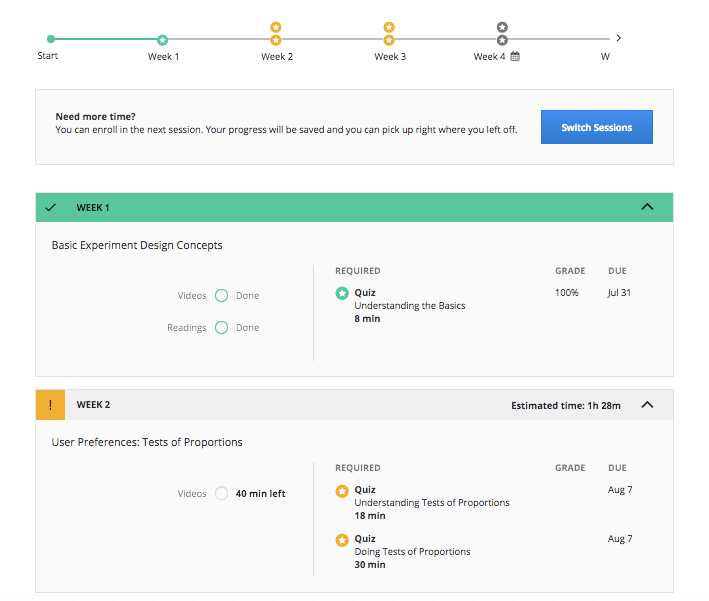 They also have a progress bar that appears on the course home pages along with a summary of content you need to complete each week.
Analytics
Show your users how hardworking they are by including a detailed breakdown of their progress. Here is an example of how Coorpacademy users track their achievements.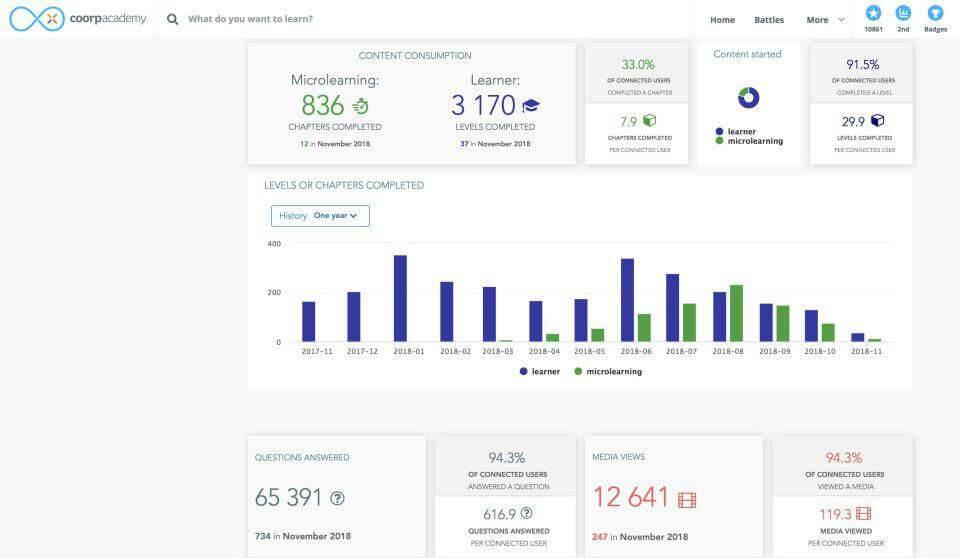 For the deeper analysis of e-learning app types, features and best cases, visit this guide here - https://apiko.comhttps://apiko.com/blog/e-learning-app-development-types-features-and-best-cases/
Wrapping Up
The most essential part of e-Learning app development is to know your users and fill the gaps in your industry by analyzing their pain points. To see how it works in real life, read on an interview with the founder of Tutor House on how he managed to build a successful e-learning platform in the UK.
I hope that the tips I've provided in this article will help you on praсtice and motivate you to create a well thought-out strategy.
Learn more
With the Covid-19, even more opportunities are available for an e-learning app development. Find out how to drive them here - https://apiko.comhttps://apiko.com/blog/e-learning-app-development-education-opportunities-in-covid-19/