Company Intranet Development: 12 Must-Keep Features for Efficient Employee Portal Setup

As an entrepreneur, you should probably know a lot about how to monitor and calculate the efficiency indicators of your business. In general, the KPIs, final revenue and ROI are fundamentally determined by the internal operational processes and how they are organized within your company. 
Many of the top challenges business owners face optimizing their procedures have to do with change management and empowering employees, two things that can be resolved by the employee portal or company intranet development. 
How does it work? According to a McKinsey report, employees spend 1.8 hours every day and 9.3 hours per week, searching and gathering information on average. In other words, if hiring 5 employees, only 4 of them show up to work, while the fifth is off searching for answers, browsing informational resources or knowledge base to do the job effectively, but not contributing any value.
That's where human capital management software comes into the limelight to regulate information-overload-related issues for your employees and optimize your investments, maximizing the return on people.
What Is an Employee Portal?
Today's competitive market forces business owners to strive for optimizing their total human capital costs that are almost 70 percent of a company's operating expenses. Despite how much employees cost, many companies do not properly invest in an employee development plan, in their human capital management software, to increase employees' satisfaction and productivity, making important data more handy and easily available.
Implementing an employee portal into your business workflow, you can save up to roughly 30% of the workday, empowering your staff to spend this time more effectively and ergonomically, handling critical tasks. Therefore, it's pretty important to make sure that human capital performance level is reinforced by a user-friendly, intuitive and secure solution. Especially, if your company is currently going through the digital transformation, setting up an enterprise employee portal to manage the in-house communication easily and effectively has to be your first and foremost priority. 
We're getting into corporate Intranet development to address all your possible concerns and questions that may occur while you're considering how the web portal for employees will improve your company's productivity. In this blog:
The Case for Terms: Employee Portal Software, Intranet 2.0, Social Intranet, Digital Workspace
Evolving communication and working requirements, the business Intranet - web communication environment, restricted to the employees of the company - has gone from being one of the nice-to-have tools to the game-changing integration platform able to perform various strategic functions. 
If you come across numerous terms, like employee portal software, intranet 2.0, social intranet, digital workspace and suffer with a question what is the difference, rest assured that all of them often stand for quite similar functionality with minor deviations. 
The employee portal software is a web-based, organization-centered platform where the workforce (both in-house and remote team members) can access corporate and HR-relevant information, training for a variety of tools or specialties and communicate amongst themselves securely and privately, sharing business-sensitive assets.
Today's social intranet platforms incorporate numerous features, such as instant messaging, blogging, checking ins and outs, and consolidate all data into one user-friendly gateway to align employees with organizational objectives. 
Besides, Intranet software causes decline in maintenance costs as employers consolidate redundant information and web pages, and productivity improves as the workforce spend less time juggling between miriad tabs looking for the information they need. Moreover, it can streamline inter-department collaboration, increase employee satisfaction level due to enhanced communication throughout the organization and improve customer service. 
To understand all the nuances of the employee portal adoption better, let's go figure out the Intranet 2.0 Global Survey, where 526 participants from organizations of all sizes from across the planet have been interviewed. 
Due to the report, Intranet maturity is distributed as following:  
20% of organizations have had an intranet for 3 years or shorter  

25% have had one for 4 to 6 years  

56% have had one for 7 years or longer 
The organizations, that implemented digital workspace belong to these industries:  
14% of the organizations are from financial services  

13% from technology/technical  

12% from government  

11% from professional/consulting services  

8% from healthcare  

5% from not-for-profit organizations  

4% from energy, retail & eCommerce, manufacturing, B2B, & telecommunications  

3% from media/entertainment companies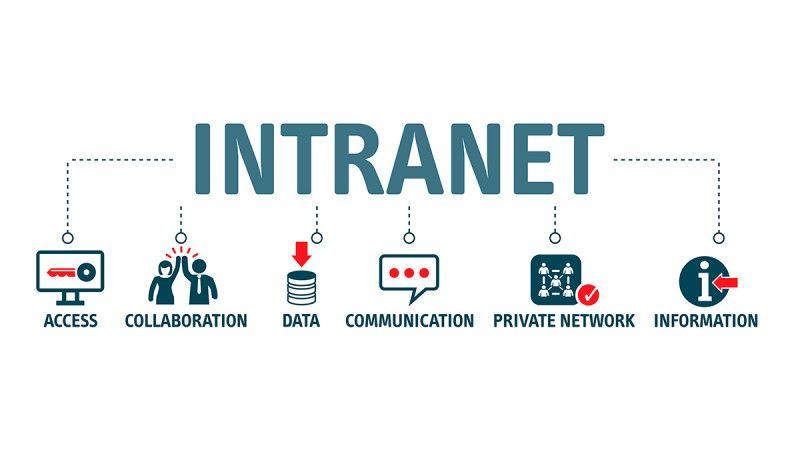 To build up solutions that the workforce will actually use, IT teams should treat employees as their customers when designing a new business intranet or employee portal, starting with the concept development phase. Customer experience is a crucial point here, so the software development agency needs to stay open to feedback and improvement. That's where ready-made platforms do recede.
Custom Employee Portal Software vs Third-party Solutions
The game-changing thing about employee portals is that they have to be designed for exact people, bearing their needs and objectives in mind. So what does that mean? Simply put, your Intranet platform should:
Provide tools and technologies to streamline working processes for people to help each other and cooperate.

Empower the staff to share the knowledge and expertise they are bringing to your workplace, and conversely for people to receive it.

Motivate and encourage employees by sharing successes, the progress of their colleagues and teams, and how people are contributing to the business.

Support the expression of your mission, work culture and personality.
Nowadays, 77% of organizations are using a CMS for their intranet (compared to 63% in September 2009), however these CMSs have different structure and architecture:  
34% use an off-the-shelf solution CMS  

16% use a portal solution  

14% use a custom built CMS (home grown CMS)  

13% use a hybrid/combination  

10% use open source (no change)
As we can see here, there is no dominant CMS solution – no one vendor owes more than 35% market share. If you're going to update your Intranet portal to your external business tools, we have some suggestions. With built-in integrations to all your business platforms and applications, you can take your employee platform up a level, giving your workforce everything they need from one place. 
A successful, well-designed company intranet software should deliver measurable returns: 
Enhanced efficiency and productivity within company

Faster implementation of innovation, problem solving and collaboration 

Reduced security risk 

Faster go-to-market  strategy for new products/services 

Greater talent attraction and an improved employer brand 

Increased employee engagement and satisfaction 

Better employee retention 

Reduced cost, resource and time spendings 

Improved levels of customer service
Top 6 Recent Trends for Company Intranet Development as a Social Workspace
In general, company intranet portal software development comes down to 6 key elements: 
Integration functionality 
Nothing is more annoying than having dozens of tabs opened in your browser to complete tasks. Bespoke intranet portal enables numerous integrations to make your working processes as intuitive as possible.
Well-designed tools for different purposes, which are best in class and intended for a particular use or task consolidated in one software, that unifies these different applications and relieves  app-fatigued staff, who face the frustration of jumping from one system to another, navigating spans of information.
As a centralized gateway to this digital toolbox, your intranet can provide a single digital destination and connect staff with tools, including HR and training systems, CRM, payroll and finance systems, Customer Service ticket system, suppliers and more. 
To proceed and store business-sensitive data, employees have to avoid unnecessary pitfalls, to move seamlessly and efficiently within the intranet software, including the need to remember and enter usernames and passwords, and log onto each system individually. 
The authentication option allows users of the intranet to sign into third-party applications, providing one set of credentials to gain seamless access to multiple systems, or signing in via social media. 
How much time do you spend searching and gathering information in the knowledge base on average? Yes, we understand your pain. A built-in enterprise search cuts down time and resource spendings,  duplication of effort and boosts productivity. 
Through the centralized point of search, your document management system (DMS), CRM and more, may be easily explored and analyzed for requested information. 
Your digital workspace must be totally focused on employees, their habits and preferences to deliver the benefits it has been initially designed for. Intranet platforms also play an important role in raising HR's stature in the organization, reducing the number of tasks that should be done manually, enabling HR managers to spend more time on strategic efforts in line with the organization's goals and strategy than on focusing on administrative transactions.
Culture of trust, inclusiveness & self-service
The prior focus of legacy technologies in the intranet software is task-orientated: they're intended for automatization of internal working processes. Despite its external features, we have to pay attention to the unique aspects of the digital workplace – the features, functionality and role an intranet platform offers no other portal can, such as internal branding, rewards and recognition systems, two-way communication, regular surveys, social tools etc.
Taking into account the target audience when developing a digital workspace, it is important to consider mobile versions that can be easily accessed from smart phones. 
What is more frustrating than a website that is not adapted to mobile devices? We strongly recommend considering the needs of your staff - do they use their phones or computers more often when not at work and what aspects of the portal would be the most utilized? To prevent employees' resistance to change, make sure they're satisfied with the new normal that will eventually lead to a more streamlined method of running a company. 
12 Must-keep Features that Add Value to Your Company Intranet Software
Employee Personal Data and HR-related Information

Recruitment

Benefits Enrollment

Time and Attendance

Professional Training

Streamlined Communication and Collaboration

Enhancing Corporate Culture

Information Sharing 

Calendar & Meeting Activity

Talent Management

Employee Self-service
What Integrations Will Help Your Employee Portal or Corporate Intranet to Outstand?
Whether enterprise or start-up, regardless of revenue or industry, over 50% of companies use blogs, discussion forums and instant messaging within their intranets. Let's take a look at the most common features, that can be provided through third-party integrations: 
53% have intranet blogs; 18% have deployed blogs enterprise wide; only 8% have no plans or interest in deploying blogs  

52% have intranet discussion forums; 23% enterprise use; 9% have no plans or interest  

51% have intranet instant messaging (an 11% increase from last year's survey); 34% enterprise use; 19% have no plans or interest  

49% have intranet wikis; 17% enterprise deployment; 11% have no plans or interest  

44% have intranet RSS; 18% enterprise use; 14% have no plans or interest  

41% have photo and/or video sharing; 16% enterprise use; 18% have no plans or interest  

40% have intranet user commenting; 21% enterprise use; 16 have no plans or interest  

28% have intranet tagging; 15% enterprise use; 23% have no plans or interest  

27% have intranet social networking; 13% enterprise use; 19% have no plans or interest  

24% have intranet podcasts; 6% enterprise deployment; 33% have no plans or interest  

14% have intranet mash-ups; 5% enterprise use; 42% have no plans or interest  

11% have intranet social bookmarking; 41% have no plans or interest
Summing up the functionality listed above, it all comes down and may be realised through the following integrations:
Social integrations
LinkedIn. It allows you to embed your favourite LinkedIn posts, useful articles, success stories and tutorials into an intranet page to boost business conversations. Repost vacancies to your LinkedIn news feed to enhance HR efforts of your company. 
Twitter. Enables to insert a Twitter feed directly into your intranet pages to synchronize your working environment with personal social media and pull through the latest and greatest Tweets.
Facebook. Though this integration users can reshare their company Facebook page or posts into an intranet page to encourage engagement.
YouTube. Gives an ability to share a video or playlist with your teammates within your employee portal so they could watch useful, informative content directly in your intranet.
Business productivity integrations
Slack. Integrating this tool, users have a chance to keep everyone updated and add fast access buttons and menu links that direct teams straight to your Slack channels.
Trello. This tasks management system empowers users to create boards and cards into an intranet page to keep tabs on your external projects.
Zendesk. The software might be used to never miss a thing, receive notifications when the issue has changed or a new comment is added, create new tasks and assign an action to a user. 
Document management integrations
Microsoft OneDrive. Allows browsing your private OneDrive folders directly within the document management system, and adding digital markers.
Google Docs. Enables users to edit, share and embed a Google Doc within an intranet page and add a link to a Google Doc within the document management system for seamless access to your files.
Dropbox. Provides a fast access button or menu link to smoothly and easily get to your external files and folders.
Custom Intranet Development: How Does It Work at Apiko?
Apiko provides custom-built software solutions that are ready to scale, guarantee enterprise-grade security, comply with regulations, and deliver a user-friendly, pleasant experience for employees.
By means of our unique, personalized approach, the platforms we create are totally aligned with the client's vision and expectations. Moreover, we take into account your feedback and make the adjustments to reach the payoff that will be evident in improved employee retention, which could be seen as the ultimate measure of whether your Intranet portal is a success. Once you contact our team through the submission form, we'll investigate your request and get back to you for further communication. 
The Intranet platforms we create help businesses distribute tasks among employees, align employees' efforts, monitor remote work, and help staff engage in the company's success. 
Whether your business needs a tailored-made online employee portal for its clients or its workforce, we have just the skills, experience, and talents to create the right platform with the top-notch features to serve your case perfectly.