How to Create a Messaging App Like WhatsApp or Slack

Have you ever thought about how to create a messaging app? If your answer is "yes", you aren't alone. But many entrepreneurs put hands down as there are dozens of chat apps. The good news: 2.52 billion people worldwide use a messaging app once per month. What's more, these numbers keep growing. And here is the twist. While many businesses want to create an app like WhatsApp, only a few of them proceed from considering to developing. 
What is opening the door for innovations? The answer is a well-thought strategy, features, and quality of the development part. So you can get your place in this niche with another interesting app like Slack for handling a lot of people.
Although, a few questions may still bother you. What are the successful tactics? How to deal with possible risks? Will development outsourcing save from falling behind struggling competition financially? We've covered the crucial aspects, keep reading to find out.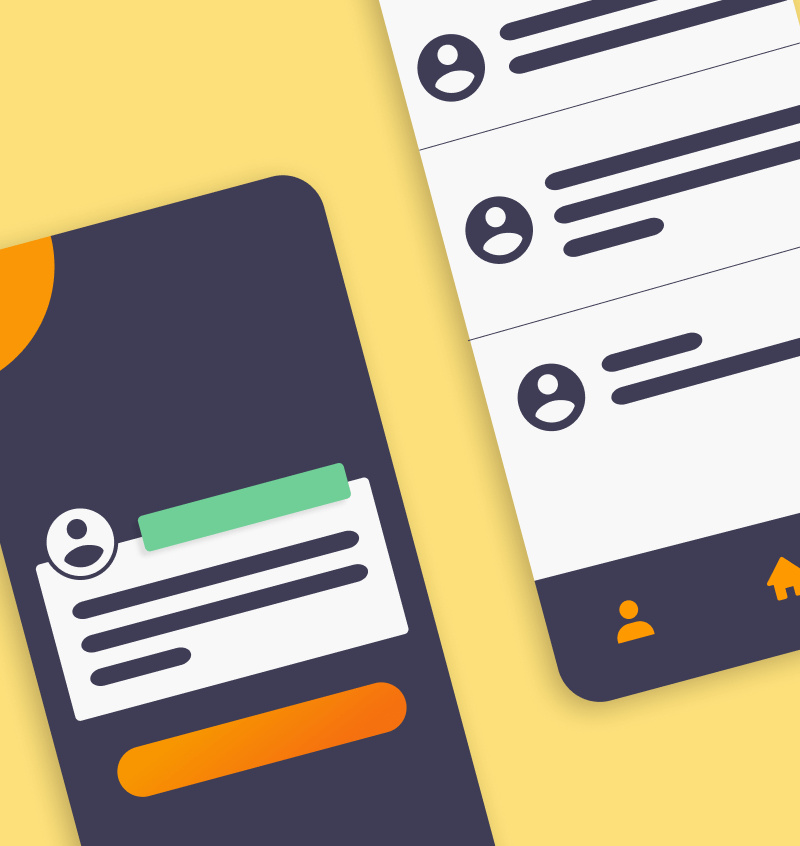 WhatsApp and Slack: Messaging app throwback
The popularity of messaging and work collaboration apps can't be underestimated. The interactive chat apps literary flooded the market. What's more, they are changing the way we communicate with family and colleagues. And messengers also impact the way businesses interact and support their customers. No wonder that this accelerated growth inspires many business owners to create a WhatsApp or Slack-like messaging app. 
Why do we mention these two apps? Both of them appeared with a feature set that facilitated the user's experience. They regularly update the functionality to fix bugs, improve productivity and keep the existing users engaged and attract new ones.
WhatsApp hit the market 11 years ago and enjoyed that immersing success due to
being free (unlike SMS, the $1 fee was introduced later in 2013)

enhanced registration via phone number and further confirmation via SMS

instant integration with a phone contact list

being the first app that worked on mobile devices (Unlike Skype which was a desktop solution.)
The adoption of the VoIP feature triggered the emerging new industry. Many businesses turned their attention and budget to deal with a new challenge: how to create a messaging app. So later were launched such niche leaders as WeChat, Facebook Messenger, QQ Mobile, Snapchat, Telegram, Line, Viber, and many others.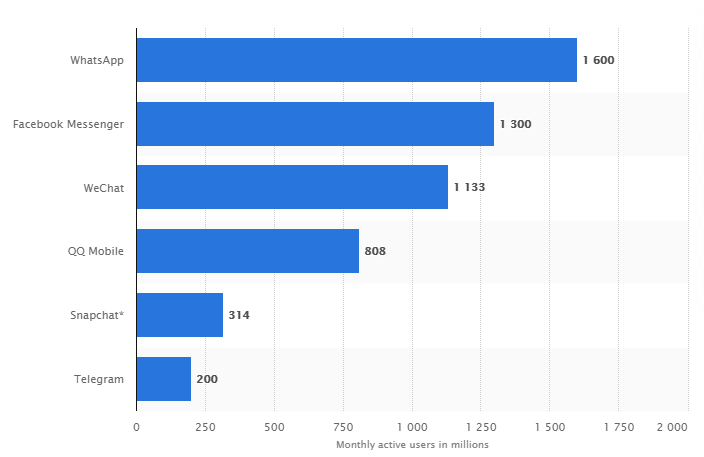 Source: https://www.statista.com/statistics/258749/most-popular-global-mobile-messenger-apps/
Slack set out its way as an internal tool for team communication during game development. But in 2013 it was released as a workplace software. This instant messenger isn't the one of its kind. World-known companies also make web apps like Slack: Microsoft Teams,  Google Hangouts, Workplace from Facebook. The list can go on.
Why did Slack stand out? The main reasons are
freemium and paid plans

private groups and direct messaging

separate workspace available by a specific URL

sharing the content of various type

internal search for people, files and channels
It's no secret that the remote workforce is growing. Currently, this is a $3,5 billion market, but the research done by IDC forecasts nearly 70% growth by 2022. That opens the door for new messaging apps like Slack.
Why creating an app like WhatsApp or Slack makes sense?
The messaging trends share the core requirement: quick, personalized and real-time communication. This turns the question "How to create a messaging app?" into a big business opportunity. Note that each market share - enterprise, private or entertainment - can become your targeted audience.
Let's face the fact: the top messaging apps already provide the fast message exchange, file sharing, voice and video calls, security, group chats and calls, editing features. And many of these features are free. It is also worth accentuating that each of these apps offers something special or unique. Here are a few examples of such messengers: 
WhatsApp was the first one easy to set up and use for free.

Viber offers an option to make landline phone calls.

WeChat enhances users' life with a built-in payment feature.

Telegram boasts of its encryption capabilities and security.

Line differs from others by a timeline where the users can post and comment.

Snapchat helps to add fancy filters and share self-destructing photos and videos.

GroupMe offers huge group chats up to 500 users.
To kick things off, you need to do the competitor research. Involve the unsatisfied customer reviews in your research. This is a source for ideas and weak spots that can cost your potential competitors new and existing users. 
What this research will give you? First of all, you will figure out what to include in the messenger's toolbox. Secondly, find the new best thing about your chat app may be a fancy feature, design, enhanced usability, productivity, business-friendly, and the like. And thirdly, you can collect the list of common mistakes and possible solutions.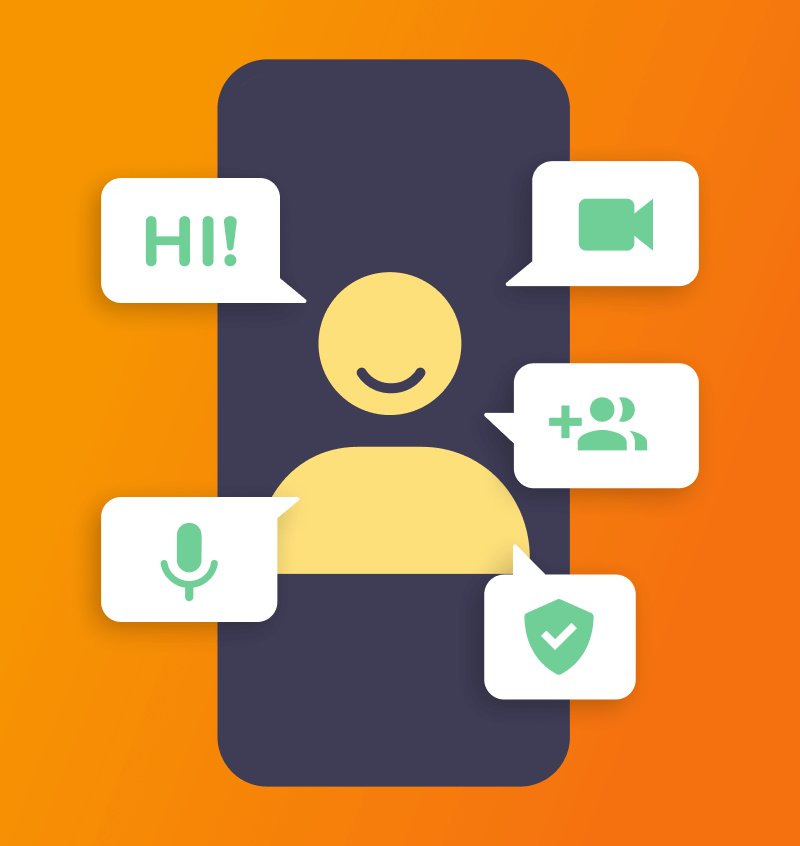 A quick guide on how to build a chat app
Using WhatsApp or Slack as an example for creating your messaging app is a good start. After the competitor research, you can get down to planning the whole development process. It requires only 4 steps to take:
1. Choose a platform
This step will set your route of building an instant messaging app in the right direction. Pay attention to your targeted audience, demographic and location when you choose platforms.
You can create three variations:
a mobile version (Android and iOS) 

a desktop version or web version that will be run in a web browser as Slack does

a cross-platform that will include mobile and desktop versions
2. Make a shortlist of features
At this step, you define the appearance of a messaging app. Here you should outline the two feature lists. 
The basic set of features to be competitive with other chats. 

The set of specific features so your instant messenger could stand out of the crowd.
What's more, this part of your project "How to make an app like Slack" should include monetization tactics.
3. Set up a budget
The overall project costs fully depend on the number of features, number of platforms and time frame you set for the app release.
4. Select the outsource company
This step requires a holistic approach. Start with the stack of WhatsApp and Slack comparison, and then choose stack for your app. The next one is two-fold: define the possible challenges during the development process and ways to overcome them. Find out what is the average timing for creating a messaging app. And last but not least: look for an outsourcing software development company that will comply with your requirements. 
What are the must-have features for a messaging app?
On the whole, the functionalities of the messaging app are rich and flexible to the user's adjustments. So to keep up with the competition, you need to consider including such essential features as: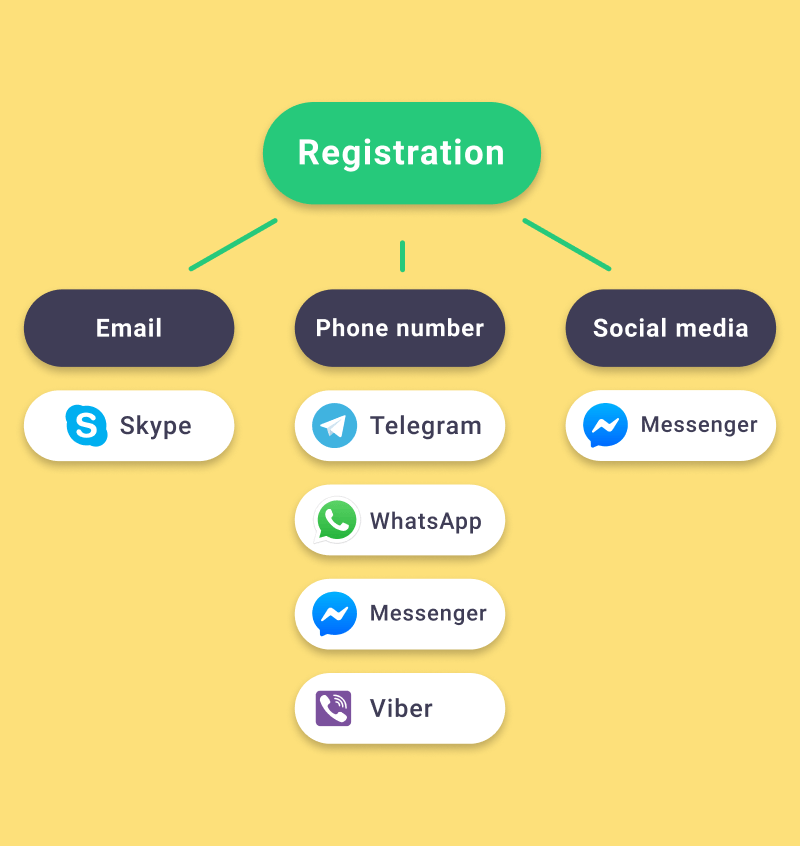 Registration and contact integration.

Provide your future users with authentication via phone number, email or social media profiles. The next step after signing in is contact list importing.

Personalized profiles.

Help users to stand out and express themselves. Ensure your app offers adding/changing names, nicknames, fonts, photo. The status change is also vital. People expect to see who is online or typing the message, and the like.

Message exchange.

One-to-one or group conversations are simply a must. Make sure these both options work fast in your app. The group chat is expected to be customizable (i.e., change the name and a picture.) Overall, this functionality of your app should be simple and reliable.

Media files sharing.

Apart from emojis and texts, people expect the easy exchange of pictures, videos, documents, audio, and other files. This option serves as another must-have.

Notifications work as a medium between your instant messaging app and a user. Pop-ups or push notifications to inform your clients about a new message received or an invitation into a group conversation.
Settings.

The option is rather to have as it offers personalization of your app to user's preferences. In the beginning, you may include here setting for a user profile, account, chat, payment information, and notification.

Security.

This feature is equally important to message exchange, The end-to-end encryption has become a user requirement long ago.

Voice and video calls.

Such an interactive option erases the limits of communication. Users can make calls to any contact from their contact list. The video calls are implemented by VoIP.

Location sharing

helps users to arrange meetings, pin their locations and display on the maps inside the messenger app.

Contact sharing

is worth integrating into your messenger due to its convenience. People quite often exchange contacts and save them into their contact list.
Also, take a look at best chat, video and audio APIs for your web or mobile app development
What features will make your messaging app stand out from the crowd?
Using WhatsApp or Slack as an example for creating your messaging app is a good start. But building a chat app with unique features brings benefits from multiple perspectives. Here is a shortlist that may inspire you to create another outstanding option.
extended profile customization

mentions of users like Slack group chat has

secret chats, self-destructed messages on both ends, message-deleting after a certain time after being read

message scheduling for birthdays, anniversaries or other special dates

sticker market that can be two in one: entertainment and monetization

built-in games

photo/video editing and filtering options

eCommerce options like chatbots, and multiple messages send out

event management option may keep the desired date within the chat

instant payment is a good option to get more attention from business and marketing perspectives

integration with cloud services like Google Drive, Dropbox, Evernote
Outlining a monetization plan
Creating a messaging app is a good idea. Freemium plan enhances user engagement right away after launch. But profits make the most and at the end of the day, you think about monetization.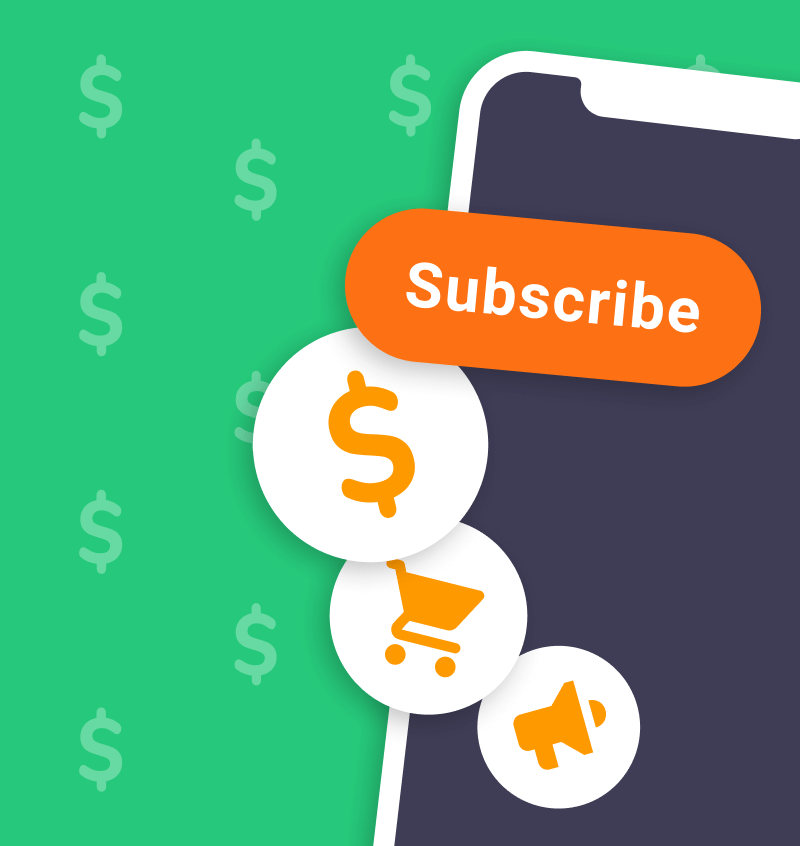 In terms of the instant messaging app, this task is a tricky one. Most of such apps are free. So the paid subscription can be the only option of revenue. To counter the abundance of chat apps, you need proven tactics on how to make money from your app.
To illustrate these points, here are a few examples of monetization options for a messaging app:
The basic and the most spread one way is to sell

in-app adds

. Note that it is also the most hated one by users. Still, this is the main revenue source for a lot of apps. If you plan such a monetization way, ensure you provide the settings to disable the adds. Just for the sake of keeping active users from leaving for a competitor.

The

subscription model

like in WhatsApp applies to other messengers too. Yet, your audience should be large enough to ask users to pay for accessing the app.

In-app purchases

can be another source of your revenue. You can offer additional customizations of profiles or chats, themes, games, sticker packs, and other content.

Sponsorships

that would pay you for some specific actions inside the chat app. That sounds a bit vague. Let's explain it with a simple example. You can add or sell a branded sticker packs and get a share from the revenue.
How to choose a technology stack?
The stack of the technologies used to build any application or solutions isn't revealed to the public. However, there are plenty of programming languages that allow building nearly any application. You can choose Erlang like WhatsApp, Node.js like Telegram, C/C++ like WeChat and Viber, Java or Objective-C like Skype, or a mix of Java and React like Slack, as well as other programming languages.
Many business owners are interested in building their apps in React. Generally, it all because it works well and fast on Android and iOS devices. That is one of the critical requirements for a messaging app. Among its other advantages are
reduced time of development

fast performance of an app

comprehensive UX and intuitive UI

easy integration their-party plugins

smaller maintenance costs and update time
Being experienced in developing a chat app on React, Apiko will help you to shape your ideas into a messaging app.  
What are the challenges of building a chat app?
Once you have defined the platforms, features and technical stack, you should be aware of the possible pitfalls. Unfortunately, you can't avoid these challenges. 
You may ask: "Then how to build a chat app without issues?" Creative problem-solving during development can minimize these pitfalls. 
The list of possible challenges looks like this:
Losing users due to poor engagement

. There is only one chance to make a first impression. And that statement works for a chat app too. Rarely appear the option to impress a user from the second shot. To save yourself a potential headache later, you should work hard on the user onboarding, personalization, and constant updates.

Expected future growth.

The messaging app may shut down because of a large number of active users. Check the bottleneck and ways to optimize the processes. That will help to scale your app during huge loads.

Group chat capacity.

Ensure that multiple-user chat can handle the growing amount of users and the information they exchange.

Security

is a critical component of a messaging app and you should handle it carefully. Today's users care about their privacy and are interested in the encryption of their conversations. Let's be honest, nobody wants to have their personal information stored or transmitted to the third-parties. 
How much time do you need to create a messaging app?
Nowadays people focus on time and quality. Building a Slack-like messenger depends on many factors. The major ones are the platforms and feature numbers, as well as the difficulty of the project itself.
Hiring an outsourcing company is a wise step as you get a dedicated full-cycle development team. Let's say, you want to make your chat app cross-platform. Your team will include
backend developers 

Android developers 

iOS developers

UX/UI designers

QA specialists
As for the project workflow, let's take Apiko as an example. There are 5 stages that deal with 
concept development where a business analyst helps to figure out the business logic, project requirements, prototypes, and necessary materials. This stage also includes UI/UX development to create a unique and modern brand identity and prepare the design. On average, this stage takes

40-160

hours.

web/mobile development is the heart of the process. Your messaging app gets its architecture, features, and functions ready to launch. 
quality assistance

ensures that all works well. This process can be manual or automated, or of both types. 

app support

is a minor bug or issues fixes after the launch. For example, for the MVP project, it is available for 3 months after the app launch.
The takeaway
The competition in the messaging app market is growing more stiff by the day. But the current leaders of chat apps haven't monopolized it. Besides, there are hundreds of ideas waiting to be realized in a new instant messaging app. So you can learn from Slack, WhatsApp, WeChat, and other apps successes and mistakes while building your own chat app. 
If you decided to create a messaging app, drop us a line. Apiko will provide you with detailed guidance and experienced team during every stage of your messenger development.
Learn more: 
Twilio Integration Case Study: How to Build a Strong Communication Platform
Built With React Native: How to Create Real-time Communication Functionality for the Medical Mobile App