How to Find Investors for Your Business: Expert Tips From a Tech Startup Founder

What every business idea needs is solid financial footing. Your contact list of family and friends doesn't have to be the only source for your startup capital. This article shares some tips as well as the personal experience of a GoodLifeSorted marketplace co-founder - Constantine Karampatsos - on how to find investors for your tech startup. 
Finding investors for your business: Top 5 investment types 
Being a founder of a successful startup requires thoughtful planning, hard work, and the resilience to adapt the plan accordingly. According to the business owners, main reasons why many startups don't achieve the desired results include: 
money running out/failure to raise new capital - 38%

no market need - 35%

strong competition - 20%

flawed business model - 19%

regulatory/legal challenges - 18%

pricing/cost issues - 15%

not the right team - 14%
Raising new capital and finding investors can be one of the biggest challenges of launching and operating a business. When it comes to fundraising, it helps to start small and work bigger. Once you have a business concept and a business plan, you're ready to start fundraising. Here are five ideas on how to find investors for a business:   
Friends and family.

You can get your business up and running by looking for investments with your friends and family. It's the best option to start and set your business in motion, especially if you're a new or emerging tech company. 
Angel investors. Searching and getting in touch with angel investors can take your business from a starting point and grow it further. It's best to start locally, but also keep looking outside your community to make connections with more business leaders. 
Crowdfunding.

Crowdfunding is when businesses, organizations or individuals fund a project, rather than one or two major investors. Most crowdfunding campaigns happen via internet platforms in the form of either small donations from different people or peer-to-peer lending. This cash flow boost can help you quickly get your project off the ground.
Bank loan.

Contacting banks for a loan is best to do when your business is established, because banks require extensive documentation on your operational history and backing. Bank loans can be a good way to scale your operations and develop a strong, local company. Though, because of the interest, the cost is higher, at least you don't have to give any equity away.
Venture capitalists.

It's usually the final stage in a fundraising process for an emerging business, but it isn't a necessity for all companies. If you run a steady business, small and successful, there is likely no need for you to apply for a VC funding unless you want to scale fast with high amounts of capital. 
A general idea of how to find investments is simple, but attracting the right investors and making your business sales pitch stand out can be extremely difficult. That's why we've asked our valued customer and an expert in the matter to share with us first-hand experience on how to pitch investors effectively.
How to find investors for a startup: Interview with a Good Life Sorted marketplace co-founder
Constantine Karampatsos took inspiration for his project from his grandmother Zoe, who remained active and independent until she reached 96 years old. The only thing she needed was a hand with the daily chores and some company, which her kind and reliable neighbor Mary provided. That's where the vision for Good Life Sorted was born: 
to make the home of every older person a happy place to be, one person at a time
To help many older people maintain their independence at home, Good Life Sorted connects them with the Helpers. These trusted people from local communities can assist older adults regularly with daily tasks, such as shopping, laundry, cleaning, and cooking for a reasonable hourly rate. The Helpers are carefully selected, so only 3% of the applicants go through the recruitment process successfully and provide help for those who need it. 
Constantine has engaged Apiko's services to implement his business idea and build a reliable platform with custom functionality that would allow older people to get in touch with Helpers hassle-free, create regular appointments, and Helpers to keep on top of their schedules. The platform is up and running right now.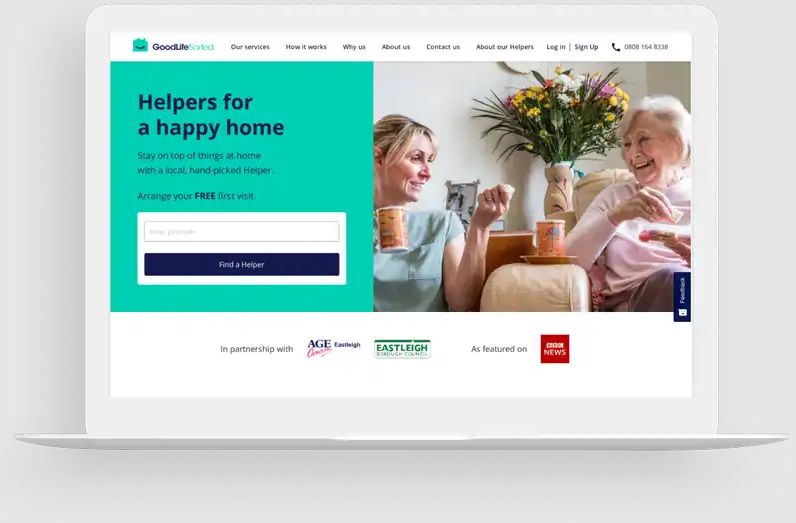 Here is some expertise-based knowledge and experience on how to find investors for a startup from a co-founder & CEO at Good Life Sorted.
What motivates you to work on growing GoodLifeSorted? 
I think what motivates us is the fact that we have social impact. The fact that we know we are making a change in someone's life. It keeps us going. Because it's really tough to create a business and grow a business, and it's much tougher to disrupt a business. Recently we have received an award for Disruptor of the Year by the Great British Entrepreneur Awards for the South of England. I think we deserve it, because it's really hard. We are doing what no one else has done. We need to find our own way, we cannot copy someone else. Our customers love the concept and so do our helpers. They find it really rewarding.
While proceeding to the investments, what in your opinion makes a project eligible for applying for investments? At what stage does it need to be to have a chance to receive financial support?
I think businesses can get an investment at any stage of their development. There are two key stages, pre-revenue and revenue-making. Pre-revenue means it's just an idea and you don't have any revenue coming in, nor any customers. The revenue-making stage is when you actually have customers, and this stage then breaks up into pre-seed, seed, series A, etc. 
Of course, the more proof you have that you are a real business with real revenue and real customers, the more chances you have of getting money. We also received money pre-revenue but it was not a lot of money. 
How important is networking? How can you make the right connections for fundraising and what role do they play in growing a startup?
I think fundraising is one thing that a lot of founders find really hard. Because, at the end of the day, it's a sales process. I've felt a bit more comfortable because I've done B2B sales before, but a lot of people don't enjoy that. Mostly because you are not selling a product that someone else has created, but your own business, so practically yourself. 
For me, the way to do it is "to do anything that it takes". So, you start from your own contacts, of course, try to do networking, but at the same time, you need to do cold calling. Especially at the very early stages of the business, it's very rare to have such a good network where you can find all the money you need. You need cold calling or cold contacting, which means you just send an email to people. We got quite a few of our investors by doing this.
Start searching for angel investors in different databases, investors that have in the past invested in similar companies (in our case the sharing economy or health & wellbeing) and then just contact them. You need of course a good email, get to the point, and make it interesting in order to stand out. Actually, most of the money we received in the first round of funding came from cold calling. As the company develops and moves forward, more people will know about it. So, hopefully, you won't be cold-calling forever. 
Where can a beginner, a person who has never applied for investments before, look for potential investors? Where do they start?
Definitely LinkedIn, because a lot of people there say on their profile that they are angel investors. Then you can use Crunchbase, where you can find information about startups and their investors. In the UK, you can use Angel Investment Network, where you can describe your concept and get introduced to investors. Another nice website is called Deck Sender. 
Use the press, and sign up for different start-up-related newsletters, as you may find more information on their fundraising efforts. This is a creative process, think creatively what else can be done. It's also about failing fast, trying different things, recognizing which channel doesn't work for you and which does.
Are there any specific requirements to an investor pitch? What materials should an investor pitch include? Is it necessary to have an MVP when you apply for investments?
Based on my experience there are three building blocks needed to get investments: 
1) you need a business plan - a document which describes what you are planning to do in the next two-three years at least, 
2) all these things you want to do as well as your vision needs to be translated into a budget, so prepare an excel document which has your projected revenue for the next 3-5 years and your projected cost in the next 3-5 years,
 3) you need a presentation, a powerpoint, a pdf, whatever you want, which summarizes everything mentioned above. 
When you talk to investors, you start from the pitch deck. Then, if the investors are interested, they can learn in more detail about the budget and your business plan.
Since the message to investors is limited in time, what are the key points that should be highlighted?
This is an interesting question, because, first of all, there are a lot of different investors and they are interested in different things. But one thing that all investors are interested in is you and your team. Investors don't invest in businesses, they invest in people. They need to be convinced that you are the right person to lead this project and also they need to be convinced that you have the right team for this.
Most investors have been entrepreneurs themselves, so they have built a business, and they know that building a business is harder than founders expect. So they need to see that you have as a person what it takes to go through it successfully. So, first of all, I think what needs to be highlighted is your team. Scalability is another factor that investors want to see because the business needs to be able to grow significantly in the next 3-5 years. They also want to see that there's enough demand and of course that there is the market for it.
Can you please give us any tips on how to enhance the pitch and how to make the message more powerful, more convincing?
I think you need to put your heart and soul, as well as your energy in it. You need to be comfortable, mentally prepared for a pitch. Try to schedule your pitches at a time of the day when you have the most energy. Also try not to schedule one after the other, but leave a bit of time between them. 
At the end of the day, you need to be yourself. Many investors want different things. So some investors may say 'oh I like this', some 'this is too big' or 'too small'. You need to find your own way. Some investors may like your concept, some investors may not. You cannot make it too neutral for everyone to like.
What would be your top pieces of advice for those who are about to pitch for investments for the first time in their lives?
First of all, ask the investors for feedback. Assume that probably the first five pitches are going to be wasted anyway. Since you are just starting now, don't expect the first ones to work out but actually use them as a learning opportunity. The value you're going to get from your first pitches may not be actual money (you never know of course), but feedback to make your pitch better. And this is a treasure.
Sometimes people get really disappointed if they don't get a positive response. But this process is about stamina, so you need to keep on going. Of course, you should always evaluate and ask yourself if maybe you should change something or say something different. But don't get discouraged. Especially in your first fundraising rounds, it tends to be a numbers game.
In general, how long does it take to proceed from the first stage to raising investments?
Everyone should know that it takes at least six months from when you start your first pitch to when you get the money. Unless of course you have a super network, and of course exceptions do happen. But I have rarely seen other companies completing it sooner. 
Generally, there are the following rounds: friends and family round, preseed, seed, Series A, Series B, Series C. In my business, we have kept this process. Usually, people are expecting at least 12 months between rounds. But things are changing, and recently I have seen businesses "topping up" investment between rounds. So I think it's becoming a bit more flexible than it used to be.
What would be your advice for those who failed and didn't receive an investment? 
I would say that failure to get investment is a disguised blessing, although I am sure most of them wouldn't see it like that. Because usually a failure, any failure, is actually a redirection. Nothing happens in vain. I strongly believe that. They will find this experience useful in another part of their lives or in their next step. It doesn't mean they cannot create a business. Actually they can just come back with a different idea and try again.
Launching a tech startup: Where to start?
To sum up, when thinking about how to find investors and start a successful startup, keep these main steps in mind:
Do research. 
Make sure there's a market for your product and demand. Pinpoint your target customers, learn their shopping and buying habits, and how much they are willing to pay for your services. Also compare your competitors, know their strengths and weaknesses to create something much better.
Gather the right team. 
Successful startups need successful teams. Businesses thrive when their team consists of different people who can contribute original ideas.  Teamwork helps solve problems and think of new creative ways on how to achieve success. 
Prepare a solid business plan. 
Don't think a great idea or a great product is all that is needed. The main purposes of a business plan are: creating an effective strategy for growth, determining your future financial needs, and attracting investors. Have a business plan that includes every aspect of how you will run your tech company, including all anticipated costs, marketing, the technology required, staffing etc., and how it will be successful. 
Fundraise. 
Be creative, keep searching, and try new avenues to find investors. The most common ways to raise capital for a new business include bootstrapping, friends and family, angel investors, venture capital, crowdfunding, and small business loans. 
Ensure your tech development is superb.
If you are starting a tech startup, your technology solution is critical to your business success. To avoid unanticipated issues and poor code quality, choose a competent development team with a modern and reliable tech stack and necessary expertise. 
In their interview on Forbes about growing a startup, one of our clients - Hive - has shared that the choice of their offshore development partner was vital for their present success. GoodLifeSorted CEO & co-founder has stated in his review on Clutch that the sales were up 650% in six months after engaging Apiko.  Therefore, make sure your digital solution is in the right hands.