Business Process Transformation in The New Reality: How Top Online Marketplaces Upgrade [Case Studies]

Ordering food online instead of going to restaurants, meeting colleagues and even friends in Zoom, working and studying from home… Do these scenarios sound familiar? It's our new world of social distancing and lockdowns that has been around for quite a while now.
The pandemic has disrupted industries and made a colossal impact on human lives. In the US, the unemployment rate hit a yearly total of

8.9% in 2020

(compared to 3.7% in 2019) according to the International Monetary Fund. 

Millions of people have been put on government-supported job retention schemes due to the fact that parts of the economy, such as tourism and hospitality, have reached a near standstill. 

60% of businesses in the U.S. have been permanently closed; others have encountered significant challenges and had to engage in business process transformation to quickly adapt to the new norms and keep providing their services without affecting customer experience. 
Digital technologies and different communication and online marketplace platforms have played a central role in allowing millions of people to stay connected while being at home.
How did the pandemic affect the top online marketplaces and what changes did Coronavirus inflict? Read on to find out. 
Facebook Business Process Transformation
Boosting new buying and selling opportunities with a digital marketplace 
Facebook has been gradually expanding its capabilities related to e-commerce. 
2020 was a year of big growth for the digital world. According to a July 2020 Harris Poll, between 46% and 51% of U.S. adults were using social media more since coronavirus began. However, the pandemic had a large impact not only on social media, but also on Facebook Marketplace.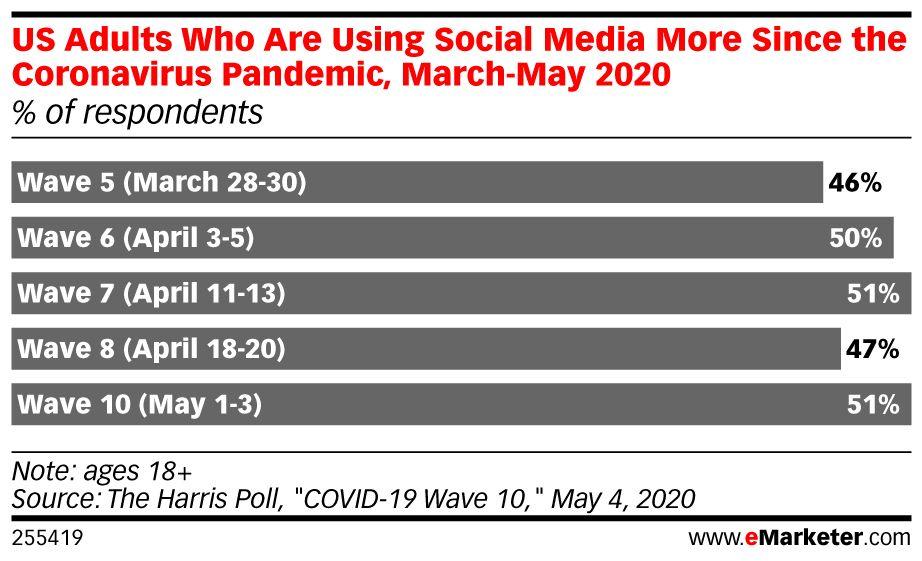 Though Facebook doesn't shed light on the top online Marketplace's latest user metrics, Cowen and Company stats showed 15% of US Facebook users preferred the site's buy-and-sell functionality and used it purposefully to find,  purchase, and sell products.
The new e-commerce boom has added greatly to its popularity. People are connecting with one another more than ever on Facebook Marketplace due to the supply and demand factors, according to Deb Liu, founder and vp of Facebook Marketplace.  As there are continued shipping delays and sold out items, consumers tend to choose buying at online local marketplaces instead.
What's new with the P2P online marketplace platform?
Over these past 10 months, some new features have been added to Facebook to keep sellers and buyers on the safe side during their collaboration. These include door drop-off and pickup, plus a rise in shipping options on an online marketplace. 
Facebook Marketplace's primary focus since its launch in 2016 had been local sales between users in the same geographic area. However, during the last years of its existence, the platform has been investing in shipping tools that would allow long-distance selling. 
Having already an integration with the U.S. Postal Service, Facebook Marketplace has boosted the range of products, which can be shipped. Just in mid-2020, it became possible for sellers to offer shipping services for clothing and footwear. 
Facebook e-commerce groups have also undergone a spike in the interest, while many users wanted to declutter and buy some new products. The social network means to attract storefronts and individual sellers this year by doubling down on expanding tools alongside social commerce integration. 
The catalyst for Marketplace's growth was global e-commerce sales rise from 20.2% in 2019 to 27.6% in 2020. Many sellers prefer the Facebook platform because it offers great capabilities for customer communications as well as checkout. 
Forrester surveys discovered that in 2019 only 6% of respondents bought items from the marketplace, when in 2020 the figure doubled to 12%. Facebook platform is the fifth most popular online marketplace in the US. 
OfferUp + LetGo: Combining strengths for a new P2P marketplace app 
We are all familiar with the buy-and-sell marketplace giants - OfferUp and letgo. In 2020 there have been major changes in the way they function. 
OfferUp announced in March that it was raising $120 million in a new round of funding led by a leading investor OLX group and that the round should close with letgo acquisition by OfferUp. 

The acquisition meant that two of the largest buying and selling marketplaces - outside of Craigslist, eBay, and Facebook Marketplace - would join their forces and become a stronger competitor in their niche.

 

Together they would be able to have more than 20 million monthly active users across the U.S.  and those users would have to install only one app to find or sell different products.   
Nick Huzar, OfferUp CEO, said that his main vision has always been to build a company that helps people get in touch and earn money. The joining of OfferUp and letgo and their business process transformation can help combine the complementary strengths of both ventures to deliver even better shopping experience. 
With unparalleled expertise in growing P2P marketplace business, OLX Group will be a great partner while building the best platform for customers. 
Though the Coronavirus crisis is not the best of times to start such changes, especially when the virus has been affecting the employees, partners and customers for quite a while now, however the management believes that the deal will allow the business to grow, despite current challenges. 
Now, the combined application of OfferUp and letgo is available across both iOS and Android to create the best buying and selling experience for millions of customers.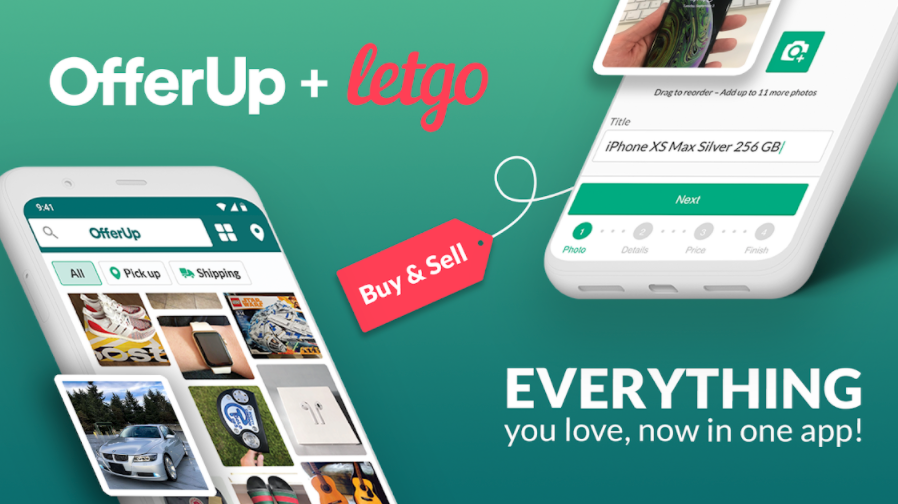 The buy and sell marketplace app business process transformation
The expansion will allow users access to the new features like nationwide shipping and safety programs such as TruYou and Community MeetUp Spots. 
Other than that, the listings sellers created will never expire, though on letgo they got expired after 30 days.      
Existing users of the letgo app will be directed to download the new combined OfferUp & letgo app and then they can use their sign-in information to create a new account. The essential information such as ratings, sales and purchase history, will be saved and transferred to their newly created account at OfferUp.
While people are adapting to the new style of living with social distancing norms, according to PR Newswire, the engagement on OfferUp has risen greatly, especially for items that help parents and children spend time together and maintain daily routines. 
There was a noticeable boost in searches for puzzles (+1,100 percent), swimming pools (+450 percent),  swing sets (+200 percent), and playgrounds (+160 percent) on the buy and sell marketplace app.
OfferUp has also experienced:
A threefold increase in people buying video games
A 100% increase in average weekly shopping buying interest in the Toys and Games category (compared to the first 45 days of 2020)
A nearly 100% increase in buyers using nationwide shipping
Airbnb: Sharing economy marketplace challenges and updates
Sharing economy has suffered a major blow related to social distancing policies and hygiene concerns. 
Travel industry, especially air travel, has been experiencing devastating results of the pandemic. While back in 2019, one of the most popular sharing economy marketplaces Airbnb was estimated at $38 billion. However in 2020, it was reduced by $20 billion, down to the figure of $18 billion according to Techcrunch, Bloomberg and other sources. 
The users' activity has dropped drastically, by 60%. Though Airbnb still remains a leader in their niche, it's the demand that has greatly decreased.  
Still, there is hope for the travel industry and it comes with vaccine distribution. CEO of AirBnB, Brian Chesky, has said that they expect a travel boom soon and are preparing for its rebound. 
In the Airbnb report, 54% of respondents said that they expect to travel for their vacations in 2021. Most of the travelling will probably happen in the second half of 2021, and the full recovery of the travel industry is expected to come by 2023. 
How is an online marketplace - Airbnb - preparing for the rebound? 
The company is investing in improving customer service and their goal is to make users' experience so simple, that they would be able to book or list a house on the platform in just 10 minutes. 
In February 2021, the marketplace introduced a new feature - Flexible Search that allows users to skip putting in exact dates while searching for a place to stay on the platform. As an alternative, they can search for a weekend getaway, week- or month-long vacation.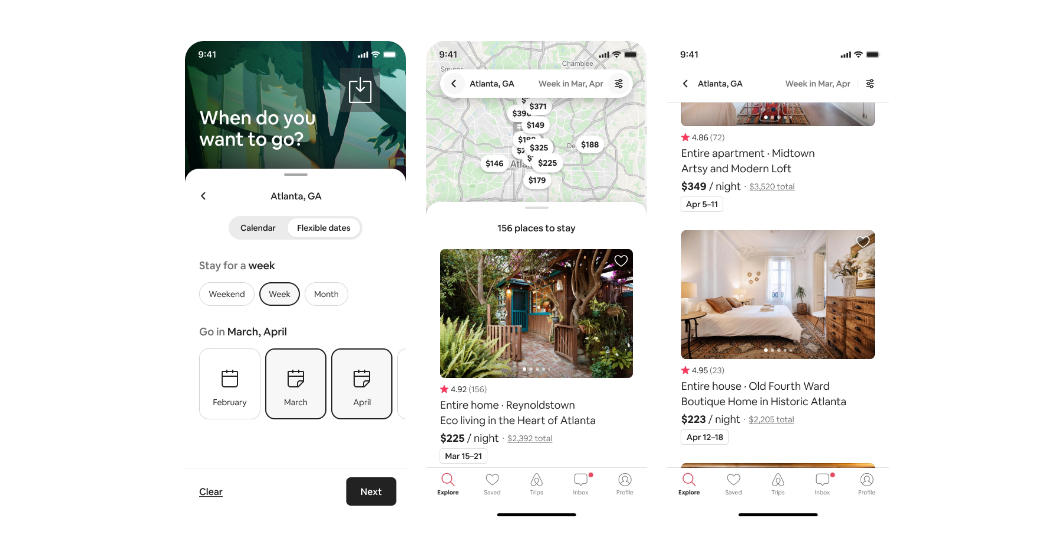 It is beneficial to both guests and hosts, as for the first group more options will be available to choose from, while for the second, there will be more visibility. 
Airbnb has written on the subject: 
It's no surprise COVID-19 continues to change the way we travel, and in addition to redesigning our platform last year to make nearby and longer-term stays easier to find and book, our new Flexible Dates feature aligns with a broader shift in how people will travel in the future. The traditional travel industry was built around fixed destinations with fixed dates in mind, but that model no longer meets the needs of today's travelers.
Also the company has put in place new measures regarding safety of the guests, which  include an Enhanced Cleaning Initiative and an Extenuating Circumstances policy. 
Those listings, which comply with the Enhanced Cleaning Initiative, display a badge in the listings, so that guests can take it into account when booking a lodging. 
The initiative includes extra measures for guests' safety, such as a five-step cleaning process and a checklist to make sure everything is ready for the arrival of new guests.
Uber business model during the pandemic: Uber eats takes the lead
The company has lost billions of dollars since the beginning of Coronavirus, as passenger activity has drastically decreased, the rides were down 75%, and pushed Uber profitability further off into the future.
However, they quickly reacted and shifted their focus from driving people to delivering food. That was a really smart move and it helped Uber not only to weather the downturn but also grow immensely their food delivery business. 
Though the increase in sales more than doubled, it still wasn't enough to offset other losses, resulting in the revenue decline by 18%. Uber has also fired approximately a quarter of its staff during the crisis. 
As part of an effort to build a more reliable system, the company brought their recovery plans into effect. Uber eats has expanded its reach with the acquisition of Postmates - a food delivery service, and made a deal to purchase alcohol delivery service Drizly. 
Analysts are also positive that Uber rides service will eventually bounce back, especially in 2021 as more people are getting vaccines against Coronavirus. If we combine those predictions with the success of Uber expansion, we can see how hopeful the picture looks for the service. 
Food delivery apps real numbers 
Food delivery apps have become essential to stay on top of the demand, as business owners have noted a considerable spike in takeout and groceries orders during the pandemic.    
KeyBanc Capital Markets analyst Edward Yruma has stated that: 
We see continued strength in food delivery as the pandemic has created a permanent shift to on-demand delivery
The industry has experienced a boost due to the current crisis, and, if we take into consideration four main market leaders in the US, their combined revenue from April to September 2020 comprised approximately $5.5 billion. It means even more than a double increase compared to the same period in 2019.
Source: Marketwatch 
Turo: Peer to peer car sharing marketplace business process transformation
Turo is the world largest P2P rental service. It gathered a large community of over 10 million guests who can choose from over 400, 000 vehicles listed worldwide. Turo helps people find the right transport for their next vacation or getaway. 
When the pandemic started, the car rental service witnessed a steep decline in the demand and the number of booking rides significantly dropped in March 2020. However, as strict social distancing policies are being lifted, more guests will prefer renting cars for short periods of time to get out of the house. 
The year 2020 has not been entirely bad for the Turo online marketplace. It ended with a positive financial impact due to the actions taken at the right time by the company's management. At the end of March, Andre Haddad, Turo CEO, laid off a third of his 330 employees. In April, he slashed marketing costs to zero. It resulted in Turo shoring up three years of cash. 
According to Steve Webb, Turo's VP of communications, before Coronavirus, the company was growing in demand by about 50% each year. From mid-March to early April, the business reached a 75% decline in annual growth. Though Turo didn't expect fast recovery, they started to bounce back already in the middle of 2020.
With the help of the Paycheck Protection Program, Andre Haddad was able to hire back about half of the 110 people he fired and return the roughly 25% cut he gave all employees, including himself.  He believes the car sharing company will turn a full-year profit in 2022. 
What's new in the way Turo operates?
From June 2020, the peer-to-peer car rental marketplace requires hosts to follow Turo's Cleaning and disinfection policy. There are guidelines to follow on how to keep your vehicle safe and clean, and if hosts don't do it, guests can cancel their trip free of charge. Also, Turo introduced a training module to help educate hosts on how best to disinfect their vehicles.
Udemy: A global spike in the demand for online education
Online course providers underwent an unprecedented spike in learners' interest in 2020. One of such companies is Udemy.
Udemy acts as an open marketplace, giving opportunities to everyone who wants to share their knowledge and create courses on the online platform. Because of this approach, Udemy became the platform with the world's largest collection of online courses - 157,000 courses from over 57,000 instructors since its foundation in 2010.
According to the data provided by the U.S. Department of Education, two-thirds of all U.S. college students didn't have online courses before the pandemic and experienced only traditional campus-based lectures.
Digitization affected education the least compared to other economic sectors though it is a crucial aspect in people's lives. It can only mean there are great opportunities to grab for boosting e-learning. 
The realization of online learning potential was happening gradually, though slowly. The events of 2020 have greatly accelerated the educational digital transformation. Course providers were finally able to fast-forward a couple of years. 
They are now some two years ahead of what was expected regarding their growth rates if not for the pandemic. Just look at Udemy's growth: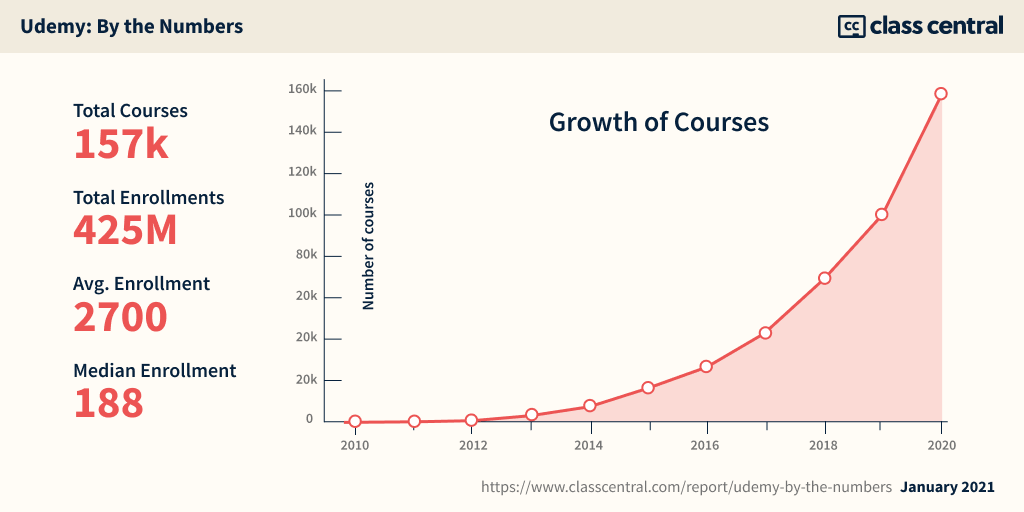 What's new with e-learning platforms?
The new Udemy report has shown how the pandemic influenced the global demand for online learning and the new trends it brought. Most people want to increase their self-awareness, get new skills, and be productive. The findings revealed:
425% increase in enrollments for consumers

55% increase in course creation by instructors

80% increase in usage from businesses and governments
Also, more than 700 Udemy courses are now available for free in Talent Exchange, the job matching marketplace, developed by Eightfold.ai. Such an easy access to training resources for those who suffered from the impact of the COVID-19 crisis can help people prepare for their next job in the best way. 
They cover different topics such as how to be effective while working remotely, leadership, time management as well as more career-oriented courses in areas like HTML5 and CSS3 fundamentals.
Read more about the state of online education in the article: E-Learning Marketplace Development: Reshaping Education with Top Trends and Tools in 2021
Recap
Though markets were totally disrupted by the pandemic, it created opportunities for organizations to discover new capabilities of their businesses and respond to the quickly changing state of the industries with business process transformation.
The time to act is now. Strong leaders embrace the new reality and take timely action to reinvent the business model where necessary and adopt new approaches in the way the company functions. 
If you need any technical assistance, Apiko will do its best to help you become a market leader in your niche. Just drop us a line about what we can do for you.