Locked In and Hungry? Grocery Delivery Apps to the Rescue

The world is experiencing challenging times right now, and we are starting to live our lives in a completely different way. The crisis has forced us to avoid crowds and stay home. Even the most basic activities, such as going to the supermarket, could pose a treat.
Business models related to online shopping are seeing tremendous growth, and grocery delivery services provide much-needed assistance to communities currently on lockdown. 
There is a noticeable influx of food delivery apps, and even though some big players have gained a considerable foothold, there is still room for newcomers. 
How does a delivery app work?
In a nutshell, a food delivery app allows people to browse products available in participating grocery stores and select the items they wish to purchase.
There are typically two options when it comes to delivery. Some people prefer to pick up the items from the store, making a quick stop on their daily route. As that is no longer the safest option, most are now opting for the home delivery service.
Quality apps for grocery delivery provide a seamless shopping experience, payment system, and ensure delivery right to their customers' doorstep. Currently, more crucial than ever before.
The limitations currently imposed may be around for months to come, so grocery delivery services are growing day by day. Indeed, there are a plethora of options already available. To best showcase available options and possibilities, we are using one of the most popular apps available as an example.
Instacart is a robust online grocery delivery service app that will only continue to grow due to the life-changing events we are going through. The important thing is to evolve with these inevitable shifts, and the supermarket delivery apps are proving to be a huge success.
How Instacart works?
Instacart is a rather straightforward service that is intuitive and easy to use. How to use the Instacart shopper app? Download the Instacart app from your smartphone app store and pick your favorite store: Instacart shopper app download. 
Having made your selection, you will gain access to all the products available for purchase. Start picking your products and send them to the virtual shopping cart. Once you've got all you need, proceed to checkout, and set the preferred time of delivery for your groceries. Instacart requires your credit card details and takes care of payment transactions in a secure environment. 
Once you've done your part, a person dedicated to the shopping process goes through the item list and purchases all the items for delivery.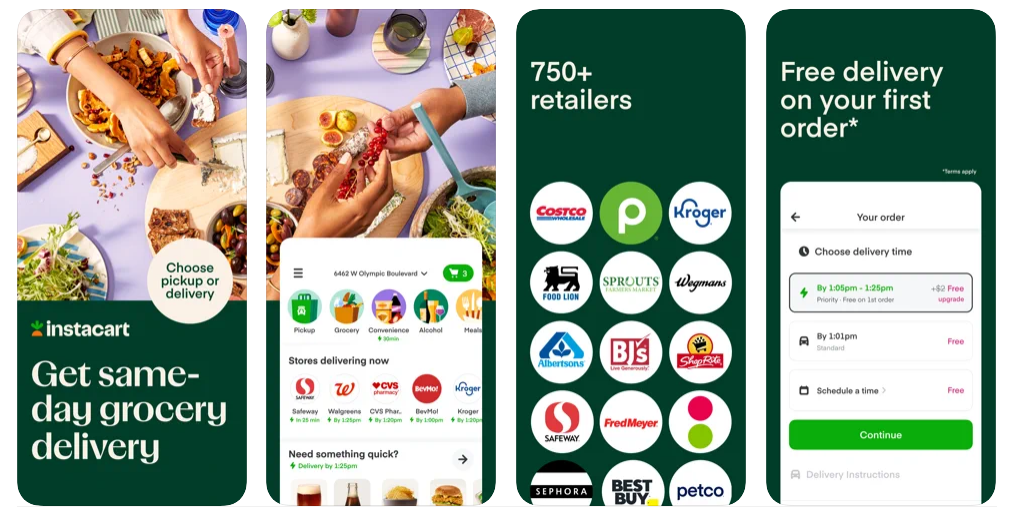 The whole process is made extremely easy to allow people to get their groceries without having to leave the safety of their homes.
What is going on in the background isn't less fascinating: Instacart API was completely revamped in 2018 to view model architecture. 
Instacart business model 
Three key factors that make the Instacart business model work:
Customers

Shoppers

Retailers
Customers
These are the people that use the application to choose the groceries they want to buy and deliver.
Shoppers
Grocery shoppers are buying the goods and delivering them to the customer. 
Retail partners
And last but not least, the partnering stores which allow Instacart to display their items in the app.
Market overview and Instacart alternatives
Demand for a store delivery app to be expanding faster than the known universe, and this surge could last for quite a while. Even though the primary catalyst is indeed the coronavirus, this shift could very well prove to be permanent.
An important thing to consider is that even people traditionally untapped by online solutions are now adopting apps to fulfill their daily needs. So even when things get back to normal, the user base for apps is expected to remain substantially larger.
So it is safe to say that we are looking at a new age of digital shopping. Instacart is one of many to choose from, and here are some of the alternative best on-demand home delivery apps:
Amazon

Burpy

goPuff

Shipt

OurHarvest

FreshDirect
Amazon may stick out like a sore thumb from this list, but there is no denying it has turned into one of the most popular sites for online grocery shopping.
How does Instacart make money, and how much?
Instacart charges a commission when you use their platform for shopping. The app itself is free to download, but you pay a small fee from your shopping transaction. This sum is something a few shoppers would notice, so it works out well for everyone.
There is also a human element to consider - shoppers. Instacart hires people to do shopping for app users. There are compensations intended for the shoppers, but they can also make extra cash if the buyer tips them on checkout. The value of Instacart is currently at more than $4 billion (Toptal).
Features of an on-demand delivery app
A grocery delivery app has several features deemed essential for the app to become a success.
Solid interface
The application should be 100% free of bugs or programming issues. There are many apps out there, but most apps fail because they have a poorly implemented interface full of bugs and errors.
Option to choose different quantities of a single product
Many features are relevant for this kind of app to have, but often overlooked is allowing people to select the amount they want for each item. Seemingly an essential feature, but surprising to see how many apps lack this.
Feedback system
We are living in a world of five-star ratings, where a low score could spell doom, so any modern app should have a feedback option to rate the service. A simple star rating could warn others from lackluster service or steer them to establishments that might otherwise go unnoticed.
The ability to choose different locations for shopping
As people tend to be creatures of habit and prefer specific places in their whereabouts, a successful app has many shops to cater to different tastes.
Important statistics to consider
Restaurant business has dropped over 50% 

Nightlife establishments have witnessed a decrease close to 70%

Grocery shopping apps, on the other hand, have seen user base increase as much as 200%

Online shopping, in general, has lured in people who previously shopped exclusively offline.
SWOT analysis 
Analyze the strengths, weaknesses, opportunities, and threats involved in this process. The following is a list of essential things to consider before you decide to get started with this process.
Strengths
The greatest strength of this type of application is that it has turned out to be one of the most in-demand services today.

App users have more freedom in their choices. They get to pick the time and place for both their shopping and delivery.

There is truly no better time for this business model than 

right now

!
Opportunities
You have a chance to gain popularity quite fast, given that there is a high demand for this type of service. 

You could see your business grow within a shorter period than it otherwise would. 

It creates opportunities for different types of collaboration with retailers.
Weaknesses
Out of all the issues to consider, the most obvious is the cost of transportation to deliver the goods. It should hardly be a deal-breaker but expect to invest a significant portion for this purpose.

Being able to balance supply and demand can be tricky.

Establishing your business and gaining the trust of your target audience always takes time.
Threats
There is always a risk of failure if you are unable to promote your application enough to start onboarding those first few customers.

There will be more competitors than ever before as people see the high demand for the service.

A lingering possibility of issues with deliveries and disgruntled customers can damage your reputation early on.
How to retain on-demand delivery app users? 
The best local delivery app solutions are also the ones that work hard to ensure that their existing clients keep coming back. The best way to secure that is to create a loyalty reward program giving app users special discounts after a certain amount of purchases.
Finding schemes to boost loyalty can be paramount as it will keep your existing clients from flirting with other apps. Once they see the benefit of sticking around, they are less likely to look for these many alternatives currently popping up.
Excellent customer service is just as vital for a grocery delivery service who simply cannot afford to react slowly. A hungry customer low on his blood sugar is bound to inflict irreparable damage.
What's the best grocery delivery app?
Many people ask this question, and the truth is that there is no definitive answer. Some of them have features that others don't, while some have smaller fees but possibly less efficient delivery systems. However, the top players seem to be quite even in terms of their features and pricing.
Final thoughts
There has never been a better time to start a business with an app for delivering groceries. Out of top grocery delivery apps, the Instacart shopper app seems to be one of the most practical and useful. Still, the market is far from saturated, and there is always room for a high-quality app to make a splash. Tick-tock, it's high time to start your next project.
Frequently Asked Questions
Q:
How much does it cost to develop an on-demand delivery app like Instacart?
A:
Developing a high-quality app that meets industry standards is, without a doubt, a challenge. You need to consider several things before getting this process started. There are app developers out there who may charge as little as $500 for a project like this but are sure to deliver something full of flaws and lacking functionality.
Q:
How much does it cost to develop a delivery app?
A:
A quality app for this purpose is going to cost between $5,000 and $25,000. Quite a broad price range, indeed, but dependent on how many features you wish to have in the app. Even the most basic delivery app similar to Instacart can set you back between 5k and 25k.
Q:
How to create a grocery delivery app?
A:
Choosing the right developer for the job is going to determine much of the outcome. Take your time to research for the best possible candidates and pick the one that has a proven track record and knowledge on food marketplace app development.