Real Estate Mobile App Development: How to Create the Next Zillow

Nowadays, the only way to market your real estate business is to break away from generic web pages and make your own real estate app.
To do this, you have to really push yourself hard and work all the kinks out of your strategy. In addition, you have to be aware of all ins and outs of real estate mobile app development.
Thinking about what to start with?
After reading this article, you will know about the real estate tech trends, main real estate mobile app features, ways of monetization, and useful tips on how to turn your app visitors into grateful customers.
Real estate app tech trends
According to NAR Home Buyer and Seller Generational Trends Report, the first step people take during the home buying process is the online property search.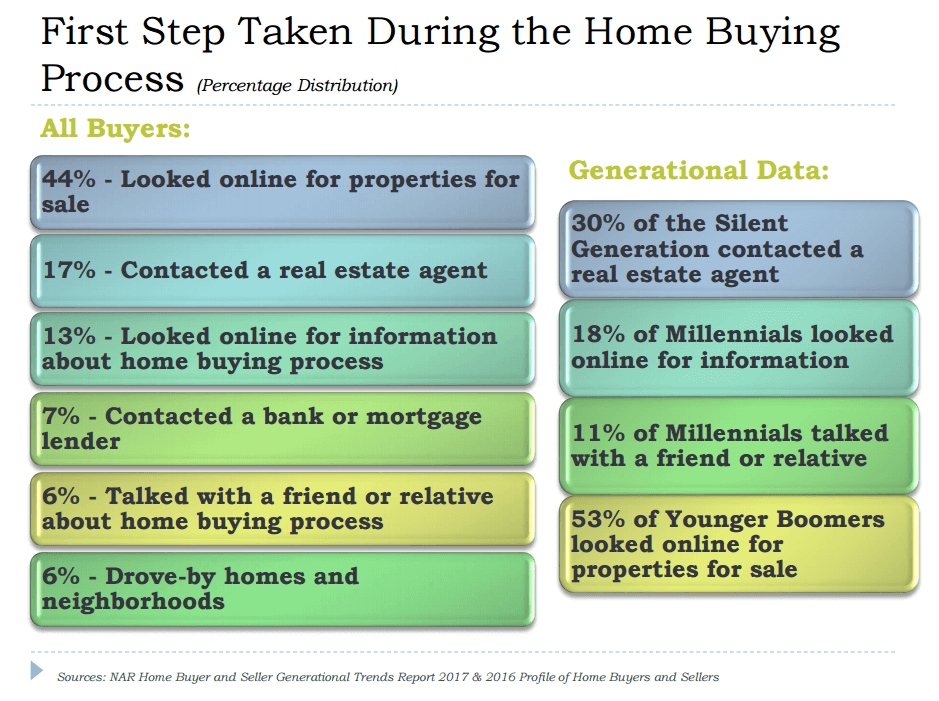 It means that your aim is to draw attention to your real estate website and make the home buying process smooth and simple.
To achieve this, you have to stay tuned for the latest real estate tech trends and features.
Lee Davenport, the real estate coach, who trains agents and brokers on how to work smart with the technology, outlines the following 3 real estate tech trends.
Distance or lack of time is no longer a pain with 3D or virtual reality tours. It allows buyers to get the feeling of how the home looks like without having to physically visit it. As a result, it will speed up the buying process and save both agent's and buyer's time.
Master of information, master of situation. Collecting data about your potential customers will help to direct you and your agents to the people who are going to sell or buy the property in the nearest future. For example, you can fetch these data from Facebook ads. They allow you to target your customers by categories such as "likely to move" and "for sale by owner." Great way to find your client!
A perfect real estate agent should be aware of modern home technology. They have to know about the price points, best local vendors, smart home upgrades, and other new tech trends. Accordingly, your website should offer the listing of properties with modern technologies.
Now it's high time to describe the major features of your real estate website.
Must-have real estate mobile app features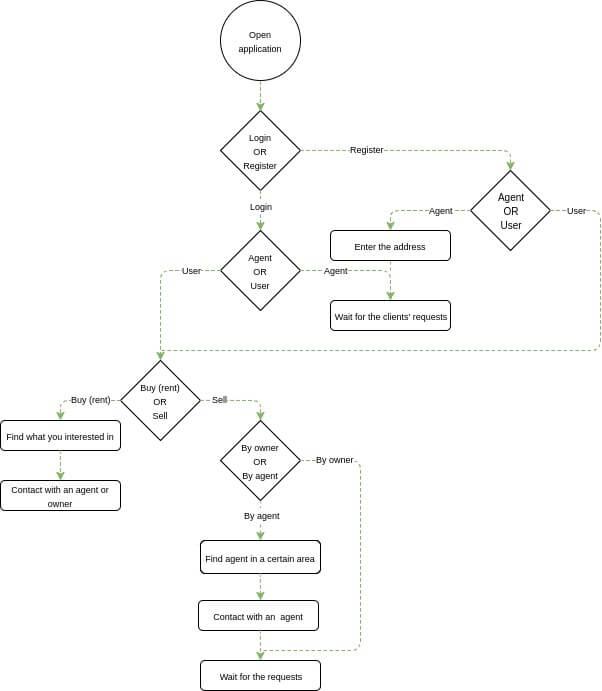 Real estate app usually serves two main types of users: buyers and real estate agents. First, let's review features that are essential for agents.
There are 3 possible ways to get your users aboard:
Authorization via Social media
Email authorization
Phone number authorization and verification
Actually, one of the steps to create the best app for real estate listings is to combine all of 3 sign-in mechanisms in your to let users choose their signing in the preferred method.
Create your profile and add the working experience
Think of sort of Linkedin for real estate. For example, Premier Agent by Zillow offers to create a free agent account and advertise it.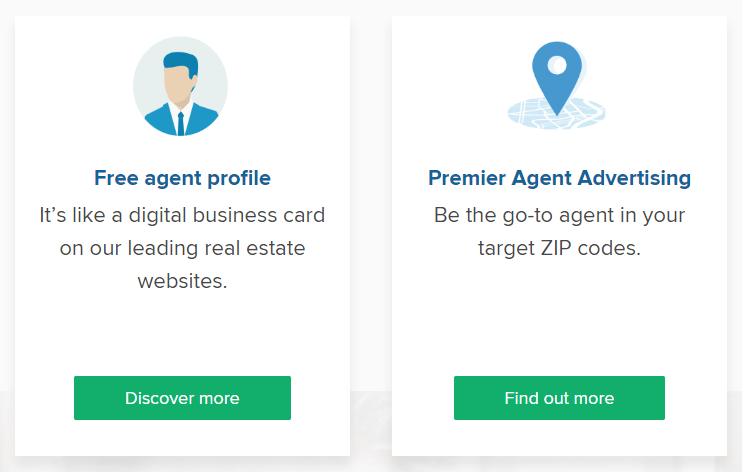 Ability to browse the history of deals and the list of active and past clients
Premier Agent offers here a powerful CRM system. Apart from this, you can use personal management tool.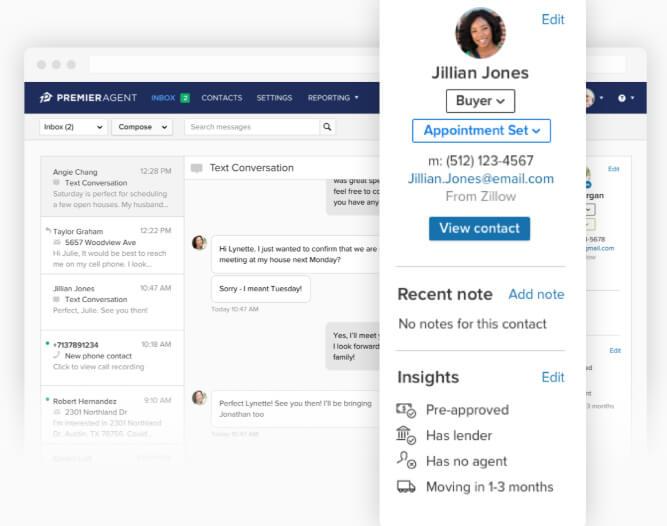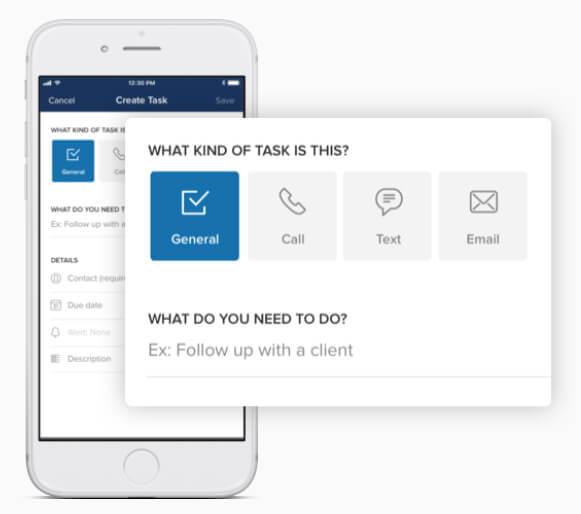 Communication means (messaging, video, audio chats)
For instance in Boss Agent by Casalova, you can organize and browse conversation history.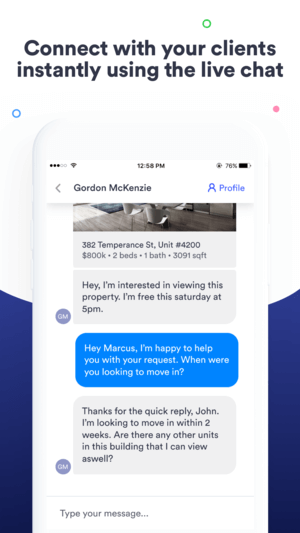 Look for potential buyers in your area, filtered lead generation mechanism.
Some companies develop a completely separate real estate lead generation apps, like Zillow's Premier Agent.
Now let's proceed to the features for real estate buyers.
The point here is to make the data structure convenient and informative for any user. For example, Zillow includes the search by location, listing type, price, beds, and home type.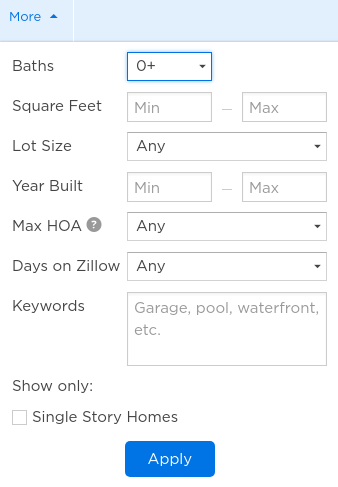 It also allows you to narrow the results by typing the number of baths, square feet, lot size, year built, etc.

Let's take a look at the search in other famous real estate websites.
Redfin allows to include in the search only new listings, open houses, houses with the view, fixer-upper and waterfront properties.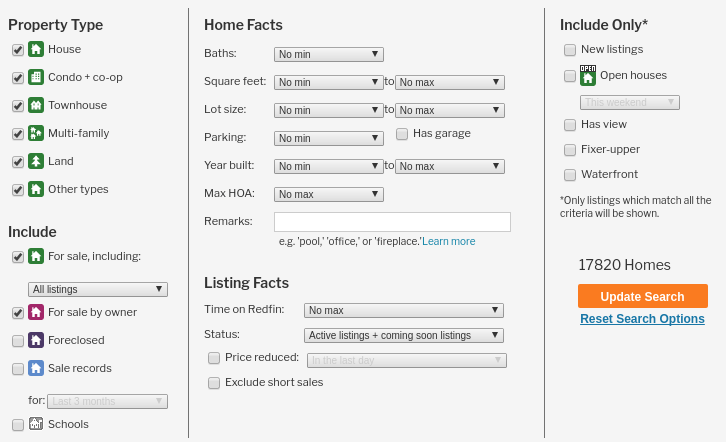 You can also give users the opportunity to exclude some features, as for example on Hotpads.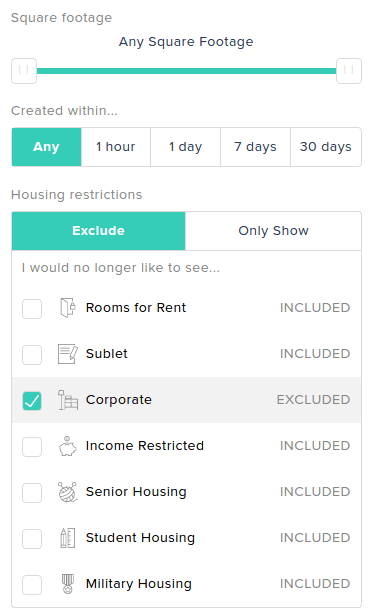 Such filters make property search faster and provide the users with the results they expect.
Interactive map with properties
This is a second feature that is essential for the nice user experience. Put a map next to the properties list to allow the user click on it and see the homes in a certain area.
Let us provide some examples.
On Zillow, you will see a map with markers. When you hover your mouse over any marker, you will see the short info about the property such as price and area.
You can also include information about the schools in a chosen neighbourhood.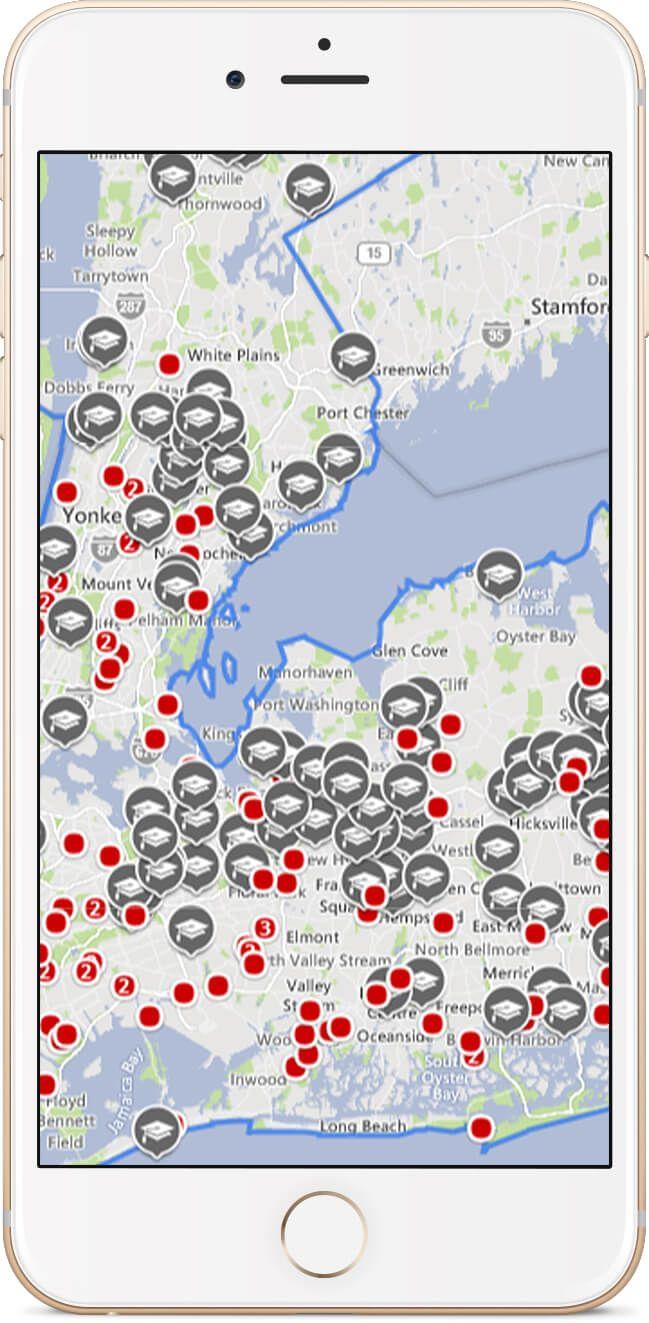 On Trulia, you can see the info about crime, schools, places to eat, hazards, etc. in the selected region, which is a very good feature.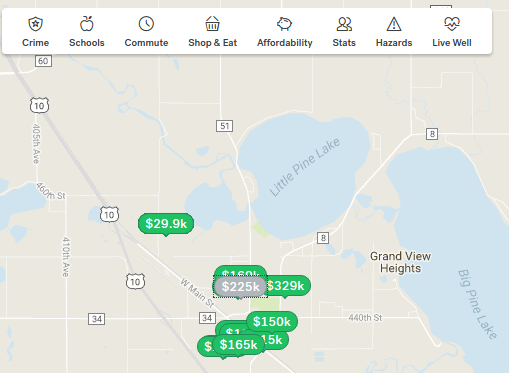 By including the variety of fields in the property info, you will simplify the user's search process and make it more efficient. The information may include construction details, exterior and interior features, parking info, home value, community features, number of shoppers who saved this home, etc.
Give the registered users an opportunity to save the search and receive email notifications when the new results appear.
Include the mortgage calculator to estimate your mortgage payment, with taxes and insurance. You can develop your own calculator from scratch or integrate it from third-party sources.
You have several options here. The agents can register on your website as individuals or company and describe their services. After that users will have an option to find an agent in a certain location.
You can also make it in the other way. After registration, the user may be connected with the realtor before being granted an access to the search and listings. Every property they look at can feature the information about the connected realtor.
Such option will give the realtors confidence that the clients will be linked to them and won`t see information about other realtors.
You can provide the owners and agents with the calendar for each property they sell. When clients want to make an appointment with agents, they can simply see the available dates and book the meeting online.
To sum up this section, we would like to provide the statistics from the survey by the National Association of Realtors. Take a look at the features buyers find very useful in real estate websites.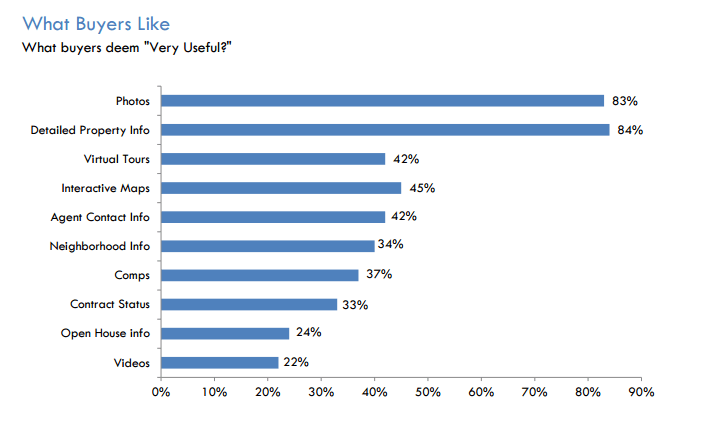 The real estate mobile app features described above are basic. Of course, you can add a lot of new functionality after you learn more about your visitors` preferences. First of all, think about the user's intent and major expectations from your real estate website.
Database. Where should you take the data from?
This element is actually the most critical. You have to know where to take the data from. Let's review some examples.
Zillow and Trulia get their listing data from individual broker sites and other sources, including major national brands such as Century 21, Bankerre, etc. Also, Zillow takes feeds from services that real estate agents use to indicate their data on the web.
Zillow also has a unique category called "Make me Move" where an owner has not officially put their home on the market yet, but publically states the price of the house.
In addition, the data may come from the individual real estate agents and real estate brokers.
What payment systems to implement for your real estate marketplace app?
You might be interested to check out the popular payment methods in Europe.
What about the security?
During the real estate mobile marketplace app development assure your users that your app for selling a house is safe by implementing the following features:
Finger, eye retina or face ID scanner. This type of security will suit well for extremely sensitive information to deal with, like personal data or any finance-related functionality.
Request to send your user's photo after the registration. Such method can be applied to verify that the person's identity is real.
Two-factor authentication, like Google's two-factor verification.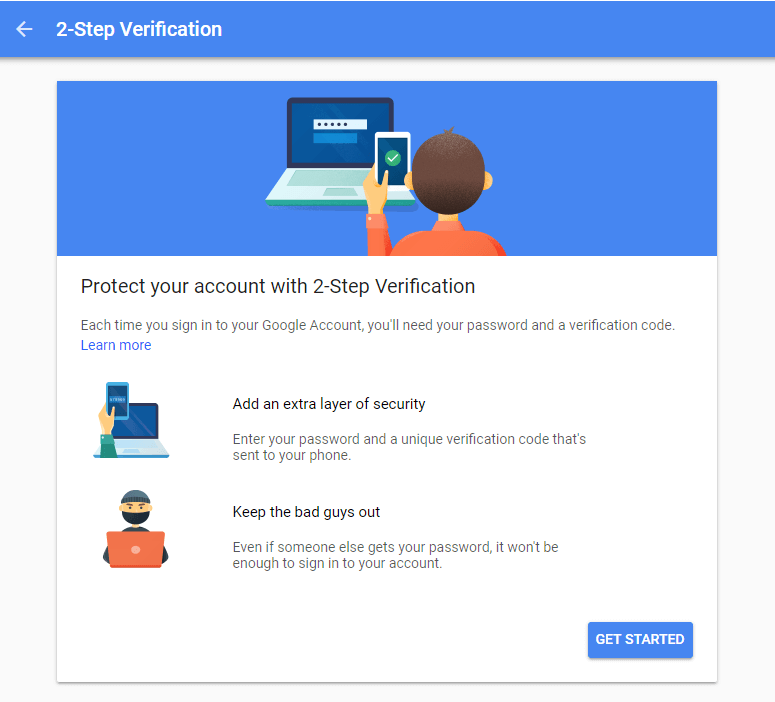 How do real estate apps make money?
Now it's time to discuss how real estate websites make money. Here are some profitable business models of real estate websites.
Take a monthly fee from realtors to feature them on your website
Realtors can buy the monthly or yearly packages in order to be listed on your website. The best choice here is to offer a trial period for free, so a person can see if this model is suitable. If yes, they can choose to upgrade the subscription for a certain payment.
Sell ads to mortgage lenders and other third-party businesses
Your real estate website can also sell advertising space to different businesses such as mortgage lenders, interior designers, contractors, retailers, and insurance specialists. Zillow, for example, takes money from mortgage lenders based on cost per click or cost per thousand impressions.
Take a fee for additional valuable features
Another option is to take a fee for such additional features as analytics for realtors, notifications, online booking, etc.
That's actually how Trulia used to make money. Realtors spent a lot of time to create high-quality content. Then Trulia decided to monetize all the traffic that was coming from the content. It started to sell ads next to the content and it was a great way to make a profit.
Virtual agents are people who promote the services of your real estate website with the help of different tools. Virtual agent's responsibility is to submit the names and phone numbers of property owners. After this, the special consultants contact them. If these people are placing their listing on your website, the virtual agent who brought them receives a commission. This is an interesting strategy for those who want to generate more leads.
Wrapping Up
Building a real estate mobile app which lets people make important decisions in their lives, like buying a new home, surely requires a well-structured business plan.
To stay competitive, you have to keep pace with the rapid changes in technology, focus on the right business strategy, and useful features. Only in such way your users will buy real estate online via mobile app effortlessly. Have any questions about the process of real estate app development or its cost? Feel free to leave a comment below.