Overview
Team

7 software developers

1 UI/UX designer

1 project management

1 business analyst

Solution

End-to-end enterprise management suite

Industry

Manufacturing, enterprise resource planning

Services

Web development

Mobile development

UI/UX design

Project management

Quality assurance and support
About the client
Conexwest is a leading container manufacturer in the United States, with a history of producing high-quality products for customers across the globe.
Conexwest, a leading force in the container manufacturing landscape, specializes in crafting a wide array of top-quality shipping containers. With a strong foothold in the United States, their expertise extends to designing, manufacturing, and supplying an extensive range of containers, catering to both domestic and international markets.
Their product portfolio encompasses an array of container types, including standard dry containers, refrigerated containers, open-top containers, flat rack containers, and more. Conexwest's offerings are tailored to meet various cargo needs, ensuring safe and efficient transportation of goods across diverse industries.
As an industry trailblazer, Conexwest also provides customized container solutions, allowing clients to shape containers to their specific requirements. From modifications to conversions, their adept team delivers tailored solutions that accommodate unique cargo and storage demands.
Beyond manufacturing, Conexwest offers a suite of services designed to streamline container logistics. Their comprehensive services include container sales, leasing, rentals, modifications, repairs, and delivery, presenting clients with an end-to-end container management experience. With an unwavering commitment to quality, innovation, and customer satisfaction, Conexwest stands as a reliable partner for businesses seeking robust container solutions that cater to the intricacies of modern cargo and logistics demands.
Project idea
Projectboard.io is the multi-module enterprise management suite to make industrial manufacturing safer, easily monitored, and more productive.
From weeks down to minutes, our manufacturing process management software redefines how Conexwest manages tasks, amplifying productivity through data-backed choices and efficient resource management.
Uncover how Conexwest supercharged long-term strategic planning with ProjectBoard.io, achieving remarkable outcomes:
Slashed time tracking from days to mere minutes, boosting efficiency
Attained 100% accuracy in task management, ensuring error-free operations
Bolstered organization and oversight, yielding a significant reduction in project delays
Enabled handling more tasks in less time, supercharging productivity
Accelerated decision-making, translating to quicker project advancement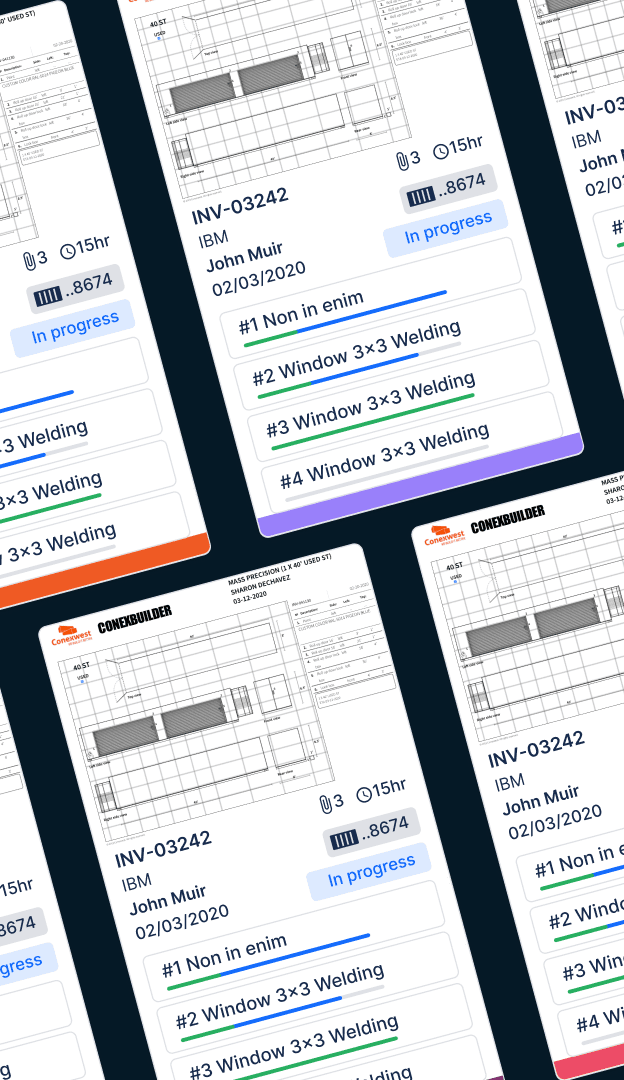 Story
In the realm of modern industrial manufacturing, where precision, coordination, and resource management are the cornerstones of success, we built a visionary enterprise management suite that encapsulates ingenuity and empowerment - ProjectBoard.io.
In 2020, the founders of ProjectBoard.io embarked on a mission to revolutionize project management for corporations. They envisioned a collaborative platform that would increase business agility and operational cohesion.
ProjectBoard.io serves as an orchestra conductor, seamlessly integrating project management, task tracking, team communication, and file sharing into a user-centric interface designed for intuitive navigation.
Its user-centric design ensures that simplicity and flexibility are always prioritized, making your team work smarter and achieve their full potential with ease.
With ProjectBoard.io, your workday is centralized within a single dashboard that maximizes productivity and eliminates the complexities of multitasking. It's not just any tool, but a catalyst for transformative excellence in manufacturing.
ProjectBoard.io is leading the way in the manufacturing industry, constantly evolving and reshaping the landscape while unlocking new possibilities.
Take a look at how our clients have transformed their challenges into extreme levels of productivity
Under the banner of ProjectBoard.io, we have achieved a remarkable milestone: reducing worker turnover time down to the minute. This precision has revolutionized the way work is completed, allowing us to optimize every action to create a symphony of success.
Our narrative is one of real, tangible transformation, where business operations break through boundaries and innovation drives development. It is a journey where every keystroke, data point, and strategic insight contributes to the story of enterprise success, all written through our partnership.
Apiko is a valuable long-term partner for enterprise digital transformation. Their dedication and commitment to our project result in high-quality of their work. They always find needed resources and solutions to satisfy any arising needs of the project. We've achieved a ton of progress working together.
Challenges & solutions
"We needed a tool to help us track tasks in business, assign them to employees, and see how much work they do. We hired Apiko to build a heavily tailored solution, as no solution available on the market could meet our business needs."
The resulting software products include:
QR-integrated productivity tracking app for workers

Web-based production management system

Enterprise resource planning solution (ERP)
Main modules of the product
Inventory management
Efficiently manage assets and inventory with a reliable inventory hub, facilitating seamless tracking, optimization, and synchronization for smooth operations.
KPI tracking
This feature provides a personalized dashboard to each worker, enabling real-time tracking of key performance indicators and promoting a culture of individual excellence, resulting in new insights.
Invoice management
This module streamlines financial interactions by harmonizing the complexities of invoice creation, management, and processing for accurate and efficient financial transactions.
Project, workflow and task management
This multifaceted module transforms manufacturing into a precise choreography, dissecting manufacturing production processes into a sequence of tasks that streamlines project execution and enhances decision-making.
Resources scheduling & allocation
This feature enables administrators to precisely allocate and schedule human and material resources, creating a symphony of resource orchestration and optimizing utilization throughout the manufacturing process.
Automated reporting
This module gives teams freedom from burdensome reporting requirements, creating detailed reports automatically and supplying helpful information that enables data-driven choices.
HR management
This module serves as a connecting point for workforce optimization, pioneering smooth HR management from recruiting to performance appraisal, thus providing an ideal environment for talent development and maintenance.
Productivity monitoring
This feature offers an up-to-the-minute snapshot of performance, giving an all-encompassing overview of efficiency and providing insights for improvement.
Role-based access control
This module ensures data integrity by orchestrating precise access permissions, providing users with a defined scope of interaction with the manufacturing operation system while simultaneously strengthening security and confidentiality.
Productions and operations management
This module serves as a comprehensive overview of the manufacturing landscape, providing stakeholders with a cockpit to manage resources, tasks, and projects with efficiency.
Enhanced communication
This feature enables effortless collaboration and communication within the ecosystem, allowing for the free flow of insights, decisions, and updates throughout the manufacturing process.