Construction Digitization: How to Successfully Streamline Projects with Digital [Case Study]

While representing 13% of the total global GDP and employing 7% of the global workforce, construction is one of the most influential industries in the world economy. Due to the recent challenges associated with the pandemic, industry leaders have been forced to seriously reconsider their existing processes and the way they approach technology.
Construction digitization is full of opportunities that can lead your company to major client experience improvements, cost-efficiency, and productivity boosts. Find out how you can embrace digital transformation in your field, and read the detailed case of construction digitization first-hand experience.  
What is construction digitization?
Construction digitization involves purposeful integration of technology and digital tools into different areas of a construction company to optimize its processes and maximize the value. A part of digital transformation in the construction industry is a cultural change as well, which means that companies need to challenge their traditional ways of doing things. Identifying the use cases where technology can be used to improve operations provides companies with a major competitive advantage.
Main reasons for construction digitization
While many organizations in other industries are a part of a constant pursuit of innovation, trying to outperform their competitors, the approach in the construction industry is often considered as the one that reflects a desire to maintain existing processes, as long as both a client and management find them satisfactory.
According to McKinsey:
Construction has seen a meager productivity growth of 1 percent annually for the past two decades. Time and cost overruns are the norm, and overall earnings before interest and taxes (EBIT) are only around 5 percent despite the presence of significant risk in the industry.
Despite some general lack of desire to transform digitally, there are several drivers of construction digitalization that pressure companies to change: 
Growing client expectations. 
Being influenced by other rapidly evolving markets, new relationships, better service levels, and tailored products, clients now expect the same from the construction industry. These expectations include more individualized, modern, and even smarter constructions, as well as optimized working processes, performance tracking, and improved security to name a few. 
New technological capabilities. 
With innovative construction methods and new technologies on the rise, construction businesses aim to adopt digitization approaches for increased performance. The use of various software, hardware, and sensors has led to the drop of cost and the rise of efficiency, opening new possibilities to construction companies.
Technological innovations possess new problem-solving capabilities that drastically improve the capabilities of the people, technology, and existing systems used at construction sites. A particular focus is put on Building Information Modeling (BIM), and Construction Information Management (CIM). New technologies make better use of different practices, such as data collection and analysis, as well as project planning and management.
The workforce is extremely varied today, with full-time and part-time employees,  freelance, gig, and crowdsourced workers all working in different settings. The new workers are changing the shape of the workplace, especially with the rising tech savviness. In the construction industry, though more resistant to change, it works as well, as new professionals accelerate the adoption of digital technologies to streamline traditional working processes and boost productivity.
New regulations on sustainability reporting. 
As countries around the world are becoming more environmentally conscious, new regulations are being put in place to minimize the harmful effects of business activity on the environment. Construction digitization provides means to track company's scope emissions, collect and analyze data such as the amount of energy consumption, waste and harmful emissions generation etc., and keep stakeholders informed through accurate reporting. 
The rise of large infrastructure initiatives
The infrastructure and construction industry encompasses a number of segments, ranging from home construction to companies that deliver massive government-funded projects. As stated by Global Construction Perspectives in their latest report on global construction volumes, in 2022 infrastructure work will be the preeminent revenue stream for contractors, overriding housing. 
Large projects especially require transparency, cost- and time-efficiency, better resource allocation, better risk management, and increased productivity at different levels, which all come with the right construction digitization strategy. 
Digital transformation in the construction industry: key trends reshaping the market
Though no construction company is in the same place in their use of data and digitalization, digital transformation continues to expand and open new opportunities for businesses. Tech solutions such as ERP, scheduling, project management, BIM, drones, etc. are already applied by many, though the rate of adoption varies by company.
According to the McKinsey report, the major changes are likely to be catalyzed by certain market factors, such as lack of skilled workforce, continuous cost pressure from infrastructure and affordable housing, stricter regulations on work-site sustainability and safety, as well as the growing needs of clients and business owners. 
More and more digital solutions for the construction industry are being introduced. The industry will be significantly transformed in the future by emerging disruptions, including industrialization and new materials, the digitalization of products and processes, and new entrants.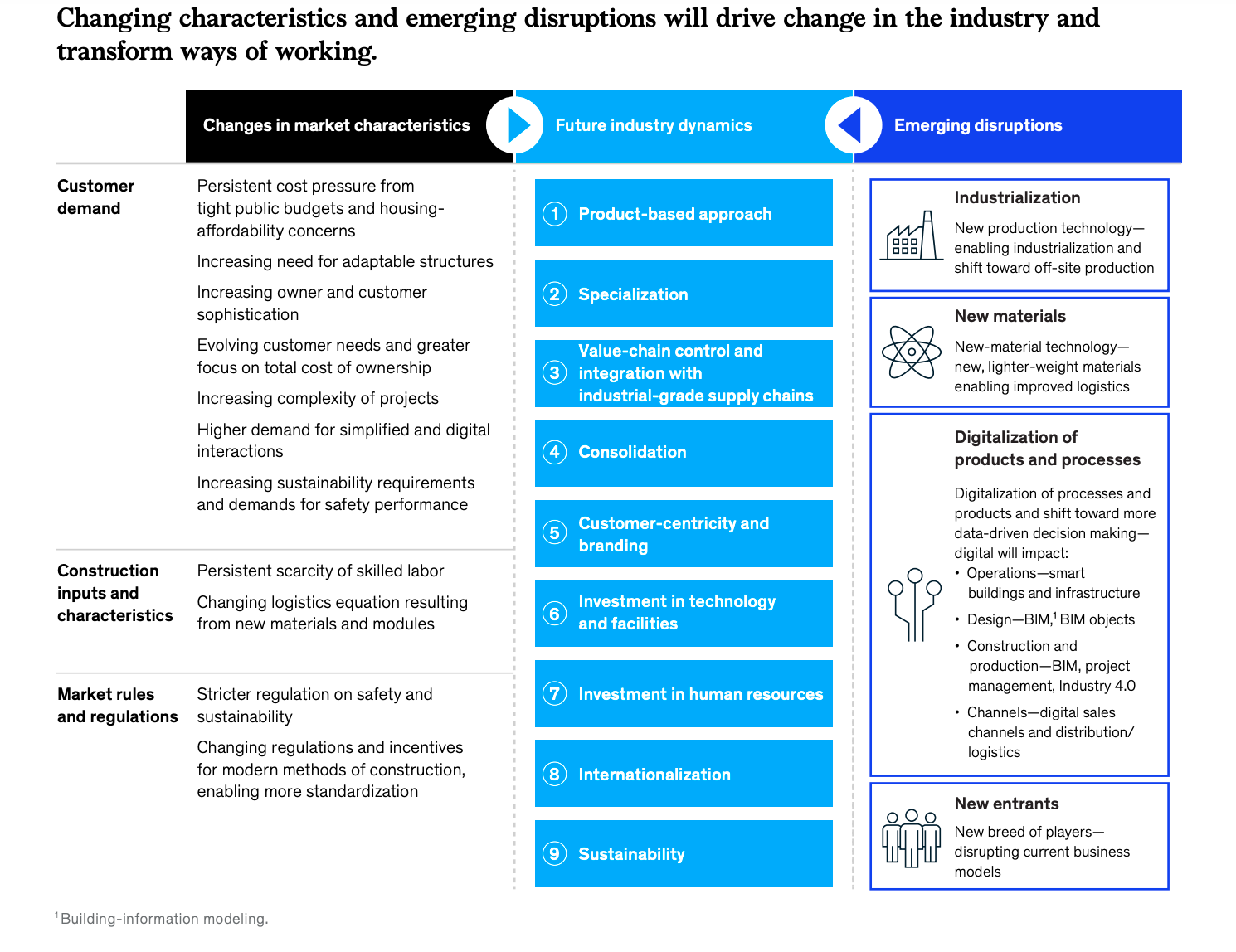 Digital solutions can be a game changer for the construction industry as they enable more efficient planning, more control of the value chain, and more informed decision making. These technologies will transform the way companies deal with operations, design, building, and collaborating with partners.
Smart buildings and infrastructure with the IoT integration make it possible to monitor buildings with connected systems, increase data availability, collect and analyze it to get meaningful information about the building's performance and optimize it in the future. 
Building-information modeling (BIM) software can be considered as the new way of working, which significantly improves efficiency. It integrates the design stage with the rest of the value chain as well as connects different elements of the digital strategy such as different systems, drones, building and infrastructure equipment. It is expected to drive major improvements (direct costs, quality, delays, security) throughout the whole construction process.
The COVID-19 pandemic has accelerated the adoption of digital tools, and in construction they have the potential to reshape interactions for buying and selling products across the value chain. Digital channels are critical to business success, customer relationships, and profitability, being capable of automating and boosting efficiency of sales and distribution.
Project management software can bring project teams together, deliver deep understanding of the data, automate manual workflows, while saving time and cutting construction costs. It can collect and store data from different sources and allow users to collaborate in real time, as well as track progress of the project.
Human resource management systems are there to streamline recruiting and onboarding, store all the necessary information about your employees, and help with project allocation. They open the door to better planning and better project performance.  
Construction data, delivered in real-time through integrated, cloud-based platforms and easy-to-use functionality, is the backbone of digital transformation in the industry. The right tools can utilize this data to reshape their entire construction operations and become more competitive and resilient in the future.
Construction digitalization case study: HR and project management software development
Poor planning, delays, and budget overruns are a bottleneck in the construction progress. To eliminate these inefficiencies, streamline the construction process, and keep projects well-organized, software for construction project management is indispensable. 
Our client, the Managing Director of CTS group of companies and also the Founder and CEO of Pro.con, Sven Khors, has seen the challenges many construction companies face and wanted to solve it with a software solution that deals with common construction inefficiencies.  
Sven engaged Apiko to develop a custom SaaS digital solution that would be designed with the unique needs of construction companies at its core. Having been consulting with business owners who have first-hand experience in the industry, he could address the main issues they face in the building process and develop functionality that would transform their current workflow into a more efficient one.
Main functionality 
The software consists of three modules:
ThinkNet - module for our client to manage all the customers and subscriptions of the other two SaaS modules

Planwerk - project and task manager for construction companies

YuuHR - human resource management system for construction organizations
ThinkNet
The main features of ThinkNet allow our client to keep track of all his customers and their contact information, add new ones, and manage their subscriptions. Here you can also add trial periods for each user, create subscription plans, and specify how many modules the client wants to use (PlanWerk/ YuuHR, or both). Furthermore, ThinkNet keeps detailed information about payments and commissions.
The holiday manager in ThinkNet enables you to create groups of public holidays specific to each region. It integrates with the PlanWerk module and these holidays can be added to any project calendar automatically.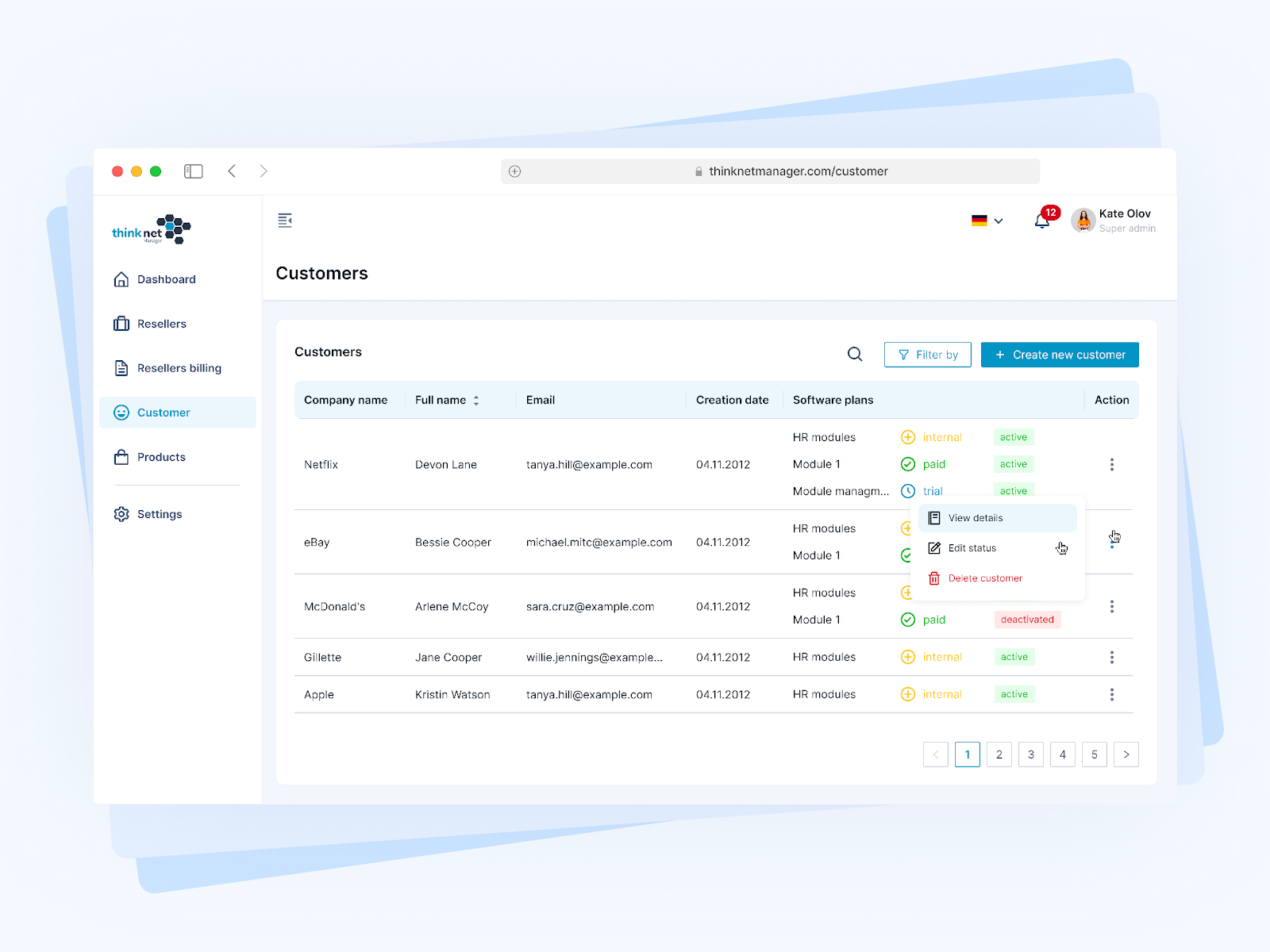 PlanWerk
The planning stage of a construction project is often underestimated, but it is one of the most crucial factors of the project's success. If it is accurately planned, project managers can avoid unnecessary delays and unexpected additional expenses during the course of construction.
By using the SaaS PlanWerk module, you can administer your project with all its tasks and workers at one place and ensure everyone is kept up to date with all the alterations made to the project's scope. 
The highlight of this module is the Gantt chart, the focus of which is to optimize manual processes in the planning stage of the construction project. Instead of using traditional whiteboards, construction managers now can utilize a digital calendar, which allows them to keep all the essential information at hand and track the project's progress in real-time by:
creating and assigning tasks to the workers

scheduling tasks and monitoring their performance at this one-stop solution

keeping track of their working and break times

adding public holidays and vacation days for the workers 

different chart views - weekly, monthly, quarterly, yearly.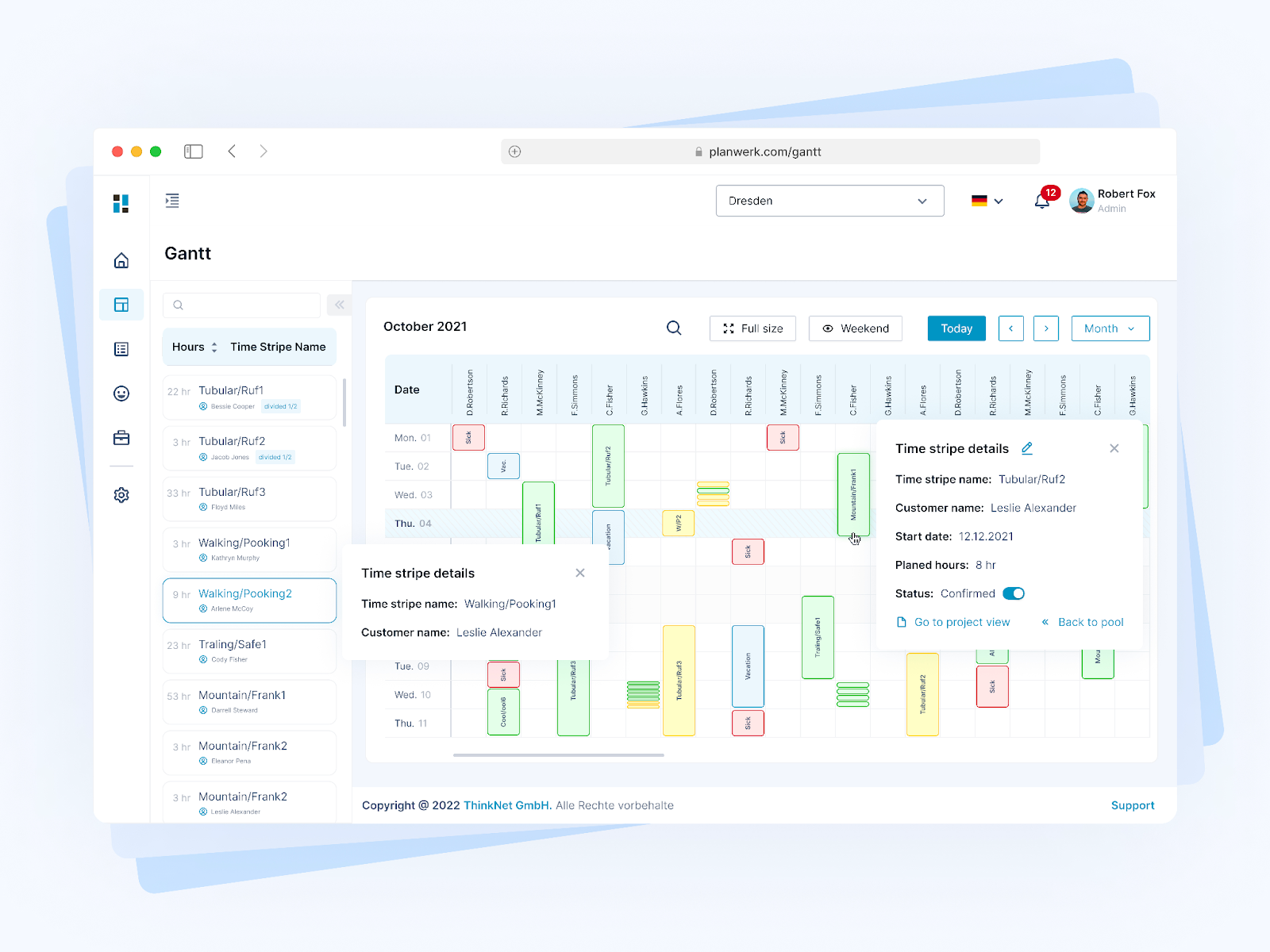 With PlanWerk, project managers can break down the whole construction project into more manageable parts to effectively plan and monitor tasks completion and worker productivity. This data helps the management team to make more informed decisions about the project plan, increasing its efficiency and mitigating risks. 
You can take a detailed look at the project here.
YuuHR
The SaaS YuuHR module is built around the human resource management needs of every construction company. It focuses on helping HR managers find workers, create vacancies, review applicants, and fill all job requests. 
In the database, you can keep information about all your existing workers, their contact data, skills, CVs, location, current project, supervisors assigned, and assign them to the available jobs. 

View and create vacancies, keep track of all the applicants, create tasks about their interviews and onboarding, assign people to each task, and set deadlines. 

Use different templates for documents, send proposals to the candidates, and monitor the progress of each job request.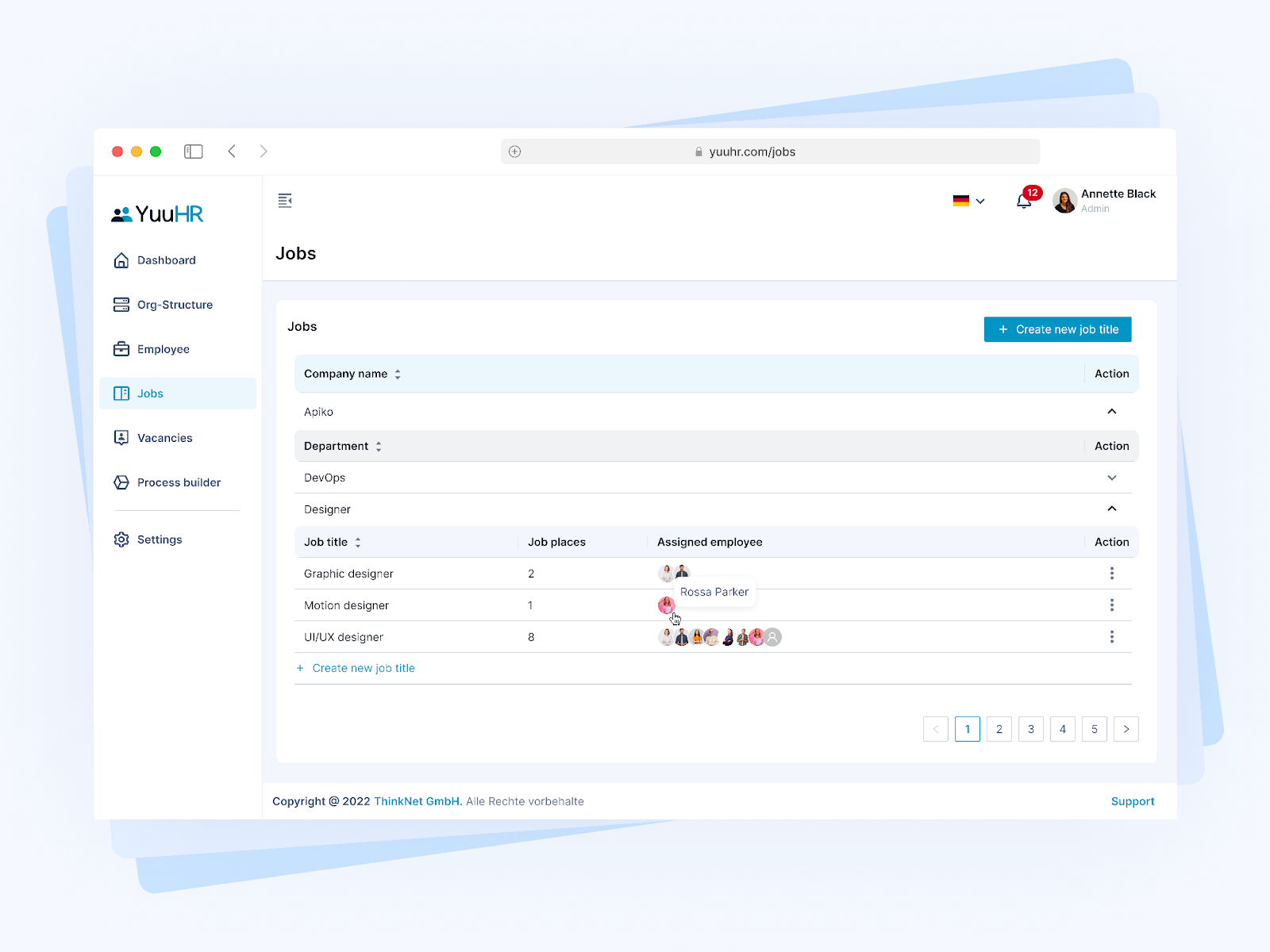 Having a central database and tools to manage all the data gathered is essential to high construction project efficiency. With HR and project management software, you can get a complete overview of what is happening at each stage of the project lifecycle and minimize the risk of delays and budget overruns.
The main benefits of digital transformation in the construction industry
Automating the construction processes results in fundamental changes to the way a business operates. Construction organizations can enjoy the following benefits of the right digitalization strategy: 
Better cooperation.

By adopting the right technologies, professionals in the construction industry can organize their work in a way that fosters transparency, collaboration, and boosts productivity. With digital project management tools, clients can keep on top of the building process and monitor the progress even remotely.    
Streamlined inefficiencies.

Some of the most common inefficiencies in the construction industry that need optimization and automation are time and workforce management as well as handling supply chain, warehouse, and data. The more complex the projects become, the more efficient project management should be to streamline these processes and see an increase in productivity.
Lowering costs.

Construction costs

can quickly mount up because of the project delays or waste of resources. Technology allows companies to avoid such budget overruns by providing tools for better planning and necessary data tracking. Optimizing the construction process from the beginning helps to minimize the risk of costly mistakes, and save the company from overspending, delays, and use of bigger amounts of energy, water, and materials, otherwise needed to repair the damage.
Reduced environmental impact.

To reduce the impact construction has on the environment, it's important to focus on recycling and sustainability measures. This might involve choosing building materials made from sustainable resources, avoiding over ordering, saving or reusing excess materials, performing energy-usage calculations, etc. Digital tools help with data collection and analysis, which allows for informed choices to reduce the amount of materials and, consequently, produced waste.

 
Attracting the younger generation of workers.

More and more young people choose higher education instead of skilled trades, which creates a skilled labor shortage. According to

PRNewswire

, "the skilled labor shortage is one of the biggest challenges facing the U.S. economy, with 650,000 open jobs in the construction industry alone". Using various technological solutions on construction sites to solve different challenges can engage the younger generation and make such jobs more appealing to them.
Summing up
Construction digitization is in the process of reshaping the industry, bringing value across an entire project cycle, from planning, engineering, and design to workforce and facility management. Adopting the right digital transformation strategy for your business will help you take advantage of numerous opportunities and maximize the success of your building and infrastructure development projects. Need some technical help with building a custom solution? Feel free to contact our team for more details.