39 Best Educational Apps for Kids to Keep Learning

Are looking for a list of the best educational apps for kids? Or just want to check out digital learning tools for children. Or maybe you are thinking about joining the e-learning market with your own app. Quick answer: you've landed on the right spot.
Why for parents? You, like many parents and guardians around the globe, want to help your kid with studying. As well as entertain them and teach healthy digital habits. 
Why for entrepreneurs or startup founders? Fact: 80% of top-selling apps are made for kids. Early learning always was a popular subject. No wonder that the most popular educational apps for kids targeted at toddlers and preschoolers. And this category of users has specific requirements for app logic, navigation, and content.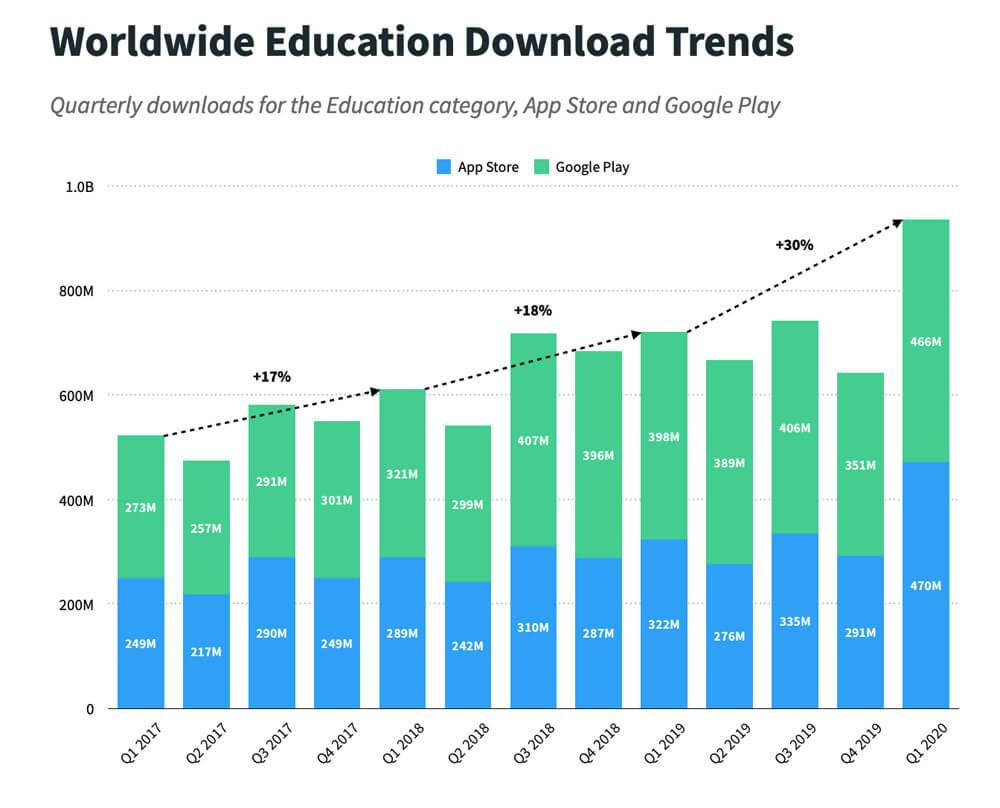 Source: SensorTower
Our perspective covers those two points on the best education apps for kids. Here we are digging into such topics as
What are the benefits of educational apps for kids? Especially, during these pandemic-lockdown times.

There are apps for toddlers, preschoolers, or school kids. What's the right pick?

What are the types of educational apps for kids? Plus, the list of apps for education saves you time on the search.

What is the hype around coding, emotional, and social learning apps? And a couple of samples to look at.

How to get on the bandwagon of e-learning and create your own educational app for kids?
What are the benefits of educational apps for kids?
2020 has massively impacted our lives and our habits. Apart from switching to working from home, many parents got one more unexpected position of home-school teachers. Thanks to the e-learning industry, there is no shortage of e-learning apps and games. They can become a part of your learning tools at home.
And to exclude any bias, let's look at the pros and cons of educational apps.
Pros of e-learning apps
Engagement.

Mobile apps boost interest and motivation despite the child's age.

Digital native.

These days kids are quick at mastering mobile phones and computers. These skills are switching from nice-to-have become a necessity.

Self-directed learning.

We are all different and learn in different ways. With the educational app, you set the pace for your child. No rush or pressure helps to focus on learning material.

Asynchronous learning.

The kid can go back anytime and revise the material.
Cons of e-learning apps
Lacking emotional development.

Emotional intelligence development suffers from sticking to the mobile phone, tablet, or computer. That means kids may have trouble with self-control and empathy for other people.

Limited attention span.

Kids tend to lose their attention fast and get easily distracted too. So the continuity of material comprehension pauses.

Inability to teach skills.

The educational app provides full theoretical material. But it fails in practicing those new skills.

Overstimulation.

Excessive screen time impacts mood regulation and quality of sleep.
Recap: Make sure you strive for balance in planning your kid's routine. The educational app performs a supportive material role. You still have to keep track of what your kid does. Either home-schooling or early learning, don't over-schedule. Pack kids' routines with different types of activities.
How to choose an educational app for kids?
A lot of apps have an "educational" label. Far not all of them are actually educational. You can check the navigation through the e-learning app categories and types. The e-learning market keeps growing. So it takes time and effort to find a suitable one among over 500K educational apps presented on the web.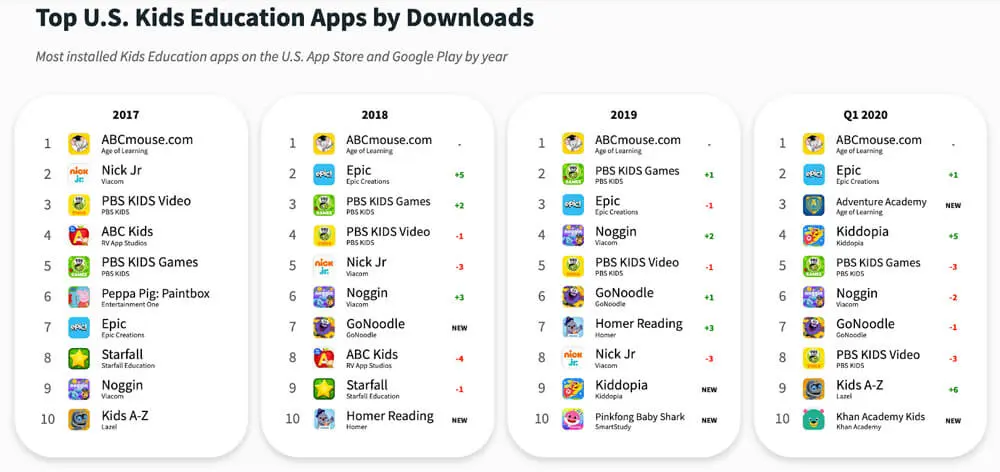 Source: SensorTower
So how to choose the e-learning app for your child? Here is a 3-steps guide:
Stalk your child's interests and needs. This way you know what can attract and keep your child engaged over a length of time.

Don't judge the educational app by the screenshots and promo video. Study the reviews. Hit up the Google Play and App Store reviews, then queue up YouTube reviews to get a second opinion.

Try to use the app yourself before giving it to your child. See the navigation. Pay attention to the content quality: both visual and informational. Check
if it encourages your kid to interact with virtual characters

if it gives feedback to a child

if it helps your child when they get stuck

if parents to adjust the settings

if connecting to the internet and ads protected behind a parental gate

how the app collects and uses your child's data
5 types of best educational apps for kids 
What's special about the kids' educational apps? They cover various aspects. It goes from learning reading and math skills to mastering basic coding skills. Let's focus on the apps for toddlers, preschoolers, and school children. Here are handpicked e-learning apps for various subjects and learning styles. Plus, a shortlist of the game apps for kids and parental control apps. (Besides, this is a quick peek into the market for those who want to develop an e-learning platform or wonder how to make an educational app.) Go and check them out.
Top learning apps for toddlers
The major focus of toddler educational apps are continuous learning, exploration, and building motor skills. Children of 2-3 years engage in simple, interactive apps. Those teach letters, colors, shapes, and numbers. These apps for education can entertain and educate your little one.
#1 ABCMouse 
The app provides a whole educational roadmap from a toddler to a 2nd-grade kid. Here you get more than 850 lessons over 10 levels. That covers reading and language arts, math, science and social studies, and arts and colors. The activities vary - games, books, songs, puzzles, art, and printables. The feedback is gamification-based: for the completed activity, a child gets a virtual item. Plus, you can track the kid's progress.
Age: 2-8 years
Price: 30 days trial, subscription $9.95/mo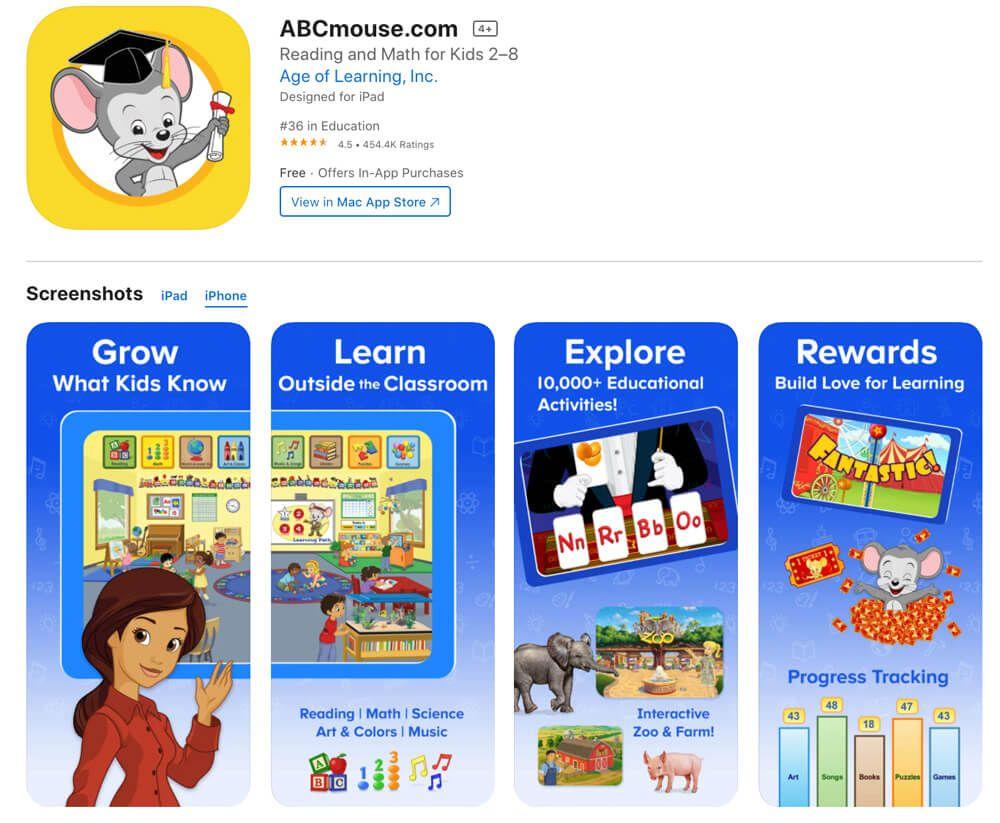 #2 Hungry Caterpillar Play School
The educational app employs evidence-based practices in teaching and design. It covers tasks for developing mathematics, language, and reading skills. As well, the app has assignments and puzzles on science and nature studies, creative arts.
Age: 1-5 years
Price: free, in-app purchases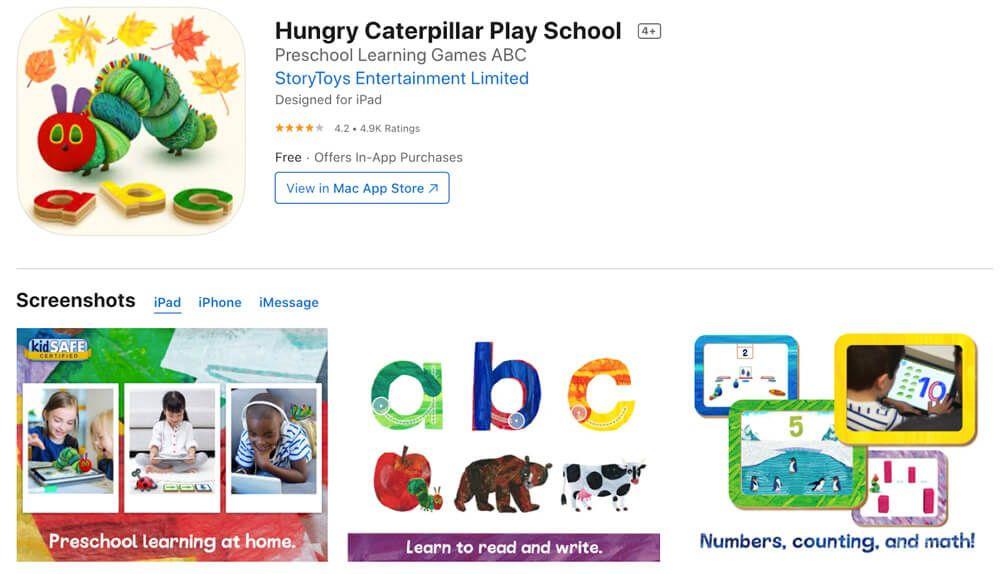 #3 Kiddopia
The e-learning app comes fully-packed with games for toddlers. The education plan includes ABCs, spelling, patterns, shapes, colors, addition, and subtraction. Those tasks come in the form of jigsaw puzzles, join the dots, spot the difference, spot the odd one, memory game, shape matching, and logical reasoning.
Age: 1-5 years
Price: free, full access monthly $6.99 or yearly $58.99 subscription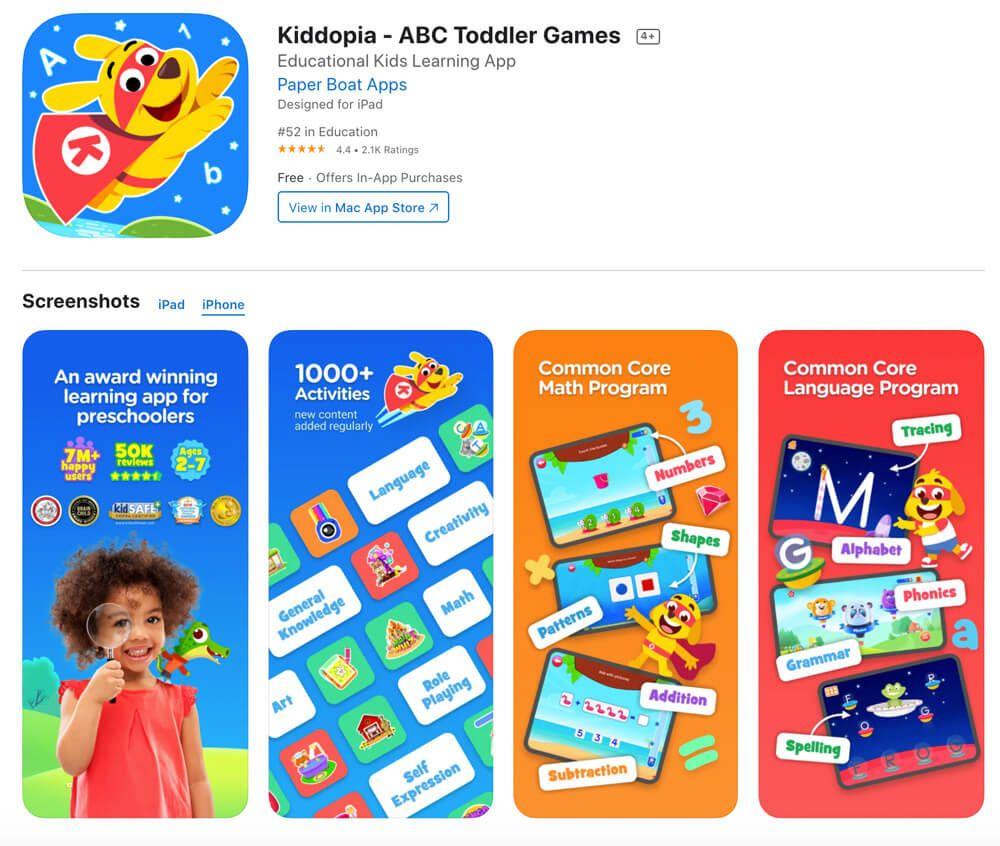 #4 Lego Duplo World
The app brings different packs of mini-games Lego Duplo blocks and figurines. Some games are open-ended, others have goals. In the core, the educational aspect covers numbers 1-10, colors and height, impulse control, and working memory. So, basically, your kid plays with virtual Lego blocks.
Age: 2-5 years
Price: free, in-app purchases: each level bundle comes with extra payment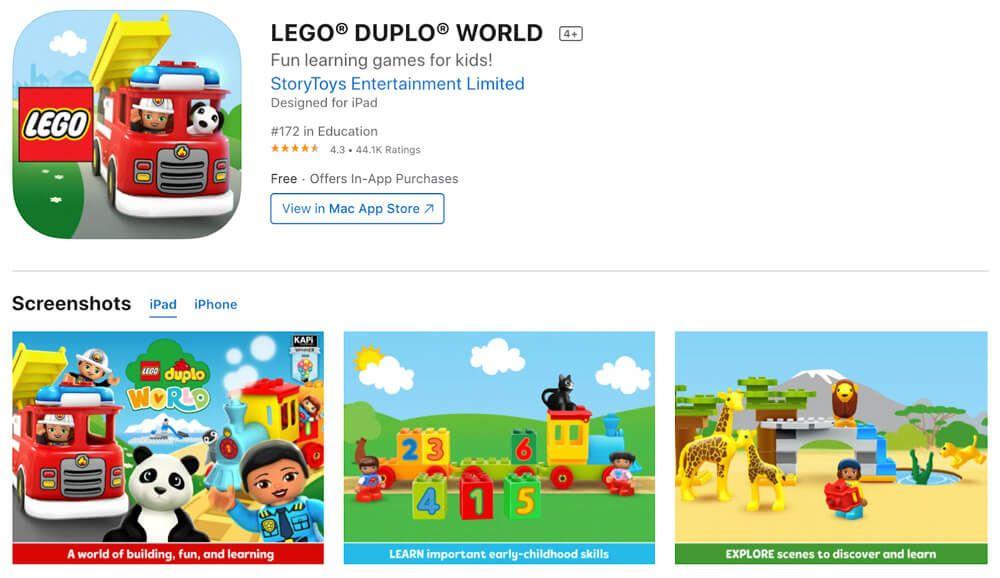 #5 PBS KIDS Video
Get live-streamed educational videos and TV shows? With this app, you can have it anytime, anywhere. Every week the developer at new content. The app is child safe and has parent resources. That means you can check the schedule, intended age, and learning goals.
Age: 3-8 years
Price: free, in-app purchases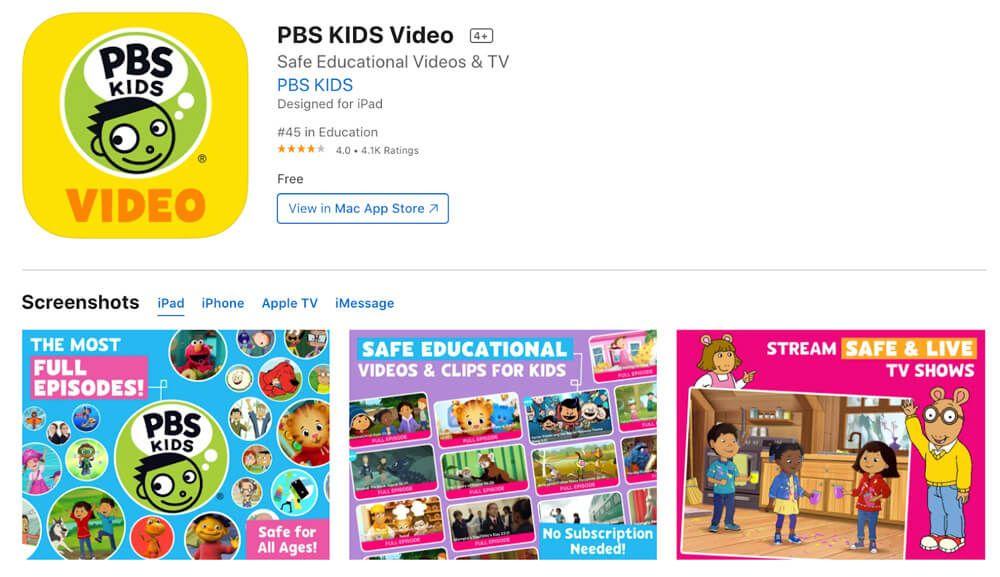 #6 Epic!
The app holds in more than 40K children's books along with a read-to-me feature. Plus, the learning video and puzzles. The content fits the educational needs of children of different ages.
Age: 2-12 years
Price: 30 days free trial, subscription $7.99/mo for 4 different accounts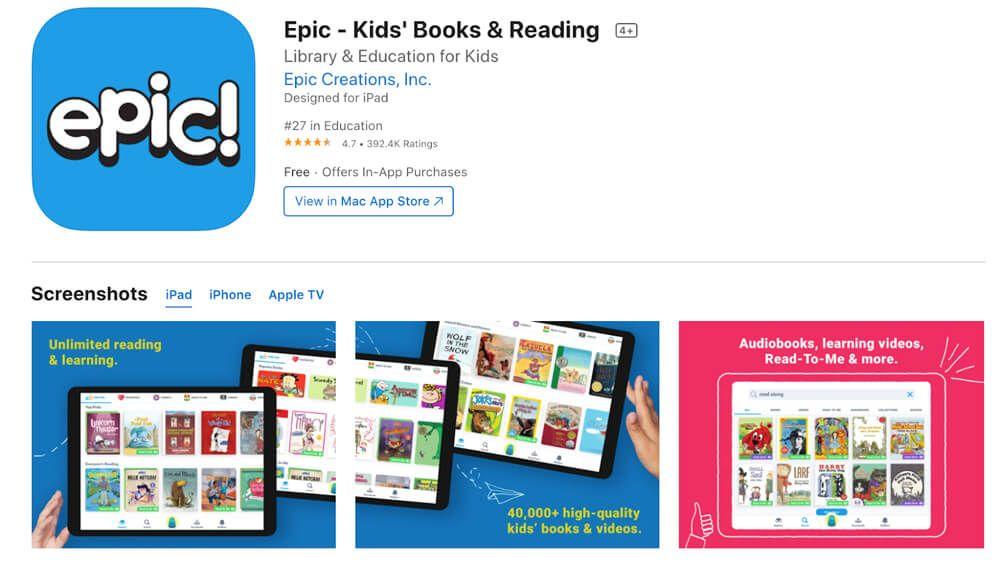 #7 Peekaboo Barn
The vivid animations of animals in the barn catch the toddler's attention. Your child learns the sounds, names, and appearance of animals. The app supports multiple languages so it's suitable for bilingual families. You can record animals' names by yourself or any other family member. 
Age: 1-3 years
Price: $1.99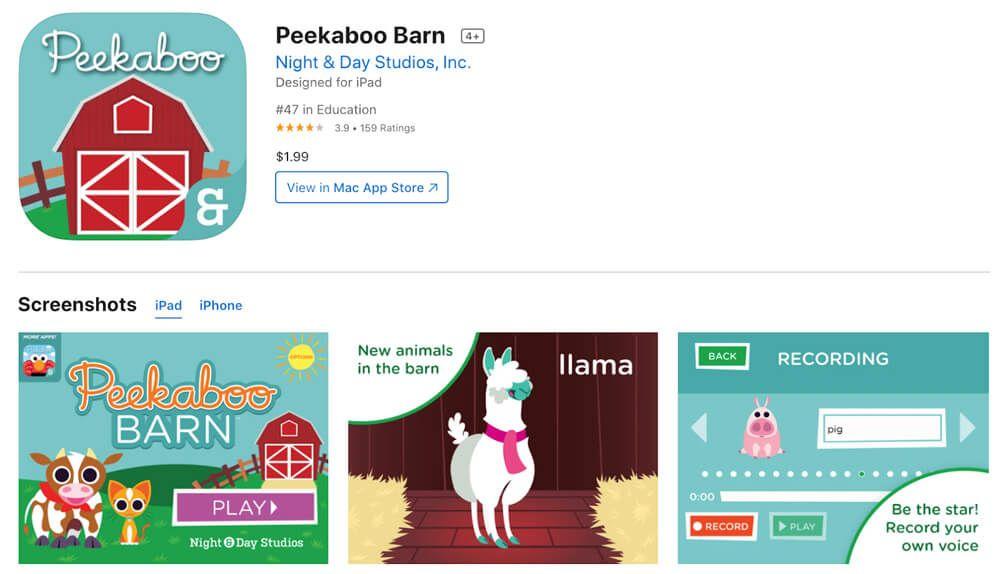 #8 Khan Academy Kids
The educational app with a collection of courses for all ages. It focuses on maths, reading, social and emotional skills. Besides, five animal characters guide kids and give supportive tips. The app itself offers a large and growing archive of learning videos and e-books. Also, your kids find lots of simple exercises from coloring to storytelling.
Age: 2-7 years
Price: free with no ads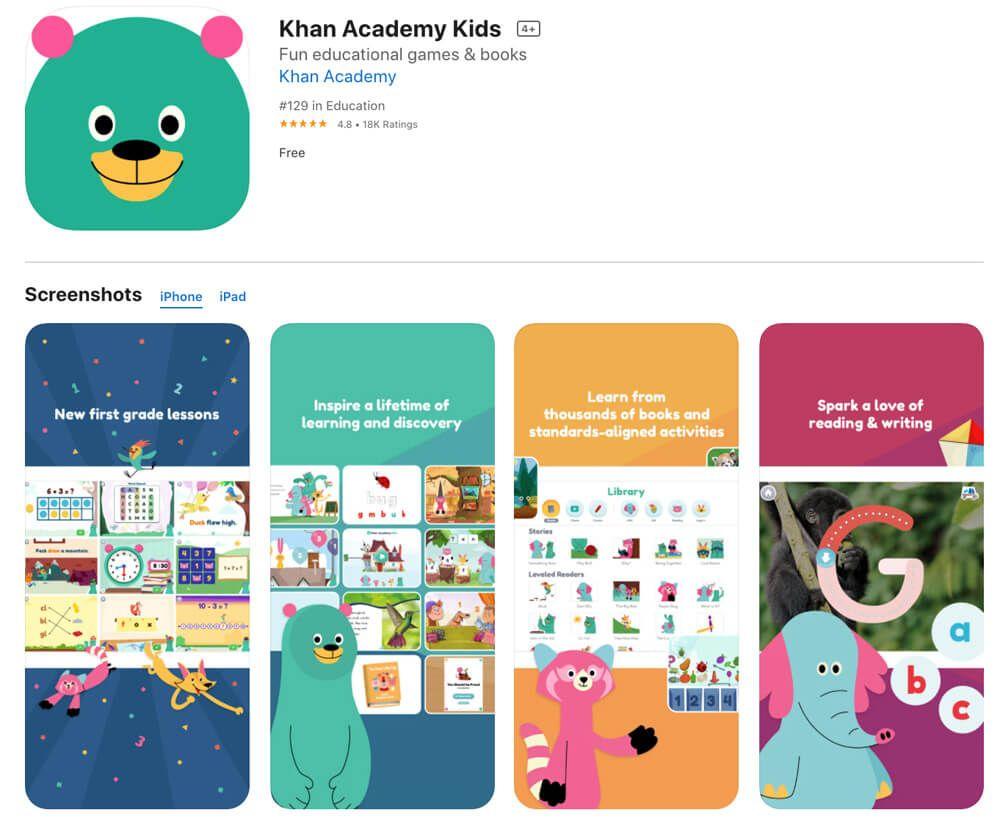 7 e-learning apps for preschoolers
Favorite cartoon characters can engage your child to learn. There is no shortage of e-learning apps for preschoolers. These best educational apps for kids help to master reading and math skills, develop imagination, and encourage interaction. 
#1 World of Peppa Pig
The educational app matches the preschooler's age and delivers appropriate content. The kids learn to count, read-along stories, pain, dress up all Peppa's family, and watch videos. Besides, the app includes memory, matching, sorting, and puzzle games.
Age:  3-5 years
Price: 7 days trial, monthly or annual subscriptions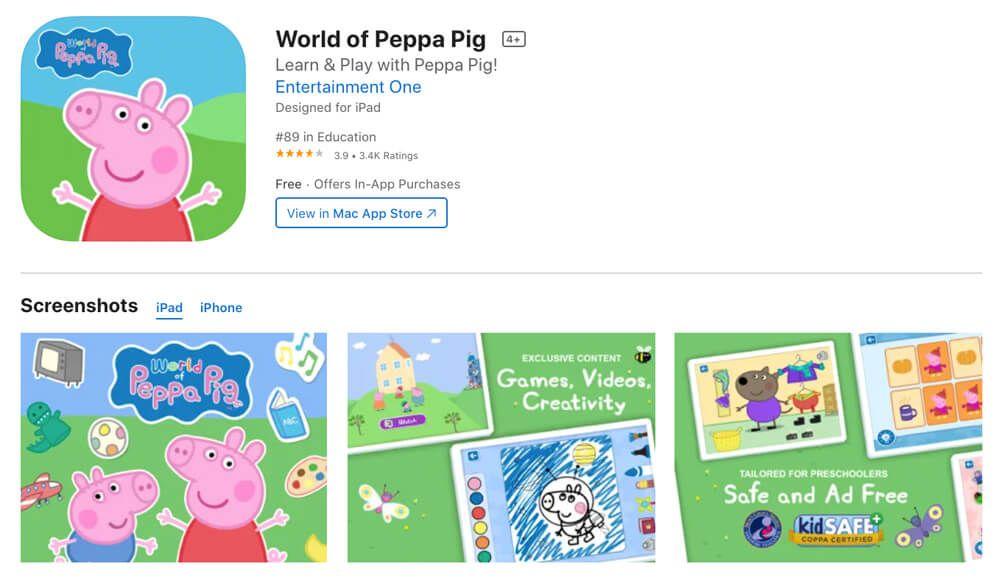 #2 Teach Your Monster to Read
The phonics and reading game that helps children learn to read. The idea is the following: your kid creates a monster character and teaches it to read. The learning app helps the preschooler master a lot of skills. From matching letters and sounds to reading small books.
Age:  3-6 years
Price: $4.99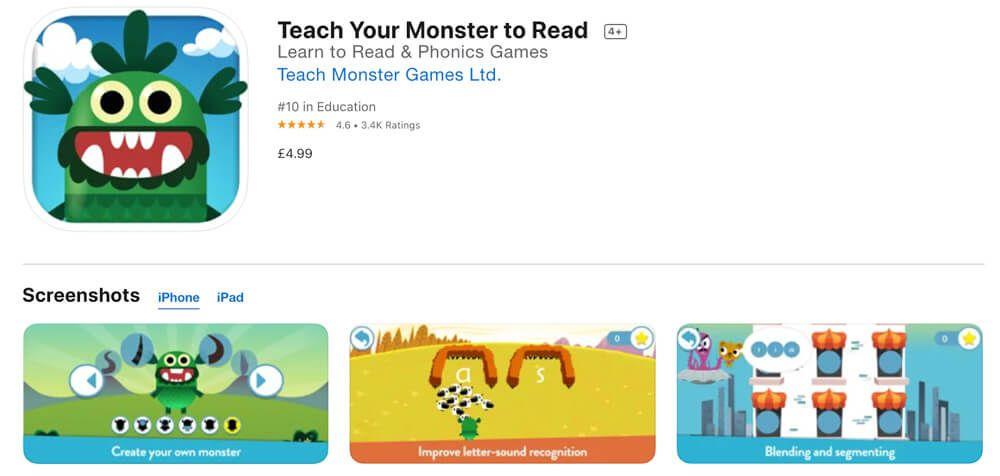 #3 Preschool Games
The interactive app offers a bunch of activities that encourage children to learn. The tasks cover letters, shapes, colors, numbers, body parts, emotions, seasons, animals, size and position, occupations, and more.
Age:  4-6 years
Price: free, in-app purchases (to unlock all levels $6.99)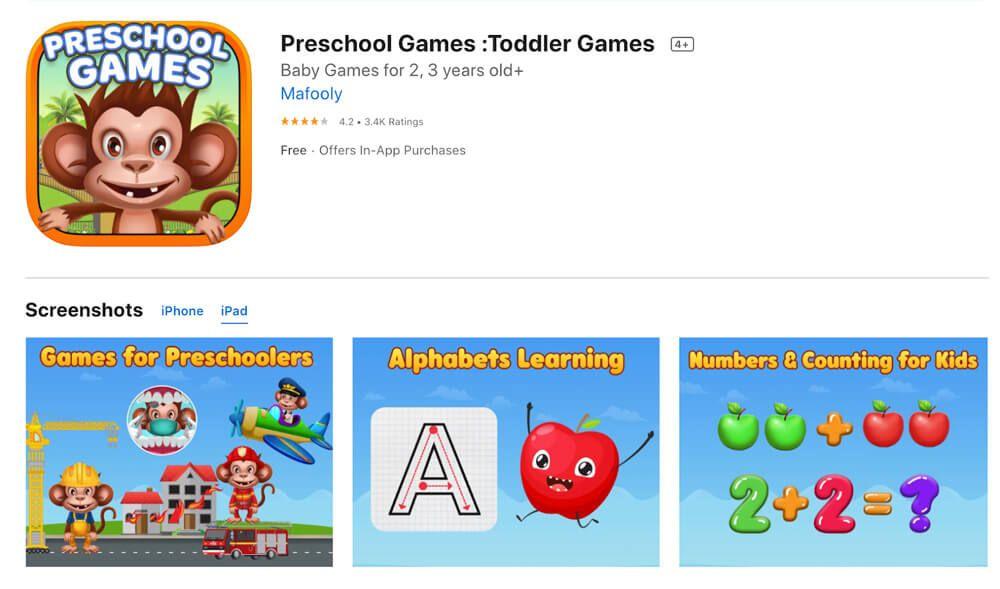 #4 Montessori Preschool
This educational app covers phonics, reading, writing, numbers, colors, shapes, nursery rhymes, coloring. The tasks and games aim to develop self-correction, autonomy, self-confidence, and adaptability. The feedback system encourages further learning. You also have access to the parent dashboard to track progress and choose the next activity.
Age:  3-7 years
Price: free, monthly and annual subscriptions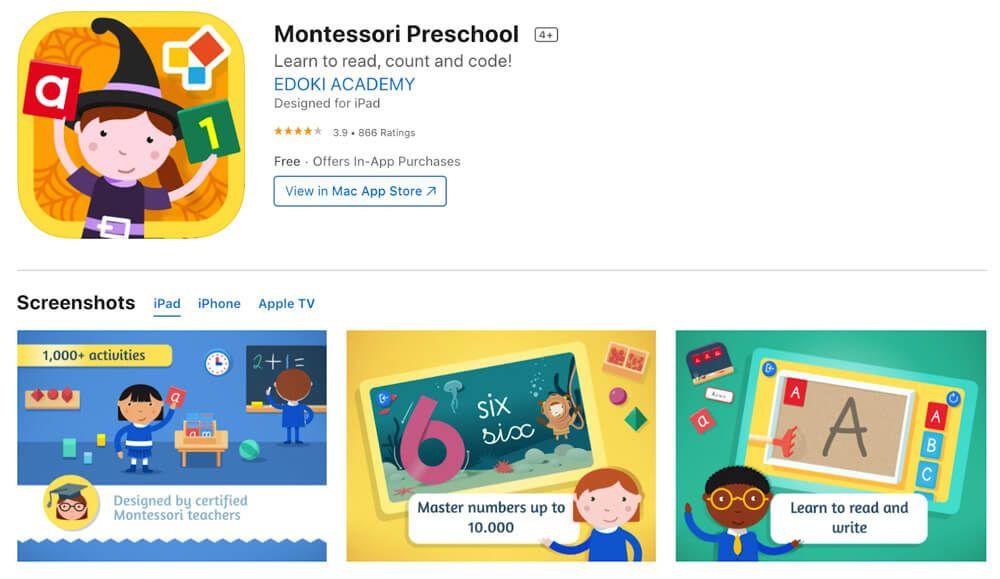 #5 Kids A-Z
The mobile education app brings learning content for Raz-Plus, Raz-Kids, Headsprout, and Science A-Z. Your children can enjoy dozens of e-books, quizzes, and other resources. The app helps to improve reading skills and checks comprehension with quizzes. There is also a dashboard for you (or a teacher) to track the kid's progress.
Age: 4-8 years
Price: free, in-app purchase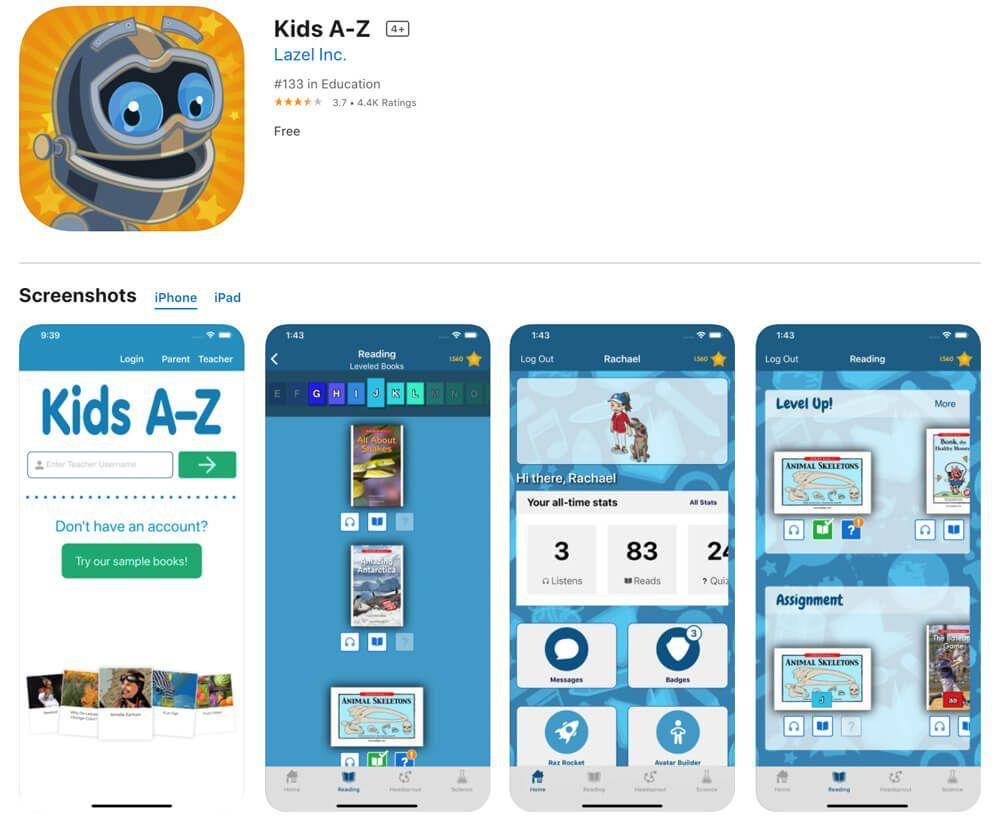 #6 Dragonbox Numbers
The best thing about this e-learning app is focusing on "number sense" rather than memorization. So the goal is to teach a kid how the numbers work and what we can do with them. The numbers become colorful and relatable characters, called Nooms. They help your kid to learn math basics, intuitive numbers understanding, and mental calculations.
Age: 4-8 years
Price: $7.99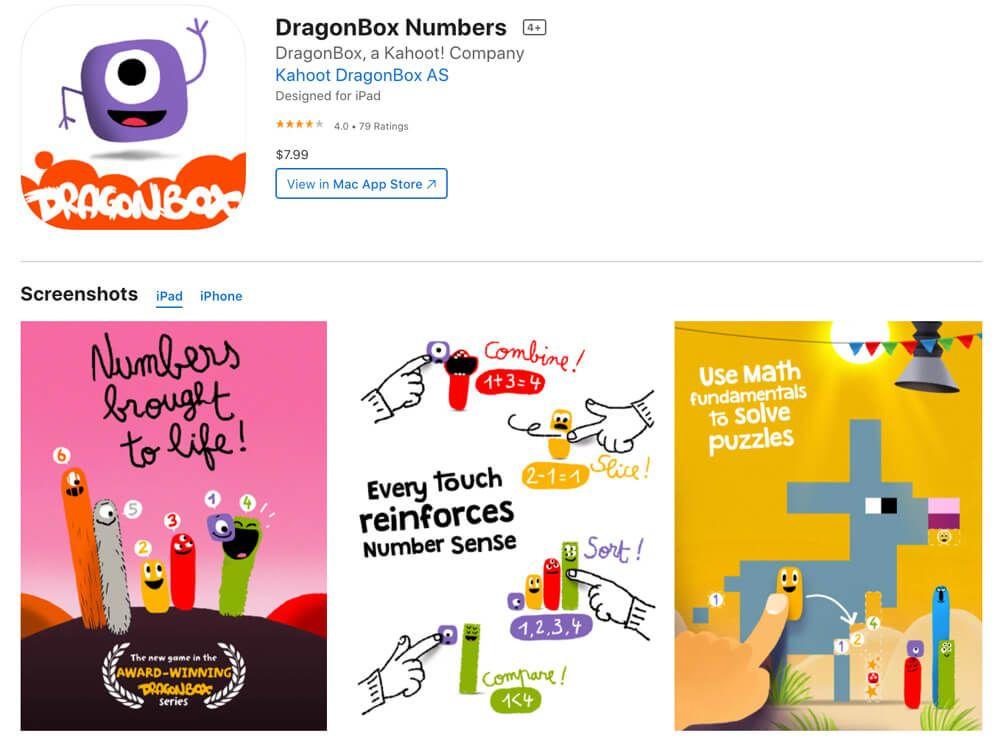 #7 Writing Wizard for Kids
The main goal of this educational app is to teach correct letter formation and practicing it. Your kid learns letter naming and phonetic sounds, how to trace letters, numbers, and words. The mobile app develops motor skills and helps children to learn patterns.
Age:  3-5 years
Price: $4.99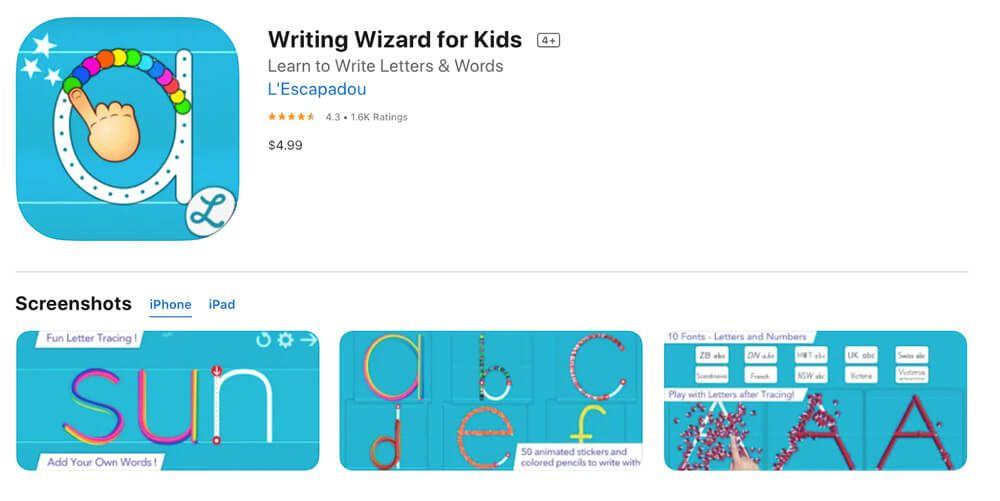 7 Best Apps for School Kids
The abundance of various apps for school children brings the basic curriculum input. Also, you can find many educational apps that provide materials that help to learn aspects deeper and more extended. Here are some of such apps for education.
#1 Adventure Academy
The app delivers educational games, books, learning challenges. All that focuses on strengthening children's skills across the key elementary and middle school learning objectives. The app has a rewarding system that encourages kids to continue to keep learning.
Age: 4-8 years
Price: free 30 days trial; monthly subscription $9.99, annual subscription $79.99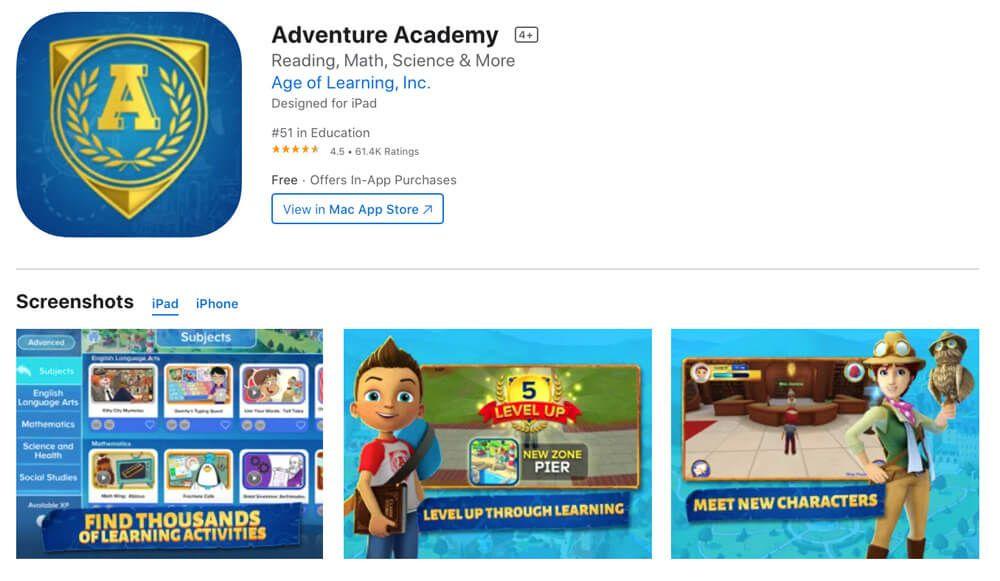 #2 K-5 Science for Kids
This educational app helps to ignite your kid's interest in science. The app keeps on with complex topics and explains, demonstrates, and illustrates material. Here you can find space science, life science, earth science, and physical science.
Age: 4-10
Price: free, in-app purchases
#3 Photomath
The e-learning app that teaches math by step-by-step explanations, animations, and hints. The mobile app covers such math topics as basic math, algebra, geometry, trigonometry, calculus, and statistics.
Age: 4-10 years
Price: subscription starts with $9.99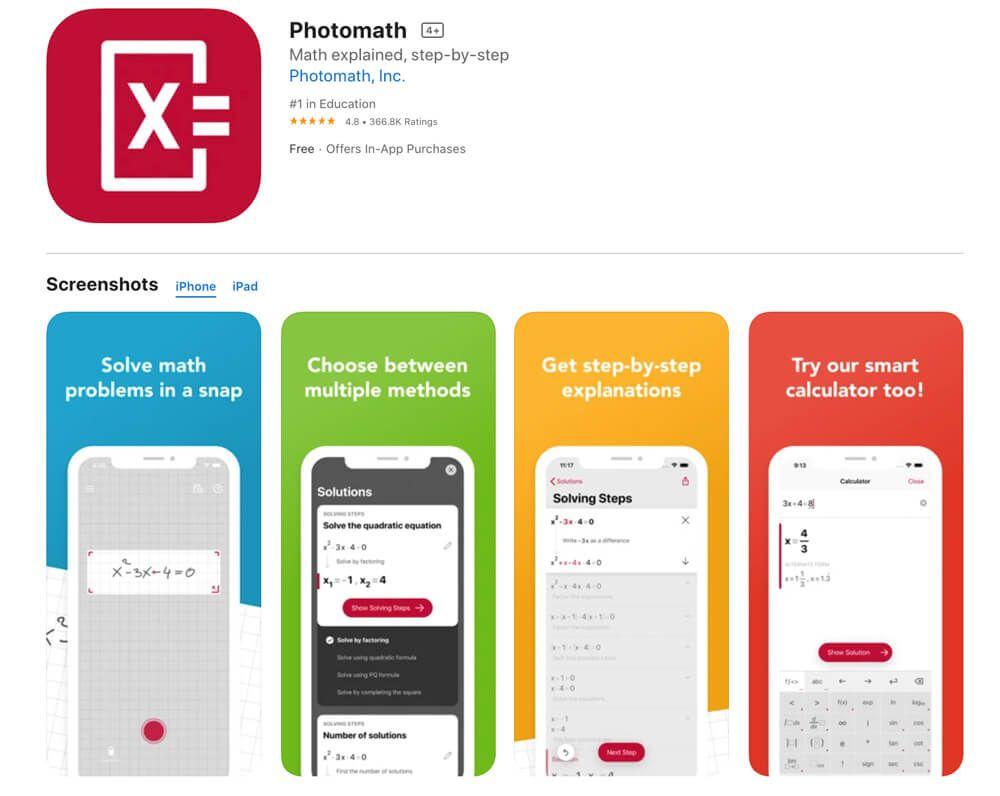 #4 Seek by iNaturalist
At the core of this educational app is image recognition technology. So your kid goes outside and finds a flower, bug, or mushroom. Then they snap it with the Seek Camera to see what it is. The app provides facts about the kid's findings. Gaining badges encourages children to learn the nature around them.
Age: 4-10 years
Price: free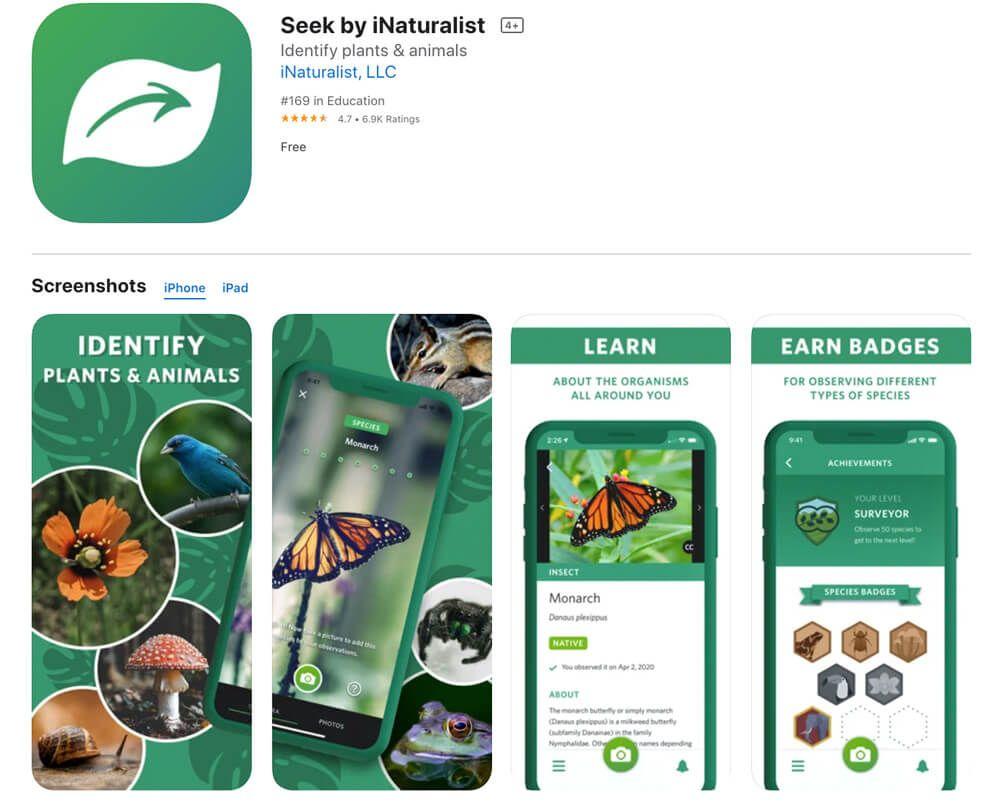 #5 Barefoot World Atlas
With this mobile app, your kid zooms a 3D globe, plays games, learns more about world art, major cities, and North America. Apart from that, children read along and listen to recorded texts. And check the comprehension with quizzes and puzzles.
Age: 4-8 years
Price: $4.99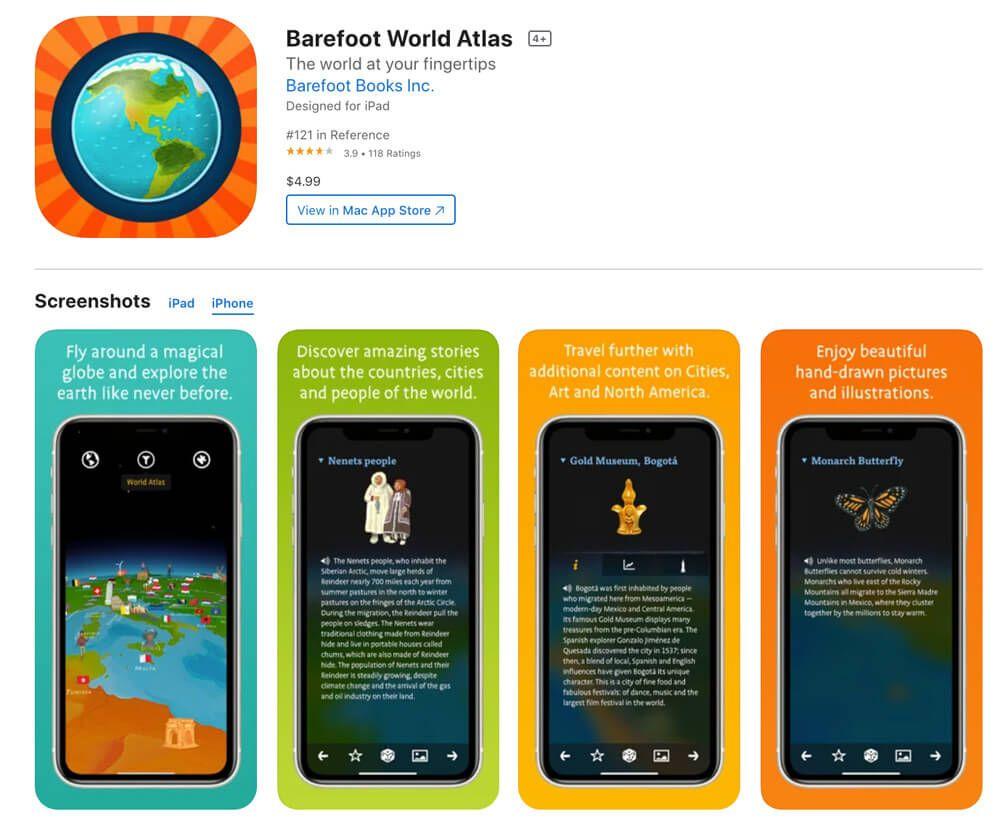 #6 Toca Lab: Elements
How about encouraging a kid's imagination with an experiment app? This educational app helps to discover elements by experimenting with the lab tools. Your child can virtually use a centrifuge, a Bunsen burner, an oscilloscope, as well as put the element on ice or Change their voltage. Besides, each element is a personality that engages children to play.
Age: 4-10 years
Price: $3.99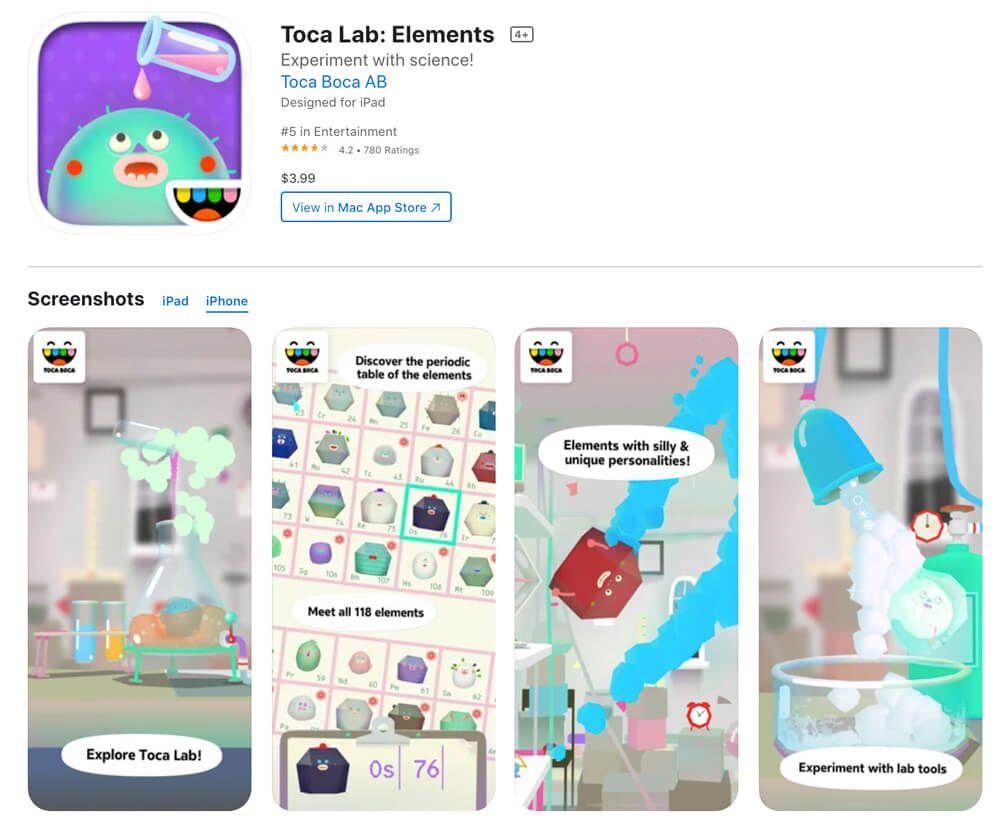 #7 Kahoot!
The educational app encourages children to create quizzes to challenge themselves, friends, and have fun. You can create tests in different forms: puzzles, polls, open-ended questions, and slides. The app can be single-player or multiplayer. So your kid can work together with classmates or friends to learn at the same time. 
Age: 4+ years
Price: subscription starts from $9.99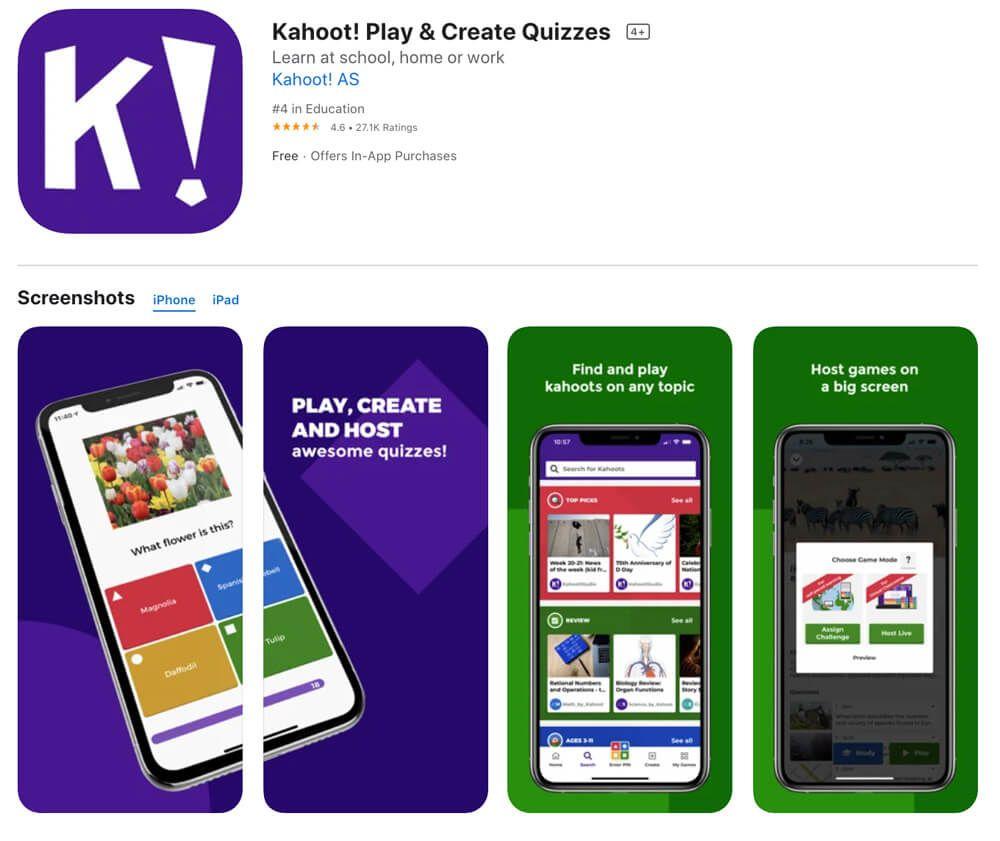 Parental control apps
Sticking to the American Academy of Pediatrics (AAP) recommendations, your child is never too young for a screen-time plan. Here are a few suggestions for you to consider:
Limit screen time to kids under 18 months.

Toddlers between 18-24 months can have educational screen time with a parent or guardian.

For 2-5 years, children set limitations on non-educational time - 1 hour on weekdays and 3 hours on weekends.

Encourage 6 and older kids to limit screen time activities.

Don't use screen time as pacifiers or babysitters.

Turn off all devices during meals and outings.

No screen in bedrooms and 30- 60 minutes before bedtime.

Install and use parental control apps.
Here are a few parenting control apps.
#1 Family Link
The app helps you to work out healthy habits while your kids learn, play, and explore online. You can set limits: bedtime devices and time limits for each app. The children can't download apps without your permission, as well as do any in-app purchases. The app shows you statistics of usage so you know how your kids spent their screen time.
Price: free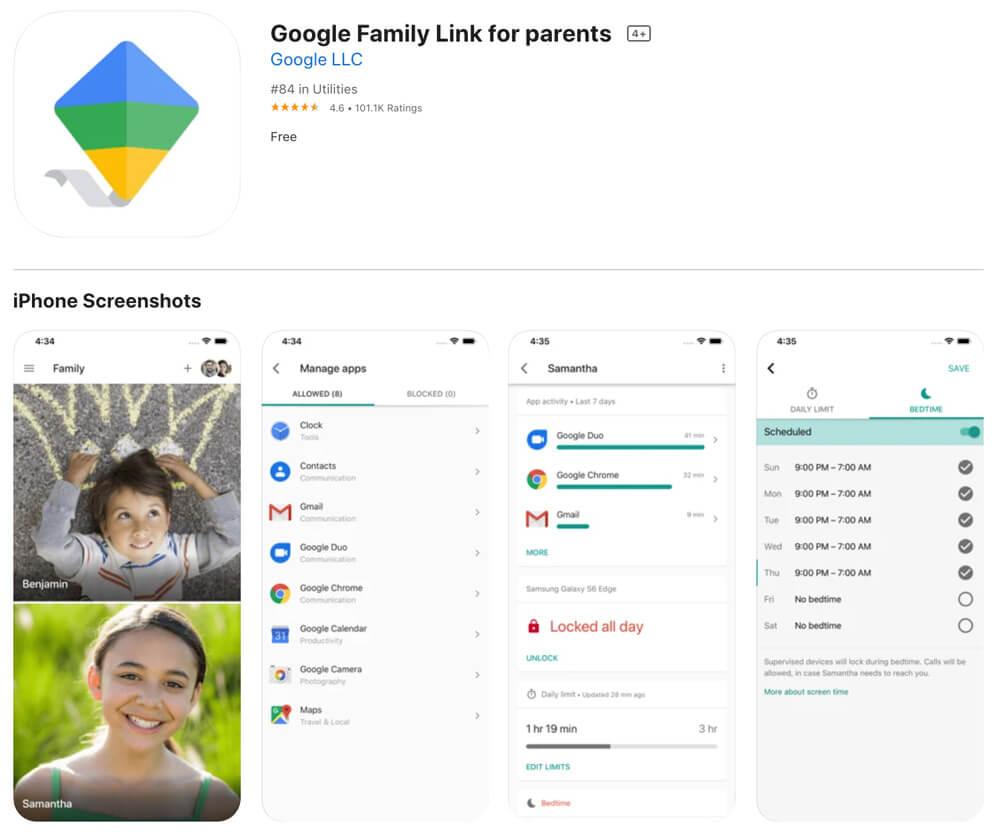 #2 Qustodio
This screen time app allows you to supervise your child's online activity, set device screen time limits, and get daily reports. This app also has educational app features of web filtering, games and apps filtering, location tracking, and social media monitoring. Another plus is inappropriate content blocking even in private browsing mode.
Price: free 3 days trial, subscription
#3 FamiSafe
The app lets parents control screen time, track real-time location, detect and block inappropriate content on kids' devices. Here you also get suspicious photos and text detecting on social media apps. All activities are available on the dashboard for you to see how your children spent their time online.

Price: free 3 days trial, paid subscription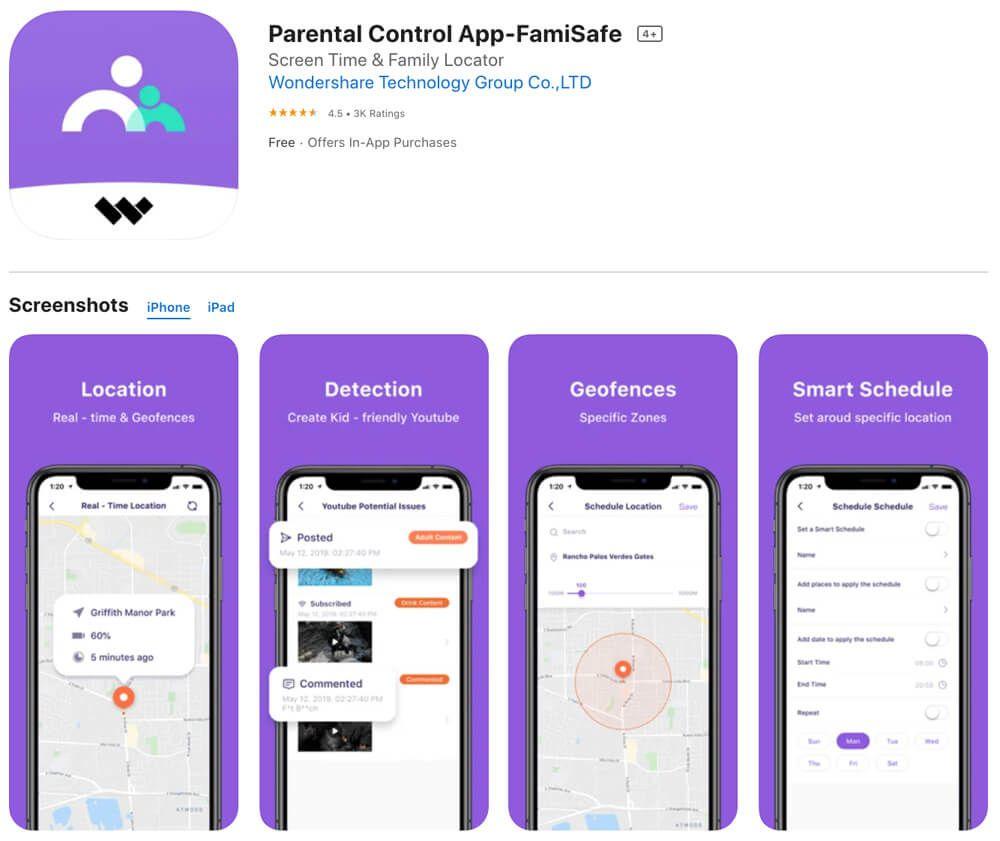 7 educational games as learning tools for children
Educational games are a good space for continuous learning. Though, these e-learning apps supplement the main curriculum and shouldn't be seen as the main source. In the COVID-19 times, mobile games keep children both distanced and social.
# 1 PBS Kids Games
The app features 180 games for age-suitable for preschoolers. The educational content includes various subjects. So your kid can play science, reading and math games and others. The mini-games help to learn, have fun, and boost imagination.
Age: 2-7 years
Price: free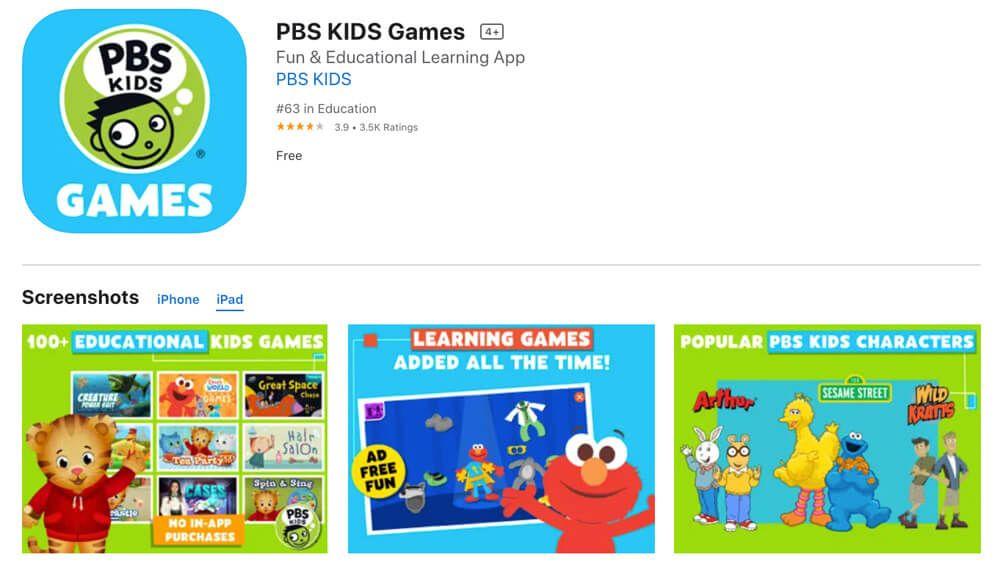 #2 Number Run
This educational game helps learn math and save the world. The kids have to find 4 mathematical crystals stolen by Baron von Count. There are 52 levels of addition, subtraction, multiplication, and division tasks. As feedback for successful passing, children get items for their fictional characters in the game. 
Age: 6-10 years
Price: $2.99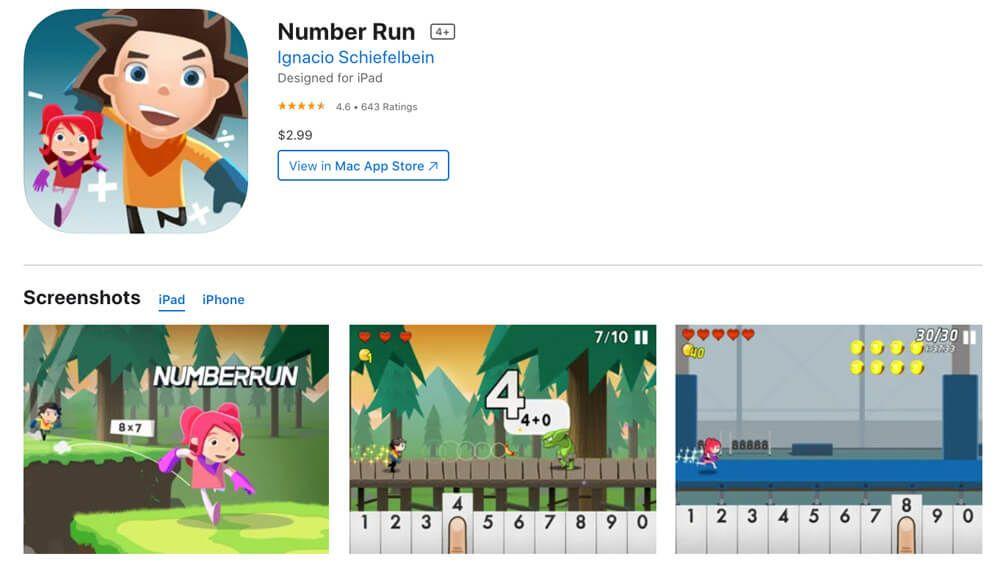 #3 Dave and Ava Learn and Play
This educational app brings your kid games and nursery rhymes. The content focuses on early childhood education. The app helps your child to master ABCs, phonics, numbers, counting, spelling, letter tracing, vocabulary, and music. Plus, the content gets updated regularly.
Age: 3-6 years
Price: free trial 3 or 7 days; subscription $3.99/mo or 29.99/year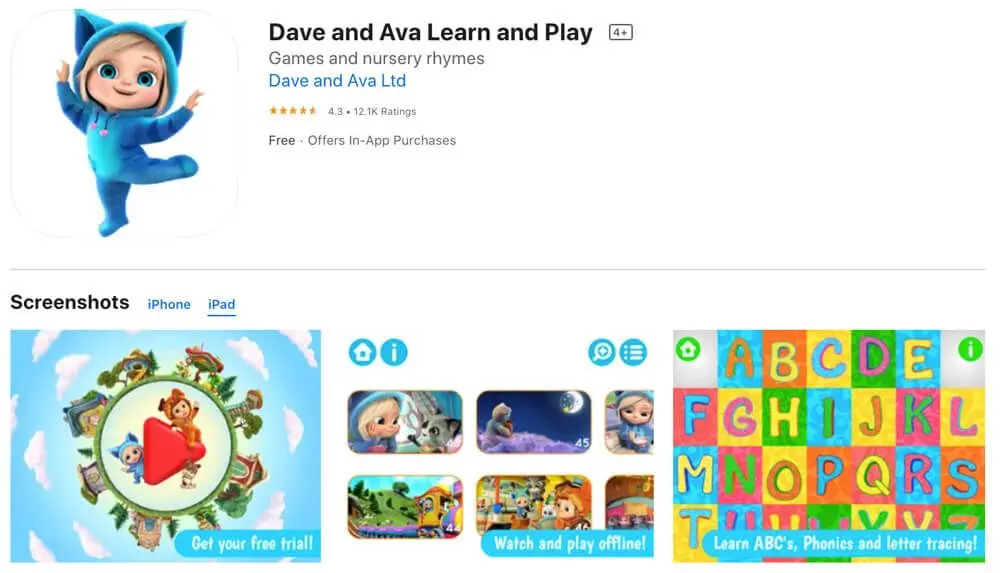 #4 GoNoodle
This game app is a bit different as it makes your kid jump, wave, duck, and hold a pose to earn points, dodge obstacles, and have fun. It doesn't need extra hardware and connects real-time movements to the actions within the game. After getting GoNoodle Games Party Pack, you access random levels of all seven GoNoodle Games mini-games.
Age: 4-10 years
Price: $4.99 per game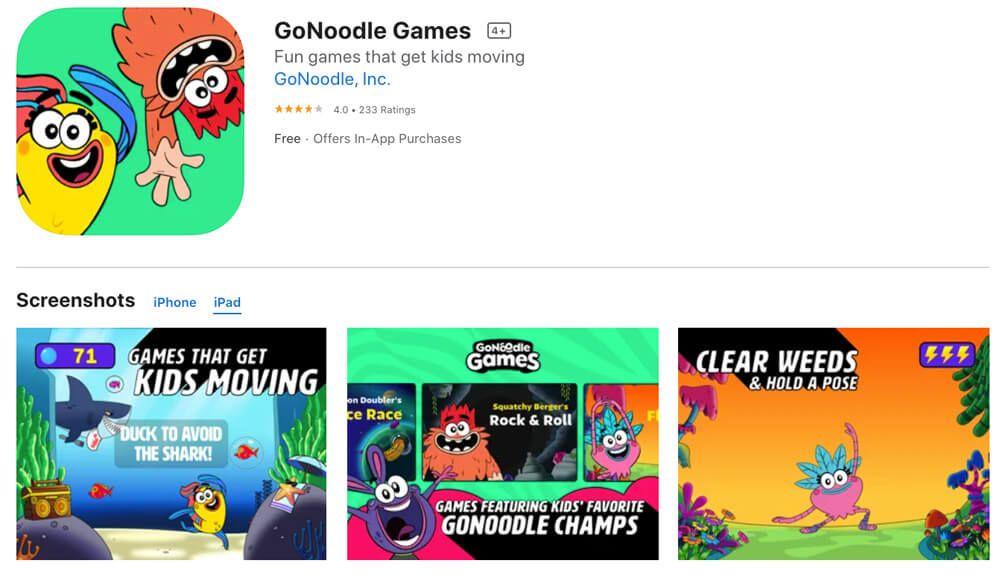 #5 Octonauts
The game app helps to join the crew that discovers the underwater world, travels the depths, rescues, and protects friends. Your child takes on a capitan role. They play games, take pictures, cruise through the ocean, and learn about the fascinating animals who live there.
Age: 3-6 years
Price: $3.99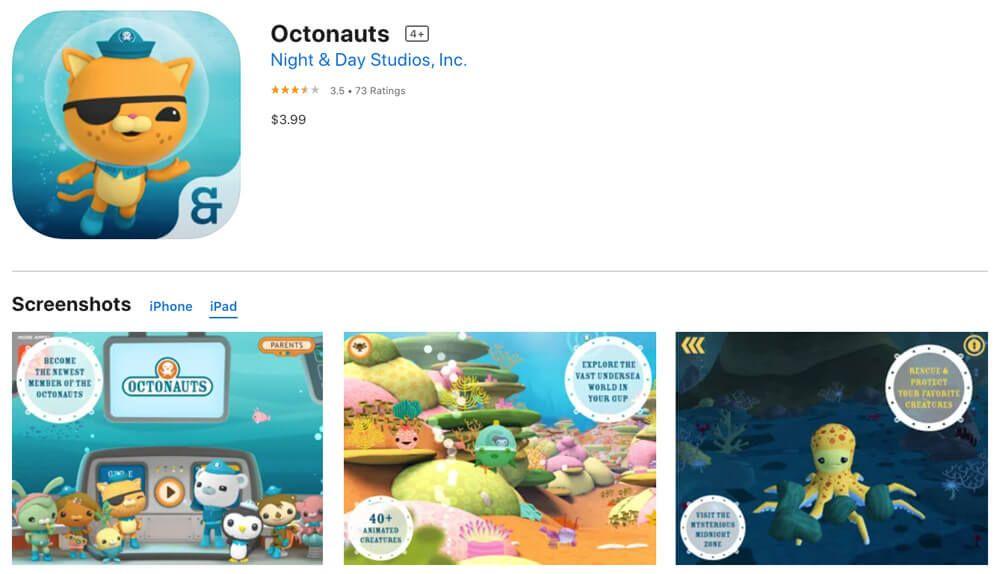 #6 Little Kitten & Friends
The educational app with a little kitten brings 8 games: animal shapes, paint, trampoline, bubble, recycling, count and sum, and an AR game for cracker search. The aim is to train the perception, coordination, and cognitive abilities of your preschooler. 
Age: 4-7 years
Price: $3.99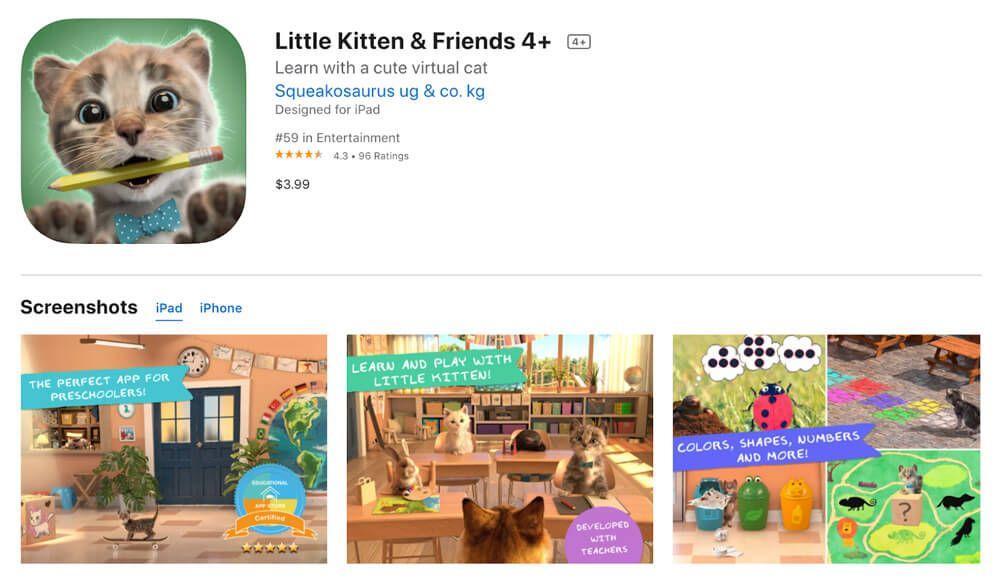 #7 Prodigy: Kids Math Game
The math game app covers the material from first to the eighth grade. The learning environment is fantasy worlds. But it isn't suitable for first-time topic learning. It helps to test comprehension and revise the material. You can download and play it for free, but the subscription opens more levels and features.
Age: 6-12 years
Price: free, subscription $8.95/mo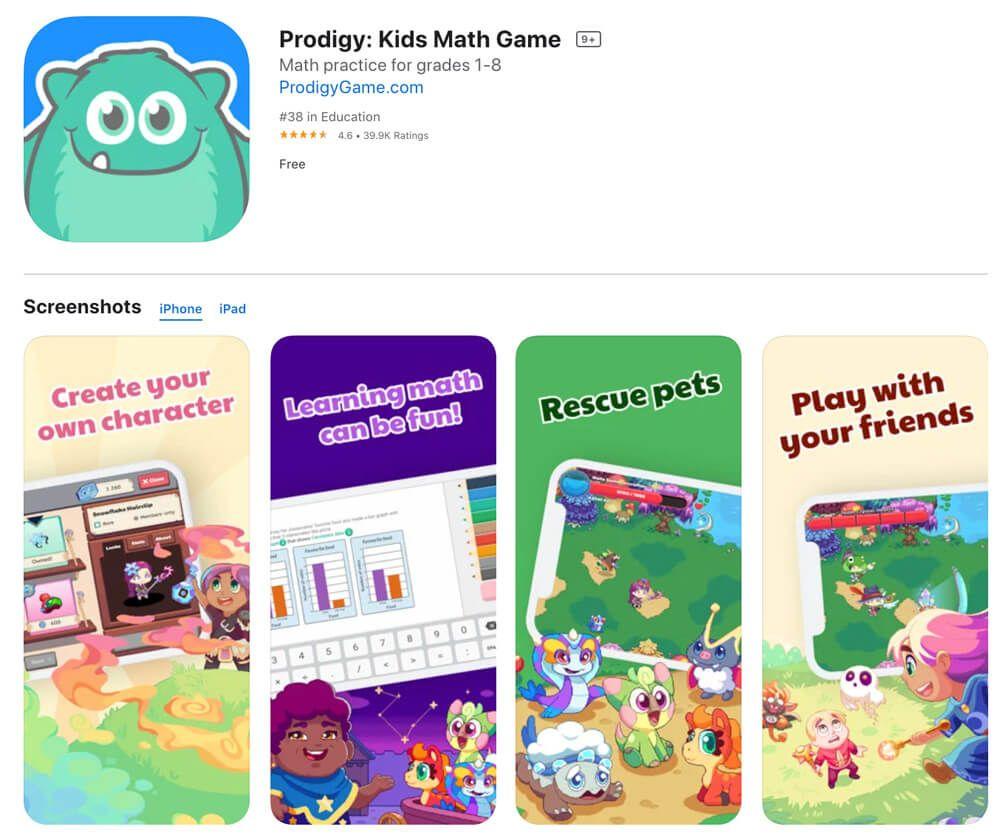 8 popular apps to learn outside curriculum
Every generation has its own challenges to face and fight. The mobile apps can be your ally in bringing up your children versatile. You can help your kids to develop coding skills, improve emotional well-being, and boost curiosity with brain-challenging games.
#1 ScratchJr
The app presents the coding environment and helps kids to learn by creating their own stories and games. Children use coding blocks to make characters move, jump, dance and sing. 
Age: 5-7 years
Price: free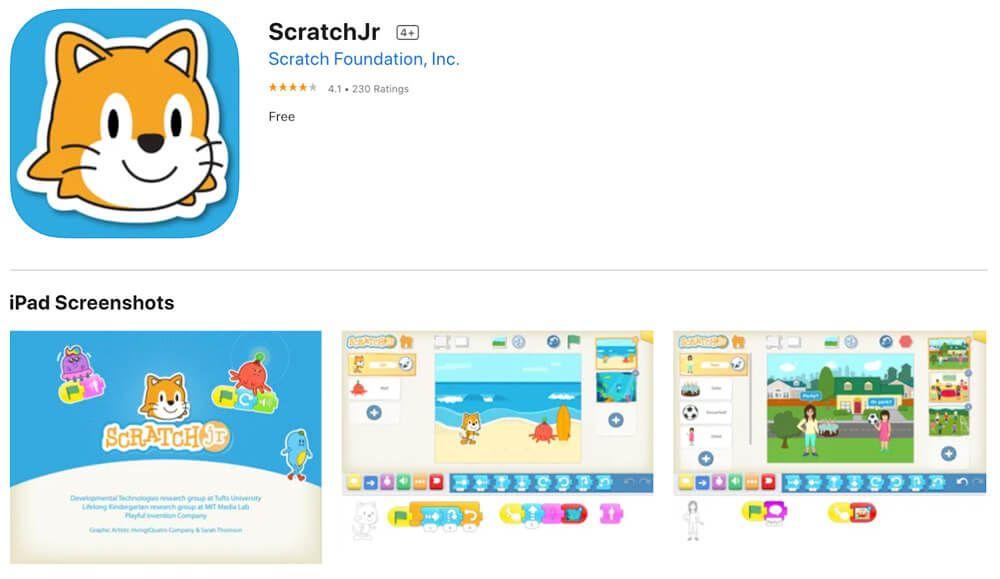 #2 MentalUP Educational Games
The brain teaser games strive to help your kid in developing cognitive skills and intelligence. So your child works on improving attention, memory, and concentration. Also, it works on advancing math skills and building visual and linguistic skills. No cognitive overload, the app suggests 20-minute daily workouts.
Age: 2-6 years
Price: subscription $19.99/mo; $29.99/6 mo; $35.99/annual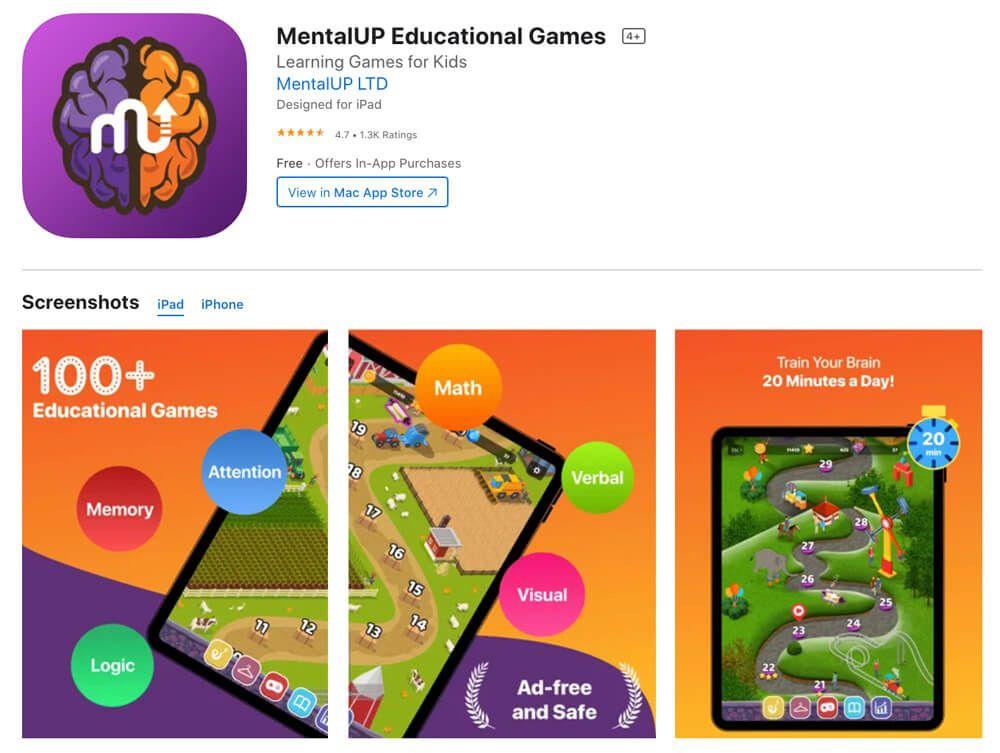 #3 Swift Playgrounds
The app helps to master the basics of coding, or experiment with a wide range of challenges. The guided "Learn to Code" lessons using code to solve puzzles learn coding through puzzles, targeted lessons, and dynamic visuals. Your kid can see the results immediately due to interactive coding.
Age: 9+ years
Price: free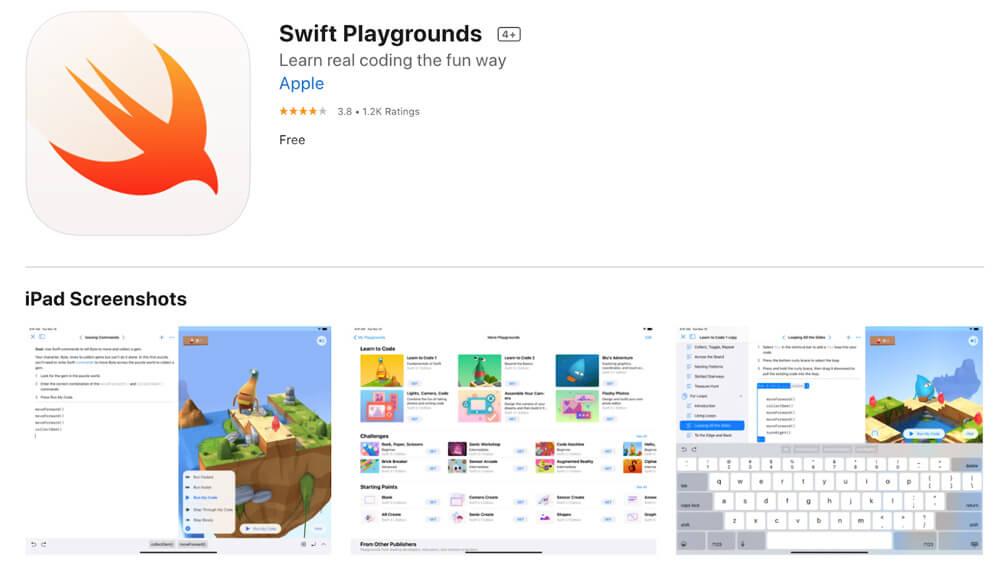 #4 Hopscotch
This coding app reminds Scratch, but it teaches how to code mobile apps. In the core is the drag and drop of commands and instructions. So your kid chooses characters and builds animated drawings, a game, or a chatbot. Often, creating a game is more interesting than just playing it.
Age: 9-12 years
Price: free, in-app purchases (for add-on items)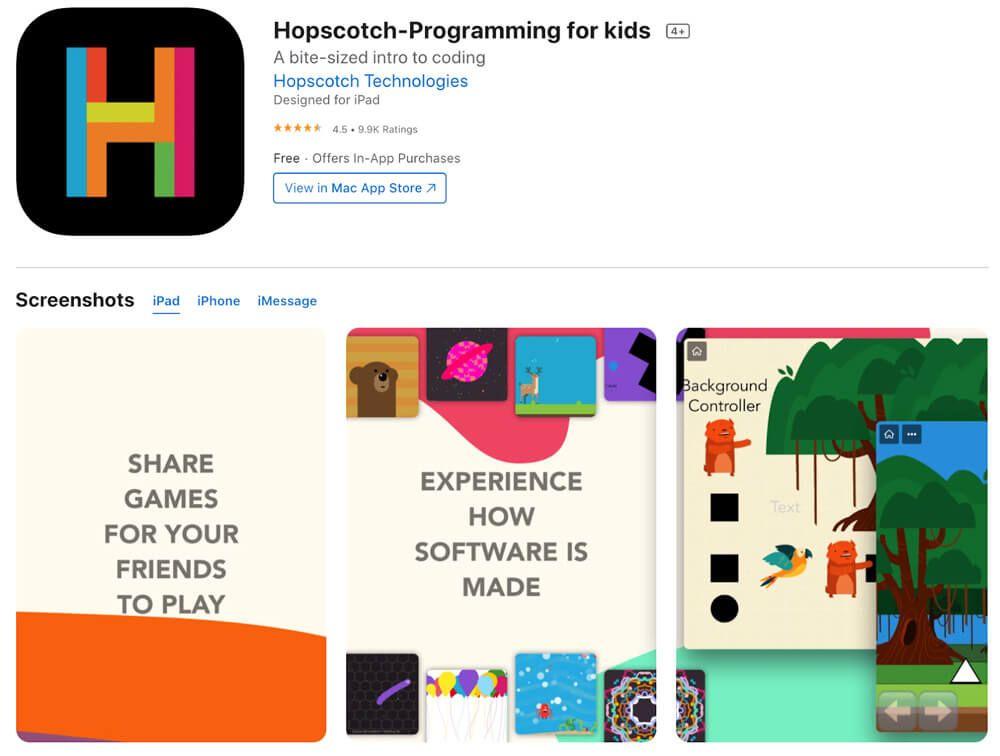 #5 Elevate: Brain Training
The brain-teasing app with a set of games that focus on developing writing, speaking, reading, and maths skills. Every day your kid will have a set of games that cover these aspects. There is no cognitive overloading so it's like a quick workout. Besides, you have a dashboard to see how your kid performed in comparison to their peers.
Age: 8+ years
Price: basic version is free, a week of a free trial, and subscription starts from $4.99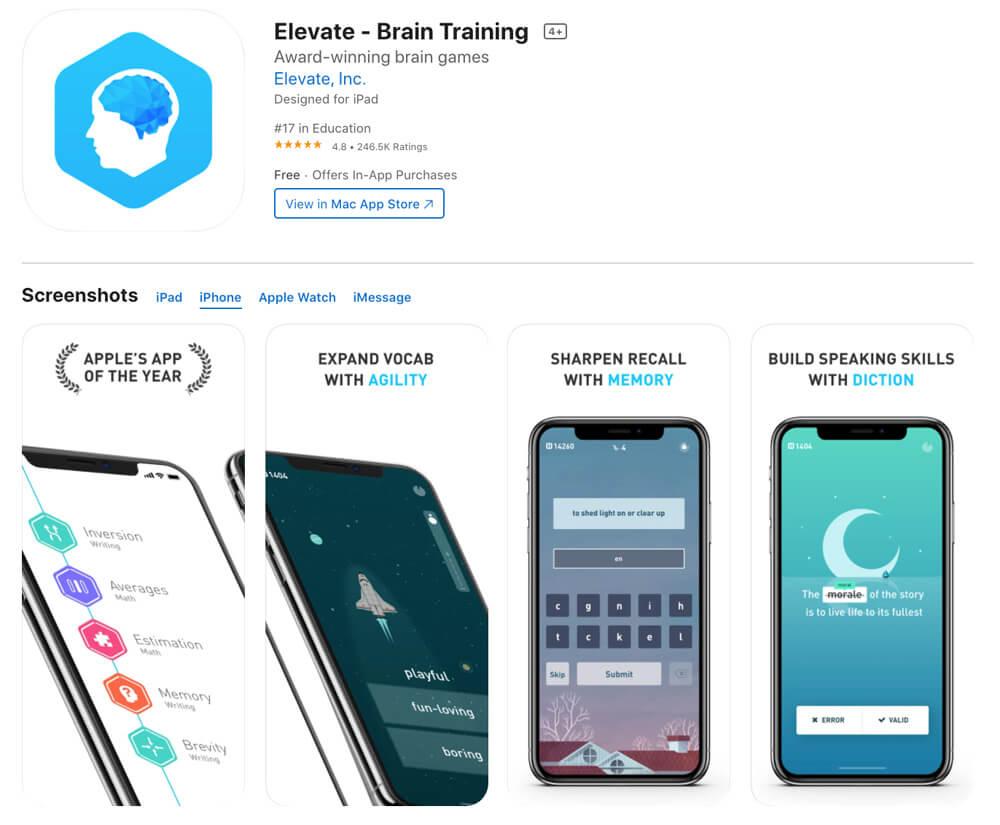 #6 Lumosity
Don't think that it's another brain challenging game. This one focuses on developing quick thinking, memory, attention, flexibility, math, problem-solving, and language skills. The app offers a different set of games every day. Also, you have a dashboard to see the progress along with strengths, weaknesses, and cognitive patterns. You see the comparison with the kid's peers, too.
Age: 6+
Price: free basic version, 14 days trial, full access with a subscription starts with $11.99
#7 MyLive Meditation
The app promotes social-emotional learning and helps your kids to regulate their emotions. Your children get checked on the physical and emotional feelings. Then the app recommends short guided meditations and mindfulness activities, tuned to the emotions. That's quite helpful with teens that feel anxious, sleepless, hopeful, angry, or anything in between. 
Age: 11+
Price: free, in-app purchases, subscription starts from $11.99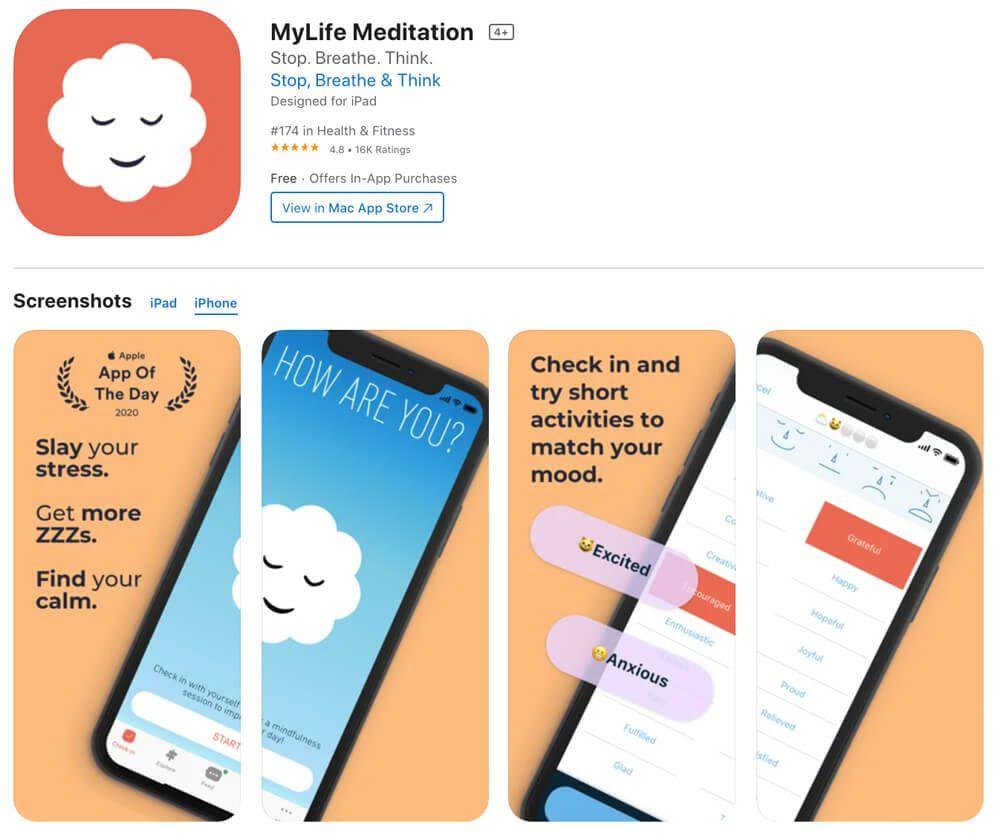 #8 SuperBetter
The app helps your kid to develop personal resilience. In other words, your child gets trained to stay strong, motivated, and optimistic in various situations. All that helps to improve physical and emotional well-being. So your kid can set a challenge (Epic Win), use Quests to get closer to the main goal. The app suggests Power-Ups and reminds about the Allies of getting closer to the win.
Age: 12+ years
Price: free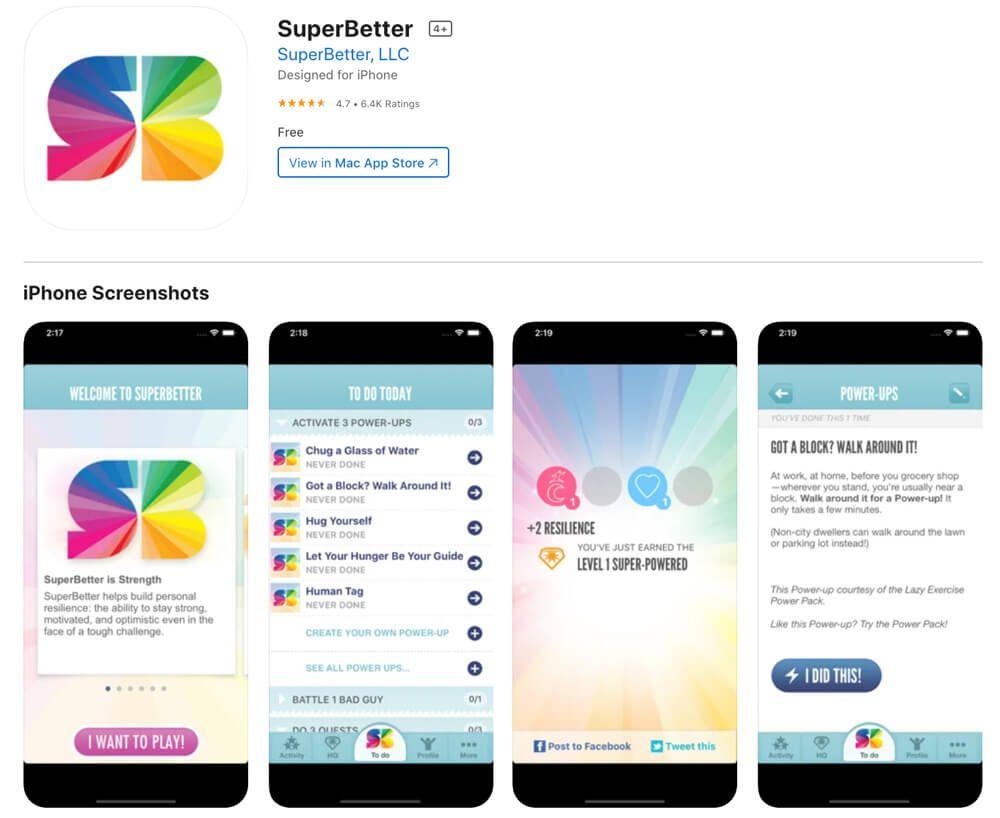 How to make an educational app for kids?
It is hard not to be fascinated by the mobile apps market. Have got the idea of an educational app? Then let's get now to the e-learning app development. The fact: COVID thing has impacted the growth and revenue of mobile apps greatly. People are going to spend $171 billion by 2024.
The educational app niche seems to be full of various apps and games. However, parents and educators have to dig into the app markets to find actual e-learning apps. Many standard games are named "educational" though that label is quite questionable. The Children's Television Act helped to protect children from the overloading and inappropriate commercialism. Though, these policies weren't updated to meet the realities of the digital age.
Do you have a truly educational app idea? Or want to develop an e-learning platform but don't know where to start? Here are a few steps on how to make an educational app to kick things off.
Look for the apps that are of the same style or type as the educational app you have in mind. Try to use it, see the navigation and logic. Check out the users' feedback to track the weak spots.

Jot down details of how your app should work, its logic, and branding details. Think about financing this project. You can draw a business plan with marker search and ideas on how to market your educational app.

Once you have a ballpark number of your budget, look for a development company. Check out Clutch or Upwork for a technical partner. Also, consider hiring an outsourcing developer agency. This way you can have a qualified team with less expensive resources but a high level of quality.
Wrapping up
The e-learning niche keeps on booming, and the educational apps appear and update constantly. But being a parent, you have to spend time to find a mobile app that actually teaches. Way too many apps dressed up in "educational" clothes. On the other side, there is a gap in good educational solutions. And if you want to create an e-learning app, your project is worth setting off.
Was this article about the best educational apps helpful? Feel free to share it with your friends on social media! Wonder how to make an educational app? Our mobile app deveopment team always happy to build an app for you.