Discovery Stage for Buy-and-Sell Marketplace: Lin Engineering

When you begin working on a project, a discovery stage aims at giving you definite answers to questions like: 
Can the proposed idea solve the task we have effectively? Is it useful and unique enough to appeal to our customers? Is there a demand for such a solution and how can we realize it best? How much will it cost us?
Here you will find comprehensive information about the discovery stage together with a real-life example of project discovery for marketplace development to get a right start for your project.
Discovery phase for retail marketplace platform
Coming up to an authentic business idea, you want to jump on it immediately - before someone else does. If so, you're skating on thin ice here. On top of fierce competition and demanding customers, 9 out of 10 startups fail because their solution, being started without discovery, doesn't genuinely add value and has no market fit.
BTW, what is the discovery phase?
Project discovery is a pre-development process of gathering information and scoping  aimed at helping people involved get a shared vision of the initial idea. Gaining a clear understanding of the project concept is fundamental for delivering the end product on time and within budget. 
This project life cycle phase also helps to determine the needs of the client, users and stakeholders within the intended market and audience. On top of that, it  prevents many failures and helps to get the profit you hope for, refining the product vision, goals, and requirements, and making sure you build the product people want by means of careful analysis and planning. 
The more exhaustive data you collect, the better. 
By utilizing project discovery you have a chance to validate your idea, bring a cross-functional team into alignment, while reducing the level of risk, as all subsequent stages depend on this pre-development scoping phase. 
While some people associate the process of discovery with unnecessary costs added to your final bill, eventually it saves tens of thousands of dollars and even more nerve cells, being a foundation of money-wise product development. Going for a quick briefing instead of the discovery phase, which generally takes around 2-3 weeks, often results in a catastrophe. 
There are multiple details that must be specified at the discovery stage. It's crucial to 
figure out all customer's requirements and consider them from different perspectives  

evaluate their necessity and time of implementation  

select the most appropriate tech stack  

create a prototype

provide time & cost expectations taking into account the available budget.
The discovery phase team 
Considering the diverse scope of work at the discovery stage, it's challenging for just one person to complete it.  That's why it usually requires a team where each member has their own responsibilities of a more narrow specialization. A typical discovery stage team is similar to a concept development team, and consists of:
Project Manager

, who oversees the CD, plans deliverables, and makes sure that the entire development process is transparent to the client;

Business Analyst

, who is responsible for gathering requirements, creating documentation, and making sure that no detail is missed;

UI/UX Designer, who creates an eye-catching design and enables the best user experience to make it as intuitive as it can be;
Tech Consultant

, who advises on the tech stack and finds the most efficient way to build a solution with the newest technologies.
The discovery stage steps for retail marketplace development
When it comes to buy-and-sell marketplace development, there are numerous aspects to consider. To mention a few, it should be clarified how to achieve high levels of security, customization, adaptability, while providing excellent user experience.  So let's figure out what the exact steps of the discovery phase are and what you get after completing each of them.
Explore the product niche and elicit the requirements
Explore the product niche. Consider the existing marketplace platforms and how your solution could stand out among them. Work closely with a customer to define the product's objectives. Get a comprehensive understanding of how the product should work, its main functions, and user flow. 
Identify bottlenecks and mitigate the risks
Sum up the knowledge gained during the previous step, and ask the client to validate their ideas. Make sure they are compatible with the end users, providing the possibility of excellent user experience and performance implementation.
After gathering all finalized product expectations received from the client's team, analyze the input data. Define the project bottlenecks, which sometimes may include a certain feature, particular design aspects or business logic implementation. Get a clear vision of potentially risky elements and take measures to avoid or mitigate the risks. 
Find and apply optimal solutions to the expected challenges and pick up the top-notch tech stack
The tech consultants explore all available options and pick the high-level solutions that suit the best to solve the expected project challenges. Get the architecture solution that perfectly meets the set requirements, and don't forget to explain to a customer why you have chosen it.
Identify priorities, form the project backlog and user stories, and discuss them with the client
Having an overall vision of the ecommerce platform, it's potential weak spots, and optimal architecture solution, identify priorities for tasks and build up a project backlog. It constitutes high importance for web app developers, who together with Project Managers should efficiently allocate resources and prepare for the development process, while diminishing the challenges. 
Instead of creating the complete project scope, you get a project backlog with specified details only for the first period of time, e.g. for the first 1-2 months. It allows defining a scope of work while staying flexible in terms of possible development process modifications (backlog grooming). You are all set to provide the clients with the user stories that are crucial for forming the estimates.
Create the Project Schedule
Once the project backlog is ready, collaborate with the clients team to build the project schedule. Simply put, it is a graphical, comprehensive overview of the goals and deliverables presented on a timeline. It's priceless when organizing many different components that constitute launching a new product. 
Unlike concept development, which often lasts for 2-3 months and encompasses the whole project lifecycle period, the discovery phase is about specifying a project timetable for the first few months. Every next part of the timetable is created in parallel with the project development process. Besides saving time, such an approach allows further scheduling in tune with the current project requirements. 
At the end of this step, you get the project schedule, and provide your clients with the ability to keep an eye on the big picture amidst many tactical initiatives.
Provide cost and time expectation
Based on the issued documentation, tech experts along with business analysts estimate the project cost and timeline. The customer gets the ability to align that information with their business perspectives and make some changes if necessary. Further estimates are made in correlation with the project's progress.
Buy-and-sell marketplace development experience: Lin Engineering
Technologies: Next, Reaction Commerce, Apollo, MobX, MaterialUI
Industries: eCommerce, Electrical Manufacturing
Country: USA
Expertise: Web platform development
Cooperation: February 2020
Business challenge
Lin Engineering is a renowned expert in motor design and manufacturing, offering both a wide product choice and a possibility of customized design or optimization according to client's specific requirements. 
Being a fast-growing company, they turned to our team with a request to transform their retail platform — which has been used for buying and selling various motion control components — into a new customer-facing eCommerce website with extended functionality and intuitive interface.
Project discovery
At the discovery phase we were provided with the existing WooCommerce platform, which basically was a single-page Wordpress solution. It's most significant drawbacks included 
limited customization possibilities 

no opportunity to manage the product stock (e.g. view which items were sold and which were not, see their quantity) 

and manual product management (from new item creation to editing its price, specification, etc.)
It took about two weeks of the product niche research and careful analysis, before the assigned Business Analyst from Apiko elicited all the client's requirements, including the must-keep features, business vision and initial design concept. Afterwards we scheduled two calls per week with the LinEngineering team to enable an efficient backlog grooming process.
Developed features
Product pages

 
We built a clearly structured  interactive ecommerce website, and enhanced its functionality by adding a few features. A 3D model view is useful when checking the motor's compatibility with a system it's being selected for.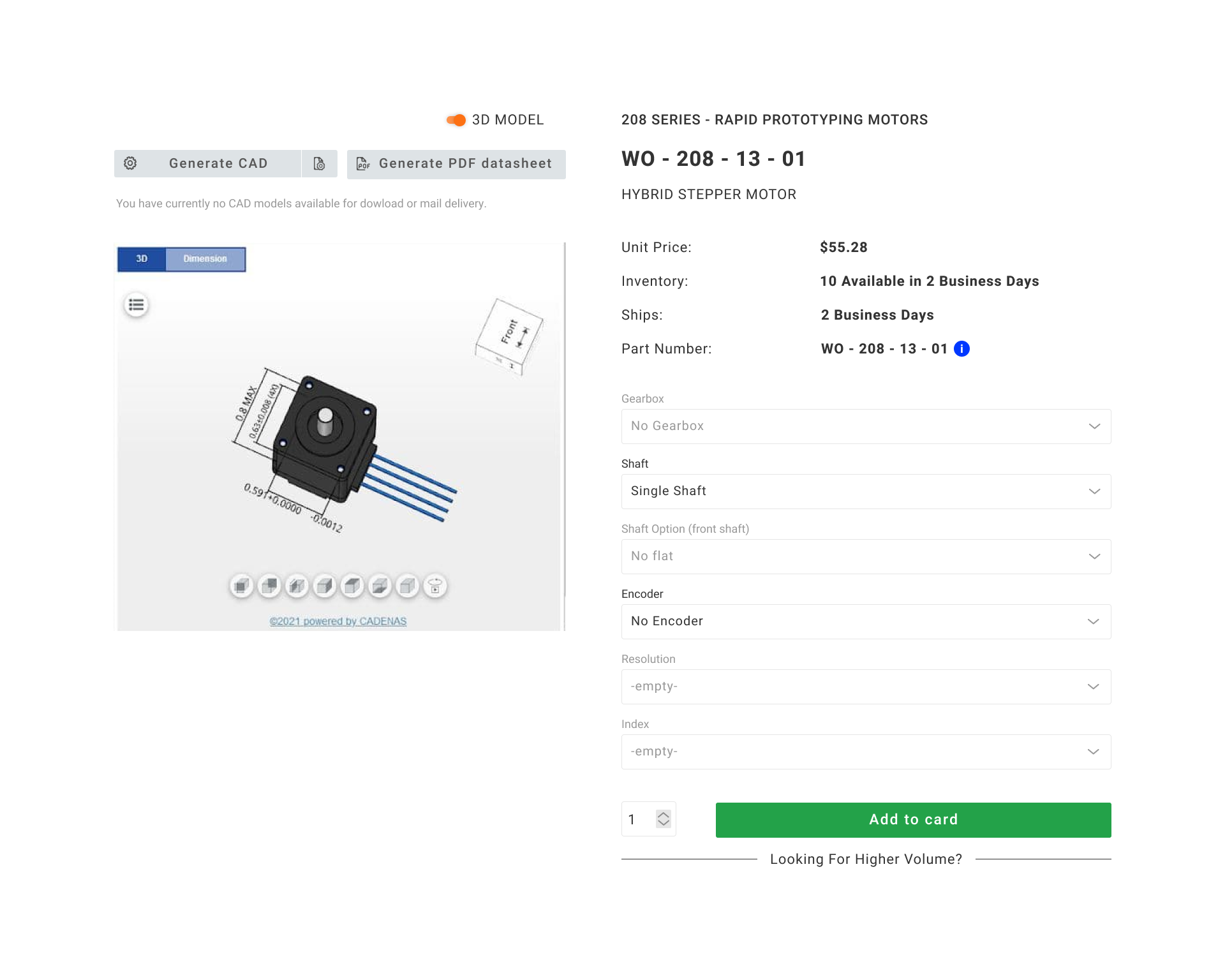 Moreover, what is really priceless when it comes to choosing a motor is the online configuration tool. Enter the specs data such as the target torque and speed, and optionally the input DC voltage and maximum current, and see the best matching solutions.
The Apiko team also added a new function of changing units from imperial to metric to make sure we meet all the needs of the customers. 
To provide a unique user experience, we added graphs of Torque Curves to show the dependence between torque and speed of motors. However, the outstanding part of this feature consists in the ability to change the motors' input parameters and generate the respective curves to help customers see the full picture of the motors' performance. Such easy-to-navigate functions add to a more efficient and memorable shopping experience.
When building an eCommerce marketplace platform, we emphasised on making it intuitive, with easy-to-use navigation. For more convenience, the products are divided into categories according to their application, with a further subdivision into series. 
The Easy Motor Finder tool allows searching for the motor according to entered parameters of its target performance and supplied power.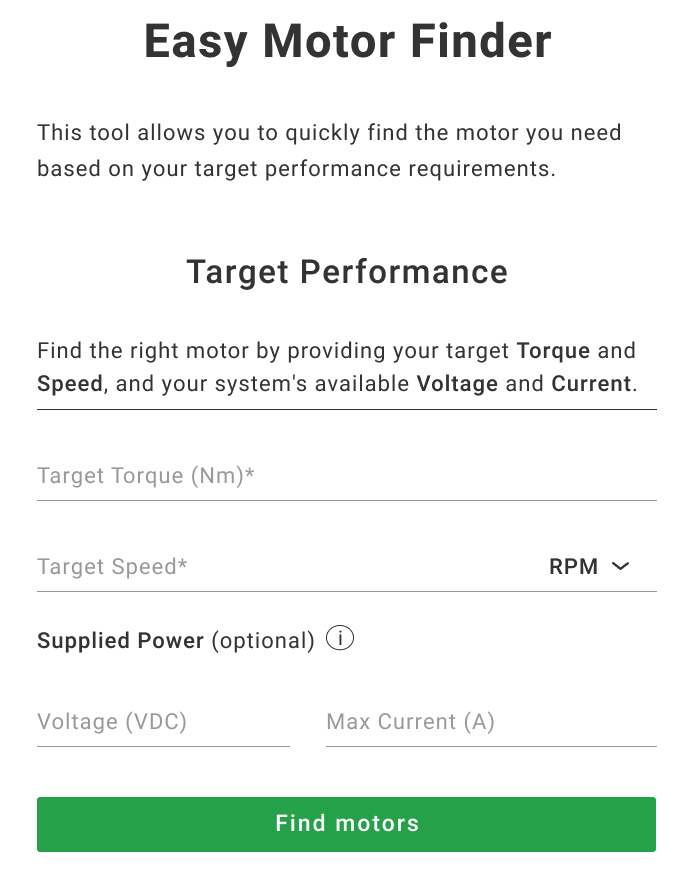 Source Lin Engineering
 In case a user doesn't know these data, they can use  the Motor Sizing Calculator. They can obtain a stepping motor torque and speed requirements regarding its application (a conveyor belt, direct drive or rack and pinion) by specifying its load parameters.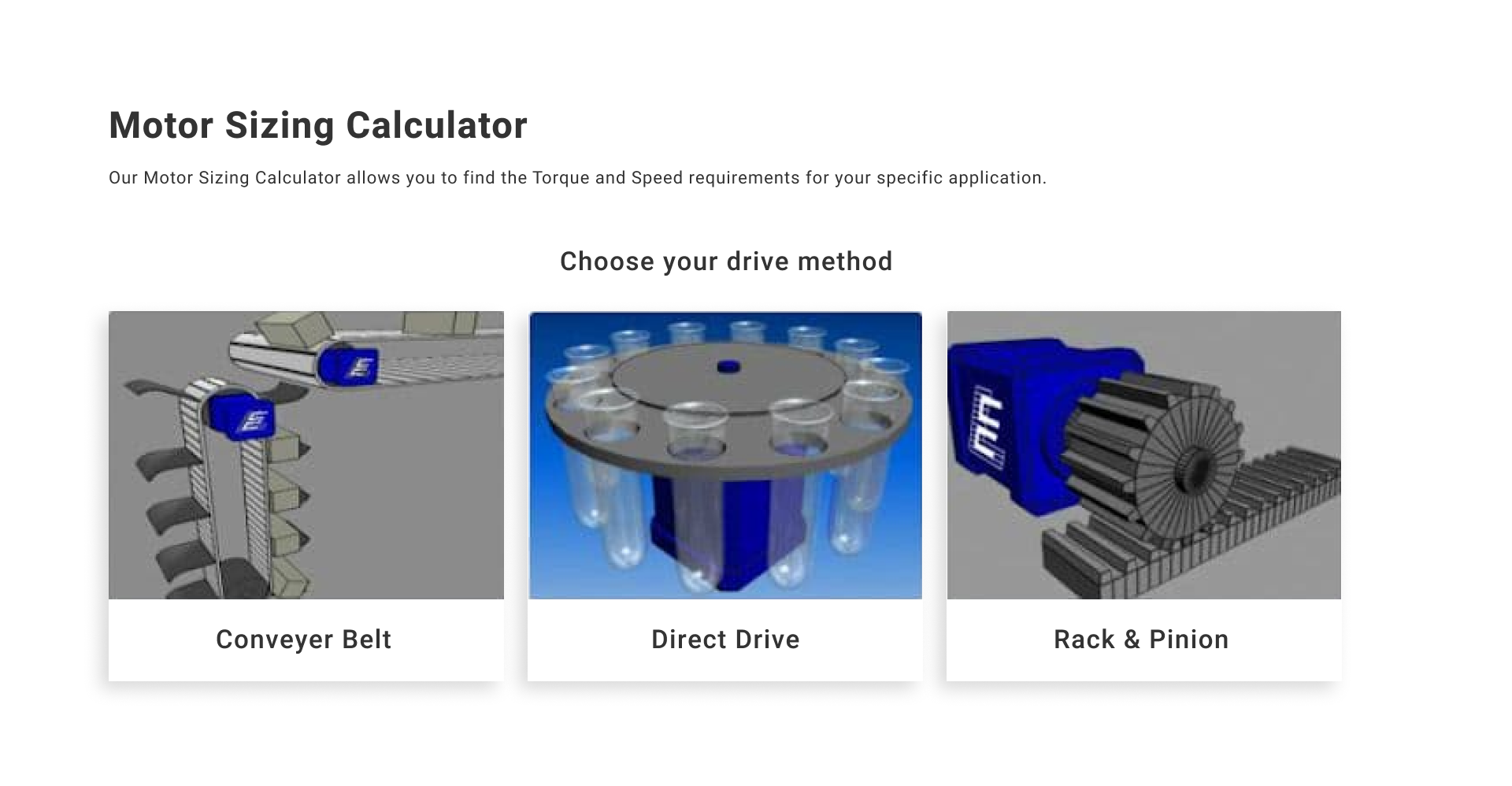 After choosing the product category a customer is interested in, they can directly proceed to the series they need. Information about the general characteristics and application of each product series is right at hand. Besides, all motors can be filtered by their frame size, step angle,max length, rated current, and holding torque. The straightforward search process enhances sales efficiency and customers' comfort.
Technology stack
Since modernisation was required, a marketing and web specialist at Lin Engineering, Bart Pichola, suggested we migrate the necessary functionality to the Reaction Commerce platform. This solution was chosen due to the simplicity of scalability, and customization that it provides.
Apiko solved the problem of manual product management by importing CSV files with the products data. 
Next.js was chosen for server side rendering, since it provided significant support for the selling process. It can be used in two ways. 
When you deploy the application, it automatically creates complete HTML files. It enables the page to open instantly, and is very convenient for static data, or pages that rarely change.  

We also utilized the second ability of Next.js to generate HTML at each request with provided meta tags that are available for search bots. In this case, it takes more time for the page to load, but its content is easy to update.
In case of the marketplace platform we cannot have only  static files. That's why the first approach was used for static website data, while the second one was applied for the products. Next.js allows using these approaches in parallel, moreover, it automatically defines when each of them should be applied. 
Strapi content management system allowed using custom plugins, bringing the website as close to LinEngineering's vision and needs as possible.
Let's sum it up!
Discovery stage is a project life cycle phase that is a useful alternative of concept development. Besides being considerably shorter and allowing you further flexibility during the project lifecycle, it provides you with:
comprehensive product vision;

understanding of possible risks and challenges;

architecture solution;

product backlog;

user stories;

cost and time expectations.
An example of project discovery for the retail marketplace development case at Apiko proves its efficiency. 
Are you still not sure whether to choose the discovery phase or concept development for your project? Do not hesitate to contact our team if you have any questions, we will eagerly share our experience with you!