Elderly Caregiving App Development [Interview with Constantine Karampatsos - an Industry Expert - Included]

Caring for sick or aging loved ones is a wide niche that requires a lot of attention to be paid. In developing countries, people whose relatives are in medical condition that needs rehabilitation, such as brain injuries, Parkinson's, multiple sclerosis, stroke etc, are often enclosed within the problem. There's no government program and you can barely find a reliable caregiver to hire on your behalf. 
Keeping up with medication schedules, communicating with healthcare providers, learning about disease management, helping with day-to-day tasks — it can be a lot to juggle, so working people can hardly stand the pace and their familiar way of living will be totally whipped out. With so much for families to learn, organize and remember, caregiving apps could be a huge asset, that's why we're eager to tell you about a great example of such a platform, made by our team - Good Life Sorted. Moreover, if you're going to commence a caregiving app, here we'll provide useful development insights.  
Stats speak louder
Just a commonly known thing to point out - our world is rapidly growing older. The number of adults over the age of 65 in the US is expected to be 89 million by 2050, more than double the number of older adults in the US in 2010. Indeed, the majority of adults over 65 years of age have one or more chronic conditions such as arthritis or hypertension. In 2019, there were 703 million people aged 65 or older worldwide, a number that is projected to reach 1.5 billion by 2050.
According to Park Associates report, 25% of caregivers in the age of 18-34 are using at least one caregiving app on a monthly basis or more. Besides, industry experts expect the increasing popularity and adoption of caregiving apps among consumers in the 35-44 age range, as more Gen Xers and millennials age into primary caregiver roles.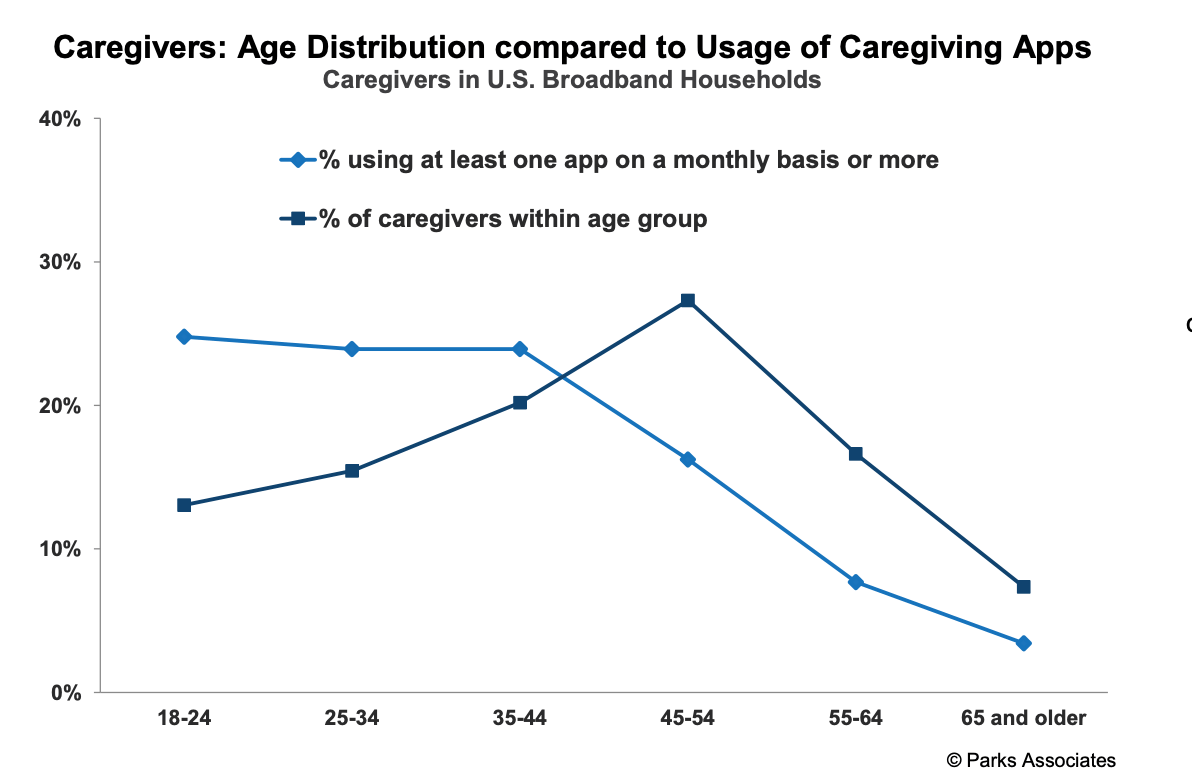 Meanwhile, the consumers' areas of interest also involve:
Refilling and picking up prescriptions

Being able to arrange a free first visit to approve a helper

Making and supervising medical appointments

Assessing health needs and conditions

Ensuring home safety

Monitoring medication adherence
Obviously, during this uncertain quarantine period, the caregiving apps soar in popularity day by day, but what should you do, as a founder, to win the audience for your product and better engage customers who need this tool right now? It's time to spill the tea ?  
Examine customer's pain points and give a hand
If you're going to address a customer's request, you have to get closer with this person to understand his/her inner fears, challenges, end-goals and priorities. Or ask someone who has already found it out for you. 
For people, whose aging parents or relatives need some minimal assistance with daily chores, dog walking, shopping etc, but still stay active and independent it's nearly ubiquitous to hire a caring, reliable and local helper that is thoroughly vetted, trained and insured by a caregiving app. Though, they're fairly interested in using helpful applications to find an appropriate candidate. 
One more thing, the rate has to be more affordable, when compared to professional healthcarer's. Providing such a little favor shouldn't be extremely pricey, but give peace of mind and safety to its consumers. 
And the last, but not the least, pick up the most popular services you could cover and deliver effectively. The types of assistance you choose should be based on helpers availability, community demands, living conditions etc.  
Conduct the Boomers beta testing
No offence, but in most cases, older adults are technically challenged and often lack the time and energy to learn how to use complex technology that splits their minds into tiny pieces. Sometimes, getting acquainted with new apps takes weeks, even months. 
Base your app architecture directly on the feedback from hard-to-reach demographics to streamline the platform's structure and design user-friendly interface. Pilot and beta testing is a great chance to do it. 
Engage the family members
It's important to involve children, grandchildren and other family members into the caregiving process. Arrange a first visit to enable them to enjoy each other's company and find common interests, since caregivers aren't the only ones who care about the patients they support. The relatives also want to ensure their loved ones are taken care of in the best possible way.
But do you know what expresses the vision better than blogs and even multimedia? You're right, it's a really successful case. For this reason, we're happy to introduce Constantine Karampatsos, a co-founder & CEO at Good Life Sorted and our valued customer, who kindly shared his expertise-based knowledge and industry-specific experience with our audience. 
  Hi Constantine! If I'm not mistaken, you came up with an idea of GoodLifeSorted when your grandma reached 96 years old and needed some help with daily chores. So the decision was motivated by your personal experience. What channels did you use to attract the first audience to your website?
Correction: My grandmother Zoe started needing help when she became 90 years old. So for 6 years we paid a neighbour to keep an eye on her and help her with various chores. This helped her remain independent up to the age of 96.
When we first launched our business we tried all kinds of channels, since we needed to experience first hand what worked and what didn't. Failing fast when you do marketing tests is crucial if you want to spend your marketing budget wisely.
  What challenges did you face in the early stages of starting a company?
It was obvious from the very beginning that finding customers or Helpers would not be the problem. Our main challenge was creating the right tools and the right processes to allow for scalability. We have big ambitions and it is important to set up your business for scale from the very beginning. We would do things differently every week, from Helper onboarding to customer payments, pursuing marginal improvements that would make all of our processes quicker without compromising on quality.
  As we know, you carefully hand-pick Helpers to ensure the best quality of services you provide. Could you tell me about that process in detail? What qualities should a perfect candidate have to be approved?
During COVID lockdown we did some research among our customers in order to get a better understanding of how they perceive our offering. All of them mentioned they were really impressed by the quality of our Helpers. Besides the background checks, we are looking for emotional intelligence, quick rapport building, empathy and good listening skills. Our Helpers can hold an interesting conversation with older adults. But above all the main criterium is their energy and their motivation to help older adults.
  Describe your mission statements into 5 words. What principles are prior for your way of doing business? 
Our mission is to make the home of every older adult a happy place to be, one person at a time. The main business principle for us is to treat every customer and every Helper with understanding and compassion. We deal with so many people day to day. The only way to be successful but also to enjoy this journey is to try to be of service without judging.
  What are the core benefits that differentiate you from other competitors? 
We have separated home help from personal care. This means that you can get your home cleaned or get a lift to an appointment without paying care agency prices. So we are more affordable. We are also the UK's first business to bring the sharing economy to the elderly. We can easily find good quality, local Helpers that are willing to help older adults in their community with reasonable rates.
  Did the COVID pandemic affect your business? What measures should be taken to reduce its negative impact? 
During the lockdown a lot of our customers could not receive any visits and that had an impact on our business. But in general COVID has made older adults more eager to stay at home and be independent for as long as possible. So the demand for our Helpers increased significantly after the lockdown.
Why did you choose Apiko for outsourcing your development process? How did you find us?
I found Apiko through an online search. I had been looking for a long time for a reliable technology partner and preferably one with experience building marketplaces. I have worked in the past with quite a few similar businesses, but I was not happy with the quality of their work. The key success factor for me is not the code or building the database. It is the communication and the project management. I found that everyone who works for Apiko has great communication skills. My project manager is very honest, reliable and fun to work with. These are the ingredients of a long term partnership. I was also looking for a company that operates in a professional manner with all projects, small and big. Apiko has excellent processes in place and is very transparent about them. That creates the necessary trust. Overall I would say that Apiko is great value for money.
Let's Recap 
Knowing that helpers live close by and are available to provide help and companionship to older residents in their community immediately will be a huge relief to family members who can't be there all the time. 
Helpers across age groups are eager to assist, and opportunities abound for app developers who understand what older caregivers need and how to make mobile & web technology more accessible for the consumers who need it most. Elderly care goes digital on-demand, so our elderly caregiving apps offer a myriad of options and features to enhance the caregiving experience for both patients and family members.
Despite the stage your project stands at the moment, feel free to contact us via web request or schedule a call. Take your niche, before the others do. 
Read more:
How to Find Investors for Your Business: Expert Tips From GoodLifeSorted Tech Startup Founder