How to Outsource Software Development for Your Business App Effectively

Going mobile doesn't stand as nice-to-have anymore. To streamline the operating processes and attract more customers. These are the key reasons for business app development. Where to begin, if you don't have a team to create an app? Here comes software outsourcing to rescue. 
How to outsource web and mobile app development? Where to find the outsource agency? Is outsourcing app development a good thing for your business? What are the pros and cons of outsourcing? How much will it cost? These questions have crossed your mind, right? Read on and you'll figure all those things out.
Why your business needs an app
Every service or product has a list of valid reasons: help customers, offer a cheaper alternative, innovating, or entertainment. But the core doesn't change: in every case, it is earning money. Getting a mobile app for your business isn't just a trendy investment. It's a useful tool to have in your business drawer. And here is why:
The app can serve as an extra sales channel (i.e., discounts, promo campaigns, sales, or support mobile payments)

Another aspect is a direct communication channel with your audience. That means you can run polls, surveys and collect reports and feedback

The app for in-house usage will optimize the processes and data analysis too

The mobile app makes your business more competitive

Your app can collect valuable data about the customer geolocation, demographic, or buying preferences
How does the mobile market competition look like? Let's throw a bit of statistic data at you.
Google Play Store saw a 38.01% increase in mobile app availability, with apps increasing from 2.69 million in 2022 to 3.718 million in 2023. Its rival Apple App Store has 1.803 million iPhone apps available in the same year.
According to a 2023 report, more than 70 thousand new apps are released monthly in the Google Play Store worldwide.
Source: bankmycell 
In the US, users spend about 90% of smartphone time on the apps. And the tendency keeps growing. So your web and mobile app can find its audience too. On condition, the app is well-crafted and solves customer problems. The quick takeaway: building the business app matters now more then less.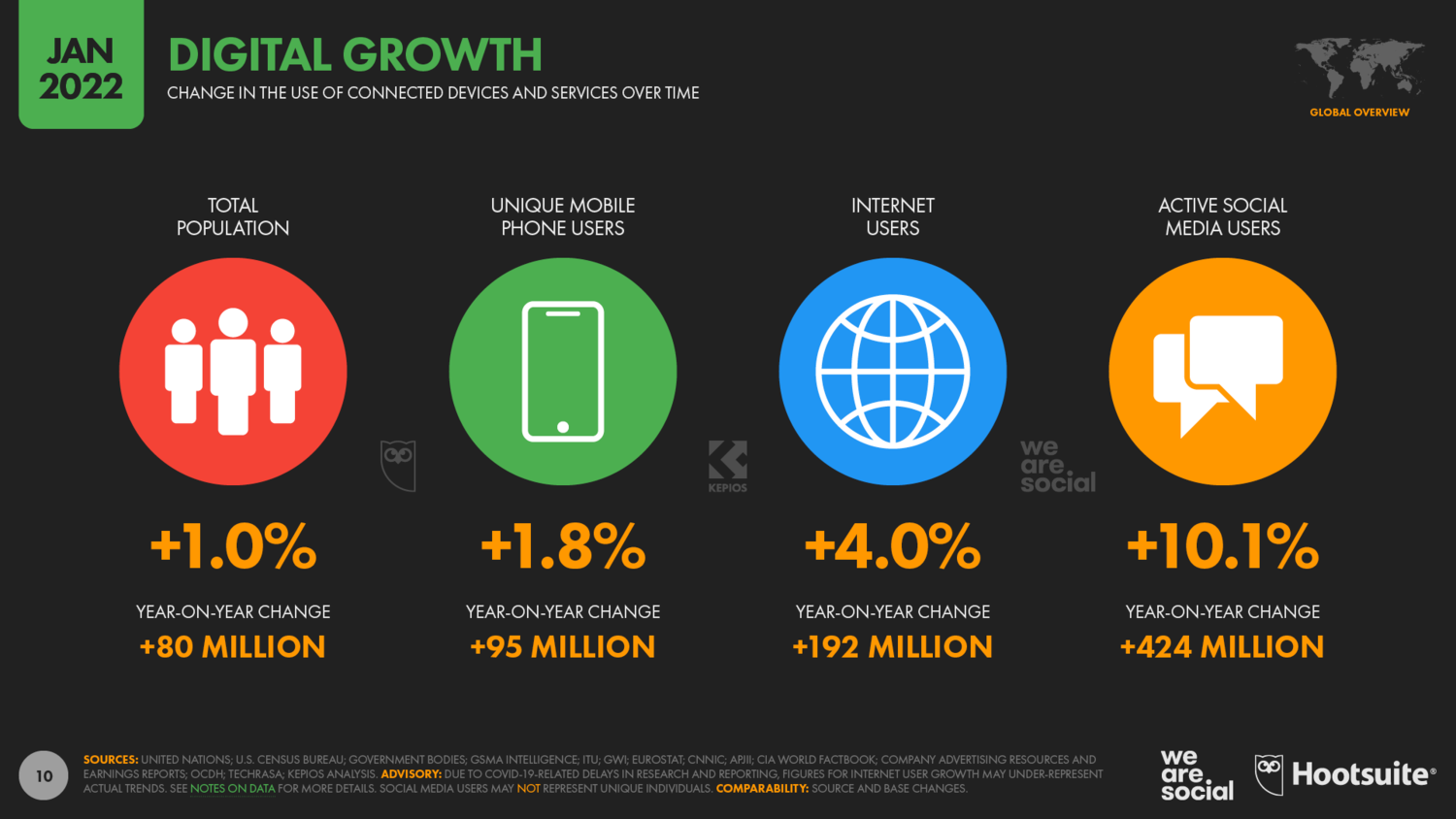 Source: datareportal.com
In-house development vs outsourcing: Hot or not?
How to outsource your business app needs? Growing businesses see outsourcing as a way to extend your business' tech capacities. Startups and small businesses can set off their growth by distributing tech tasks too. If you are considering getting the business app, you've probably thought about application development outsourcing. Or you got the advice to hire someone to build an app. 
This is actually a useful tip. FYI: Google and Slack outsource their development too.
83% of small businesses will maintain or increase their spending on outsourced business services in 2023.
Source: Clutch.co 
Let's outline the situations when you should prefer in-house development and where outsourcing development is the best option.
In-house app development works for you if:
your project will be complex and long-term. Then you are better to hire an in-house team. Such projects require a holistic approach for product building and further maintenance. Still, you can

set a partnership with an outsourcing agency

to develop and run the project remotely.

Your budget allows hiring the whole team for app development. That also means that you are ready for possible mistakes, continuing process optimization, and postponed releases. If your small business considering taking a loan to cover those expenses, make sure you've done

a check-up for PPP loan

.
Application development outsourcing sticks for your business if:
You aren't ready to pay for the experiment with the in-house team. The outsource team brings the pool of qualified developers and runs on time-proved workflows.

Your business doesn't have the in-house team and doesn't plan to hire one yet. Or if the small business doesn't want to reorganize or split the current developers into two separate teams.

Your team lacks some positions or employees with specific expertise. Searching, hiring, and onboarding the required one will take too much time. What's more, it can be quite costly.

You'd like to cut the expenses on the business app development and go-to-market faster.
To get started, ask yourself: What point do I want to make? And just go from there.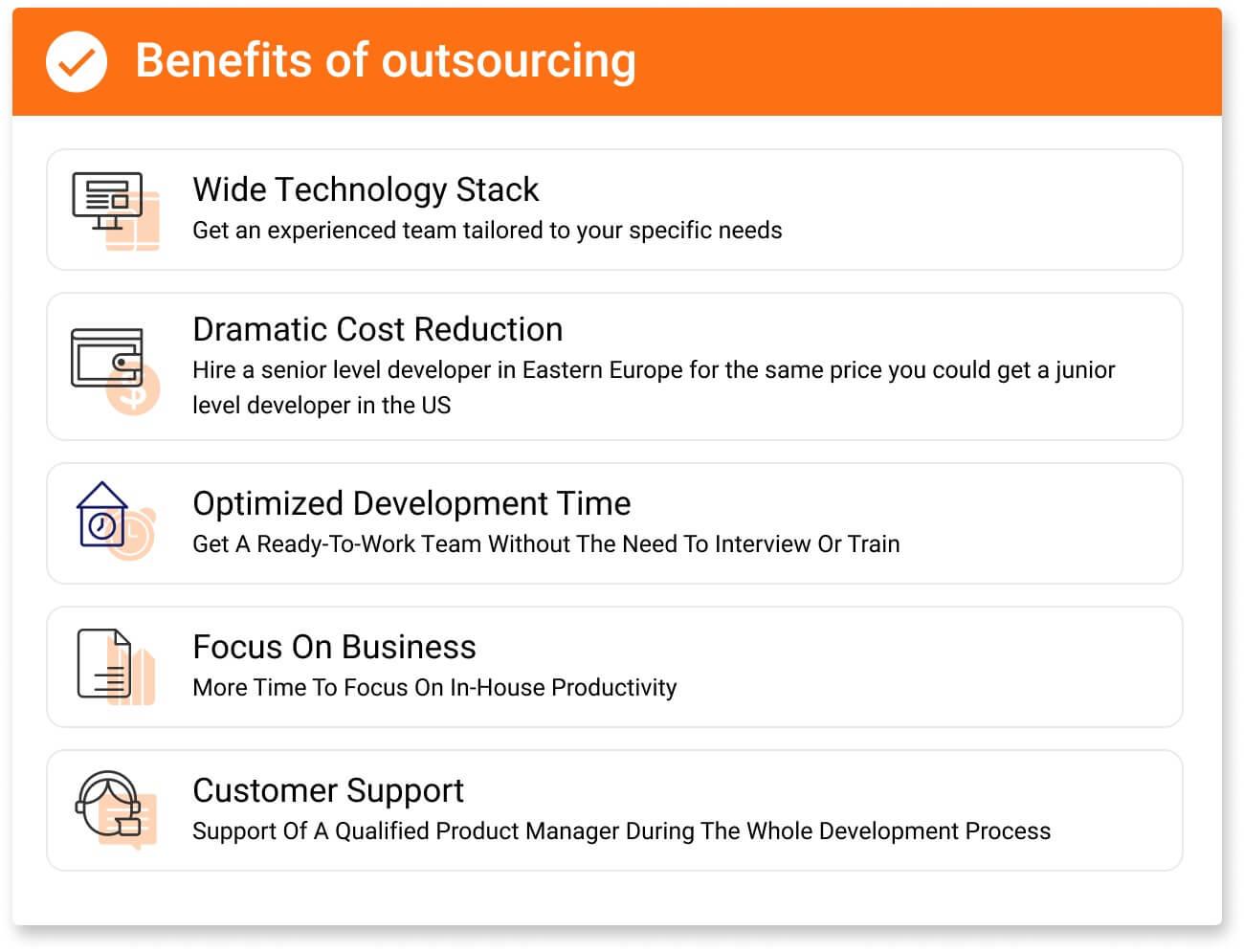 What are the challenges of outsourcing app development?
Hiring an app development company sounds like a great idea but, in practice, there can be some setbacks.
Communication.

The secret of success hides in keeping everyone on the same page. Once you communicate clearly your requirements, you will get what you expect. A professional outsourcing company will set up the update meetings to keep the pulse on the process. Also, you can ask what tools the outsourcing agency uses to track the project progress, e.g. running a Trello board with cards. 
Time zones. The difference in the regions and time zones can be far from overlapping. That has an impact on the meetings, releases, or updates. Even so, you can discuss such aspects before signing the software development contract and ask the outsourcing agency how they will keep in touch with you and inform you of the progress. 
Cultural difference.

Despite the location of the outsource team, you should be ready for the different work approaches. Plus, the state holidays may not coincide with those your country celebrates. Either way, your company has a culture code and you should treat the outsource team the same way you treat the in-house employees.

Sensible data leaking.

If you want to sleep in peace and know that your app idea is secure, to avoid any possible issues sign up an NDA.
Why should small businesses outsource?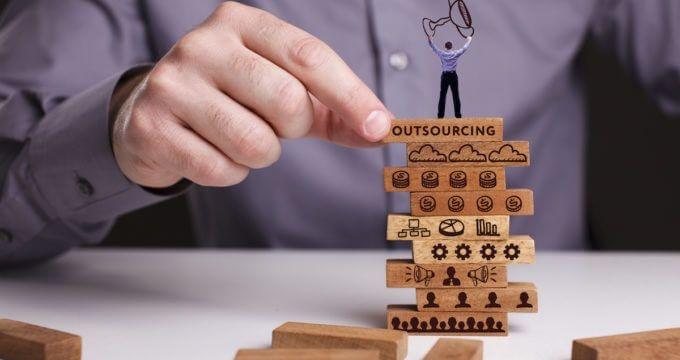 Source: https://www.smallbusinessbonfire.com/outsourcing-small-business/
Let's check the strong sides of the outsource mobile app development.
Wide technology stack.

Outsourcing your business app needs, you get an experienced team for your project. Besides, you can tailor the development team to your specific requirements.

Dramatic cost reduction.

The outsourcing companies in Eastern Europe have lower rates than the US, UK, or Western Europe based companies. That happens due to the gap in the cost of living. Roughly speaking, you can hire a senior level developer in Eastern Europe for the same price you could get a junior level developer in the US.

Optimized development time.

You simply get a ready-to-work team. There is no need to search, interview, train, and onboard employees. With the outsourced agency, you buy services of the experienced team that have already worked on similar projects and built (perhaps) dozens of apps.

Focus on business.

With handing the development aspects to outsource agency, you turn your attention to growing your business bandwidth. It also improves the in-house productivity.

Customer support.

In case of working with a reliable company, you'll get the account manager who will be your touchpoint with the team. Also, you communicate directly with a product manager throughout the whole process.
How to outsource app development?
Outsourcing software development isn't such an easy task, as it turns out. Before jumping on the bandwagon of the outsourcing your business app needs, take time to outline your idea. Let's take a look at these small, yet noteworthy steps.
#1 App outline
To kick things off, you need to prepare the description of the aim and core features of your future app. This way, the tech agency will provide you with an offer with possible technologies and functionality roadmap. Make sure, you mentioned the design preferences and features you want to have in the MVP, as well as those functionalities that you'd like to add later.
To keep it precise, try to describe your app idea in the following concepts:
What is it? 

Who does it help?

What does it enhance?

How does it do this?

What features should be in the MVP?

Should it be a native or hybrid app? A separate one for Android and iOS platforms?  
#2 Budget planning
Coming up next: prepare the rough estimation of the costs you are ready to spend on the app. Why is the number ballpark? Well, there are too many variables (platform type, size, number of screens, technologies, features, and so on) that impacts the final price of the development. 
#3 Service model
Also, let's not forget that outsourcing has a few service models: 
Project-based. The whole project is delegated to the outsource team. This model requires detailed guidance on app design and functionality.

The strong point

is that all complex work handled by the outsource team (tech team management, project management, as well as quality assurance.) 

The weak point

is that your control is a bit limited.

A dedicated team means that you hire developers who report to you directly. Basically, they are included in a dedicated team at the outsourcing agency but work for you as full-time contractors. If you have the in-house tech team, they can collaborate too.

The strong point

is the control over your mobile app development. You don't need to prepare all the requirements beforehand. This model is more flexible so you can change it on-the-go. You can add new developers or reduce the outsource team members.

The weak point

is that this model takes a lot of communication with the remote team.

Outstaffing model

is more about having office offshores. The outstaff vendor runs with office, hires employees, and pays taxes. While you control the developers, hiring process, and choose the expertise of these remote employees.

The strong point

is the team reports to you directly. They are more likely to share your business vision and goals.

The weak point

is that you can't choose from the pool of skilled employees because they will be hired on-demand. There would be a lot of communication. Besides, you'll need to run a teamwork session to keep the remote team motivated.
#4 Portfolio and tech stack check-up
Let's face it: the portfolio isn't optional in today's market. Take time to check the projects the company has handled, watch the demos. If possible, try the demos in action. Look at the client references and industries the outsourcing company worked for.
It is also a good time to point out the tech stack of the outsourcing agency. Some companies share their GitHub contributions. Yet, to evaluate this one, you should have at least basic knowledge in programming.
The takeaway: without some clever planning, there are just too many combinations to juggle. So, let's take a look at a few more steps to ease your app development outsourcing.
Where to outsource app development?
The search for the outsourcing agency is quite challenging, even in the age when the app development is flourishing. Here are the places where you can look for outsourcing software development companies.
B2B directories

(i.e., Clutch.co, GoodFirms, 99Firms.com, TopDevelopers.co, Referial.com, UpFirms.com, TheyMakeApps.com, TopFirms.co and so on.) They sort out the agencies according to different filter options: location, rating, expertise, and the like. Also, you can read client reviews on the provided service.

Freelance websites

(i.e., Upwork, Fiverr, HiddenFounders.com, Gigster, Guru, and the like.)

Company blogs.

Most of the outsourcing agencies run their company blogs. They share useful articles and case studies to show their experience and expertise.
How much does it cost to outsource app development?
It's critical at the beginning of an initiative to determine what outcomes you'd like to achieve. Let's talk about the price of the services. The cost of building your mobile app will depend on
Skills and expertise of the outsourcing company

The size of the team you need for developing a native or cross-platform app

Location of the company

App feature set (for example: multiple login option or SSO, online payments, GPS, offline mode, and so on.)
Of course, there are four pricing models for structuring your agreement with the outsourcing team.
Fixed price

contracts work great for the projects that have a defined set of requirements. Everything is simple - you pay after you get your app ready. Usually, the payment is divided into parts. For example, some percentage is paid ahead, and after achieving certain milestones - layout designs, working features, and the like.

Time and material (aka T&M)

means that the outsourcing agency will bid for your project. Yet, the trick is that you need to provide all requirements and the expected scope of work required for your business app. This model will suit you if you have (or can create) the complete outlining of project needs. So your outsourcing agency will take right away to developing without any issues or feature reworking.

Incentive-based pricing

contains a fixed price and bonus payments. It is usually applicable if your outsource partner agency met and went above and beyond your requirements. 

Shared risk-reward pricing

includes a fixed price and bonus payments if your outsource agency reaches predefined objectives. This model inspires your outsource partner to suggest the ideas or solutions that will improve your business app. They also share financial risks with you.
Just a quick recap here. Outsourcing is a partnership and despite the pricing model you choose, the success lies in clear communication and cooperation.
The bottom line
The forward-thinking apps will keep you ahead of the game. Outsourcing your business app needs is the most traveled path for building the first app. Among the advantages, you get the skilled team and extra flexibility to business development. So all you need is to define your requirements and choose a suitable outsource agency. 
If you've already got an idea, reach out to Apiko Team to discuss your mobile app development journey. Let's talk!
Frequently Asked Questions
Q:
What are the outsourcing strategies?
A:
Outsourcing strategies can be defined as the following:
Low-cost country.

The outsourcing agency or company located in the country that offers lower labor and production costs. This strategy helps to cut the overall operating expenses.

Global sourcing

reminds the low-cost country strategy. It is more focused on getting international market skills and resources. It is a way to refresh the in-house development with lower-cost production and new resources.

Prime or sub arrangements strategy

works like this. You buy services from the outsource provider who can have contracts with other small businesses or freelance developers. All the contracts are dealt with under offshore laws.

Captive service operations

are when you buy services from the company of your group of companies. That strategy covers the issues of confidentiality, security, and infringement rights. On the other hand, there is no option to get the advantage of the supplier's expertise. 

A conventional contract

is a kind of simplified agreement. Each company expects the other side to insist on it because it is standard and customary under the circumstances. In this way, you can outsource a part of your operations.
Q:
How does outsourcing help business growth?
A:
Cutting costs is the major benefit of outsourcing. However, it also
adds up to business efficiency

increases the quality of product development

speeds up the product go-to-market

mitigates risks
Q:
What is the best technology for business app development?
A:
If you think about getting a native application for your business, the tech stack is obvious: Kotlin or Java for Android platform and Swift or Objective C for iOS platform. These apps have fast performance, integrate fully with the devices, responsive, and secure. On the other hand, you have to hire a separate team for developing the types of your app which is more expensive. You can also turn to develop a cross-platform app. In this way you buy services of one team that builds you a mobile app that will run properly on both Android and iOS platforms. Usually, such applications built on the React Native that runs on JavaScript. The plus side is the single codebase, reduced costs, easy launch and updates. Thus, it may come with limited feature support, third-party integration issues, and some flexibility shortcuts. Either way, the number of setbacks depends on the functionality expected to be in the app. You can read more about the pros and cons of React Native development here