How to Start an Online Auction Marketplace: Core Features
If you are interested in how auction websites work and even want to create your own online auction marketplace - you are in the right place.
In this article, we will dwell upon the auction process, its main participants, basic features of an auction site, and prominent examples of such marketplaces. Let's dive right in!
What is an auction marketplace and how does it work?
Auction marketplace is a multi-sided platform that connects buyers and sellers, where sellers bid or compete for the product or service. The difference from the common marketplace is that the seller instead of the fixed price sets a low bid. Buyers start to bid as much as they wish, after that the product goes to the buyer with the highest offer.
The important point is that this process is completely open and transparent both to buyers and sellers.
There are three main types of auction you may offer on your platform:
Increment is an increase of some amount over a certain number. In bidding, increment is a minimum amount an auction bid must be raised each time the current highest bid is surpassed.
If the current price of the product is $1.00-$4.99, the next bid must be at least $0.25 higher.
For example, you sell a product the starting price of which is $20 and the increment bid is $10. If someone places a bid of $50, it will be automatically increased by $10. After this, no one can place a bid lower than $60.
Reserve price auction allows the buyer to set a minimum price he/she wants a product to sell for. Usually, this price is hidden, so the buyers can only see whether or not it has been met. When the reserve price is met, the highest bid wins the auction.
For example, you sell a vintage jewelry and set a reserve price at $40, with a starting price of $2. In this case, people can start bidding at $2, but if until the end of the auction the bidding hasn't reached $40, your jewelry will not be sold.
An automatic auction is the easiest way to bid. In this case, buyers set the highest amount they want to pay for the item and the system bids automatically on buyer's behalf. If another bidder places the higher bid, the previous buyer will be outbid and his/her bid will expire.
Online auction websites: Market and examples
If you think that auction marketplaces are common only in the retail industry you are mistaken. Such platforms are widely spread in the following industries:
Automotive
Food and restaurant
Finance and insurance
Art
Real estate
Logistics
Here are some examples of the most prominent online auction websites for your inspiration.
Let's dive into some ideas on what features auction marketplace should offer.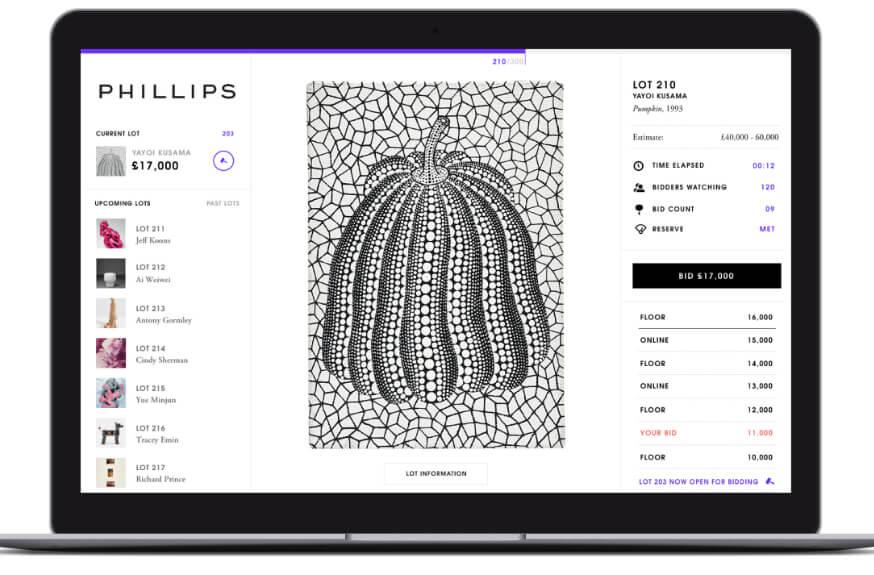 Artsy is an online art marketplace for exploring, buying and selling artworks. One of their features is an auction, where you can bid in real time for the art masterpieces. Building an auction functionality has helped Artsy to create more value for their users and expand the size of an art market.

Salvagebid is an online auto auction marketplace, that gives users a chance to bid for a huge variety of vehicles such as cars, boats, trucks, jet skis, etc. With the help of this marketplace, one can take part in auctions, that previously were available only to auto dealers.
Auction website main users
As the auction marketplace is a multi-sided platform, all groups of users are tightly connected and can't exist without each other. That is why your main task is to provide value by encouraging the interaction between these groups. The value of your platform will grow as long as it attracts a growing number of clients. This is usually called a network effect.
The main users of auction software are:
Service providers or sellers
Buyers
Marketplace operator
To create the network effect on your auction website, you should provide all the users with the features, that will facilitate the process of bidding for buyers and help sellers get more clients and revenue.
Features of auction marketplace website
As I have mentioned previously, you should focus on all groups of users. That's why let's see what features each of them needs.
Features for sellers
Provide the sellers with a dashboard, where they can track bids, communicate with buyers, view and manage their activity history, browse and send files, and track the statistics and revenue of sales.
A smooth and easy process of product listing
To have a full control over the process of listing their products and services, sellers should be able to:
Add new auctions
Select the auction type
Edit the auction details and see the bid list
Manage the auction product list
Manage the list of transactions and order history
Receive push notifications with updates
Instant online valuation of the product
In case your digital platform focuses on selling valuable assets such as jewelry or real estate, the buyers have to be confident that the products on your platform have realistic and reasonable knockdown bid.
Let's see the examples of how other auction marketplaces are doing this.
Worthy - an online auction marketplace for pre-owned luxury goods, including diamonds, helps the sellers to sell diamonds online for the best price possible.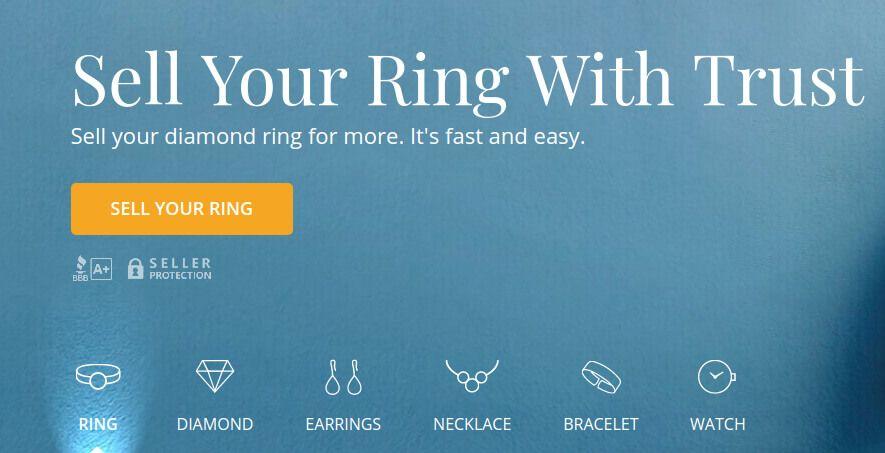 Before selling your jewelry on Worthy, you have to get an accurate assessment of its quality and value. Before pushing your diamond onto the platform you have to send the request with a brief description of the diamond. After this, a special Diamond Value Calculator сomputes its market value.
Another example is Iamsold auction marketplace for selling real estate. They offer free instant online valuation tool that will define the worth of your property.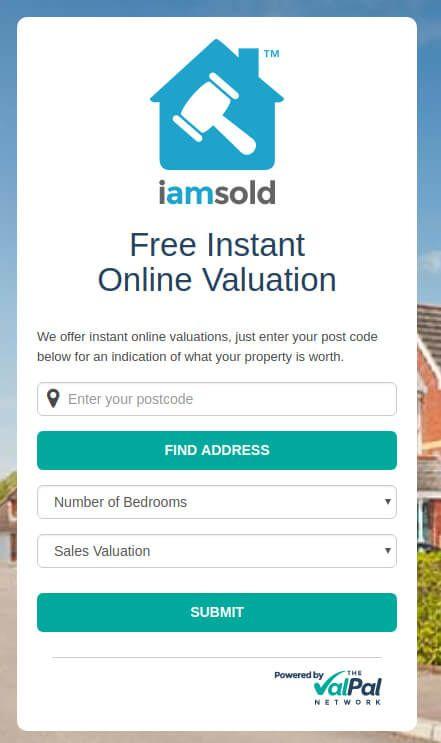 Features for buyers
Set the base price
Search for sellers and filter them based on your specifications
Track purchase history
Bid in real time
Dashboard to post requirements and view bid results
Auction watchlist that allows to view details about the bids and their current status
Rate sellers
Wishlist feature that allows to track and monitor the status of the items you are interested in but not ready to bid on yet
Features for marketplace operator
Manage auctions and bids
Prove or decline auctions, edit description, place lots in categories or make them featured on the website, track who / when has laced the bids, delete the bids
Manage users
Delete or block misbehaved bidders, verify users
Export data and build reports on auctions activity
Automatic invoice processing and generation
Filters (search the lots by category, etc)
Rating system
Category management and tagging
Sending email notifications to bidders and sellers
What about protection and transparency?
To get more loyal users you need to pay a lot of attention to security of your platform. Here is how you can gain the trust of your community and ensure the users that your platform is safe.
Full insurance of valuable items
If your auction website is focusing on selling expensive and valuable items, be sure to provide the sellers with protection guarantee.
Worthy, for example, offers a full insurance to the valuables users sell. All the jewelry are covered by insurance providers up to $10 000 аfrom the moment of their collection.
Another example is Salvagebid - an online auto auction marketplace we have already mentioned. To provide the buyer with the guarantee that the winner will complete a purchase, a platform collects a security deposit from the bidders.
The security deposit is held until the buyer pays for the vehicle in full and picks it up. The deposit is withdrawn if the bidder wins an auction but doesn't complete the purchase.
Include a registration form your users have to complete before placing bids on your platform. To verify their identity the form should contain the fields for adding ID and credit card information.
Tracking auctions in real time
Opportunity for sellers to watch in real-time how buyers place bids on their items
Enable users to leave reviews about each other after completing a purchase.
Bidder's agreement and obligation
To eliminate the fraud on your platform, incorporate the following rules in the bidder's agreement:
Immediate termination of the membership in case of bid shilling
Prohibiting from retracting confirmed bids
Commitment to pay for the item within a certain period of time
List of safe payment methods
Prohibited and restricted items
Money back guarantee policy
Conclusion
Online auction marketplaces are very diverse and industry-specific. Their variety surprises, even in the most unexpected industries. If you have an idea to start an online auction site, first of all, think about its business logic and the value you will provide for each user group. After this, think about what functionality will help you to build this value. Have any questions about this type of marketplace? Don't hesitate to get in touch with Apiko team:)
Read more: