Buy-and-Sell Marketplace Development: The Only Guide You Need

Buy-and-sell marketplace apps are the most well-established online platforms right now, especially with the prevalence of market leaders like Etsy, Airbnb, and Uber. All these organizations have achieved unparalleled popularity and immense growth. They've become billion-dollar businesses, which have caused many people to stop, and consider their own marketplace app development. If you are one of them, read on and discover exactly what it takes to build a successful buy-and-sell marketplace app.
What users love about buy and sell marketplace apps
The reason why marketplace for selling and buying products stands out is because there are equal opportunities for users and no clear distinction between them. Unlike an online store, where there is only one vendor and many clients, on a P2P marketplace platform every customer can enjoy the benefits of being a buyer and a seller simultaneously. 
Such online marketplace platforms attract visitors with similar needs and interests. P2P platforms act as a place for those visitors to connect and interact, and what's more, they have the means to accomplish their goals, such as:
Save some money

Earn additional income

Join a community of like-minded people

Enjoy the convenience of well thought-out buyer's and seller's journey
Why build a buying and selling marketplace app
With a professional ecommerce marketplace development, you'll get the following benefits: 
Power of the network.

Your buy-and-sell marketplace app users are the most important factors of your online business growth. If they are satisfied with your application, ready to use it regularly, and recommend it to their friends and family, your marketplace platform will experience an increase in traffic and sales. The main effort lies in giving it the first push, making your brand

noticeable

and helpful for early customers, and they will take it from there to make the platform widely known. Such is the power of the network!


Undemanding revenue model. A ready-made buying and selling app allows you to generate passive income. Finding suppliers or setting up production, spending money on storage and transportation are not your problems with an online marketplace platform. Users sell and buy from one another, and you can choose the best marketplace business model to earn with minimal effort. To learn about that, continue reading our guide!

Growth potential.

One of the significant benefits buy-and-sell

marketplace apps possess is their potential to rapidly grow. The immense business opportunity can be found in the platform's capacity to facilitate transactions rather than take part in them. The number of employees who work for the marketplace app doesn't have to correspond to the number of sales transactions. Their main goal is to maintain the platform, which can easily host a large base of clients and that base will only grow. 


Geographical flexibility. As is the case with online shopping experience, your marketplace app shouldn't be limited only to a specific location. With such geographical flexibility, it can become widely used and extremely popular among a variety of users. Providing your clients with the convenient platform where they can easily get in touch either locally or nationwide is one of the things your clients will appreciate. 


Easy access. Launching an online marketplace paves the way for users to easily access the platform with just an internet connection. The more users your platform gets, the more transactions will take place, which is always a good thing for a marketplace business owner.


Efficient digital solution.

Though building a marketplace for buying and selling items or services may seem a difficult task, with professional help you will avoid all the unnecessary hassle.

Hiring app developers

who know what they need to do to deliver a robust and highly functional marketplace app or website is the best option.
Most popular online marketplace platforms according to online sellers
While many retailers and brands sell their items online through their own websites, online marketplaces give smaller businesses and average people a medium to post products for sale. No need to spend resources on establishing and maintaining their own selling platform makes this option very popular among sellers.
The survey that was conducted in January 2020 showed that the most popular online marketplace among sellers in the United States was eBay. The result depended on the quality of customer service, communication, how profitable and easy to use the platform is. Also it was important if the users could recommend the online marketplace to other sellers.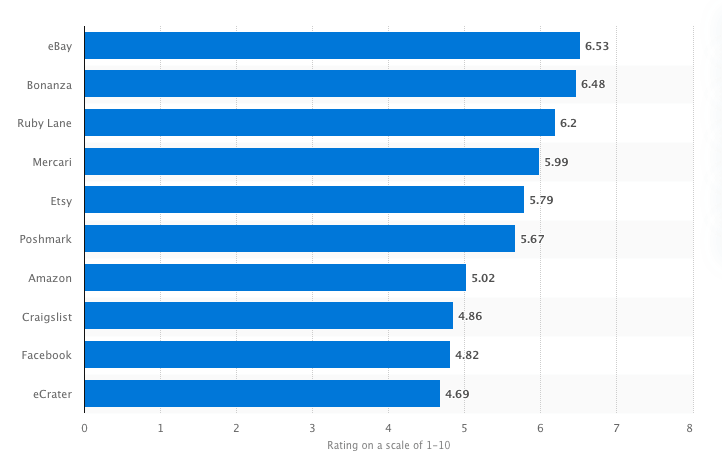 Source: https://www.statista.com/statistics/448892/leading-online-marketplaces-sellers-usa/
How the buy-and-sell marketplace apps work
The concept of an online marketplace app has made our lives much easier. It provides great convenience to people who want to find and buy some products online at affordable prices. With just a click, the desired items can effortlessly be shipped to you. 
A P2P marketplace platform gives additional bonuses. Users can not only make purchases there but also find a new home for the items, which have served their purpose. The buy-and-sell marketplace app functionality should allow us to accomplish these two goals effortlessly. 
The marketplace app gives its users the opportunities to connect and make successful interactions. To bridge the gap in communication, a P2P marketplace app has to be extremely functional and have the necessary features, which will allow users to buy and sell conveniently. Let's see how it works in reality.
Customer journey on online marketplace platform - eBay
You may know eBay as an online auction website, where the buyer can get an item if he/she is the highest bidder. However, now it is a great deal more than that. It is an online marketplace where sellers can choose to post items with a fixed price and also create their own "store".
In a buy-and-sell marketplace app such as eBay, users must be able to:
While setting up the account, a seller can choose between business and personal one. Selling can be done using any of them, but business accounts generally are better for high-volume sellers. However, you can easily change your account to business or personal later on. 
Information sellers need to provide when they create an account includes their name, email address and phone number.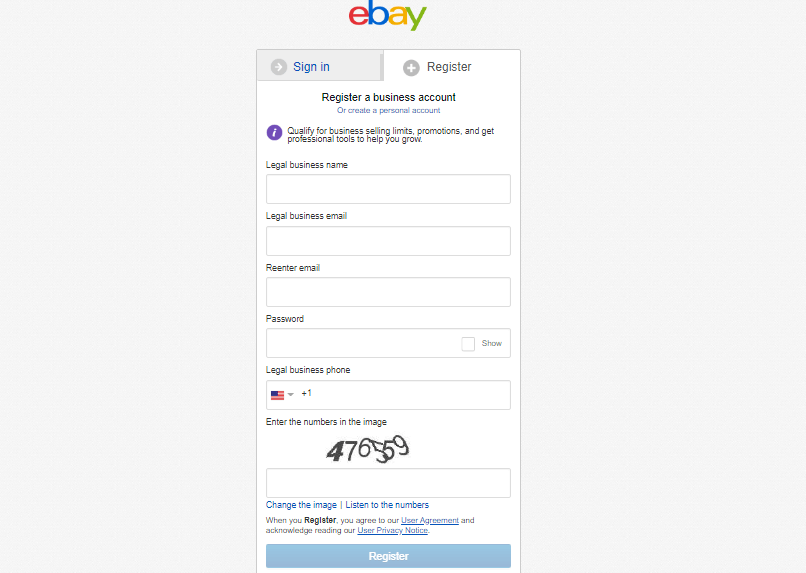 Listing an item on a buy-and-sell marketplace such as eBay should include:
item description

photos

the brand

auction or fixed price
Also a seller should choose shipping options for the buyer, define a return policy, and the way to get payment. When posting the first listing, the seller needs to provide payment information to cover the selling fees. 
When the item has been listed, buyers bid on it or just click "Buy it now". After a buyer and a seller make the deal, buyers proceed with the payment through one of different options, such as PayPal or internet merchant credit card account. Then, the seller ships an item, and the users can leave feedback about each other and their transaction.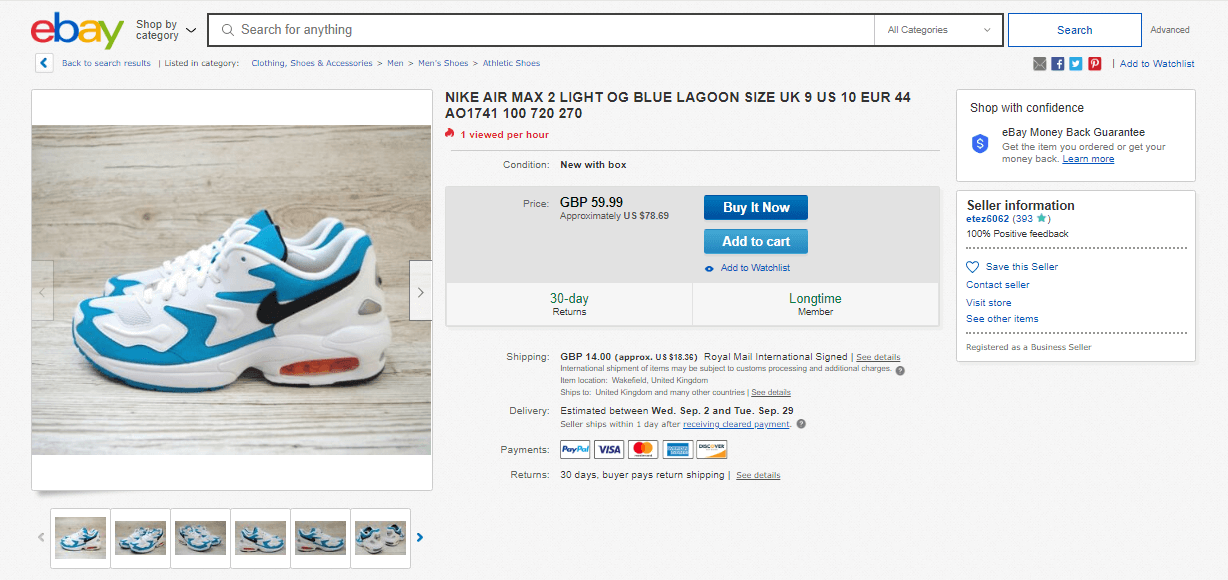 These are the main stages for both buyers and sellers on their customer journey in an online marketplace. The basics made eBay a popular destination, but its functionality leaves a lot of space for creativity for other buying and selling marketplace apps development. 
Let's discover what unique components can create competition even for an all-time favorite P2P platform like eBay.
An eBay marketplace alternative - Bonanza
Though it may seem that such a popular online marketplace platform like eBay is firmly established as a top selling spot, it has got a serious rival - Bonanza. The ecommerce website is gaining more and more popularity and some sellers are leaving eBay in its favour.
A lot of Bonanza sellers acknowledge that it is easier to use, has more reasonable fees, and provides better interactions with staff and other sellers than eBay.
The customer journey is not totally different from an average marketplace app. However, for the fees you pay as a seller, you get highly useful and practical characteristics apart from the basic ones.
The additional and appealing elements that make Bonanza stand out among other marketplace apps for buying and selling stuff, are:
To make a seller's life easier, the import of the products from eBay and Amazon has been enabled. This feature allows users to have consistent listings over different channels. That's really practical because you can start selling in no time.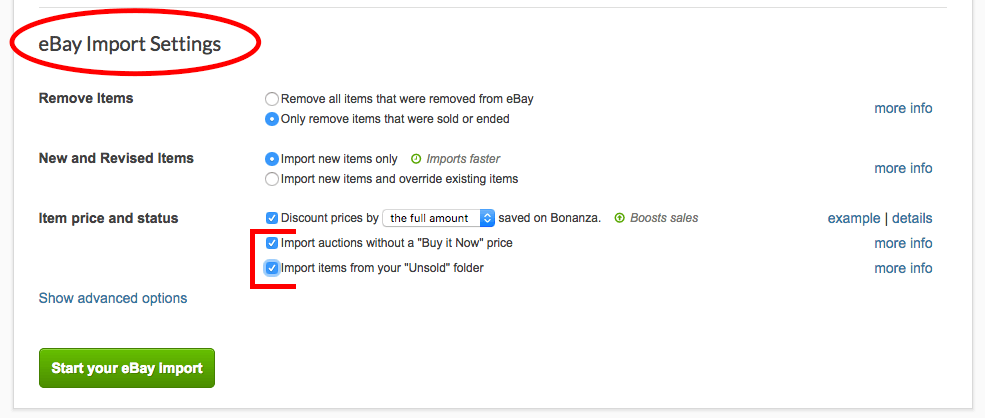 Source: https://www.shoplo.com/blog/bonanza-selling/
One of the considerable benefits for sellers is no fees needed to open a booth and list their products. Customers pay nothing for the listings until they sell. Bonanza collects only a small percentage from each sale, which explains why sellers love this online marketplace platform. Unlike Amazon and eBay, Bonanza final value fees start at 3.5%.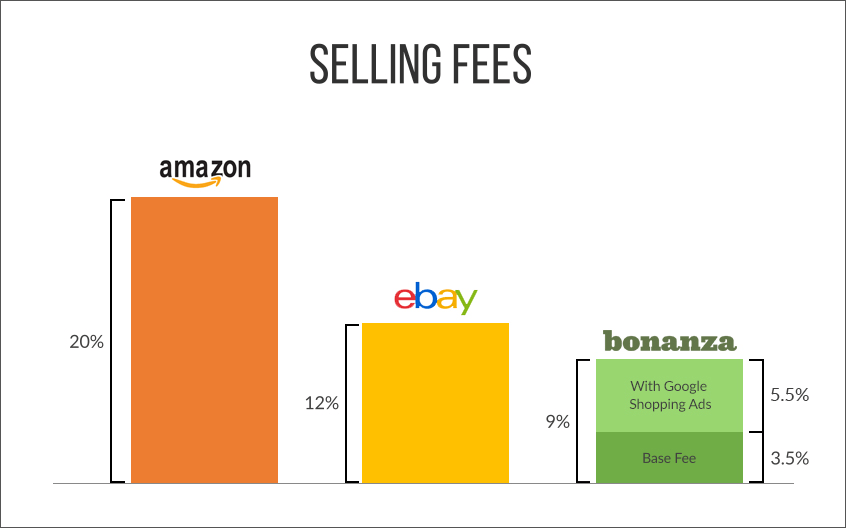 Source: https://support.bonanza.com/hc/en-us/articles/360001172731-How-Bonanza-Works
To sell successfully, pictures of the products have to be exceptional. But not all of the sellers have access to fashionable white backgrounds. Here is why Bonanza Background Burner can save the day. It is so easy to use and can come in handy to attract more customers. Simply upload a photo and remove what's in the back to make a product leap out.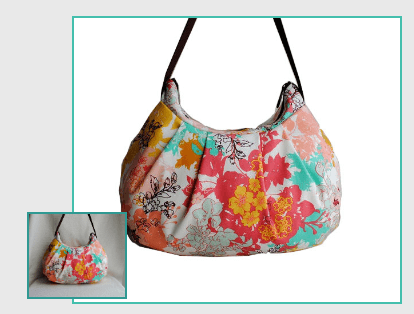 Source: https://burner.bonanza.com/
To help sellers display their products more effectively, Bonanza joined its forces with Coogle. For a fee of 5.5% users can get their Bonanza listings to be seen by more people in Google shopping adverts. That will improve their visibility among potential buyers and therefore lead to more sales. 
Read also 7 Outstanding B2B Food Marketplaces That Inspire
How to develop a buy and sell marketplace app
For your marketplace idea to be successful and widely accepted, it must solve real problems of your target audience. If it isn't the answer to some specific challenges, why should people use it? 
Therefore, the first step before plunging into your buy-and-sell marketplace app development is to research your market. That includes:
Defining your target audience

Outlining their needs

Analyzing your competitors

Creating strong value proposition
These simple steps will help you lay the solid foundation for your project. 
Being aware of the stages your customers have to go through and needs they may have while using an online marketplace platform brings us to the technical part of the question. How can you create a buying and selling app? What main functionality and features should it have to address the challenges of marketplace customers? 
From our experience as a web and mobile app development company, we know how to build an online marketplace clients will love using. Let's see what features and functions are must-have for a buy-and-sell marketplace development on one of our recent projects - Markid.
Our experience of Markid development - a marketplace app for buying and selling kid's gently used items
The idea for Markid came from parents who know from their own experience what the needs and challenges of modern families with children are. To address the needs of their target audience, the founder of Markid came to Apiko for a custom buy-and-sell marketplace development.
We helped to bring about the Markid app based on the following:
Unlike having an online shop and being a traditional retailer, a user base of a marketplace app is made out not only of buyers, but also of sellers. To make a name for your marketplace, you need to keep both sides satisfied with the appropriate features.
For sellers
Set up a personal account

Log in

Upload items for sale with prices, descriptions and photos

Get push notifications when a buyer sends an offer

Chat with buyers

In-app financial transactions

Ship your product
For buyers
Register

Log in

Search bar to find items you need

Add items to a shopping cart

Bookmark your favorite items

Follow your favorite sellers

Chat with a seller securely

Get push notifications about accepted/declined offers and purchases

Leave feedback about the seller

In-app financial transactions

Shipping options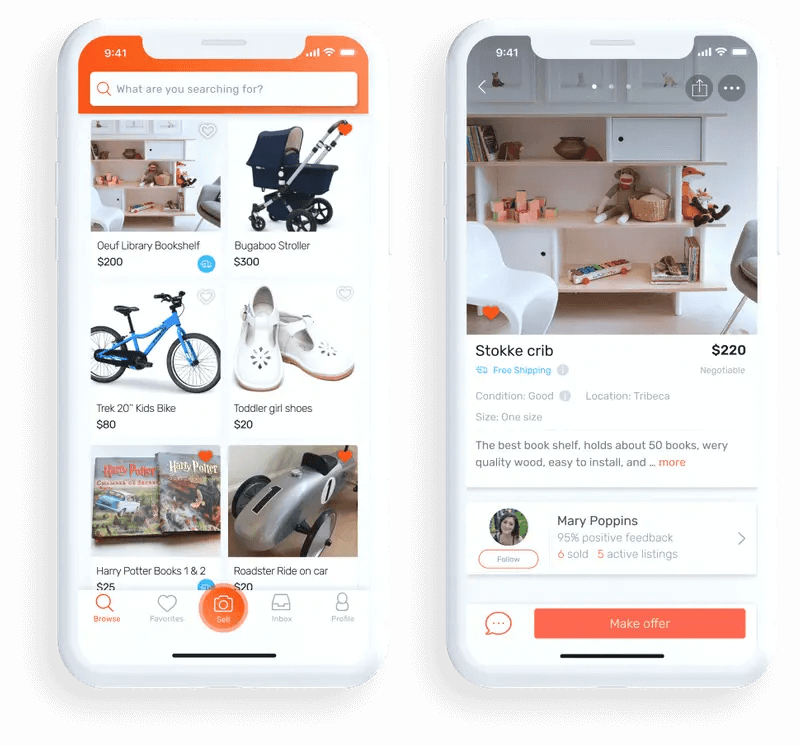 For a buy and sell marketplace development, UI/UX design plays an essential role. The platform has to be a recognizable and easy-to-use place where transactions happen. It should be centered around the user's needs and provide the user experience that best meets their demands. 
In the case with Markid, Apiko experts did their best to create an app design for selling and buying kid's products that is attractive and provides intuitive and smooth user flow.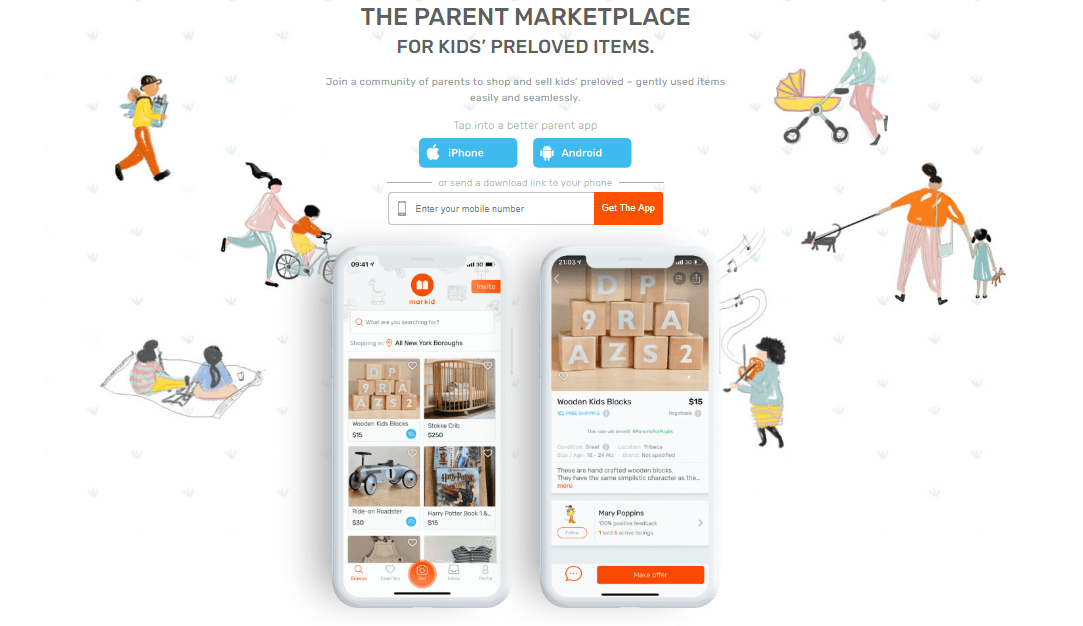 Choosing a technology stack means defining a set of tools that will be used in constructing and powering an application. That includes programming languages and frameworks which suit your requirements the most.
For the mobile app development of a Markid marketplace, we used React Native. It is a JavaScript framework that looks native on both iOS and Android. 
A cross-platform approach makes it possible for developers to use a single code base for different platforms instead of writing separate codes for each of them. It saves time and money but offers top-quality digital solutions. Such tech giants as Instagram, UberEats, and AirBnB have already taken advantage of this framework, so why don't you?

Source: https://reactnative.dev/
Now, to enrich your mobile app with additional functionality such as social login or geolocation, developers don't need to spend a lot of time building them from scratch. There are plenty of ready-made APIs you can integrate into your online marketplace from different platforms. The third-party system gets a request from your mobile app and sends the result back, allowing you to borrow its functionality.
The main integrations for a marketplace app such as Markid are:
Buy and sell marketplace app business model
There are five business models at your service:
One of the most popular monetization models is to charge a commission fee from each transaction on a marketplace. It is used by top buy-and-sell marketplace apps such as Rakuten, eBay, Etsy, Airbnb. This business model is also applied by Apiko to a Markid app.
Subscribing means that users pay fees for being a member and having access to the service monthly or annually. Amazon Prime and Netflix use this business model.
Whenever a seller posts new listings, a marketplace charges its fee. This model is great for such marketplaces as Etsy, where the more listings you have, the better your income becomes.
With this business model, sellers pay a fee to the marketplace to promote their products and get a more visible spot at the top. Featured listings are really popular especially on P2P marketplaces where buyers focus on a product, not on a vendor.
By allowing advertising on your online marketplace platform, third parties can post ads to promote their services or items.  The advertising models buy and sell marketplaces can use are:
Cost per impression (CPI)

Cost per click or pay per click (CPC/PPC)

Cost per period (daily, weekly, monthly)
How much does it cost to build a buy-and-sell marketplace?
The development cost depends on the number of features you want to implement and the hourly rates of the development team you choose. For example, in the US prices for app development range from $100 to $250 per hour, while in Eastern Europe where our development offices are situated, senior developers will cost you $40-$60 per hour.
Summing up
To build a successful buy-and-sell marketplace app, you should solve the real problems of your target audience. An attractive brand identity, combined with lean app performance and well-thought-out functionality, will ensure high demand for your online marketplace platform. 
If you are considering an online marketplace development for buying and selling products and are looking for help bringing it to reality, contact us now for a free consultation.