Digitization of Human Resource Management: Custom HR Software Development Services VS SaaS Systems [+Case Study]

As HR departments and their responsibilities grow, so do the capabilities of digital solutions. Tech innovations and HR software development open new opportunities for human resources, making processes more efficient and easy to use, saving lots of time and money. 
By automating previously manual HR operations with the help of advanced systems, such as HRIS, HCM, HRMS, Intranet portals, organizations can manage the intricacies of hiring, payroll, performance management, networking, and other staff-centered tasks much more effectively.
Considering the implementation of human resources management systems, there are two alternatives you can opt for - HR SaaS software or a custom-built solution. Here we will compare the prices needed for the adoption of these two options that can help you decide which one works best for you. 
Digital transformation in HR: How businesses benefit from HR software development
The HR management sector is experiencing a widespread digital transformation:
PwC HR Technology's Survey

states that 58% of businesses use HR technology to find, attract and retain talent. With automated hiring processes, fewer and fewer HR managers turn to traditional, paper-based methods. 

44 %

of HR leaders look at the cloud as a way to increase efficiency and productivity while

35%

consider the cloud a solution that helps reduce costs. 

Human resources management systems offer such savings and opportunities that 74% of companies plan to increase spending on HR technology. 

With the growing demand, the global HR software market is expected to reach and even surpass

$10 billion by 2022.

 
HR employee management software is a digital solution that allows companies to manage and optimize routine human resources tasks and implement their general HR goals. It enables confidential data storage and helps HR managers achieve better productivity by optimizing the way they allocate their time and resources.  
The evolution of diverse HR management tools opens the doors for organizations to complete their traditional HR processes and operations in a reduced time frame keeping the staff in mind.
While Human Resource Information Systems (HRIS), Human Resource Management Systems (HRMS), Human Capital Management (HCM), and employee intranet portals overload the market, it makes it harder for companies to choose the right human resource software for their needs. 
According to the PWC research, the common needs that Human Resource management tools meet are: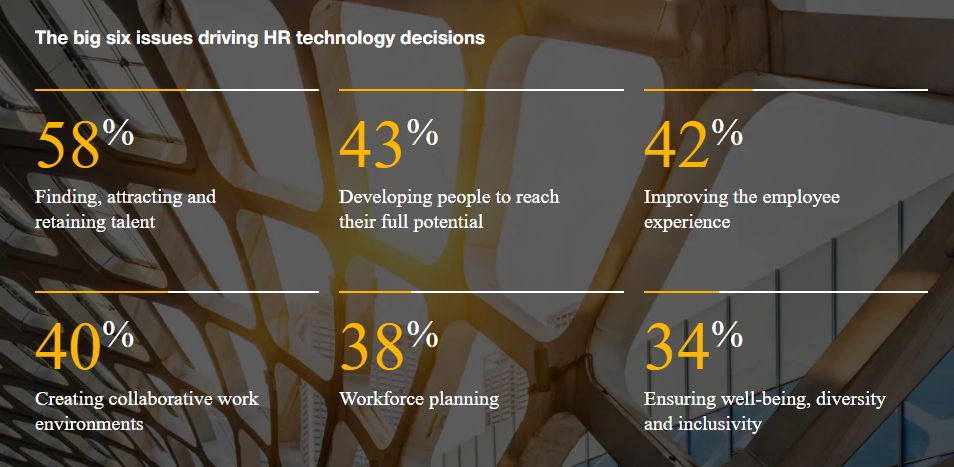 Apart from these, some other benefits from adopting HR employee management software are:
Reduced time spent on repetitive administrative tasks

Reduced errors

More effective organization of documents and employee data

Streamlined processes

Ensured fairness and compliance

Increased productivity
What are the main functions of an HR management system? 
Choosing an HR system with the features that are right for your business can be a challenging task. But with the proper features, HR software can greatly improve the efficiency of managing your staffing processes. 
The HR management software features include:
Secure employee data management 

Employee scheduling, including self-service for applicants and employees

Time and attendance tracking, leave management, monitoring vacations and sick days

Performance management and goal tracking

Employee portal for learning the company's news

Payroll and benefits administration that includes salary, rewards, and other types of compensation

Producing custom reports to provide strategic insight

Onboarding and recruiting automation

Automation of manual tasks, such as data entry, analysis, and compliance management

Third-party application integrations
All businesses are different and therefore have special needs and interests. To gain the most of the applied human resource apps, websites, or online systems, the companies must first of all identify their prime objectives and outline functionality that would meet their needs.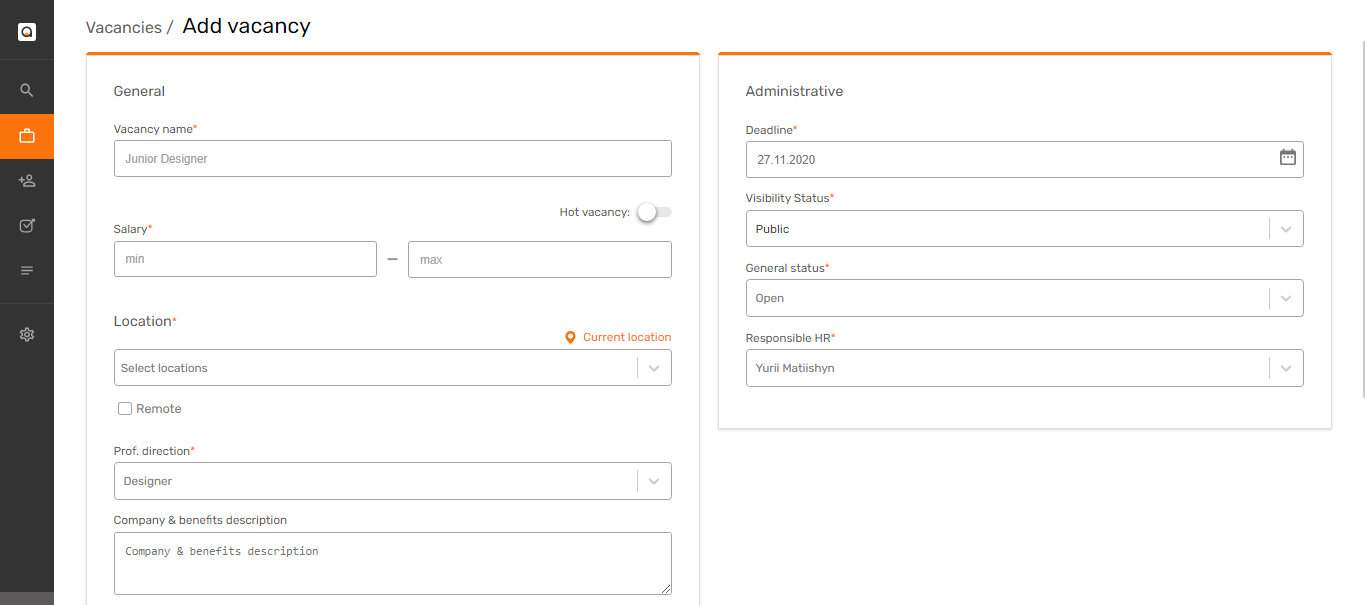 The choice of HR management software solutions is pretty extensive. There are many different SaaS HR systems available. However, there is a risk that if you go with a ready solution, you'll be limited by their functionality. In such cases, building HR software from scratch with the features and integrations that only your business needs can be the best option.
If you are wondering about custom HR software development and the costs associated with it, here we will compare the recent intranet solution we developed from scratch with human resource SaaS alternatives.
SaaS HR Software vs Custom HR Software: Which solution is best for you?
Let's look at the example of an HR solution - Corporate Employee Intranet Portal.
Intranet is a digital workplace that allows employees across the organization to easily keep in touch with each other. The corporate solution can double your team productivity by creating an environment that facilitates collaboration, communication, and cohesiveness. 
When a company has the ability to unite all of its administrative and project management tasks and responsibilities in one place, the entire organization's efficiency will undergo significant growth. Choosing the solution that encompasses the tools and systems which your company needs to make its operations more optimized and lean. 
The corporate intranet software includes the following features to manage employees' collaboration:
An employee intranet with a news feed allows workers to learn immediately about the company's latest news, activities, and events. Your staff can easily access the information about the new market tendencies, updates in each department, and recent accomplishments.
Such a solution manages your organization's social media without the need to adopt some additional programs. It also enables sharing likes, comments and mentions to keep your employees engaged and create an inclusive workplace culture. 
Establishing your own company intranet software means that you can easily create and have access to a database of employees. Building an organizational structure that is searchable and contains all the profiles of team members simplifies communication across the company and new hires. 
An employee intranet portal also can automate day-to-day business operations in your organization. You can use this digital tool to assign tasks, set deadlines, prioritize projects, and monitor your team's performance. In this way, you'll be able to organize and put in order the workflow in your digital workplace. 
The employee portal allows organizations to save time and money by keeping all this information in one place. Use this tech solution to administer goals, manage tasks, and control work progress efficiently and effortlessly.
Knowledge base allows employees to access their company knowledge in seconds, by browsing the base and filtering the results. Using knowledge base software like Helpjuice, all the learning materials or company information can be easily accessed by staff from here. 
To solve the problem of having countless documents stored on different computers and drives, intranet software allows companies to keep the files they need on a secure server. Employees can have access to those files from any device and will be able to edit or share this information with other team members.
Keep your employees notified and updated on what's going on in the organization. Notifications foster engagement and make sure no valuable information is missed. 
Team communication is highly valuable for an organization. For boosting team collaboration and employee engagement, the platform can have a chat or use an integration with an existing chat solution such as Slack.
Now, let's consider what the pricing plans are for different SaaS intranet solutions available in the market.
How much does HR software development cost: a SaaS employee intranet portal
According to the list of different SaaS intranet solutions compiled by Capterra Pricing Guide, the prices vary greatly depending on the functionality, pricing models (per user or per feature), the size of the organization, etc.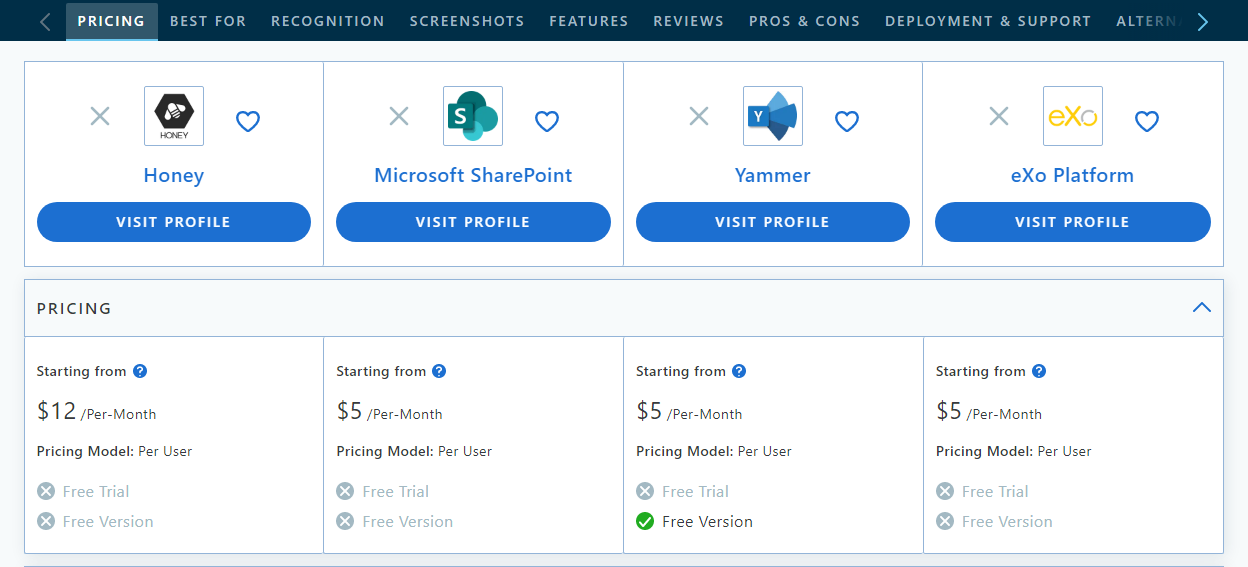 On average, the SaaS intranet solution will cost your company $5 per user per month. While this pricing plan may be great for small businesses, mid-sized or large-sized companies are in for large spending.
So, for example, a mid-sized business with five hundred employees decides to employ the SaaS intranet solution. Using the employee portal per month will cost $2,500, per year - $30,000, and per 5 years the costs will mount up to $150,000.
Using the ready intranet solution for an enterprise with one thousand workers will cost approximately $5,000 a month, for a year - $60,000, and for 5 years - $300,000.
Investing so much in a solution that has limited functionality, doesn't perfectly meet your business needs, or doesn't have the desired integrations can be a major deal-breaker. In this case, a custom-built employee portal is a much better option. 
Read on about our recent case - the custom employee portal development from scratch for a large business. 
A custom intranet solution built by Apiko from scratch for a Digital Transformation Service provider with 1300+ employees
The IT enterprise wanted to build an employee portal for keeping the workers in touch and automating the internal processes within the organization. The company reached Apiko for the development and design of an intranet social media platform for both web and mobile platforms.   
As a result of corporate intranet portal development, we provided our customer with:
A high-quality intranet platform with a reliable back-end and front-end code

Web and mobile social media platforms development 

All the desired functionality developed and implemented to meet the exact requirements and needs of our client.

Seamless integrations with third-party tools such as WorkDay, 7Geese, SmartRecruiters, OneLogin, and others.
The main functionality for building a comprehensive intranet solution that was requested by our client includes:
News feed

is a central point of social networking where employees can see a) company news, department news b) posts from individual employees c) thanks and recognitions, add reactions, post comments, and replies. The intranet portal also highlights automatic posts about new hires, promotions, birthdays, and anniversaries, allowing all the employees to express their best wishes and better connect. 

All critical integrations such as the company's CRM, SmartRecruiters, WorkDay, Slack, and other necessary third-party tools.
Knowledge base

with

Elasticsearch

, where employees can store, organize, and share handy information for professional growth in a centralized repository.

Notifications and email alerts for employees to celebrate their recognitions, accept or decline friend requests, keep track of meetings, and so on. They are generated automatically by the portal and are shown right on the platform interface, mobile app, or even sent by email for users not to miss a thing.
Employee profiles

with data such as education, work experience, career goals and hobbies/interests. The preliminary data is taken from integration with WorkDay. The employee profiles also include such information as files, tasks, calendars, meetings, posts, and others.

Career opportunities

let the company's employees keep an eye on new job openings in the organization. Users can find out all about the job openings available from a career link at the intranet portal main menu that will redirect them to the SmartRecruites tool to apply.
Technologies we used:
React Native, Node.js, TypeScript, Apollo, Selenium webdriver, AWS, Mongo DB, GraphQL, Rabbit MQ, MySQL
Intranet portal integrations:
7Geese

Work Day

Smart Recruiters

Slack

Happy Fox

OneLogin

TripActions
Apart from the main features, the development also includes the costs associated with project management, testing, bug fixing, and unique design. The price is therefore calculated based on the complexity of the features and the number of hours spent developing them. The simpler your solution is, the less it costs.
A custom-built and - designed intranet portal described above is a tailored solution with the advanced features and integrations, that's why the company needs to spend approximately $100,000 - $150,000 for its development from scratch.
Compared to the ready solution that costs your company approximately $30,000 - $60,000 a year, starting a custom solution development project may seem like a big investment in the beginning. However when you continue counting the expenses for a SaaS solution, each year the costs are getting much bigger, e.g. around $150,000-$300,000 per 5 years. 
These costs, however, may be invested in your own solution that exactly meets your business needs. While SaaS solutions can be cost-effective to start with, a custom-built digital platform is designed to achieve ongoing evolution, along with the company's growth.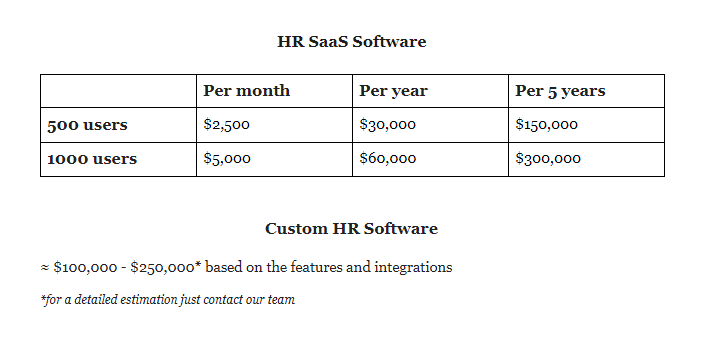 HR management software solutions: Selecting the right fit for your business
When choosing between SaaS and custom HR software, you should consider how much customization you need. The most valued benefit of custom software is that all unique features and requirements requested by a business owner will be met. Custom-built software enables businesses to easily change the functionality of the product as the company grows and its operations and needs change.
The price for building custom software mainly depends on the desired functionality. Without the right features and tools, businesses are not able to achieve their desired outcome. When the SaaS solutions can no longer meet your business's operational needs, it's time to consider custom software. 
If you need any technical help in optimizing or developing from scratch your HR software, our team can assist you in the process. Just reach out to us! 
Read also: