Enterprise Mobile App Development To Reinforce Your Business

Cutting-edge technologies are transforming the market even more than you could expect. They affect the way business is done, increase productivity, and make services we need much more accessible.
Today's world is overflowing with fierce competition. Digital transformation and enterprise mobile app development can make all the difference by changing how a company interacts with its customers, opening up new opportunities for monetizing services, and transforming internal processes. 
So, what are the prime elements you need to focus on when embarking on digital transformation?  What role do mobile enterprise applications play and how do the statistics establish the rising growth of mobility? We'll answer these and many other questions further, so stay tuned, there are a lot of insights ahead. 
Jump to a section:
What is enterprise digital transformation?
Enterprise digital transformation involves reshaping the way a business operates fundamentally through the implementation of innovative technologies. The process spreads even beyond technology innovation, as it requires a significant shift in organizational culture and challenges accepted norms. 
Introducing digital transformation in business might be twofold: the first basically disrupts an industry, requiring a major revamp of a company's business model. The second kind of impact, less dramatic, occurs when companies use digital to simply do the things they already do, only better, automate some routine processes and optimize the workflow.
Irrespective of which industry you deal with, there are a myriad of competitors hustling to kickstart their digital transformation efforts which have been lying in the backlog via implementing different technologies including mobile enterprise solutions. Merging your processes and communications with mobility, entrepreneurs have to focus on two key principles to preserve: adaptability and portability.
Here's what the stats say: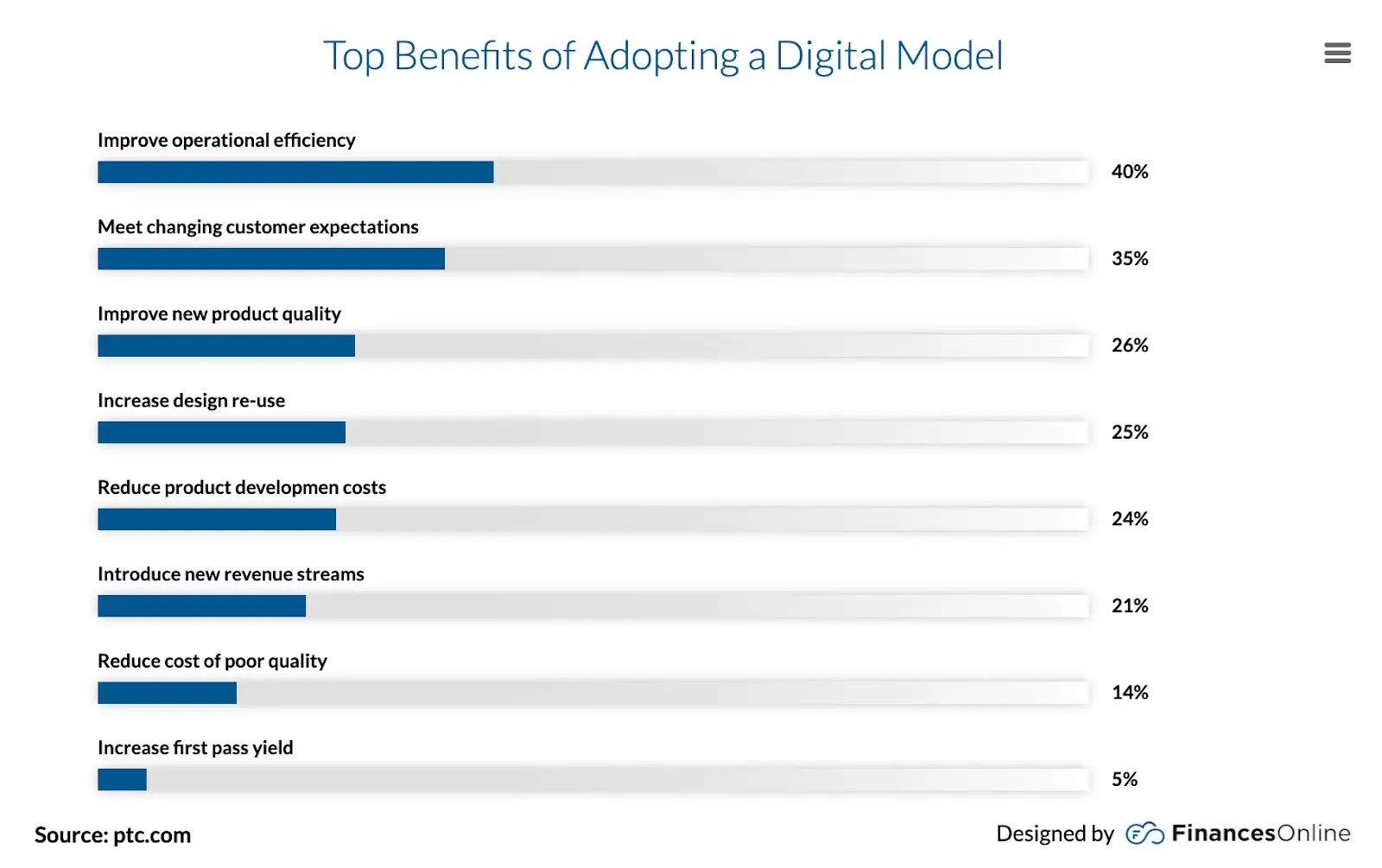 As reflected by the most current digital transformation statistics, mobile applications became a vivid part of integrating digital solutions into different areas of your business:
70% of companies

have a digital transformation strategy or are elaborating one.

60% of executives

believe that the IoT will become a crucial part of their digital business strategy.

Founders consider improvement of operational efficiency (40%), faster time to market (36%), and meeting customer expectations (35%)

to be top benefits of digitalization

.

41.4% of corporations

say they have a dedicated digital transformation team and outsource the process to development partners. 

In 2019, enterprises totally

spent $2 trillion

on digital transformation, while 40% of all technology spending is seen to be invested into modifying business operational processes. 

Top-notch B2B companies have reported a

10% to 20% cost reduction and revenue growth of 10% to 15%

as a result of transforming their customer experience procedures.

Founders can

increase revenue by 34%

after switching to digital-first strategies and optimizing the accepted workflow.

23.4% of executives

admit to being slow technology adopters, at the same time, IT, customer care, and marketing departments have been excelling in technology adoption.

Digital transformation market size is expected to grow from USD 469.8 billion in 2020 to

USD 1009.8 billion by 2025

.
Main benefits of enterprise mobile app development in digital transformation
Adopting a new digital model and prioritizing the usage of mobile applications is not an easy, but very profitable process that brings a lot of great prospects. Let's highlight and deeply analyze the benefits and barriers organizations face on the road to digitalization:
Enhanced customer experience
Integrated software solutions can be used to better understand your customers and get closer to them, dive into their pain points and help to resolve them. Moreover, automating tasks may significantly improve not only customer, but staff experience as well. For example, by integrating a chat-bot for responding to support tickets, customers will see much faster turnaround times, when your team members will cut down time and expenses needed for addressing common requests.
Data-driven decision making
Tap in the insights hidden in your data and make well-considered decisions, based on fundamental information analysis and quality intelligence. Human attention and memory spans are quite limited so that's where digitalization comes into the limelight to help you collect, record and proceed massive data sets. Such detailed reports, compiled in real-time help team leaders recognize patterns and identify opportunities for improvements.
Automating manual tasks, providing greater efficiency
A huge chunk of digital transformation revolves around enterprise mobility, that is a must-have. Leveraging innovative technologies, especially enterprise mobile applications for automating processes leads to greater efficiency, which in turn, reduces the workforce requirements and boosts cost-saving processes. Eliminating the tasks that are too time-consuming allows your staff to dedicate their time to mission-critical tasks that machines can't handle (creative processes, idea-generating etc.).
Improved flexibility and agility
Another advantage of digital transformation is a chance to break free of fragile, outdated legacy systems and embrace innovative, scalable, self-operated alternatives that do not require manual input. Modern software is easier to integrate so companies can forget about juggling a myriad of different tools and programs and connect all parts of the business to avoid the mistake of siloing data by department or function. 
Reliable security standards
As enterprises continue to grow and expand, their security standards have to evolve respectively. Backing up, maintaining, and protecting data locked in legacy systems is difficult and costly, moreover they are often prone to failure and vulnerable to cyberthreats. That's why market leading companies cannot rely on this functionality and guarantee that users' personal data will be intact. By switching to innovative, stable software systems, companies can better maintain and protect their data.  
Omnipresence
Digitalization opens you to a wider reach and omni-channel presence which provides customers with an access to your products or services from across the globe. During the fast changing era, digitizing your business offering plays a crucial role in conquer-the-market-strategy. According to Statista, about 148 billion apps were downloaded from the App Store and Play Store in 2021, and the number is projected to increase to 184 billion by the end of 2024.
Mobile app downloads worldwide from 2018 to 2024, by store (in billions).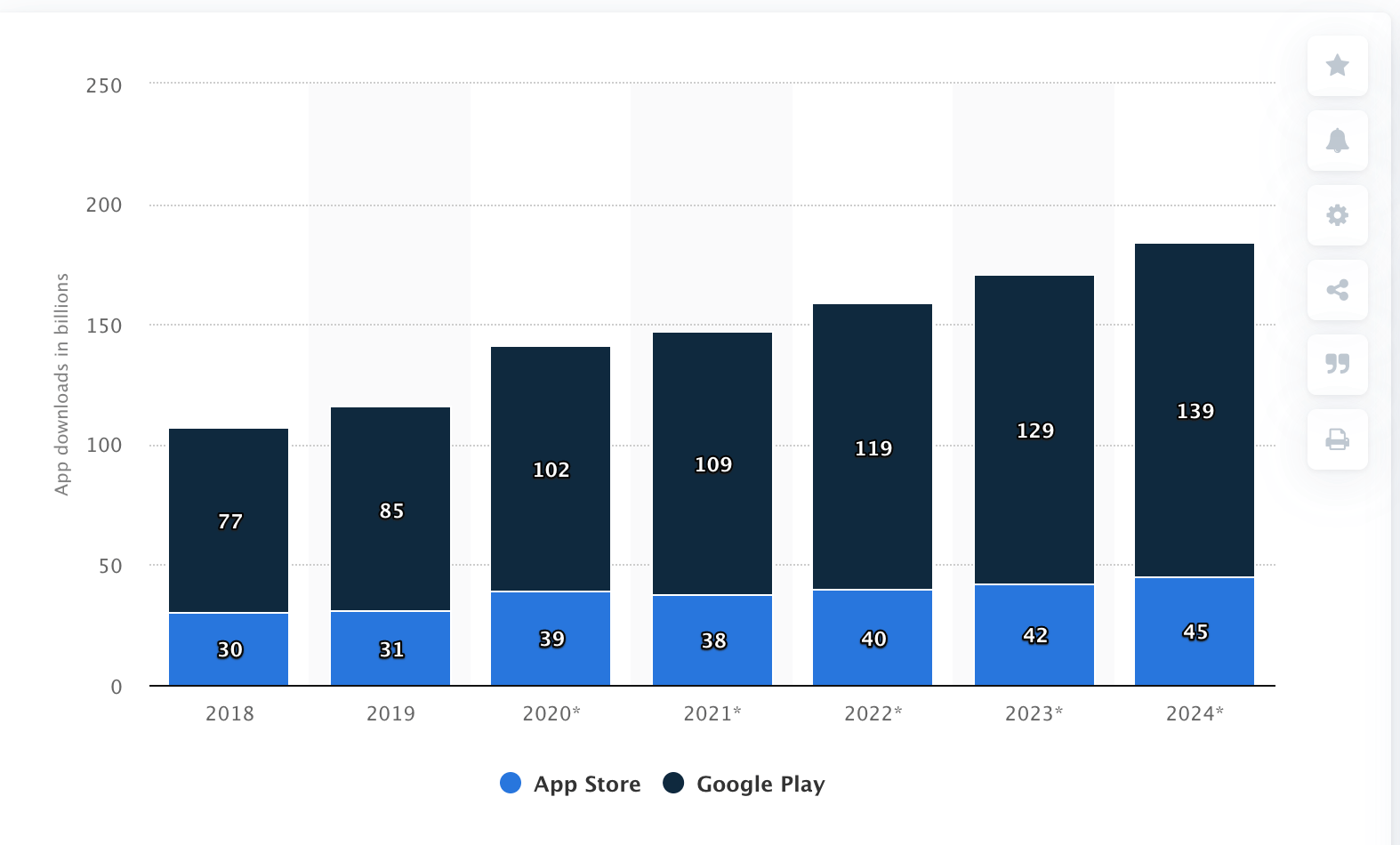 Advancing your digital transformation efforts with enterprise mobile apps development
Gone are the days when enterprises were supposed just to produce the product and services of a good-quality to thrive, today organic growth became a complex process. Meanwhile, enterprise mobile apps are transforming the working environment of the company and avail the following benefits: 
Enhanced RoI

Real-time data sharing

Higher productivity

Robust security

Seamless record maintenance

Better employee involvement

Effective communication

Easier engagement
Digital transformation initiatives have a massive impact on customers, but also on company employees and on the whole business process in general. So, what happens when mobile applications enter an organization?
This phenomenon is called enterprise mobility and makes the application market one of the fastest-growing industries and there are no signs of it slowing down in the future either. We picked up the top mobile app development trends which will certainly dominate the digital transformation industry this year:
Augmented reality
AR and VR totally blend the lines between the physical and digital world. They create a new way of interacting with customers, colleagues and the world around us. Often referred to as related technologies AR/VR have an enormous market potential that is only in the initial stages of unlocking.
Chatbots
Powered by natural language processing (NLP), chatbots are used to provide conversations between humans and computers in everyday business interactions. They bring deeper natural language understanding to not only accelerate search but also provide an entirely new way for employees to interact with corporate data and work more effectively.
M-commerce and mobile wallets
M-commerce app integration is a great additional value tool to engage customers and offer experiences. Any amount of investment to make an app, if done wisely, will be justified by customers' loyalty and increased value. Also, check your competition – if they have an app, you should probably too for faster purchases, better customer experience, direct connection via push notifications, user-tailored content, deeper analytics, cost reduction and productivity.
Intelligent business applications
The pandemic has shown many businesses their weaknesses and therefore accelerated their shift to a cloud-centric digital infrastructure and application services. These intelligent business applications will allow companies to connect their multiple physical locations and assets, and speed up time to market, by increasing business agility.
Enterprise mobile app development for A.Anthony Corp. case study
Anthony Corp. is a facility management company that leverages technological advancements to streamline operational processes. The organization helps businesses optimize their building operations and work order management with powerful digital solutions as well as highly skilled personnel. 
With over 20 years of experience and a growing network of services, A. Anthony Corp. is a leader in the industry. The company is actively engaged in the process of continuous improvement to achieve operational excellence, so that its clients can focus on what they do best.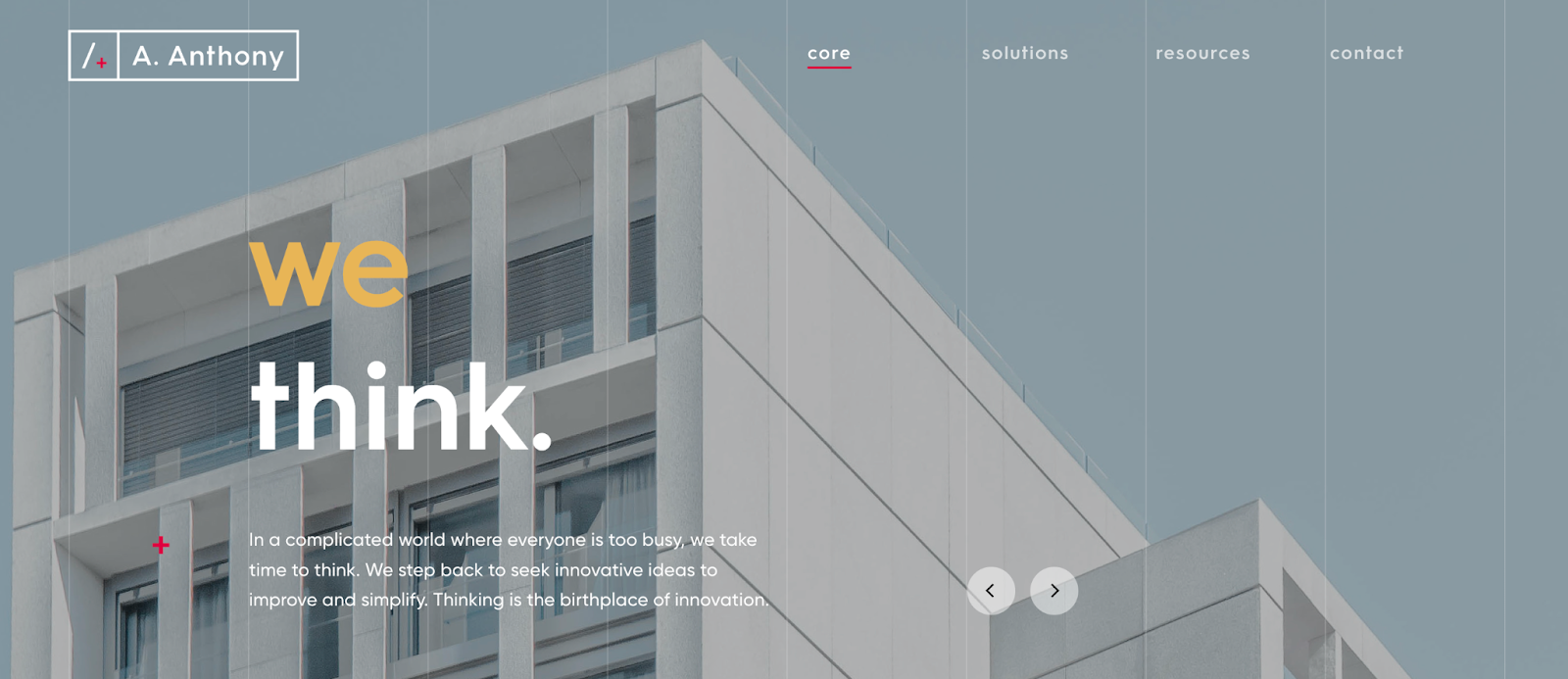 Challenge
Traditional ways of handling maintenance operations are rife with challenges and inefficiencies. Most companies have to deal with large amounts of paperwork when it comes to their facility management. 
To handle internal processes of organizations and eliminate the bottlenecks in building operations, Anthony Serdula, the founder of A. Anthony Corp. has engaged Apiko to build a custom facility management system. 
Solution
The idea behind this enterprise software solution was to automate the workflow between organizations and external service providers, who perform scheduled and emergency maintenance work at facilities. Its goal was to provide full transparency and accountability when a company deals with maintenance requests. 
Though the project started more than 16 years ago, it now needed a complete rebuild. Apiko helped AAC bring to life two innovative software products for different user roles: a Poly website, including a site for admins, and a Poly mobile app for technicians. Also, we've integrated a SaaS accounting module - Xero, however, due to the lack of flexibility, our team is actively working on the development of a custom solution, to arrange data into reports much more efficiently. 
Main functionality
When a company has some facility maintenance tasks, they can create work orders in the system, track the tasks' progress, manage invoices, and collect all the necessary reports in one place. The system is very flexible and can be adapted to any organization's size and workflow requirements. It integrates smoothly so that it works the way your business does.
This enterprise digital transformation consisted of adopting a Poly mobile app and a website.
This management system is used for creating, planning, and tracking maintenance tasks, as well as managing technicians, contractors, and subcontractors. It also includes an admin dashboard with a flexible system of permissions to control the quality of services provided, measure KPIs, and generate reports. 
The development of this enterprise mobile app was to enable technicians and managers to easily operate work orders, building services tasks and related processes. Its functionality allows users to:
Create, view, and search tasks with an advanced filtering system

Manually add time spent on work

Post updates inside each task to add any job information

Add consumables that were used during the work

Keep records of equipment and tools used during work

Delegate tasks (available to technician leads)

Change the status of tasks according to workflow (Queue, In Progress, On Hold, Completed, Canceled)

Basic individual and general performance statistics
Source: Apiko Portfolio - AACorp enterprise facility management app
Poly enables enterprises to better find, hire, and monitor the workflow of facility management service providers they've chosen. Such enterprise mobile app development provides companies with fully customizable and comprehensive products that automate manual tasks, save time and costs as they streamline the workflows. 
How to increase the digital transformation RoI for your business with enterprise mobile app development?
Being a complicated, multi-layered process, a digital transformation should be weighed in before making any decisions regarding it. On each level of growth and development, there's much you can benefit from after implementing enterprise mobile apps into your workflows. 
Shifting your existing processes to digital is for many companies a long journey, which requires rethinking how they do their business. Here we've compiled a list of the best practices of enterprise mobile apps development to capture the full potential of your digital transformation efforts:
Focus on your users' experiences. Building digital solutions that your users will find useful and easy to use starts with learning what your customers/  employees expect. Outline in your requirements how users will interact with your software, map out the full customer journey, from the first interaction to the final steps. User-friendly interface is all about knowing your users' needs and finding the best way to satisfy them. 
Plan your digital journey with business objectives in mind. Put your objectives first, not technologies. While businesses tend to focus on technologies and functionalities during their enterprise digitization efforts, it's vital to create the right digital workflows - for customers as well as employees. So, that technologies are aligned and boost your operations as well as users' experiences. 
Test your idea often and start early. While the business environment today is changing very quickly, you can't just take months and months of planning your digital transformation steps, and then implement new changes slowly, in small parts. Speed is important. You should try out your ideas, test them with customers early, and make changes as you go. 
Measure your digital outcomes. By defining the right metrics and timelines for achieving your goals, you can measure every aspect of your digital transformation and its overall progress, see weaknesses and what needs further improvements. Make sure your metrics are tangible and quantifiable, and link to your company's overall strategic goals.
Ensure digital transformation at an enterprise level. Though the investments in digital for each company differ, it still is not a small undertaking for a business. Therefore, it is vital to keep focus on an enterprise-wide perspective, how all your digital efforts will benefit your entire company in the long run. In that way, you will be able to balance your digital investments across each initiative and business unit, better plan ahead for future investments, and then move forward with your strategic plan toward the goal.
The rewards of digitally transforming your business and adopting technologies that streamline daily operations will be great, but companies embarking on the process should expect a long and complex process. Therefore it is also vital to choose a reliable technical partner and measure each step of the way. If you have any questions or need any technical assistance, don't hesitate to get in touch with us!