Flic Smart Button App Development Use Cases

A wireless button, which you can use to create a shortcut to your favourite actions on a smartphone. Sounds good? With Flic smart buttons it's never been easier to control your smart home, find your phone or manage your routines. And it can do even much more. 
Read on to find out what a smart button is, how companies use it with their own apps and systems, and how you can customize the button to suit your own business needs.
What is flic?
Flic is a smart button, which you can use to control apps, devices and services. It is small and wireless, and its main benefit is that you can perform different operations with a simple press of a physical button instead of using different apps or voice commands. 
Flic buttons are easy to set up in the mobile app

Simple to use: control anything with a press

Can be stuck anywhere you want - in the car, on the walls, or carried around in your pocket
How do I use Flic? 
Flic buttons can be configured in the Flic app. You can trigger the smart button in three ways: push, double push, and hold. So in the app, choose what will happen when the button is activated and each of these actions is triggered.  You can even select a whole routine to happen in a row on each push. So as you see, the Flic button offers endless possibilities and combinations. 

How can you use your flic button?
The Flic button is very versatile. 
As it is a fairly new concept, known opportunities for its use are only scratching the surface of how many things it can really do. The most common way people use this tool is to automate routine tasks at their homes. In this way, the smart button allows you to get rid of a number of apps or complicated voice commands and structure your life in a new, automated way. 
You can configure them to control smart lights such as Philips Hue, LIFX, and IKEA Trådfri; to control music systems like Spotify and SONOS; to run smart home routines (now possible to use with Alexa and Apple Home Kit); to control third-party devices, and much, much more.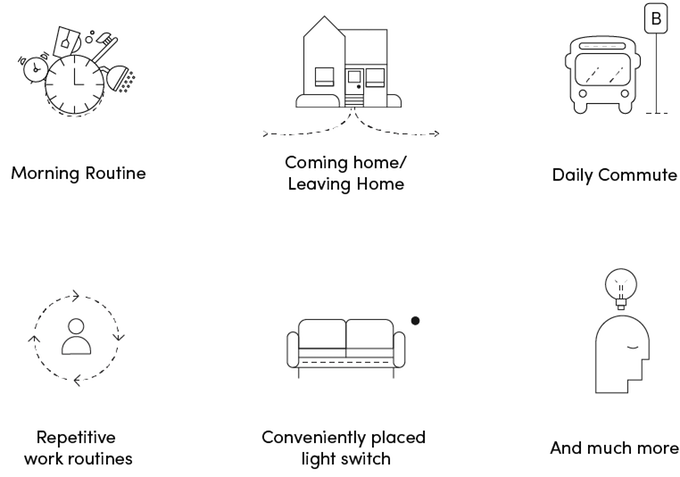 There are thousands of different things that our community can use Flic shortcuts for. Because of all the benefits that it offers, many companies have started to use Flic buttons to control their own apps and systems. Let's look at some of the most interesting use cases.
Use cases: How companies customize Flic smart buttons
Apart from making your home smart, turning on/off washing machines, TVs, lights and many other things, with the Flic button you can get really creative. Here are some examples of companies that took advantage of this modern tech solution to improve the lives of their customers.
Police department innovations: activating body cameras with a smart button 
One more amazing example of using flic to automate routine tasks is shown by Altona's (Manitoba, Canada) police department. Their deputies are now able to turn on/off body cameras with a click of a Flic button which makes it much easier for them to film whenever there is a need. 
For investigators it is vital to have video footage from crime scenes, so wearing body cameras that can be so easily launched is a valuable finding. Having a Flic button close at hand allows easier access to the app which starts recording immediately after a press. Videos are automatically stored in the cloud system for 180 days by default or can be manually chosen to have an indefinite period of keeping.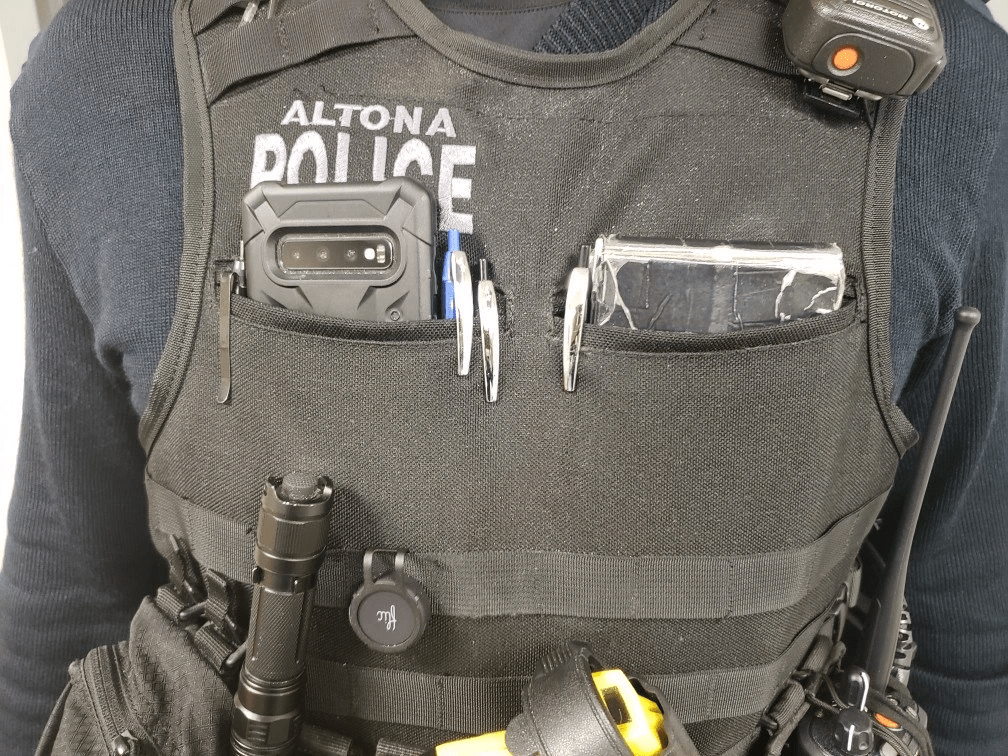 Source: https://globalnews.ca/news/7661948/altona-police-body-cameras/
EnduroRally24 is the largest enduro event in Poland. As it is a motorcycle sport run on cross-road, off-road courses, there are many obstacles and challenges which can be hard to navigate without a roadbook. 
Therefore the organizers of the event created a mobile app called Easy Rally to replace printed road books with digital ones. To control the sports mobile app without touching the screen, the top management decided to add an accessory - a flic button - that would allow access to the app functions while driving or wearing gloves. What the button does is it triggers a scroll through the road book and operate the trip meter.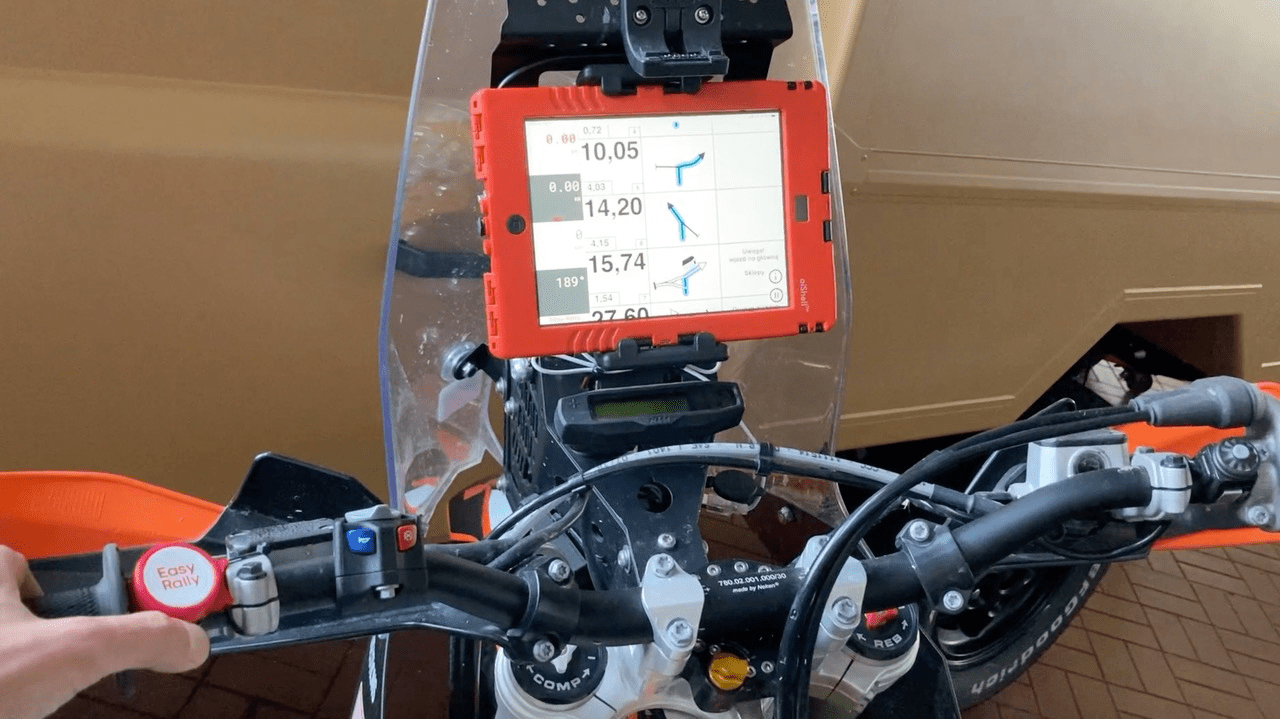 Source: https://flic.io/blog/enduro-rally-smart-buttons-for-easier-rally-recording
Music app: automating performance on stage 
OnSong is a mobile app for musicians to help them be as confident and efficient as possible during their performances. An original idea behind the app was to allow OnSong's President worship team to eliminate the need for carrying large binders of paper chord charts and replace them with the digital ones. 
Now, OnSong has grown to assist musicians of all kinds, helping them import, store, and edit their chord charts on iPads. An additional bonus to the app is a Bluetooth foot pedal that allows performers to use different functions of OnSong hands-free. 
However, due to its larger size and occasional troubles with placement, some musicians prefer to use a Flic button with the app. It is small and mobile enough to fit anywhere, even on the instrument, so with a quick press or double-tap of your finger, turning pages, starting or stopping backing tracks and a metronome are now possible as well as numerous other customizable actions.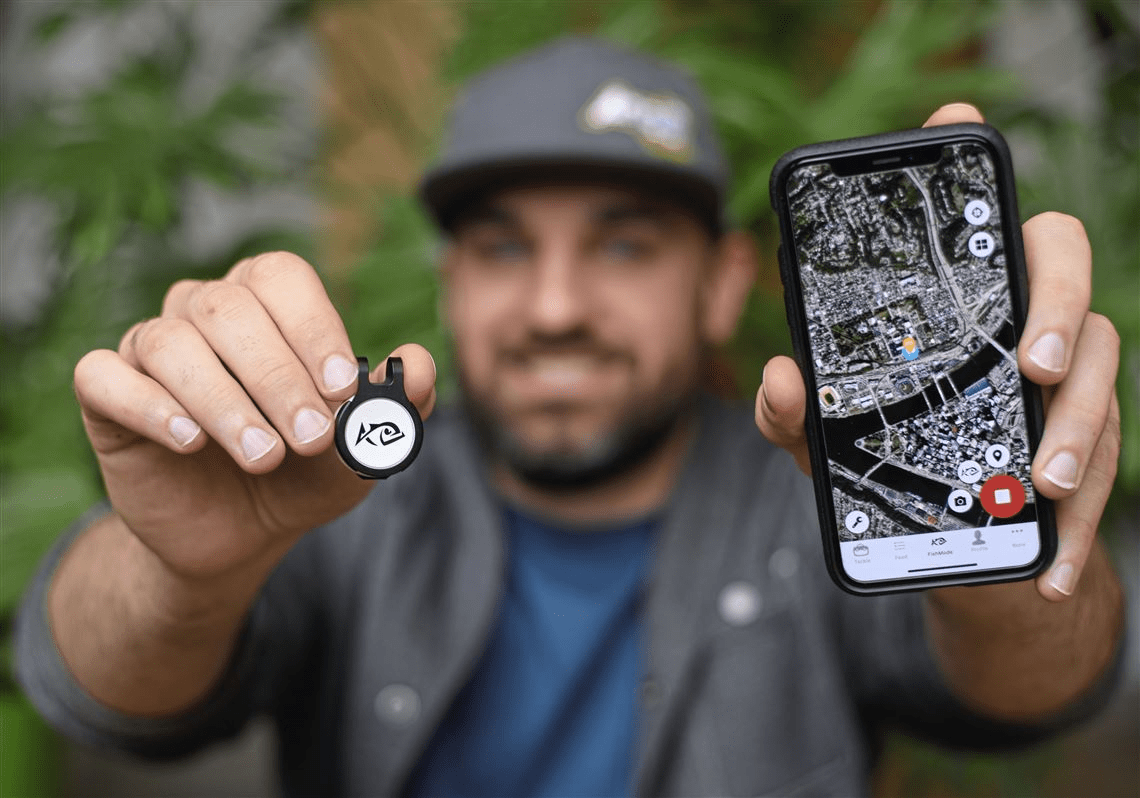 Source: https://flic.io/blog/smart-fishing-anglr
Innovative handbags: merging technology with fashion
Bee & Kin is a brand of luxury handbags and accessories with an ambitious vision. They offer both a fashionable and functional experience to people who lead a dynamic lifestyle. Using only the finest materials and the best shapes, their goal is to make life as convenient as possible.
To accomplish this mission, Bee & Kin founder - Tracey Hummel - wanted to find a tech solution perfectly suited to help people be more present without the need to always reach for their smartphones. After reading about a Flic smart button in a technology magazine, Tracey realized that many of its functionalities, like "find my phone" or "start a Spotify playlist", would be amazing to have in a bag. Since 2018, the partnership has been evolving and simplifying the lives of many Bee & Kin handbag owners.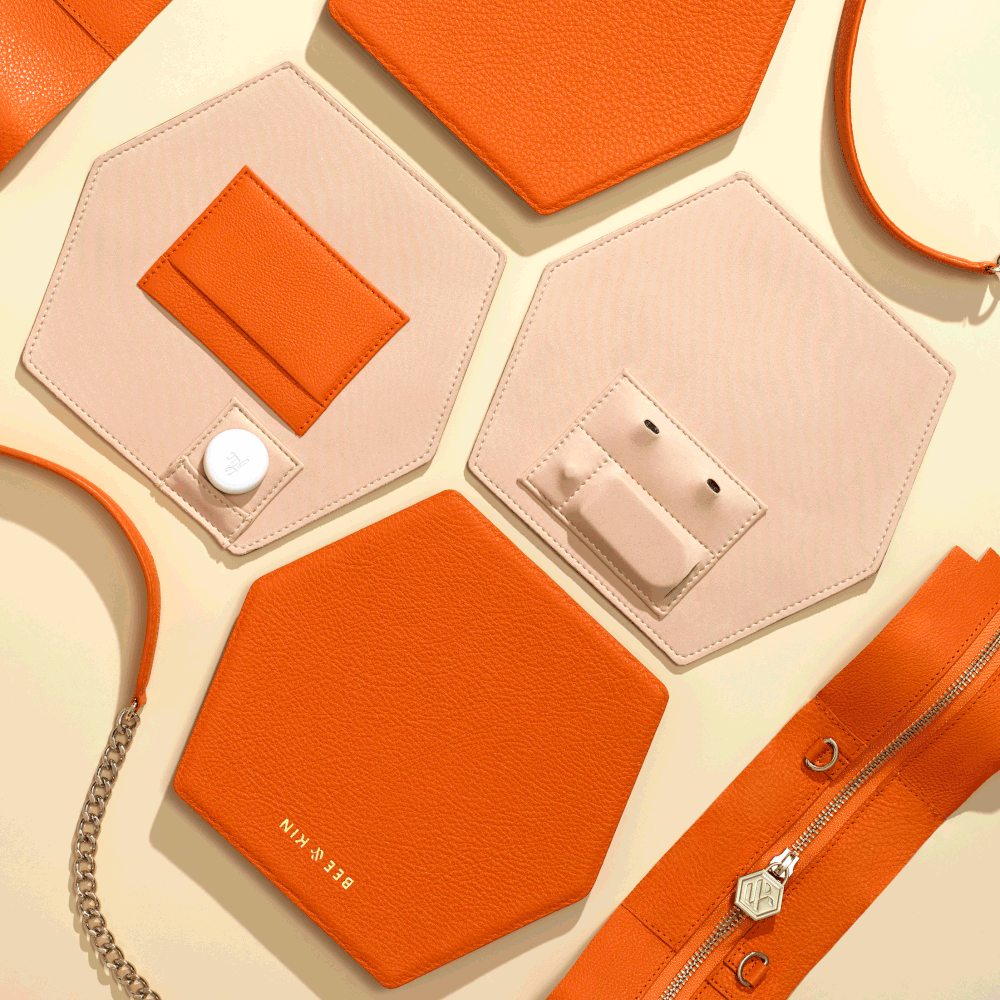 Source: https://flic.io/blog/bee-kin
To get the most out of your working days and create an automated workflow, Microsoft formed a long-term partnership with a Flic smart button. Together they set out on a mission to simplify the workspace and help users achieve more with less effort. 
For those not familiar with Microsoft flow, it is a suite of automated flows that creates even more possibilities when combined with a programmable Bluetooth button such as Flic. It provides full access to the Microsoft Suite and 100+ other services to synchronize files, collect data, send messages, and more. 
One of the most popular templates for automating routine tasks with Microsoft flow is tracking working hours with a smart button. However, there are lots of other options to customize your button as you need. 
Check out more templates here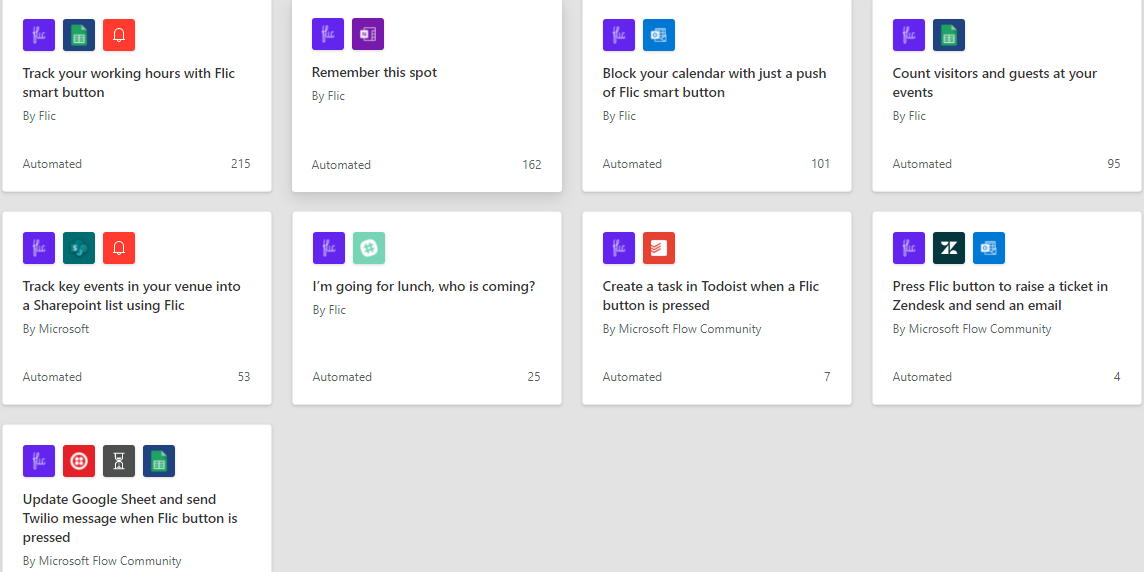 Domino's pizza: simple food ordering app cooperation with a Flic smart button
To simplify your favourite pizza ordering, Domino's teamed up with a Flic smart button and created the Easy Order function available in the U.K. In this modern age, it's not a problem anymore if you want to save some extra time off the purchasing process. 
Domino's have made it possible to order pizza with just one click. They paired a physical programmable button with a mobile app, where you can save your favourite pizza, payment details and address. So whenever you hit the Flic button, your order will be on its way to you.
Apart from the physical button, Domino's have also developed a virtual one, which you can instantly reach from their website.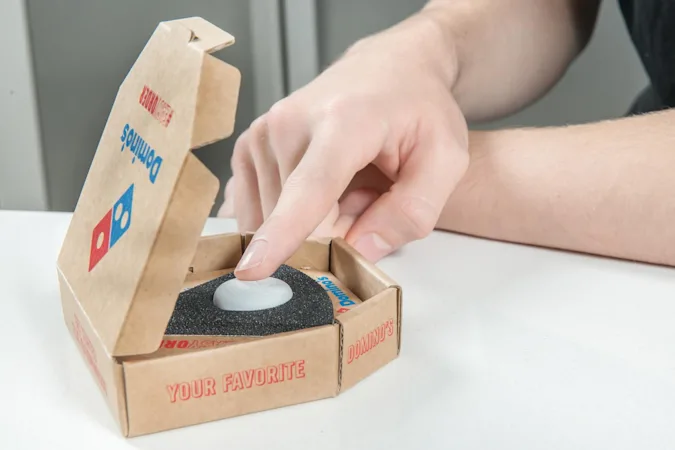 Source: https://www.engadget.com/2015-11-23-dominos-easy-order-button.html
USSA: financial innovation and digital transformation of banking services
Who said that banking services can't be creative and fun? USAA designed an innovative tool to help people set aside a little money each day. It was a part of an experiment, meant to encourage USAA bank customers to think about their savings and make it a habit.
A small device, a programmable bluetooth button that transfers money from your checking account into savings, can be placed in a car, on top of the microwave, simply wherever you want. Just press it once for a $1 transfer, twice for an additional $2 transfer, and up to $10 per day.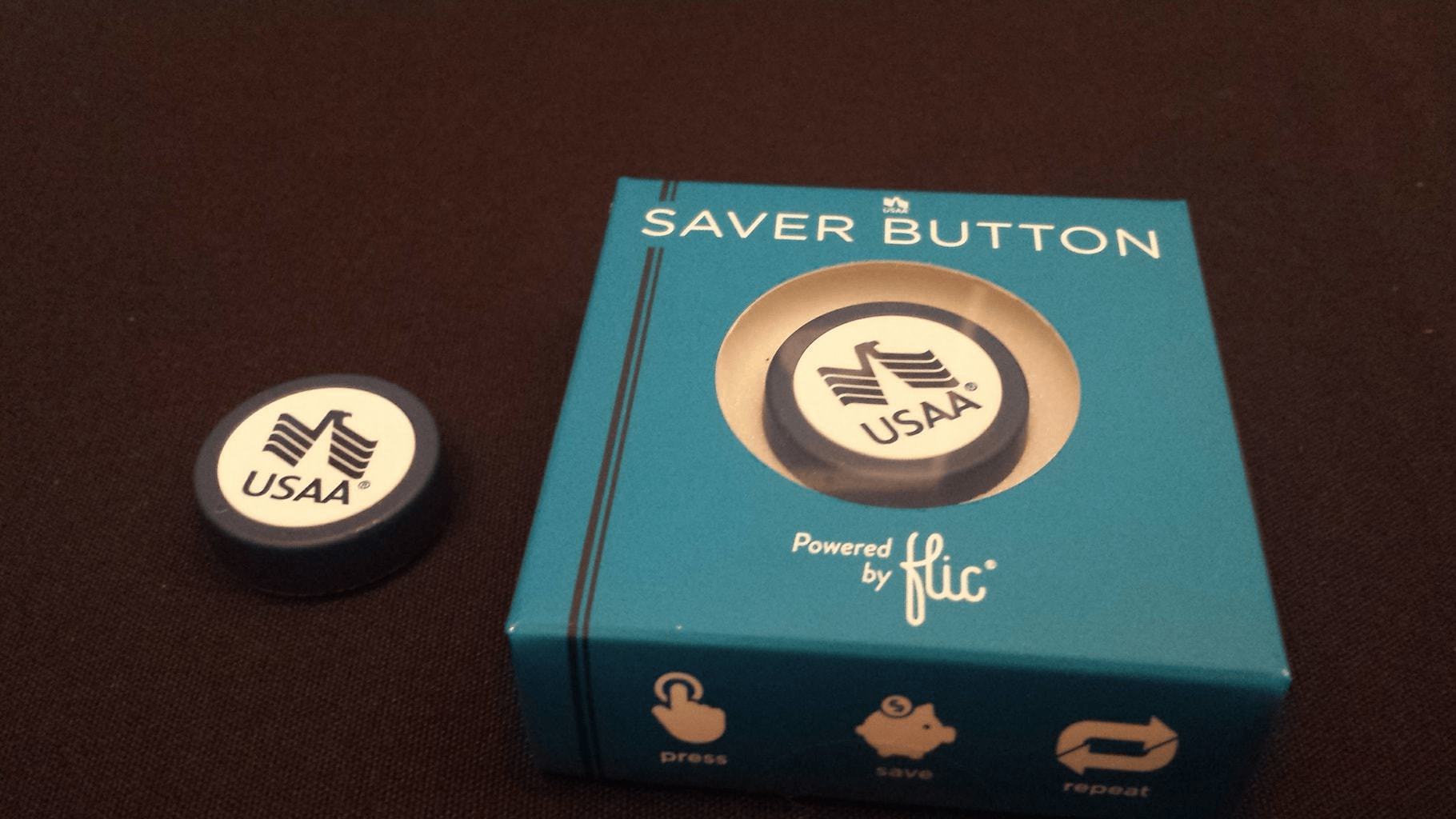 Source: https://militarymoneymanual.com/financial-innovation-usaa-digimilex/
And it's just the beginning. 
Flic button app development: possible integrations and uses
There is already a great number of integrations available for use in the Flic App. With third-party services such as IFTTT, Zapier, Spotify, Slack, and many others, almost anything is possible.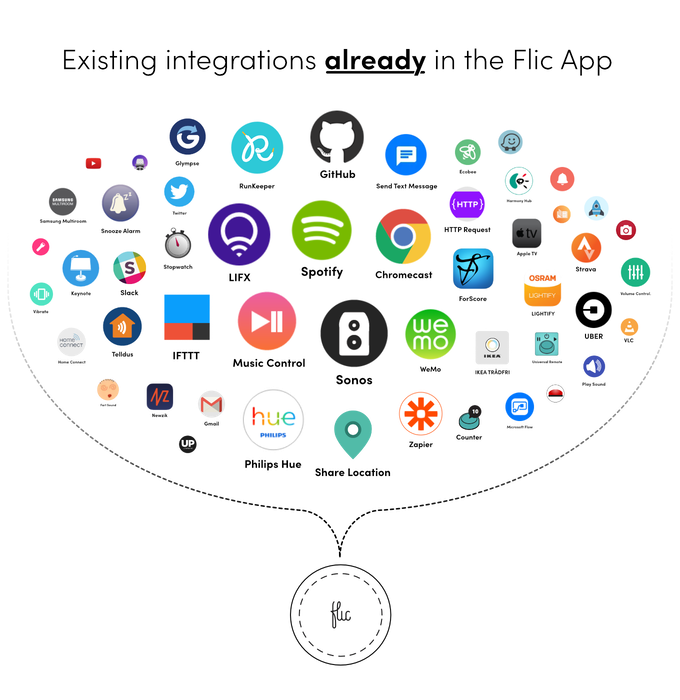 With the easily programmable bluetooth button, you can create powerful combinations or simple life shortcuts. To get the most of your Flic smart button and find fresh ideas, explore all of the integrations and possible functions here.
For the advanced creative who want to improve their existing project or start a new business idea, there are endless possibilities with Flic Hub Javascript SDK. It allows you to integrate Flic buttons directly to your app or business system, even create your own branded design.
Source: https://flic.io/business
Based on your business needs, the Flic button is highly customizable and can be adapted to almost any use case or application. Whether it's an age tech marketplace, where older adults are in need of a helper, a food ordering app, location tracking software for finding the lost things or for safety reasons, a smart button can be a true godsend. 
Have an idea for a Flic button app development? Our expert mobile app development team can build and customize software solutions with smart buttons for projects of any type. Just drop us a line!