8 Mobile Onboarding Best Practices That Drive User Retention

When was the last time you downloaded an app and didn't even make it through the onboarding process? Or perhaps you did complete it, only to realize that you still struggled to do what you wanted to do with the app? Chances are, that app fell into the unfortunate 25% of apps that are abandoned after just one use. 
This grim statistic underscores a crucial point: for a mobile app, the first impression is everything. No matter how feature-rich or unique your app may be, if users become frustrated during the application onboarding process, they might never experience all those features you made for them. 
In this article, we'll explore what mobile app user onboarding is and describe the most usable mobile onboarding best practices. To illustrate these concepts in action, we'll use a real-world example from our client's banking app. In this case, we managed to reduce the complex onboarding process from several hours to a mere 4 minutes. Let's dive in! 
What is mobile app onboarding?
Onboarding is the process of teaching users to use an app to solve their problems and satisfy their needs. The idea is to show the app's intrinsic value to new users. Typically, mobile onboarding includes login/registration, welcoming pages, and specialized educational screens that show and explain the main features. 
The goal of effective onboarding is to allow users to do what they want to do with your app without any delays or complexities. This mobile app user guidance creates a good first impression and lays the foundation for effective retention and higher app user satisfaction. 
Why do you need effective onboarding?
According to Google, user onboarding starts in the app store and ends with the user taking the first in-app action correlated with retention. Why is this period so important? 
Well, the first 3-7 days after downloading an app is the window during which users decide whether to abandon or continue using your app. If you provide one of the best app onboarding experiences in your niche, users will be more likely to stay for the long haul. The goal of your onboarding should be capturing users' interest during this critical initial period. 
A strong mobile app onboarding process encourages users to perform actions that are known to boost initial engagement and long-term retention. For example, if you have a plant care app, you should encourage users to search and add their plants to the app. You can analyze historic in-app behavior to find those key actions that are closely correlated with user retention. 
The length of onboarding may vary depending on the app's nature, though. For example, Slack found that when an organization exchanged 2000 messages, they were 93% more likely to stick around. This means that onboarding doesn't conclude when a user merely signs up but when there's a reliable indicator that they are likely to stay for the long run. Ultimately, the goal of onboarding is to keep users coming back for more. 
Let's keep in touch
Want to retain customers with effective onboarding UX? Schedule a call with the Apiko team to get a professional IT consultation.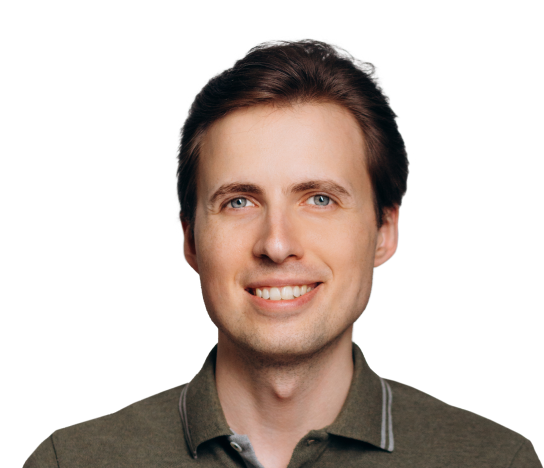 Mobile onboarding best practices
Designing an effective onboarding experience consists of three phases: planning, onboarding app design, and measurement and testing. We will guide you through the best practices for each of these phases. 
Gather data
The rule of user-centric app design is simple: if you don't know your customers, you can't provide a good onboarding mobile app experience. You need to understand what users want from your product and what makes them satisfied. Conduct interviews, open-ended surveys, or focus groups to acquire this qualitative data.
The rule of thumb is to target ideal customers who are enthusiastic about your product. This will make sure that the collected insights align with your target audience. As a result, you will be able to tailor your onboarding to the customers you truly seek to attract.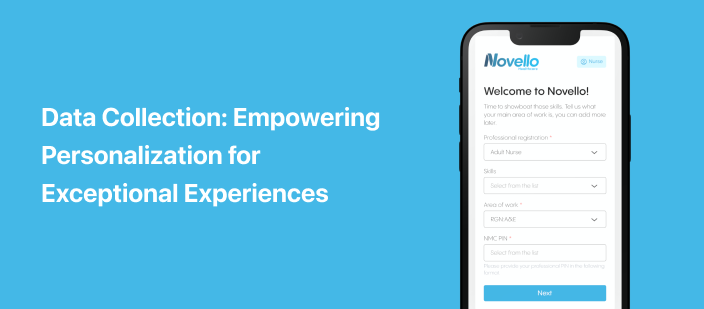 Identify customer touchpoints and sources of friction
Customer touchpoints are all customer interactions with your app. When you map out customer touchpoints, you gain a big-picture view that helps you see where users might run into issues. 
For example, new customers might have trouble finding important features. Instead of removing these features, you can think about ways to make these features more accessible and understandable through the onboarding flow UX.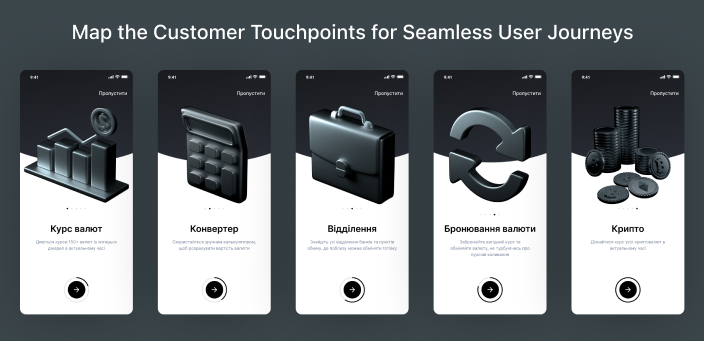 Personalize
Personalize onboarding if your app offers multiple products or caters to different target audiences. Personalized onboarding mobile app design adjusts the experience of your new customers based on their roles or desired outcomes. It allows users to select their preferred course of action, which leads to distinct initial experiences. To make user segmentation work, use the data collected during the sign-up, or allow users to choose their own path. 
One of the great mobile app onboarding examples is Duolingo. Duolingo structures onboarding based on the amount of time the user has for studying the language and their learning goals. This makes sure that users receive personalized and relevant initial experiences, which results in higher engagement and faster time-to-value rates.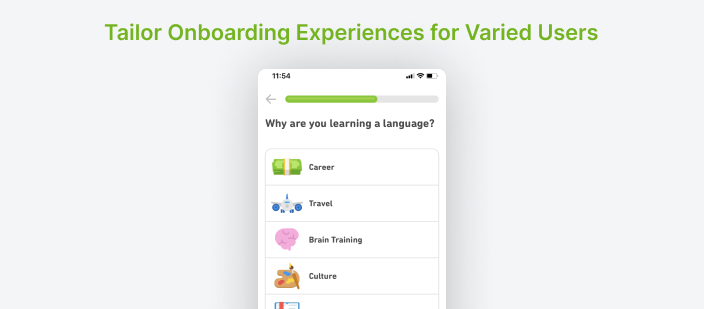 Simplify sign-up
The sign-up process can be simple or complex, depending on the nature of the app and its security demands. But you can always simplify the sign-up even in the most challenging cases. For example, you can allow users to sign up with their existing Google, Facebook, or Apple accounts. This reduces sign-up to a couple of steps. 
Another good approach is progressive profiling. Don't exhaust users with a registration form that has a ton of fields. Instead, collect only minimal information, and gradually gather additional user details over time.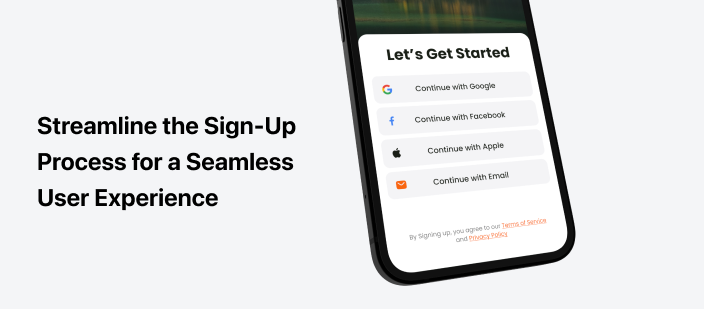 Use tooltips and checklists
Checklists and tooltips are some of the best mobile app onboarding tools.
Checklists help users stay organized and motivated as they complete tasks. It's best to keep checklists short and include a progress bar. To make it even easier for users, you can pre-fill the checklist with actions they've already accomplished. 
Tooltips provide users with helpful, context-specific information as they navigate your product. One of the most popular uses of tooltips is to combine them into a mobile app walkthrough – a sequence of tooltips that familiarizes a new user with the essential features of your product.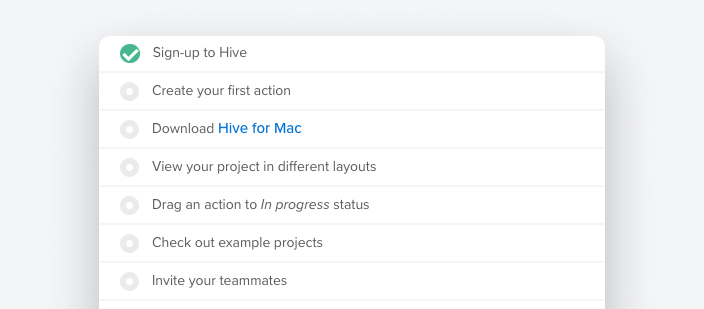 Gamify
One of the great app user engagement strategies is to use elements from game design. Most users enjoy accumulating points, unlocking levels, and receiving awards. You don't even have to give the users the real thing: often, the sense of achievement itself is the greatest reward. 
The most common way to reward your users are various badges, which users earn when they complete a task or reach a milestone. The point of gamification is to make onboarding more enjoyable, which is especially useful if your onboarding is rather lengthy.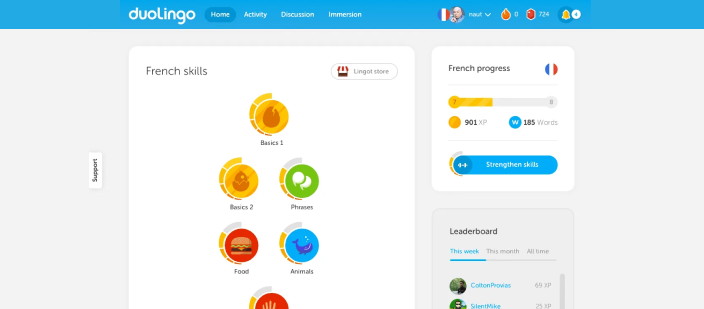 Do A/B tests
A/B testing is a type of onboarding flow analysis where you expose users to two design variants (different background images, font sizes, CTAs, etc). The point is to determine which variant is better at getting users to take the desired action. The most successful variant wins and should be integrated, while the alternative is typically discarded. 
Some of the onboarding UX design tests you can perform: 
Highlight or hide specific features

Tests of animations and micro-interactions

Tests of the efficiency of social login options

Comparison of the effectiveness of product tours

Determining the minimum number of screens and information needed to deliver value.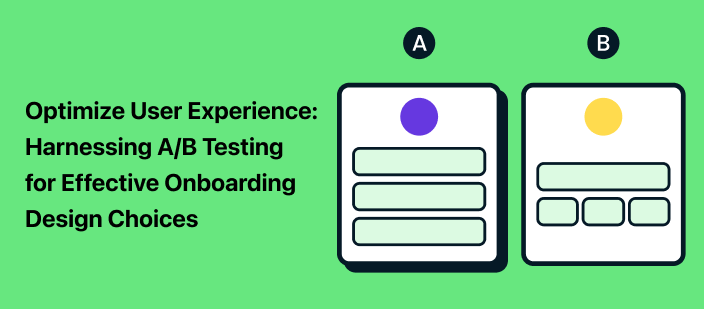 Do usability tests
Usability tests allow real users to interact with your product, identify usability issues, and provide valuable feedback. The goal is to gather users' perspectives and interactions through observations, interviews, or questionnaires. You can use various methods and tools for user testing, depending on your budget, timeline, and resources. 
For example, during the in-person testing, you invite participants to your location for direct observation of their actions. Alternatively, you can use remote online platforms to gather user feedback.
Each method has its own pros and cons. In-person testing is usually more informative but takes a lot of time. Remote testing can be less accurate but is much less resource-demanding. 
Case study: banking app mobile onboarding
An international bank initially approached Apiko for a visual update of their client app. However, as our development team delved into the project, it became apparent that the app contained multiple mobile onboarding mistakes that prevented many users from successful completion of onboarding. 
What started as a mere design refresh turned into a comprehensive fintech app development effort. While retaining the core of the app activation flow, our team introduced numerous UX improvements to keep the users on the right path. The outcome of mobile app interface enhancement was remarkable, with the average onboarding completion time slashed from several hours to a mere 4 minutes. 
Some of the general improvements include: 
Developed design system

Integrated progress bar that allows users to know the number of steps left

Improved validation by selfie

More interactive and animated screens

Questionnaire separated into several blocks instead of one screen with many fields

Password settings and rules improved with interactive prompts

Added biometrics to the flow

Clearly separated flow of registration and authorization

Improved password recovery
The team also created mobile app onboarding screens for multiple unaddressed user pathways, such as: 
If the user clicks that he/she does not remember the password, they are now redirected to the contact center

If the user exits the application while waiting, the app sends a push to complete the process

If the user fails to identify after 3 attempts, the app asks them to start from the beginning, while using dynamic prompts to keep them on the right path. 

If there is a technical error after signing, and the bank cannot solve it, the app offers the client another onboarding.

If the client's documents are rejected for some reason, the app shows the screen "Contact the bank department".
"They were adaptive to feedback and showed fast design processes and good communication."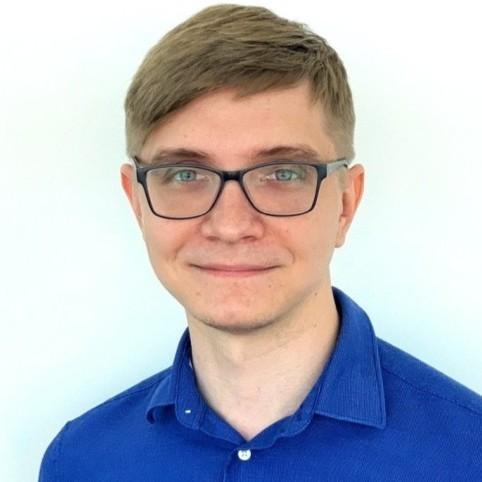 Vladyslav Kudrych
Product Manager, Treeum LTD
Why opt for custom development?
Our client's app onboarding had multiple problems, but our development team drastically improved the UX and UI design, as well as overall onboarding quality. Yet, getting the best onboarding experience app for your customers isn't the only benefit of custom app development: 
Flexibility and Scalability:

With a dedicated software team, your

finance app

can grow and change with your business.

High-quality Support:

Your development partner is always there to answer your questions and make your onboarding process even better.

Saved Costs:

Custom

fintech software development

is often more affordable than hiring in-house developers, especially when you consider the cost differences between countries. So, you get top-notch results without breaking the bank. 
Conclusion
Mobile onboarding shows users how to easily achieve their goals in the app.  The ultimate aim is to boost app activation and retention, both in the short term and the long run. Mobile onboarding best practices include simplified sign-ups, personalized onboarding, gamification, and the use of tooltips and checklists. If you want to learn more, don't hesitate to get in touch with Apiko! We provide mobile development and consulting services that lead to top-notch onboarding experiences.