Maintenance, Repair, and Operations (MRO) Software in Aviation: Why You Need One

Modern digital transformation is reshaping all industries and aviation is no exception. Technology encourages airlines and related companies to respond to emerging shifts with innovative and revolutionary digital solutions, one of which is maintenance, repair, and operations (MRO) software. 
MRO is vital to keeping all company's facilities and production processes running smoothly. Failing to execute it effectively can cause significant disruptions in critical business operations. Struggling with downtime, stockouts, or safety issues, companies simply will not be able to deliver desirable value. Also, knowing how to measure your MRO's performance can help you make more informed decisions about hiring more staff, creating bigger budgets, and purchasing new equipment. 
So what is an MRO system? What does MRO mean in aviation? How can it benefit your airline company? Let's find the answers below. 
What is MRO software? 
MRO software tracks and simplifies the activities associated with the machinery's maintenance, repair, or rebuilding. It helps with scheduling work orders, monitoring inventory, tracking, and documenting compliance. Such digital solutions allow organizations to significantly improve the visibility, control, and performance of their machines and devices used in complex shop floor processes. 
One of the main functions of MRO software is to ensure predictive maintenance, proactively servicing available equipment with managed schedules before critical issues occur. That helps cut down maintenance costs, eliminate problems at the beginning, minimize human error, and make employees more productive.
It also standardizes and enforces best practices paying attention to the growing demand for sustainability and government programs. MRO software can collect product performance data even after delivery, allowing manufacturers to stay engaged with their product during real-life use.
Business challenges MRO software can solve
So, what particular business challenges can MRO software address? 
The appropriate maintenance, repair, and operations require the cooperation of three departments: procurement, engineering/maintenance, and inventory. If they can work together effectively, everything will work well too. But if they cannot, many problems and disruptions will appear. 
Research shows that engineers spend many hours waiting for spare parts. Besides, delays in obtaining them can affect the return to service of your core system. Or, you can spend significant financial resources on unnecessary spare parts. But probably the worst-case scenario is when you have the wrong stock at the wrong place and time. That can lead to unexpected and highly costly machine failures or even provoke significant safety issues.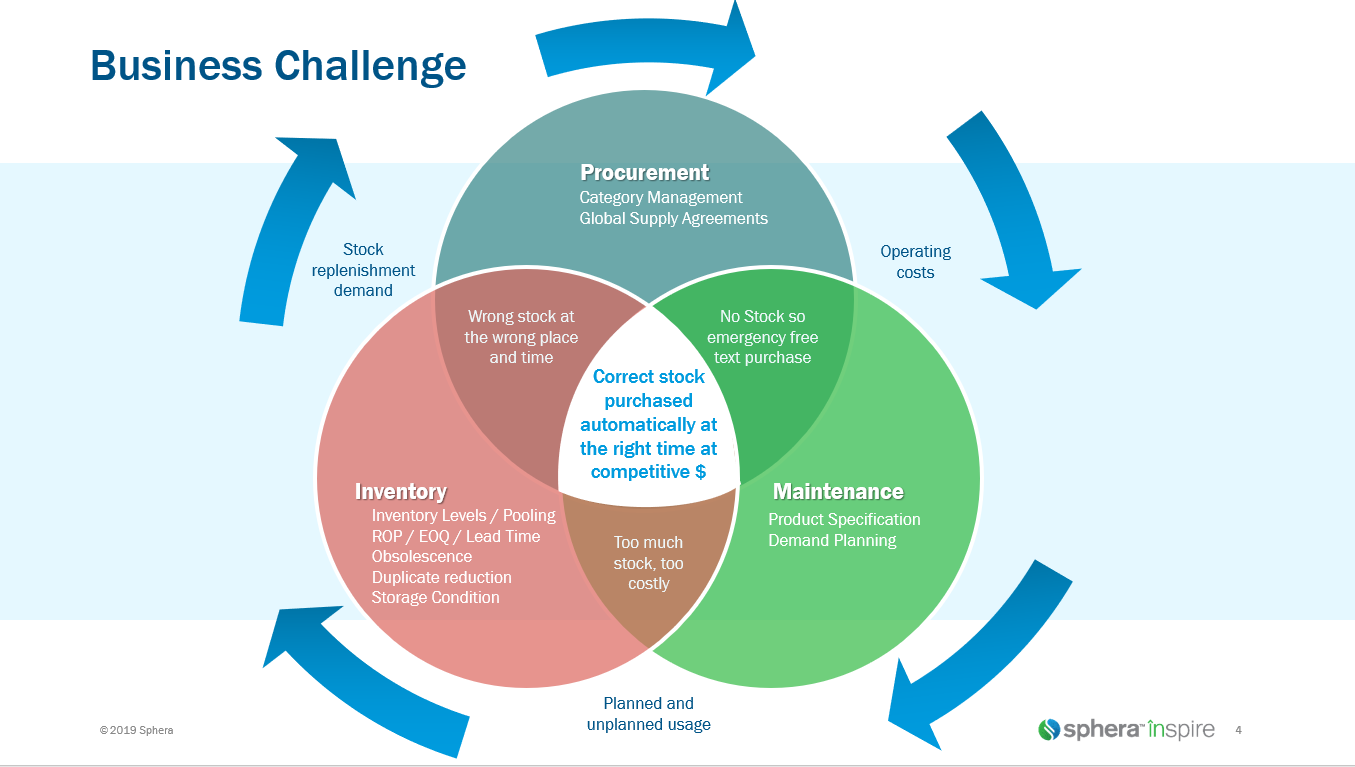 Fortunately, software development companies can build a robust MRO system for your company to ensure the delivery of the right parts at the right time. Integrating available departmental technologies will allow different teams to provide valuable information regarding these parts, etc. That promotes more efficient MRO operations, strengthens the entire supply chain, and allows for finding spare parts quickly if needed. 
In addition, MRO software makes it possible to exchange structured information about spare parts. Today, manufacturers can produce necessary components, add the relevant data, and supply them to those who need these parts. That contributes to more effective business processes and creates a competitive advantage since the ability to maintain accurate, accessible, and reliable information is essential now. 
MRO in aviation industry: the market overview
MRO continues to be one of the major drivers of digital transformation in the aviation industry. While aviation manufacturers have to deal with strict compliance and quality standards usually having a razor-thin profit margin, every opportunity to optimize their work as well as maintenance, save time and money is invaluable. 
Aviation MRO solutions can help airlines and aviation maintenance businesses make purchases, oversee parts inventory, track all maintenance operations, and manage their MRO workforce, for example train onboarding staff or track hours. Aviation MRO software is used by companies either as a standalone solution or as a part of an ERP system to improve efficiency and greatly enhance end-user experience.
Fortune Business Insights reports that "
The global aviation MRO software market is projected to grow from $6.95 billion in 2022 to $9.76 billion by 2029, at a CAGR of 4.93% in the forecast period.
An increase in air travel, larger spendings associated with aircraft fleet expansion, and high demand for aircraft that depend on prescriptive and predictive analytics are among the key factors driving the market growth and MRO solutions widespread adoption. 
The new generation of global aircraft also fuels the expansion of the MRO market, as newer models generate bigger data volumes compared to the older ones. To make the maintenance process much more efficient, improve aircraft health monitoring and cut down airlines' operational costs, the digitalization of MRO is key.
How your aviation company can benefit from MRO solutions
A faster and more responsive MRO system allows for optimizing resource management, recording all monitoring steps, and speeding up turnaround time. A significant benefit of MRO software is undoubtedly predictive maintenance. But what are the other critical advantages for the aviation industry?
- Improved visibility
Collect valuable data in real-time

Keep an eye on tooling, parts, and resources

Ensure efficient cooperation between manufacturing and procurement departments

Gain insights into KPIs, work order status, etc.

Find out how much your supplies and tooling consume
- Increased productivity
Improve inventory and SCM (supply chain management)

Streamline numerous work processes

Maintain lean inventory management

Create online work orders for personnel in the form of information kits
- Better reliability
Reduce downtime through consistent MRO activities

Standardize and implement best industry practices

Eliminate downtime thanks to predictive maintenance
- Paperless operations
Contribute to sustainability

Eliminate redundant information entry

Automate manual processes and avoid clerical errors
- Reduced maintenance costs
Utilize a centralized system for tracking, managing, and controlling MRO inventory

Streamline delivering materials to the shop floor
- Quality control
Record the history for all changed objects in all work plan revisions

Get detailed planning and monitor parts, employee hours, and resources

Use MRO data to make design decisions
- Automated compliance documentation
Automatically log the information collected and approvals into relevant records

Regard compliance as a tool to improve work processes

Ensure that you conduct specific work using only certified machines 
Features of an MRO system
After analyzing the importance of MRO software for the aviation industry, it is crucial to describe the key features of good MRO software. Its implementation is vital to ensure proactive, effective, and cost-efficient management of MRO activities. So, let's name the most critical features of MRO solutions. 
Automated planned maintenance
Automating preventive maintenance schedules is among the most powerful options offered by MRO software. That allows for:
Scheduling regular preventive maintenance routine tasks;

Attaching a checklist covering standard operating procedures;

Receiving automated notifications after a preventive maintenance task was created;

Viewing all open tasks and upcoming planned maintenance schedules;

Changing due dates quickly on a relevant calendar;

Seeing all completed work. 
Streamlined work order management
The suitable MRO software will track each work order or task you create. Such a feature type also involves:
Viewing all tasks, work orders, planned maintenance activities, and work requests;

Setting task priorities;

Viewing a calendar with current and future tasks;

Analyzing critical KPIs like actual completed work, time spent, etc. 
Effective tracking of work requests
Thanks to high-quality MRO solutions, you can get requests in a preferred way that allows your staff to complete the work faster. That also covers:
Avoiding duplicate work requests;

Providing immediate feedback to requestors;

Configuring sensitivity levels and scope;

Improving the overall requestor's experience. 
Spare parts inventory management
On average, businesses using modern MRO software can reduce inventory costs by 20%. The particular feature means:
Getting emails or other push notifications regarding the need to reorder parts;

Checking if a relevant part is in stock;

Accessing real-time inventory updates;

Viewing forecast for specific parts;

Finding out where components are going, who orders them most often, etc.;

Accessing inventory with custom QR codes. 
Vendor management
Aviation businesses can integrate their vendors into MRO software seamlessly. That also includes: 
Storing all vendor data records;

Pushing out orders directly to them via the software;

Associating vendors to components they maintain or supply;

Maintaining an all-time history covering all work orders completed by vendors;

Gaining insights into the amount of money you are paying to specific vendors;

Simplifying communication with vendors by providing instructions and notifications. 
Work assignment
Sometimes, companies find it hard to keep track of everyone's work. An efficient MRO system allows for: 
Auto-assigning tasks to the right tech specialists;

Dragging-and-dropping to reassign work if needed;

Tracking the number of hours your staff are working;

Encouraging productivity and promoting healthy competition via custom dashboards. 
Custom vs. ready-made solutions: why choose custom software development?
While some aviation businesses prefer purchasing ready-made MRO solutions, others decide to outsource custom software development and build their tailor-made system. So what approach is better?
Let's start with off-the-shelf products. They offer companies critical advantages, including rapid deployment, no need for extra hardware and software, free support and maintenance, and different pricing options. On the other hand, there are also some significant drawbacks. They involve a lack of flexibility, slow responses to emerging market conditions, scaling issues, and integration difficulties. 
When building your own MRO software, you will obtain the following benefits:
individual approach;

product rights;

simple scaling;

easy project maintenance;

satisfaction of your exact business needs.
Of course, your approach will highly depend on factors like budget, staff number, and the level of control you want over your MRO operations. But since no two organizations are the same, they also cannot manage their MRO activities the same way. Therefore, although using a custom software development model may be more costly, it guarantees you will meet all your business requirements. 
Final thoughts
Making aircraft safe and airworthy is a challenging task for modern manufacturers. Since they are looking for a competitive edge, increasing the efficiency of their MRO operations with specific software solutions is vital. At the same time, MRO software is among the critical drivers of constant improvement in aviation. That is because manufacturers must follow strict compliance and quality requirements, which causes the increasing need for maintenance. 
Ultimately, an MRO system will remain an effective tool for managing costs and risks related to aircraft maintenance and overhaul. Depending on the aviation industry's growth and relatively complex environment, utilizing such solutions will allow organizations to stay competitive. So, do not hesitate. Contact our Tech Experts to learn more about custom MRO software development and how it can benefit your company.