How Custom ERP Development for Manufacturing Can Drive - or Kill - Digital Disruption

So you want to accelerate the digital transformation and reach the next normal sooner. Custom ERP development for manufacturing might be your silver lining. 
With new trends, accelerated industry 4.0 digital transformation in manufacturing, the enterprise resource planning software can't be overlooked anymore. 
ERP helps you to scale digital innovations across the production networks. Now you can't afford to ignore these technologies if you want to be competitive.
What are the latest ERP software trends?
Enterprise resource planning delivers an integrated suite of business applications. These tools have a common process and data model, covering operational end-to-end processes. The processes include finance, HR, distribution, manufacturing, service, and the supply chain.
What makes ERP software more complicated? The upcoming technology trends. They also take ERP to another level. Let's check out a few.
Digital transformation in manufacturing
A severe business environment spurs companies to improve. However, without the right organizational setup, supporting an agile operating model, and enhanced digital skills, the process of digital transformation can hardly begin. 

Large and complex organizations take on digital transformation involving customer journey mapping and process reengineering. While the less complex companies go for business optimization with small or no changes to organizational processes. Panorama's ERP 2023 report states that 47% of respondents are in the process of ERP implementation while 53% are running digital transformation.
All manufacturers are driving transformational change and reengineering their operations. 
Cloud ERP
Cloud technology isn't a new concept and you have already implemented it in some of your operations. It, however, keeps disrupting traditional enterprise resource management and turns into the industry standard. On average, businesses tend to run 38% of workloads in public and 41% in a private cloud. And they aren't putting on the brakes.
Cloud has made organizations reimagine some tried-and-true roles. Half of the manufacturers give preference to cloud-hosted ERP. The main reason is the automatic updates made by vendors. This is where enterprise resource management system cloud and SaaS versions differ. Unlike the cloud ERP, the SaaS gives you a notification about the upgrade and a choice - accept or don't.
Either way, the cloud solutions are more affordable, easy to install, provide advanced innovation. And they don't need a complex IT infrastructure.
Open APIs
Open APIs are a trend for management and a huge help in the integration of a wide range of client-side functions. They integrate manufacturing systems with the apps, platforms, services, and databases that are external to the core.
Another benefit: open APIs permit companies to use one machine in different ways for different processes. All due to enabling modular, composable manufacturing solutions. Besides, you can unlock a global supply chain via remote command and control. That results in improved customer service delivery.
One-third of businesses say that custom APIs are the necessary ingredient to the transformation and extraction of ERP data. Obviously, open APIS gain even more traction across the industry.
Artificial Intelligence and Machine Learning
AI and ML is a tandem of top-rated technologies across many industries. Yet many organizations keep addressing their employees' concerns. Communicating the point: AI doesn't come to replace them, but to supplement their activities.
According to PwC, AI technologies in the manufacturing sector are predicted to grow over. Most businesses target productivity improvements in logistics and inventory planning, production scheduling and customer relationship management.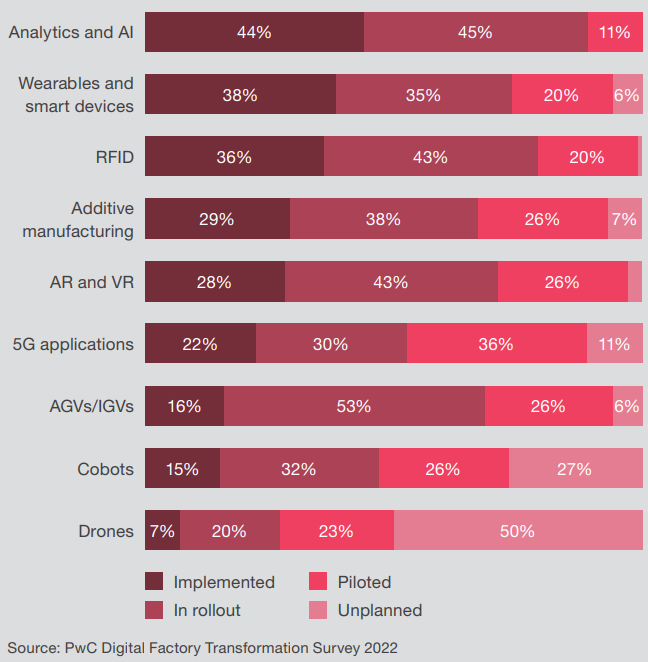 ERP vendors are planning to include enhanced AI and ML-backed capabilities. So manufacturers can uncover fresh insights to boost the bottom line, workforce management, reduce costs, and the operational part of entire organizations.
IoT in manufacturing
Direct machine integration (aka Internet of Things) in manufacturing is somewhere between being fragmented and consolidated. IoT connects equipment to the internet with sensors. The sensors collect, evaluate, and assess massive amounts of data. They also help to track the performance and production process in real-time.
Companies opt for IoT as that helps to analyze key metrics and reveal the device's capabilities. IoT and ERP work together to prevent unexpected shut-downs, reduce maintenance costs. 
Whatever the specifics of your organization, the integration of your ERP with IoT saves your resources and automates complex processes.
Mobile ERP
Digital transformation accentuates the importance of employee experience. The engagement of your team plays an essential role in the success of using any software. Just statistics: Gartner estimates that 55%-75% of ERP projects fail.
Also in the Panorama report, among the reasons for dissatisfaction with ERP, enlisted a desire to have mobile apps for their company's software. This fact casts a bit of light on the mobile ERP role in solving complex business challenges by transforming a human experience.
Employees want to access company data and customer communications, review and approve orders and expenses from anywhere. Quite useful, especially in a new normal remote working environment.
What are the benefits & drawbacks of ERP in manufacturing?
With all the hype around ERP, it can be hard to nail down the facts. It goes without saying, but we will overview the pros and cons of enterprise resource planning software.
ERP benefits
ERP is a single place for data and a modular system. It not only connects business processes and operations but also adds up to performance efficiency.

The automation of different processes enhances tracking the multiple processes. For instance, ERP can automate work orders which include the date and the team responsible for performing, customer data, sales order, sales contract, product quantity, and the like. (You can build a

custom work order management app

to handle this and integrate it with your existing ERP.)

With ERP software, you get better visibility and control over your business. That ensures compliance with regulatory requirements and enhances further predictions and risk prevention.

Centralized data storage a) excludes any issues with synchronizing changes between numerous apps and systems; b) delivers an accurate overview of business processes.

Advanced reporting helps you identify and react to new opportunities and improve performance in real time.
ERP drawbacks
They say "your business isn't unique - just look around and see". But when it comes to ERP implementation and customization, things turn out to be the opposite. Complex and time-consuming to set up. It takes time and you don't hit the ground running with a new ERP. This is one of the prebuilt enterprise software challenges.

Often, business processes require reengineering to fit your ERP. So be ready to deal with processes and staff issues.

Employee experience and engagement matter a lot. Without adequate training, and corporate policies for data entry, you may fall behind your plans and data integrity. Investing in personnel training brings more benefits in the long run.

The sensitive information may be set under the appropriate data security and authorization. Sounds more like an advantage. But if your security aspects aren't set right and a breach happens, your data is at risk of loss.

Enterprise resource planning software costs a pretty penny. According to G2.com, the average budget per user for ERP software is $9K. Quite expensive, right? That is another reason why businesses are turning to custom ERP development for manufacturing.
9 examples of manufacturing ERP to check out
Here is a list of ERP software that may help manufacturers navigate today's challenges.
Infor CloudSuit

is not-fit-all ERP that best fits the small business.

Epicor ERP

is typical of major ERP offerings.

Microsoft Dynamics 365

is a good fit for large, diverse organizations.

SAP Cloud ERP

focuses on the operations of large companies and offers tailored features and capabilities.

The Plex Manufacturing Cloud

helps you to manage your financial, operational, and IT strategies under one roof.

Deacom

helps food and beverage manufacturers and distributors to overcome business challenges. It has a set of native features (i.e., Catch weight production, Customer-specific quality results, TTB reporting, Product aging and shelf life, Yields, SFQ audit, Strict lot control)

Oracle Cloud ERP

delivers the functionality, analytics, security, mobile capabilities, and social collaboration tools.

IFS

offers enterprise software to organizations that manage service-focused operations, manufacture and distribute goods, and maintain assets.

Acumatica Cloud ERP

focuses on the small and mid-sized companies in the manufacturing industry. 
And here is an overview of their features.
| | | | | | | | | | |
| --- | --- | --- | --- | --- | --- | --- | --- | --- | --- |
| Feature/ERP | Infor | Epicor | MS Dynamics | SAP | Plex | Deacom | Oracle | IFS | Acumatica |
| Accounting |   | + | + | + | + | + | + | + | + |
| Asset management |   | + |   | + |   |   |   | + |   |
| Reporting and analytics | + | + | + | + | + | + | + |   | + |
| CRM | + | + | + |   | + | + | + | + | + |
| Customization/Integration | + | + | + | + |   | + | + |   | + |
| Document management |   | + | + |   |   | + |   | + |   |
| Human capital management |   | + | + |   | + |   |   |   |   |
| Inventory management | + | + | + | + |   | + | + | + | + |
| Manufacturing operations | + | + | + |   | + | + | + |   | + |
| Mobile ERP |   | + | + |   | + | + |   |   | + |
| Order management | + | + | + | + |   |   | + | + | + |
| Project management |   | + |   |   | + |   | + |   | + |
| Quality management |   |   |   | + |   | + |   |   |   |
| Role-based permissions |   | + | + | + | + |   |   |   | + |
| Supply chain management |   | + | + | + | + | + | + | + |   |
| Warranty management | + | + |   |   |   |   |   | + |   |
| Work order management |   | + | + |   |   |   |   |   | + |
| Workforce management |   |   | + | + |   |   |   | + |   |
Recap: Any of these ERP systems take you to the next level, if managed, implemented and leveraged correctly.
Features to have in your manufacturing ERP software
Let's highlight: the ERP is like a swiss-army knife of manufacturing operations. But the solution which you might consider a 'good deal' is actually not-fit-me software.
If you feel tempted to go into enterprise application development. Or maybe you want to build a custom ERP system. You need to know what kind of features your manufacturing ERP software should have.
Perhaps, you've noticed in the enlisted ERP examples, they share some modules:
Accounting

. The automated management of your finances and reports (i.e., purchase orders, expenses, sales reports, payroll, cash flow, revenue, and the like)

Inventory management

helps to track and manage products.

It is a crucial feature for both manufacturers and distributors.

Human resources.

This

module has such options as payroll, recruitment, performance evaluations, attendance, scheduling, labor allocation, employee training, and a self-help portal.

CRM

helps to drive repeat business. Some ERPs offer marketing features to engage and re-engage customers, run campaigns, surveys, follow-up emails and calls, and the like.

Project management.

The option for planning, running, and tracking internal projects. It also has tools to enhance internal communication between the teams.

Asset management.

Manufacturers have to track the status, location and history of all business assets. 

Supply chain management

includes procurement, warehousing, and logistics functions.

Analytics and reporting.

ERP with predictive analytics algorithms helps to collect and analyze the acquired information. Quite helpful for identifying future fluctuations in supply and demand.

Security and role-based permissions.

ERP has a flexible permissions system with a bunch of roles. Employees can access the data depending on their level while still maintaining security.

Integration.

This option is a must even for ERP with its modular architecture. Many organizations are looking for integrating current apps or IoT devices with the ERP.

Mobile ERP.

We went mobile long ago. So access to the company system via a smartphone or a tablet isn't hype, but a need for better performance.
Why do I need a custom ERP development for manufacturing?
Simply put, custom ERP software development can pull your performance out of the 'to-do list' to actually improve business processes, data management, quality control, and customer satisfaction.
Well, you definitely may say 'So what? Any ERP does this. Why do I need to care about building a custom one?' Let's find out why some businesses should turn to enterprise software development.
In the 90s, ERP evolved from MRP (aka material resource planning) which originated from manufacturing organizations. Now enterprise resource planning solutions have a breadth of functionality. Roughly, there are three tiers:
ERP solutions address nearly all possible aspects of the business. They help large, multinational companies with more than $750 million annual revenue (e.g., SAP, Oracle ERP Cloud),

niche ERP software that works mostly in manufacturing, (e.g. Epicor, the Infor CloudSuites),

ERP offers specific capabilities. That might be one segment of ERP functionality for certain industries. Besides, they might not exactly offer a 'basic' ERP feature set (i.e., tracking inventory, orders, and actions).
Why turn to custom business software development? Forget perfect-world scenarios. Organizations may look similar, yet they have unique needs, challenges, and pain points. The pre-built enterprise resource planning software can focus on and handle some segments of your business. But it hardly becomes a swiss-knife app for everyone in your organization. And it's quite expensive we've mentioned above that on average it costs $9K per employee annually).
One more essential aspect is ERP implementation. 55%-75% This is how many companies don't reach their objectives, according to Gartner. Well, you know that the key factor isn't technology, but people who don't like changes.
Here's where custom manufacturing ERP software becomes your choice. You can build the digital solution precisely to fit your unique business needs. Plus: make close UI/UX of currently used tools so employees adjust to it faster. This resonates with you, right?
How to start the custom ERP development for manufacturing?
Digitization has proved to be a competitive advantage. The prebuilt ERP, however, has way too many features. But it may lack those you need to capture the full business opportunities available. To scale digital innovations with custom manufacturing software, begin with the following tips. 
Here's how to start:
Identify your goals and processes that need advancement.

Create a general concept of the app and the features it should have.

Document your ideas on the UX and logic of your custom ERP.

Choose a business software development company. Consider the kind of non-traditional outsourcing destinations, like Eastern Europe. Less expensive resources yet with high quality of performance. 
Wrap up
Building a custom ERP development for manufacturing from scratch is no small undertaking. Regardless of your starting point on the digital transformation roadmap, you still need to maximize productivity and workflow. No money or time-wasting is acceptable. No one wants to be a slower-moving competitor.
Reconfiguring operations to achieve business goals and custom ERP development will smooth this change a bit. Once your ERP is tailored to your manufacturing operations, then you have good chances for successful implementation. Now is the time to get started. If you have ideas, simply drop us a line.