Manufacturing Workforce Management Software: How to Reinforce Your Business with Digital Technologies

If you're reading this, you're probably very interested in improving your manufacturing workforce management. Surely, digital transformation in manufacturing routes the course of business improvements.
So how are you planning to transform your workforce management? Thinking about building a work order management app? You're on the right track. To dispel any harbored doubts, let's dig further into this topic.
Why do you need a workforce managing app for a manufacturing company?
To say 'Manufacturing workforce management is nothing more than hype' is like saying Elon Musk has a few followers. Along with digitalization come reduced routine tasks, automated workflows, boosted productivity, and it all requires a digitally fluent workforce.
What is a manufacturing workforce management app? 
In many cases, a work order app serves for managing the manufacturing workforce. The software deals with a) preventive asset maintenance or b) managing reports on incoming and outgoing work orders. All work orders turn into digital, trackable documents.
In manufacturing, the workforce management tool accentuates quality management. It includes product inspection, inventory control, and quality assessment coordination. Apart from reporting, the work order app helps to analyze and optimize operational processes. Usually, the software is standalone. 
What are the manufacturing investments into apps?
The Worldwide Enterprise Application Market forecast  2021-2026, shows that manufacturing investments into the new software and apps are going closer to $32000 million. That includes upgrading and replacing many legacy industry-specific software as well. Holy digitalization, Batman!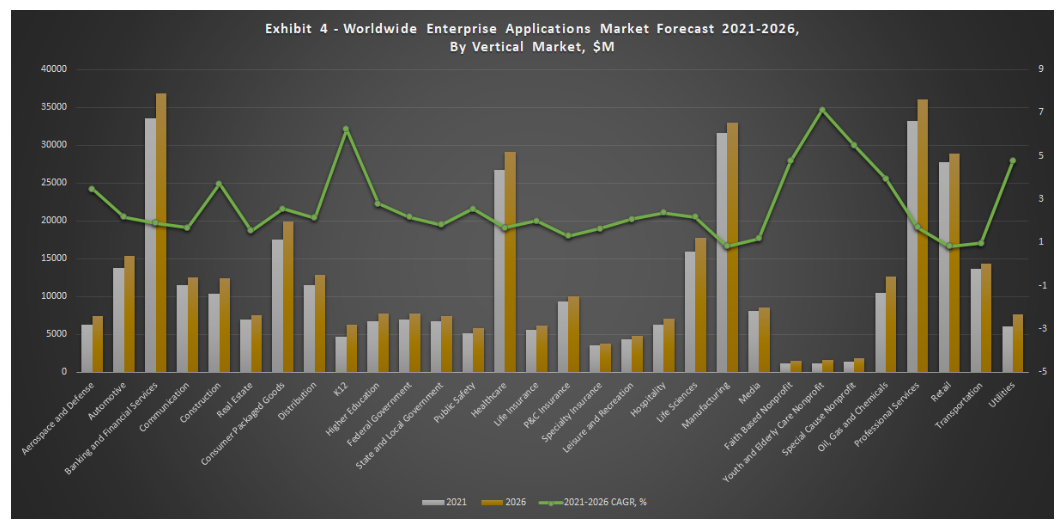 Why adopt a work order app?
Let's imagine a situation A: The maintenance team, usually one or two workers, and a few outside contractors. They're dealing with an issue and suddenly there appears another one. The easy work order turns into a complex one. The team needs to go back to the office, order materials, and search for an expert for consultation.
A long, time-consuming, and expensive process. And in the end, the fixed main and secondary issues might have a low impact on production.
And know situation B: Your organization uses work order software. All issues are gathered, prioritized, and tracked in real-time. The technicians efficiently collaborate within their team and across the company. Plus, they have access to instructions and guides to troubleshoot problems in the field.
When they fix an issue and there appears a secondary problem, they check it within the app. Once they see its priority level and look through instruction, they either fix it or add it into the workflow. The process is automated and done to the smallest expenses.
Recap: The workforce app helps to optimize performance, divide resources, and cut down on unexpected issues. Good reasons for adopting such software, right?
What are the benefits of workforce management software?
Cut down on the unexpected issues.

You schedule preventive maintenance tasks and expect the potential breakdowns.

Equipment and labor optimization.

Work order app handles manufacturing employee scheduling and aligning resource allocation. In plain words: it manages what has to be done, who has to do it, and when it has to be done.

Decrease turnaround times.

The workforce management app helps to get a real-time view of processes. So you can identify and address the order faster and as a bonus boost customer satisfaction.

Resource scheduling. The workforce management software deals with resource management to exclude overlapping demands, downtime, or idle resources.
Advance quality.

No guess-work anymore. The actual activity data at hand helps to improve performance in terms of productivity and quality.

Optimized labor costs.

You have quick access to workforce data. Seeing the employee absences, time tracking data, you can plan better performance of the employees to minimize overtime.

Data access restrictions.

Someone has said, 'In God we trust. All others bring data.' Controlled access adds to predictability and reliability.
What are the trends in manufacturing workforce management?
The urgency of putting the right technologies in place reaches all companies sooner than later. Technologies like AI, AR, IoT, VR, cloud, robotics, 3D printing/additive manufacturing, etc. are actively being incorporated into business processes. 
So what are the trends in workforce management?
Employee safety. Manufacturing health and safety software helps to keep to standards and regulations, track and analyze workplace hazards in real time, identify risk areas and manage them in a structured manner to minimize any threats. 
Self-service portals.

This software is an employee bestie. Workers use it nearly for every aspect of their employment life. They log in on any device to check their shift, edit payroll information, apply for perks or manage their PTO and sick leaves. Employee engagement and experience is a fresh-out-of-the-oven trend and

self-service portals

can make it useful and outstanding.

Connected workforce. It is critical to adopt and train the workforce to use collaboration tools, and maximize productivity.
Internet of Things (IoT)

keeps wide-spreading in manufacturing, particularly f

or managing remote monitoring and predictive maintenance. The improved bottom line due to measured, informed decisions can't be unattractive.

Artificial Intelligence (AI) and Machine Learning (ML) 

aid in scheduling and predicting workloads. And no overstaffing during slower hours saves you on labor expenses. Plus, AI manages routine tasks quite well, too.
7 manufacturing workforce management software features to look for
How to choose the work order app so it becomes a one-stop tool for you? Well, it depends on your organization and the goals you've set. But there's a basic set of options to look for. Check out this buyer guide on features.
Create and edit work order or request 
The orders are submitted as a direct entry or web submission. These documents aren't static and can be changed anytime. The benefit is quick and comprehensive communication within a company.
Schedule and allocate resources
Work order apps enhance the management of equipment and materials required for jobs to be done. And in the same way, you distribute work among the employees based on their skills and qualifications. Here should be a calendaring tool to avoid double-booking.
Status updates
The real-time tracking of the order or job improves the identification of benchmark intervals. So the status updates of work order completion show performance speed and quality. All that gives insights for predicting the order completion and plays a part in improving customer satisfaction.
Reporting
Work order software collects a bunch of data about your operation quality. Basically, you track 
KPIs (error rates, adherence to quality standards, time to completion, etc.)

workforce (who's done the job, how many working hours, etc.)

operational downtime

materials and repair costs

process updates
Reports bring you valuable insights on weak spots and improvement opportunities.
Remote access
Native mobile apps are quite efficient in manufacturing as many teams spend most of their time away from desktops. Workforce management mobile app helps to keep all processes updated and access data either on the plant floor, at other facilities, or out in the field.
Integration capabilities
The seamless work of all systems makes performance productive. So the work order app should integrate with third-party systems and software your organization already runs.
Sharing experience: How to develop a manufacturing app
Tired of using the same old tools for workforce management? We thought you might be. That's why we decided to show you how to do things differently. And here is a peek into one of our manufacturing app projects:
Client: a shipping container supplier & manufacturer
Industry: manufacturing, machinery
Starting point
The key was to develop the optimizing system performance. The client had a general concept of the app and the features needed. Together we identified the weak spots and scope of work to do.
Milestones for the team were:
create a logistics management system to optimize the in-house workflow

develop the production calendar for web and mobile platforms

identify a discovery stage and detailed project estimate
Critical features of the custom software: 
To-do list of mobile app task manager

helps to arrange workflow tasks, track working hours, and production calendar.
Product calendar

allows creating and assigning tasks, tracking and controlling progress, and monitoring the activity of workers.

Map view

is a logistic management system. It enhanced navigation and showed task details like payment and delivery information, delivery time, and attachments.
Technical aspect
The dedicated team handled concept development, UI/UX, and web and native mobile app development. The tech stack of the custom-made solution was Nest,
 NodeJS, 
React, 
React Native.
Result
Web and mobile apps help to manage workflow, track tasks, assign them to employees, and monitor performance. The client got the solution to address the business pain points, and advance operational process performance.
Summary
The workforce app helps to optimize performance, allocate resources, and cut down on unexpected issues. That's why it is worth being adopted.

The benefits of workforce management apps: reduced expenses and turnaround times, optimized equipment and labor, resource scheduling, improved quality, optimized labor costs, and role-based access.

The trends of workforce management in: employee safety, self-service portals, connected workforce, IoT, AI and ML.

A guide on work order features includes: work order or request management, schedule and divide resources, status update, reporting, native mobile apps, and integration.

Shared experience: a case study on a manufacturing app development. In the end, the client got web and mobile apps to manage workflow, track and assign tasks, and monitor employee performance.

A shortlist of work order management features along with development costs. If you have questions or have a project in mind, feel free to

reach out to us.