Digital Media Industry Trends: How to Transform Your Media Business and Achieve +300% of Monthly Active Users [Case Study]

Competing in the new digital world requires new methods. As digital transformation has had a tremendous effect on the way we consume news today, traditional newspapers and media companies cannot continue doing the same.
The technology trends are remodeling the media landscape. Here we will explore how media businesses can take advantage of digital transformation to reinvent themselves and deliver better customer experiences.
The media industry state
The entertainment and media companies long-going track record of revenue growth suddenly came to a stop in 2020, caused by the Covid-19 outbreak. However, a deeper analysis showed that after an unexpected halt, things actually started to develop pretty well.
The pandemic has accelerated shifts in consumers' behavior, fostering digital disruption in those areas that would otherwise take many years to reach. Of course, some segments, such as live events, have been more grievously hit than others. However, during a global lockdown other segments have experienced a massive surge, including over-the-top (OTT) video and live streaming.
One of the driving forces of media industry growth is gaining more control over what information each of consumers wants to absorb. When there is an ever-expanding choice, having the ability to organize your own bundles and media environments is highly valued by users.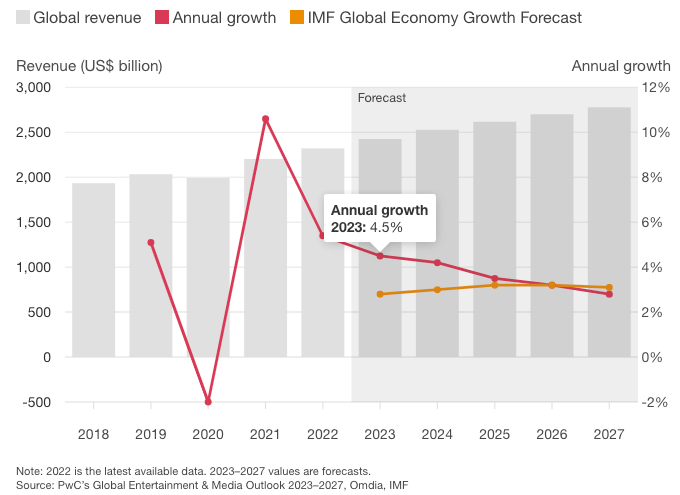 People started consuming more content creating their own tailored experiences online by paying directly for all-you-can-eat music, video, and news. To adapt to consumers' evolving preferences, media businesses need to identify and adopt new ways to seek out growth. Taking the same approaches simply won't lead to better results. 
When physical meetings are challenging, the digital spaces - e-commerce platforms, gaming channels, podcasts - are evolving into powerful new platforms for performance and the sale of content or goods.
Although the post-pandemic surge has passed, the anual revenue of entertainment and media industry is certainly projected to grow.
To discover more efficient ways to attract and engage users, let's look at some of the media digitization trends. 
Media digitization: Digital media industry trends
The consequences of digital media transformation created a shift in data consumption. People want news in an instant, immediately as something happens. The technology allowed us to have access to information anytime and anywhere. Let's look at some of the most popular digital media industry trends that make media digitization happen. 
The rise of subscriptions
Media companies predominantly relied on advertising to make money. However, now that model doesn't work very well. Most of the consumers have learned to view ads as an annoyance, which led to the creation of an ongoing shift from that model to paid subscriptions. 
More and more businesses are adopting a subscription approach. And no wonder why as it works pretty well for such giants as Youtube or Netflix. With its 167 million subscribers at the end of 2019, Netflix experienced quite a surge when the pandemic struck.
In April 2020 the number of Netflix subscribers rose to almost 183 million and by the end of July 2020 it reached 193 million. As for the second quarter of 2023, it equals to 238,39 million, showcasing a tendency of stable growth, although it's naturally at a slightly slower pace compared to the times of pandemic.  
With businesses closing or suspending, many companies couldn't afford to keep buying ads. Total ad revenue at the New York Times decreased by 26%, thus proving subscriptions to be the most reliable model.  
Having transformed into a digital-first company in 2020, when the demand for digital products exceeded the one for print, digital subscribtions is currently the New York Times main and growing revenue stream. 
The company reported total revenue of $667.5 million for the fourth quarter of 2022, a 12.3 percent increase from a year earlier. Subscriptions accounted for $414.1 million, a 17.9 percent increase.
Read more about different subscription models here: Subscription Management System Integration: What Is Paywall and How Does It Work for Media Platforms?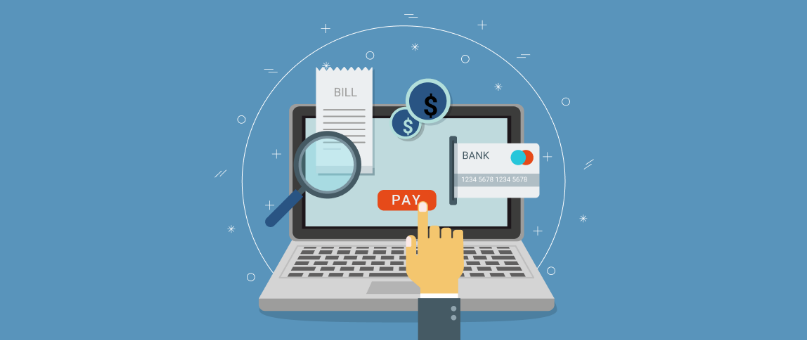 Designing digital solutions for news delivery
Digital platforms have changed the way people read news. While users spend most of their time online reading content on their mobile devices or laptops, the media business has to reach them there. Designing such a news platform or a mobile app that best meets the needs of users is a winning solution for media companies in a highly competitive business environment.
Discover more about the digital transformation of media business. Read on how the popular news platform upgraded its mobile app and created a podcast app from scratch to reach and retain more users.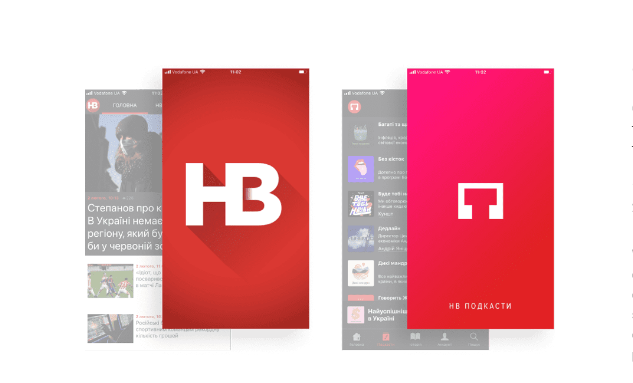 Not only does going digital enable faster publishing and a wider audience reach, it also allows hosting of a great variety of interactive content, such as videos, polls, animations, podcasts, etc. Online platforms are capable of managing all these pieces of content quite effectively to keep their users engaged.   


7 Mobile UI/UX Trends to Build a Top-Ranking App
The growth of 5G will greatly add to the on-the-go consumption of news with its high-speed access to content, apps, and services. It already opened up many opportunities that reach far beyond communications and embrace markets such as gaming, entertainment, music and OTT video. 5G keeps reducing the cost of mobile data, thus removing the main restraint for activities such as mobile video consumption over cellular networks.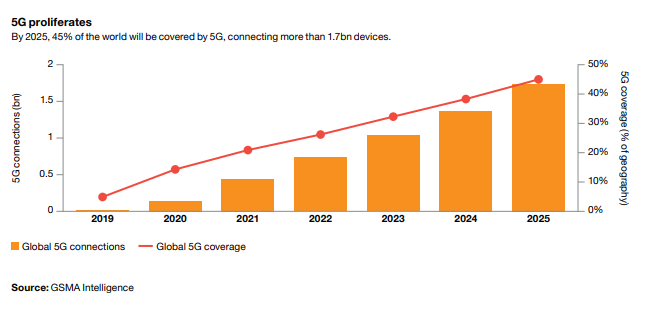 Personalization of content and news
With an information overload, giving consumers more control over the content they absorb is a must. That's why the news portal users need to be able to select categories, topics, and types of content they prefer.  
Now almost every OTT platform reaps the benefits of using Artificial Intelligence and Machine Learning algorithms to provide recommendations as to what may be interesting for users to watch or read based on their previous behavior. Understanding the audience and offering them relevant content is a defining factor for the media platform's success. 
Personalization can help a streaming platform or any other media & entertainment portal strengthen its core elements namely content, user experience, user interface, and discovery to overcome challenges such as:
Making relevant content visible and easily accessible

Increasing consumer engagement and average content consumption

Converting freemium users into premium ones

Retaining the subscriber audience
Using key performance indicators to improve
Having a digital platform or a mobile app allows the media business to track its data every minute. Data analytics enables companies to get to know their users really well, the most popular content and topics, key locations and times, traction for advertisers, etc.
With KPI management system, all administrative activities of media business can be easily and efficiently managed. A digital platform makes sure key performance indicators are monitored closely to measure the success of different activities and optimize them if necessary. 
Let's see how media businesses embrace digital transformation, driving innovation in their core operations.
Digital transformation in media industry: New Voice case study
New Voice (NV) is one of the largest media businesses in Ukraine. The company is a leading news resource that delivers on-the-go access to information about key public and international news and events.  
While NV has already had a functional news platform in place with more than 550K monthly organic traffic visitors and a news app, they wanted to upgrade some of their existing business processes as well as design new, innovative ways to better engage the audience.
With the goal of sharing the outstanding programs and content which inform, educate, and entertain multi-million audience in Ukraine and worldwide, NV turned to Apiko for tech assistance on their digital transformation journey. 
NV required app modernization services, as well as our assistance for their in-house team with custom app development. The scope of our work included expanding the solution with complex functionality and consisted of two parts:
Developing the podcast mobile app from scratch

Legacy app modernization, including debugging, optimization, and adding new features
To optimize and refine the NV existing news app, our team had to do the following:
Update the React Native version of the news app to the latest one

Test the app and fix bugs

Add new features, including paywall and subscriptions
The media company's new initiative is a podcast app. To bring the idea to life and build a robust NV podcast app, Apiko completed the following tasks:
Scaffold the project, build up the constructor module and other features

Empower the in-house team to handle minor changes on their own

Publish an app to App Store and Google Play, constantly update the software according to customer's requirements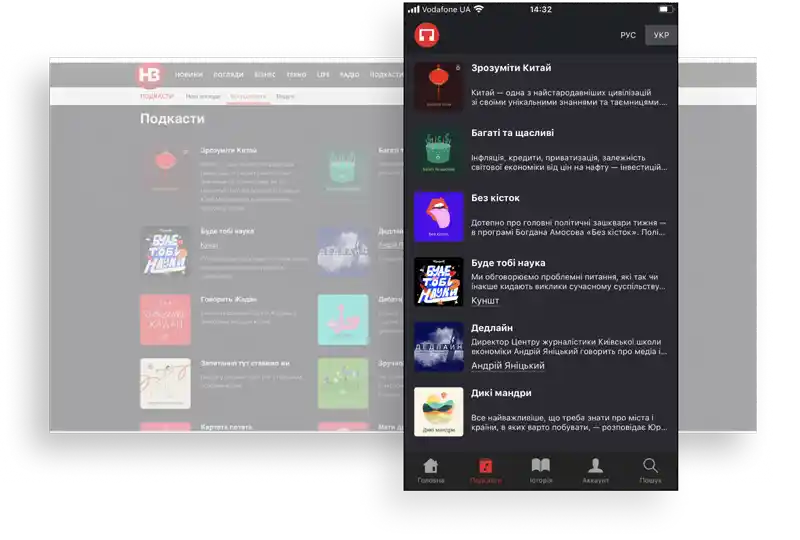 Read the details of the digital media business transformation case here.
How did the custom app development affect the New Voice media business?
The NV news app development and optimization resulted in:
The

6.8% increase

of NV premium subscription users with the adoption of the paywall system in the Android and iOS app.

Monthly active users have grown in number to 8,000, who are responsible for

160,000 sessions per month

on average.
The NV podcast app built from scratch had the following effect on the company:
Starting from this year, the users listening to podcasts in the app have outnumbered the users listening to podcasts on the web platform.

Now, after the custom podcast app development, iOS and Android versions comprise

70% of all podcast listeners

whereas only 30% are podcast listeners on the web.

Monthly active users have grown

+300%

during the last 4 months (March - June 2021)

The number of podcast listening sessions has also been growing at a pace +138%

per 4 last months (March - June 2021)
What do New Voice say about their cooperation with Apiko?
As NV project manager states in the review on Clutch:
Apiko meshed with our NV team very well and has become a reliable partner. The PM, mobile developers did their best to deliver value to our product. Based on the provided documentation, Apiko elicited requirements and defined the most effective scope of work. They are very responsive and communicative.
Right after the first delivered milestones, Apiko team greatly improved mobile app performance. Since that we didn't receive any bug report from our users, the app is up and running properly.
Also, together with Apiko, we have successfully launched NV news paid subscription and NV podcasts mobile app.
Online magazine upgrade: How Apiko helped a media giant optimize the website performance 
One of Apiko's recent clients is an online magazine and website that highlights everything connected to streetwear and sneaker culture. They made it their mission to showcase new deals, trends, releases to sneaker lovers. The company has acquired a global audience of admirers and reaches them through print and online channels. 
Having been in the digital content industry for over 18 years, the company has witnessed the importance of having a digital presence. The website now has the organic traffic of more than 130k monthly visitors on average.
To keep up to date with the trends and implement different new strategies on how best to interact with its customers, businesses need to have constant development support. That's why the media company has recently engaged Apiko to handle the tech side of their online magazine. 
The tasks before Apiko team were:
Keep the digital platform up and running as well as work on extending its functionality

Implement any changes to the website such as the logic with which the articles are displayed, etc. 

Create parts related to ads that can be added on the website and viewed based on a certain logic

Develop the hashtag system on the media portal

Create new boxes which editors can use and add to their articles in the admin system
Apiko will continue to support the online magazine and add new features to make it more interactive. Some of the recent plans include developing push notifications so that users can receive updates and news about a particular brand and enabling subscriptions.
What is the effect of upgrading the digital platform? 
Apart from the functionality expansion, the client also noted significant loading speed improvements and organic traffic rise. As the website has a great amount of ads, it generally slows down the way things work, which affects such vital factors as user experience and rankings. 
However, a few months ago the Apiko team worked on SEO improvements of the website. Now, because of this optimization, the media platform has better rankings and therefore experiences a steady increase in the number of users. 
How to adopt digital transformation for your media business? 3 Tips 
The existing businesses can derive great value from investing in the new, innovative products and services designed to take their media business to the next level. Transforming their current model to unlock the digitization potential is the process that can help media companies experience a surge of growth and opportunities.
To transform their core operations, media businesses can follow the following steps on their path to digitization:
Optimize operations
While many companies see the new opportunities opened by advanced technologies, most of them simply can't capture them efficiently. The businesses fail to leverage digital capabilities to create new business models and increase revenues.
What companies need is to consider where their trapped opportunities for growth and improvements lie and how best to release them. Optimizing their existing processes gives way to modernization, simpler and more efficient operating models, and removes unnecessary costs. 
By consolidating administrative activities and centralizing duplicated efforts, media companies can simplify the organizational structure and experience numerous benefits such as greater efficiency, better information sharing across departments and more focused resources. Using data and analytics to determine current costs and inefficiencies can be your first step in media digitization. 
Rethink your budget planning 
While the planning of the budget too often is based on last year's performance, the research by Accenture offers an alternative called zero-based budgeting. Its main goal is to keep media companies focused on the future instead of being tied to the past. 
Zero-based budgeting starts with a clean slate and forces businesses to rethink all operating expenses and reconsider their financial structure based on their needs in the new environment. Such an approach allows organizations to create the right entity from the beginning, eliminate past biases and reallocate resources that don't contribute to the desired result. 
For any business, the costs must be in line with their strategic growth plans. Defining unnecessary costs enables media companies to invest these funds into activities that can truly drive sustainable development, build innovation, streamline systems, and bring them closer to their desired outcome. 
Invest in intelligent solutions
Upfront expenses on digital solutions can be significant but are critical to create an organization, which is capable of driving efficiency, business improvement, and structural changes. 
While more than 93% of all companies have already adopted or are planning to adopt a digital strategy, we can see that most businesses acknowledge the importance of digital transformation. 
Media businesses need to frame their content with high-quality user experiences, customized information, better personal recommendations, and relevant ads. The media digitization means finding the right context and tools to present different types of content that your users may find engaging. To thrive, companies should constantly discover new ideas for content and innovative methods of distributing it, keeping technology at the heart of what they do.
To sum up
Digital technologies have created a surge of opportunities for media businesses and changed the way their content is created, distributed and monetized. 
Right now, the progressive media companies are embracing innovation and new digital media industry trends to meet their consumers where they are. Modernizing operations significantly increases their reach and growth.  
If you are on the way to digital transformation and need any technical support, Apiko can assist you in the process. Just drop us a line!