StockX Marketplace Development Guide: The Secret of $3.8 Billion Success

The resale market has been gathering speed in its growth like no other segment of retail. One of the causes for its immense expansion is that the marketplace development of eCommerce platforms like StockX makes it super easy for customers to convert goods into sales in a safe and transparent way. 
But how does StockX work?
Redefining the future of retail, StockX leverages a unique stock market approach with its strong network effects, supervised process of purchases, excellent user experience, and functionality that helps the online buy and sell marketplace platform keep growing and ahead of the game.
The buy and sell marketplace StockX is now valued at $3.8 billion with its sustainable business model and proven marketing strategies. Here we will discover its secret of success, and what factors make this online marketplace platform stand out. 
What is StockX and what makes it unique?
StockX is an online marketplace platform for buying and selling merchandise. Their primary focus is authentic sneakers, however you can also resell streetwear, collectibles, and handbags there. Since November 2020, the platform has opened up to electronic products, such as game consoles, smartphones, and computer hardware.     
Founded in 2015-2016 in Detroit, the eCommerce startup quickly became widely known and loved. Though resale was not a new concept then, and people used different other services such as eBay or personal networks to sell sneakers, StockX made this process much easier. So easy, that for many, reselling sneakers have turned into a full-time business.
The eCommerce marketplace was built and designed as a "stock market for goods" . It allows sellers to list items in a perfect state and buyers to decide how much they are willing to pay. StockX started with just sneakers' reselling, but has grown to list additional products. 
The sales process of meeting people on forums, hoping that they will send you the product after you've sent them the money,  has gone a long way. StockX has not only combined the best practices of buy and sell marketplace functionality but also introduced on its platform an intermediary role between the two parties, guaranteeing that the product is 100% authentic. 
Mainstream demand for hype: How sneaker culture influenced the marketplace development and growth
The culture has greatly added to its popularity. When people have plenty, there is certain hype around rare and unique items. Sneakers are a part of this obsession, the business opportunity which StockX has pursued. 
StockX CEO Scott Cutler once said:
Instagram, and other platforms, have been key to the demand side of the equation being able to highlight items that represent brand heat and influence in the industry. We are a perfect reflection as a platform of what's happening in current culture.
Though sneaker culture has long been active and dynamic, Instagram and other social media platforms made it mainstream, easily accessible and loved by people worldwide. Streetwear and sneaker communities, previously centered in relevant forums, started to spread out over Instagram around  2013 as the app grew. 
The StockX appearance was timely and awaited. In 2015, the buy and sell marketplace launched and chose to focus on the hype footwear just when the trend dashed into the mainstream. Add to it an easy purchase process with its bid/ask format, instant buying and selling, and transparent process of verification, and you' ll understand why the platform became so renowned. 
In the culture of hype trends, the masses' demand determines the price points, therefore the "best" product doesn't necessarily have the highest cost. And the insights on the platform show how hype transforms into money.
So, what makes the platform unique?
The buy and sell marketplace focuses on the hype products, mainly sneakers but also deals with reselling streetwear, watches, designer handbags, and electronics.
StockX plays a role of a middleman between buyers and sellers. It has a team of experts who ensure each product's quality and legitimacy are accurate before sending it to the customer. The transactions on the platform are therefore truly safe and secure.
The eCommerce website gives insights for both buyers and sellers on current market value, number of items sold, losses and gains on products. The data is extremely useful if you don't want to pay more or sell for less.  

Source: https://stockx.com/how-it-works 
How does StockX work?
As StockX is a live 'bid and ask' marketplace, buyers post bids on the platform, sellers post asks, and when the expected costs coincide, the transaction takes place automatically. 
However, the site is more than just an auction marketplace, with no bidding fights or low-quality product photos. It was designed as a stock market so there is a list of products, suggested prices, and options to buy and sell. The online marketplace platform also provides data on every transaction that has ever happened on any particular item.
One more special characteristic of this buy and sell platform is displaying market trends where green and red curves demonstrate whether the style is going up or down. Such insights make buyers and sellers more conscious about when the best time is to purchase or submit for sale. 
The online marketplace platform is in the middle of all of these. It accepts the goods sent by sellers, authenticates the items, and sends them to buyers for a fee.
Buy and sell marketplace development: StockX unique features and functionality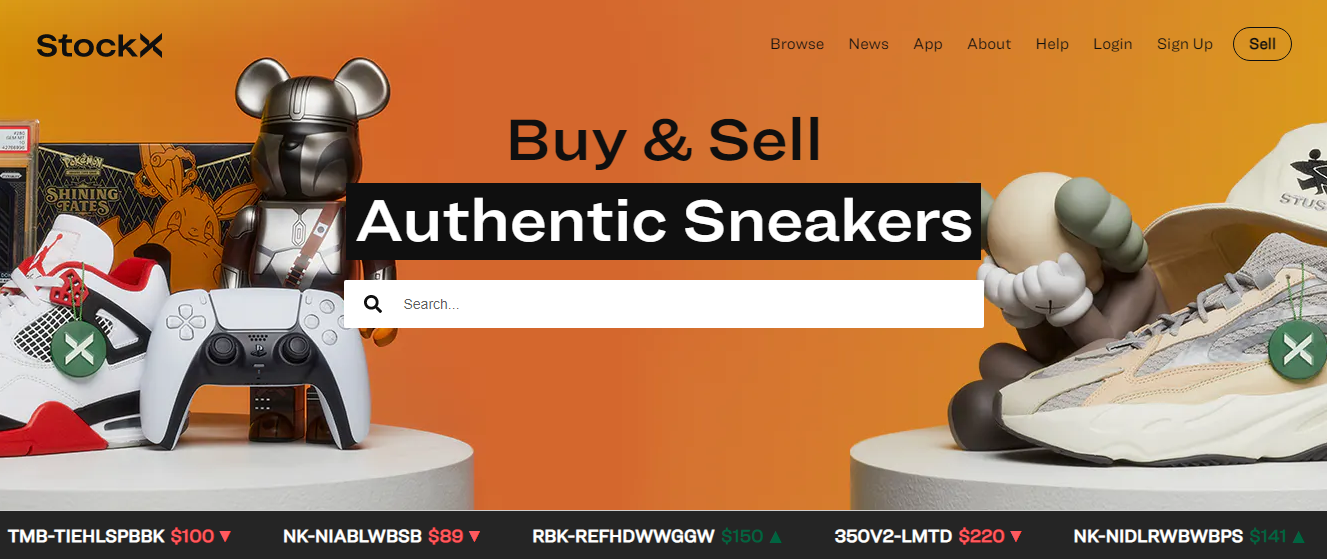 Main features for buyers: 
The variety of products is so great on the marketplace platform that you can choose from thousands of items from different categories and most popular brands. Therefore, the buy and sell marketplace development can't exist without filtering.
#1 Filtering
The main categories of the products are:
Sneakers

Streetwear

Electronics

Collectibles

Handbags 

Watches
Also, you can sort each of these categories by a) Popular brands, b) Most popular items, c) New lowest ask, d) New highest bids. There are also general filters to find the right items such as sizes, price ranges, gender, and season. 
#2 Buy or bid
When you find a product you are interested in, there are two options available: either you buy it instantly, paying the lowest asking price, or place a bid, waiting for one of the sellers of that item to accept the offer. 
#3 Payment method
StockX will request to provide payment information while placing bids, but the platform charges you only when your bid has been accepted. Such safety measures guard the platform from flakers and pointless offers. 
#4 Order tracking
After mutual agreement on the purchase, the seller needs to ship the parcel to the StockX office during two business days for their expert team to authenticate the product. You will be able to track the arrival of the product (shipped by the seller, authentication in progress, verified authentic, shipped to the customer, etc.) at the StockX online marketplace platform. 
Main features for sellers:
#1 List an item for sale
If you have a product for sale, find that item on StockX and choose the size you own. 
#2 Sell immediately or ask the price
From that point, you will be able to sell it instantly to the highest bidder or choose to wait and submit a price you want someone to pay. Market trends available on the platform will help you determine what's best to do.
Asking for a certain price is especially useful if you are not in a hurry to sell an item and believe that it will cost more over some time. 

#3 Send the product for authentication
When a customer buys your product, the buy-and-sell marketplace platform StockX will send you a prepaid shipping label and a packing slip to put into the parcel. If you don't manage to send the package within two business days or the product sent doesn't pass the authentication process, a $15 USD penalty will be assessed.
#4 Receive money + pay the transaction fee
Once your item is verified and proven to be authentic and in a good condition, you will receive the costs and StockX will deliver the parcel to the buyer. There is a transaction fee starting at about 10% but it decreases when your sales grow. 
StockX marketing strategy impact on the online marketplace
For the successful marketplace development and launch, a marketing strategy is indispensable. 
As usual it starts with SEO and paid search, since online is where most of the people get their first meeting with StockX. The marketing team also concentrates on cultural marketing. They partner with famous culture representatives to create and distribute the Initial Product Offering campaign. 
For example, in the fall, StockX partnered with Hong Kong rapper Jackson Wang to release an exclusive TEAM WANG capsule. It turned out to be a truly global phenomenon, as the rapper as well as his merchandise brand has fans on every continent.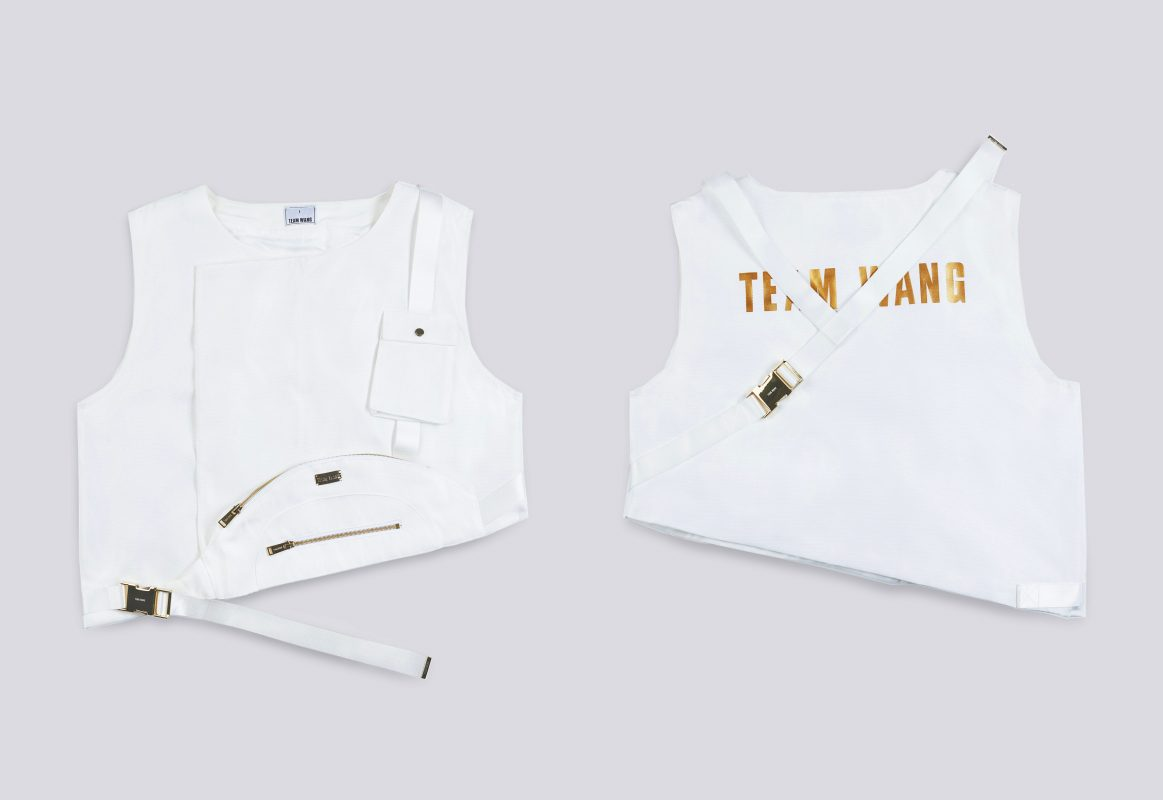 Ultimately, the marketing strategy ends with retargeting via paid digital ads to turn one-time clients into loyal customers. 
The fashion industry, and  buy-and-sell marketplace platform in particular, keep getting stronger than they had been before. 
The main part of StockX growth centered outside the U.S., specifically in Europe and Japan. According to the company's marketing team, a mixture of macro factors outside of the brand's control and their local presence in other countries led to such expansion. 
The company has teams in four other countries - England, China, the Netherlands, and Canada. Physical presence there gives the company an upper hand, as the vital knowledge of the specifics of the region and its key influences is difficult to obtain from a distance.
According to StockX CMO Deena Bahri, in 2020 international expansion was their goal. It is going to be even more significant this year. The StockX overall sales grew by approximately 100%, however, outside the U.S., sales were more than double that rate.
The company's CEO Scott Cutler stated:
We are just scratching the surface of what StockX can deliver for the millions of global buyers and sellers who count on the platform for a wide range of authentic current culture products
An increase in athleisure sales and consumer spendings in general allowed StockX to generate over $3.8 billion in revenue in 2022. 
Recap
StockX is the first sneaker resale platform evaluated at $3.8 billion. It has reached an impressive growth and doesn't stop there. With over a billion dollars of sales, StockX is a leader in the market.
Its success brings us to the next question: how to build a marketplace platform like StockX? If you need technical guidance or support, contact our team of experts for any help along your marketplace development journey.
Discover more: