Supply Chain Predictive Analytics: How to Develop SCM software?
Supply chain predictive analytics is often associated with an ability to foresee what will happen in the future. 
It helps to identify patterns and trends hidden in data of a manufacturing enterprise to understand market trends, detect weak points or areas of possible risks, analyze the demand and establish appropriate pricing strategies.
Taking into account nowadays tendencies and new restrictions caused by pandemic realia, manufacturers will hardly deny the importance of using predictive analytics in supply chain management. This blog will highlight the nuances of SCM software development, leverage the predictive analytics trends and try to provide you with an answer if it's worth investing in supply chain forecasting software or not. 
Table of contents: 
New Age of Supply Chain 4.0

Predictive analytics techniques

What is SCM software?

Supply chain forecasting software trends

Benefits of big data and predictive analytics in supply chain management 

Predictive analytics in the supply chain: A case study

How to choose the right software development agency for SCM software development?
New Age of Supply Chain 4.0
With the rapid increase of IoT devices, predictive analytics and forecasting became more powerful than ever before. That said, supply chain 4.0 offers a smarter approach to inventory management, production, procurement, logistics, and distribution. 
Through the implementation of intelligent technology, big data, robotics, and predictive analytics in supply chain management, manufacturers, suppliers, retailers, and even customers have to develop a new perspective and rethink the way it's designed and built.  
Companies that use predictive analytics become more flexible and responsive to ever-changing market demands. Choosing the most appropriate prediction modeling method is perhaps the most important step in the process because predictive models are the driving force behind predictive analytics.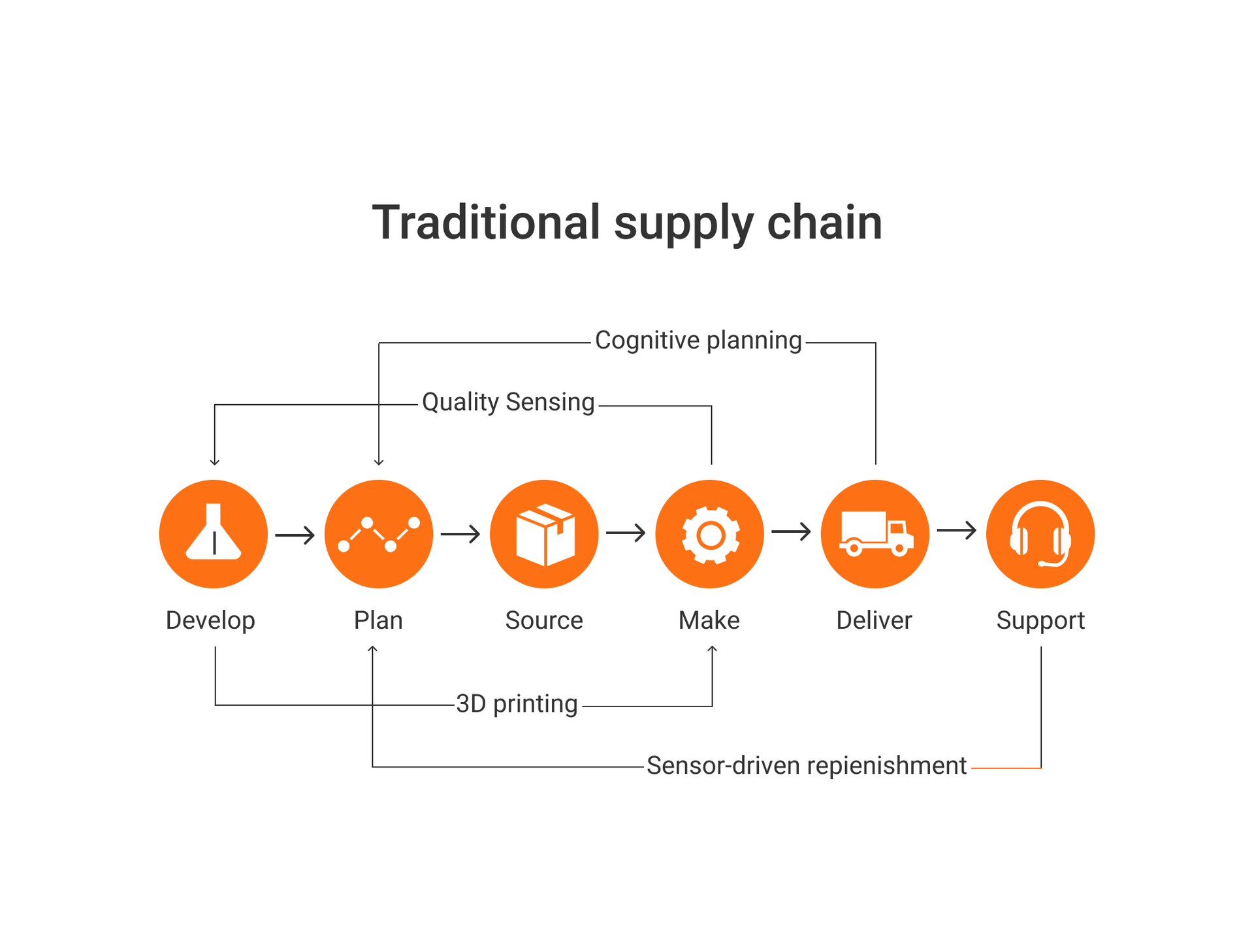 What is SCM software?
Supply chain management software value is contained in agility, increasing efficiency, and reducing maintenance and production costs. 
SCM software is meant to manage quotes, suppliers, cash, inventory, and other key areas within a single application. SCM solution also serves as a company-wide communication tool that delivers data to the staff on time and in sufficient quantity not to overload their memory spans.  
Supply chain forecasting software vastly improves the visibility of the entire supply chain process, diminishing the risks of unexpected costs and overruns. It improves business operations and provokes smarter decisions about inventory. If your business is streamlined with SCM software, the management can operate optimized metrics from previous orders and financial data that increase the supply chain's overall productivity. 
How does SCM software increase supply chain optimization and productivity?
Customer loyalty is defined by an enterprise's ability to meet customer expectations quickly and precisely. Raw materials, suppliers, manufacturing, distribution, logistics, trade, and order management must all be coordinated within the one-stop flying solution to deliver a given item to the customer on time, providing a top-notch experience. 
To accomplish this effectively and for a reasonable price, companies must rebuild their supply chains according to their customers' expectations. 
Benefits of big data and predictive analytics in supply chain management 
Manufacturing companies may significantly benefit from predictive analytics, rebuilding their supply chain with the implementation of big data. Here's what the traditional production cycle looks like compared to digital supply networks: 
The age of Industry 4.0 we live in, requires a smarter and more complicated approach to supply chain management, including production, procurement, warehousing, inventory management, customers' demands, and logistics. Today's turbulence makes retailers, suppliers, and manufacturers redesign the way they build their supply networks and implement intelligent technology in the operational lifecycle. 
In its turn, predictive analytics is supposed to bring the following value into a manufacturing company's processes:
Reduced maintenance costs

Improved effecativeness

Lower risk of production overruns

Better customer engagement

Identified opportunities for improvements and optimizations

Prevented supply chain interruptions

Data-driven decision based on automated algorithms

Reduced customer churn
In its turn, the well-designed and scalable enterprise SCM platform can significantly improve the efficiency of internal processes in a number of ways:
Cutting time needed for manual work and reducing paperwork for in-house staff.

Reinforcing inventory management for manufacturing.

Tracking staff's activity in almost real-time, effectively managing the delivery statuses of boxes, and predicting warehouse load. 

Increasing the effectiveness of planning, reducing operational overhead and warehouse downtime.

Improving cost-efficiency.
Predictive analytics in the supply chain: Case study
Customer:
Shipping container supplier with fabrication and refurbishment services
Industry:
Technologies:
Nest,

NodeJS,

React,

React Native
Services used:
Web development

Concept development

Dedicated team
Use cases:
Implementing predictive analytics into manufacturing processes

System optimization

Reporting of KPIs

Integrating data from multiple systems and sites
A common need for any manufacturer & supplier is to understand and optimize the performance of their systems. Adopting and utilizing custom, in-house software enables a combination of manual and automated activities to align with fast-changing customer needs and ever-growing market requirements.
Challenge
Installations of enterprise software continue at a strong pace worldwide, raising some difficulties for those companies, that haven't modified in-house processes with modern technologies yet. Every niche involves a few common benefits that may be achieved through digital transformation, but there are also differences in the underlying technologies and local performance characteristics.
A common need for any manufacturer & supplier is to understand and optimize the performance of their systems. Adopting and utilizing custom, in-house software enables a combination of manual and automated activities to align with fast-changing customer's needs and ever-growing
market requirements. As a result, a company gets improved operational efficiency, service quality, and reduced product development costs.
Our client maintains and produces a lot of raw materials and finished goods, that circulate among factories, warehouses, and suppliers. To improve the logistics and effectiveness of production the client embarked on an internal task management and logistics platform. The platform is used by company staff to efficiently allocate and manage their tasks, activities during business hours, measure and track their performance. 
Leveraging predictive analytics and performance tracking tool for supply chain management
This case study describes how a shipping container supplier teamed with a custom software development agency to implement advanced technologies, transform the workflow digitally, optimize the system with profound analytics and deploy it throughout the organization.
Creating the tailor-made architecture of a software product was critical for our development team to ensure connectivity with a diverse range of sites and systems, suitability for the user-friendly analysis of the available process data, and economical availability to all who would benefit.
The enterprise software we provided was primarily aimed at completing simple and standardized tasks, which allows skillful human resources to focus their time and effort on
more demanding and detailed tasks, enabling increased arc-on time, which correspondingly enables faster ROI.
Solution
We had to gather all necessary functions to extend the capabilities of our customers, transform the way it operates digitally and reinforce the perspectives. Our client had a very general vision of how the concept should look consequently, so on our behalf, we should guide him through all the rough spots and help to achieve that goal.
Since its foundation, the company reinvented its strategy and expanded to an enterprise that provides shipping containers of all types, including refrigerated, used, shipping containers of all sizes, intermodal chassis, trailers, and container accessories. Moreover, our customer offers custom fabrication, so users are able to compile a container heavily tailored to their requirements and preferences.
That said, we had to develop software for optimizing this manufacturing process to empower our client to enhance its efficiency, reduce time to market, streamline workflow, optimize operations and infrastructure, increase workforce efficiency via cutting down the time they spend on handling simple tasks that can be fixed automatically.


Our tasks were:
Scale the architecture and create wireframes for a prospective application. 

Build up powerful web and mobile solutions to meet customer's needs. 

Think out a concept and mission statement for a custom-made solution. 

Combine the suitable design with multi-layered functionality and architecture. 

Fill in the gaps that previously have been covered with various tools or SaaS solutions within one custom-made system. 

Refine the whole service delivery path from submitting a request and structural engineering services to distributing.
Conclusion
As a result, we developed three separate digital entities that can be utilized simultaneously, as a complex solution to cover all tasks and change a company's performance in a positive manner.
During our partnership, we may highlight the following milestones:
Logistics management system for in-house workflow optimization

Production calendar for web and mobile platforms

Discovery stage and detailed project estimate
When your company comes to the next level, the need appears to turn to digital and transform the way of doing business entirely. That's exactly what we have done with Conexwest: built up both web and mobile solutions to manage workflow, track tasks in his business, assign them to employees, and see how much work they do. As a result, the processes became intuitive, autonomous, and smoothly operated.
How to choose the right development agency for SCM software development?
The client turned to Apiko, applying to build a scalable, multi-layered enterprise solution with versatile functionality in order to improve the efficiency of manufacturing, reducing operational overhead and warehouse downtime.
Moreover, we have built the DevOps pipeline from scratch, setting up the environment for development and QA, and introducing concept development processes that allow us to easily assemble and deploy the enterprise software.
If you have any questions or business ideas to develop, don't hesitate to schedule a call with our tech experts and start your enterprise SCM software right now!