Yard Management System: How to Enhance Your Yard Efficiency with Technology

To enhance end-to-end visibility, ensure connectivity on an organization-wide level, and better manage logistics operations, processes need to become digital. Manual approach can no longer compete with the benefits digital transformation brings. 
By using technologies in their supply chain management, organizations have significantly increased productivity, reduced costs and errors, and streamlined different sectors of logistics, including fleet management, shipment tracking, and yard management services. 
Here you will find insights into how to effectively transform logistics operations by introducing a yard management system into your workflow and what YMS functionality your business will benefit from the most. So, stay tuned. 
What is the role of digital transformation in logistics?
Technological improvements in logistics have increased massively, bringing the industry closer than ever to the digital transformation of its processes.
Manufacturers, retailers, and distributors had to quickly adapt their supply chain activities to meet the rising market challenges with agility and ensure supply chain effectiveness. With unstable freight capacity, constantly changing health and safety guidelines, and troubles with meeting customer expectations, technologies played and still play a vital role in streamlining disordered operations.
According to the Research and Markets' report, the global market for Digital Transformation Spending in Logistics is projected to reach US$75.5 billion by 2026, while in 2022 it was estimated at US$52.2 billion.
Speed and time are major competitive advantages in logistics. Digital tools offer valuable new ways to leverage these advantages by reshaping ordinary tasks and streamlining workflows in supply chain management as well as transportation. 
Such transformation of processes helps companies not only boost their performance, but also increase innovation, make better decisions, monitor operations across the supply chain, and accelerate automation. Here are some of the major advantages digital transformation in logistics brings:
Improved supply chain transparency
By connecting all the processes across your supply chain activities, you can gain full transparency and valuable insights into your operations, strengthen fleet tracking and management, boost real-time inventory, and find new opportunities to tackle inefficiencies. With digitalization, you can also eliminate frequent errors caused by manual data collection and organization.
Logistics has never had access to more data. Applying technologies to the data management process saves time, reduces errors, and increases visibility across processes. Gathering the needed data from various sources and effectively cooperating with your teams will provide you with useful insights, which will help in planning, supply chain optimization, and addressing various challenges to reach operational excellence.
With detailed insights into customer dynamics, path analysis, and fleet management, businesses can better track user behavior across different platforms, better understand the performance of their workflows, and gain visibility into all the journeys performed. A centralized hub that keeps all of the data gathered in one place makes analytics much more efficient and streamlined.
Technologies make it much easier to identify the most efficient routes for drivers so that they can reach their destinations without delays. The tools can notify drivers of traffic, road works, accidents, and congestion ahead, and advise on the better routes to take to arrive on time. Improved routing helps logistic companies save money because transport will be able to drive fewer miles and use less fuel.
Enhanced sustainability efforts
It is becoming more and more important to have a sustainable strategy in place for logistics businesses. With recent regulations, it is vital for organizations to adopt decarbonization practices and carbon-tracking tools. Technologies help businesses track and measure their carbon emissions and find ways to limit their harmful impact on the environment. 
Cloud technologies enable platform solutions to be used and accessed across the organization. Such tools provide greater scalability and flexibility, open new opportunities to serve customers better and introduce smooth and more efficient processes. 
Those who currently rely on legacy systems miss out on the huge potential. According to the study by PWC, the percentage of transportation and logistics companies that estimated themselves as 'advanced' in digitalization was just 28%.
One way to embrace digital transformation in logistics is to adopt a yard management system. At distribution centers or manufacturing plants, trailer and container yards are playing a vital role in speeding up shipments and reducing costs. Let's dive deeper into the digital transformation of a yard.
Logistics 4.0: yard management service digitalization
Though there are many factors that affect transportation costs, according to Adrian Gonzalez, lead researcher in Adelante SCM and PINC report, one factor that is very often overlooked is the link between yard management, driver detention, and freight rates. 
A yard management system can help bridge the gap between these essential elements. A yard management service comprises a set of processes aimed at tracking the flow of inbound and outbound freight. That includes:
Organization of trucks movement in the yard of a manufacturing facility, warehouse, or distribution center

Scheduling and performing loading and unloading operations at the docks

Asset tracking 
With a yard management system, you can digitally transform these processes and automate them. You will no longer need to manually plan and track your daily yard operations. You can utilize such features of yard management software as scheduling, keeping track of equipment and goods, and real-time data collection to ensure more efficient workflows. 
Without real-time data collection and visibility into dock activities, it's almost impossible to react timely to disruptions and create order. With the use of the right digital tools, you can monitor activity at all docks remotely, instantaneously collect information from multiple sources in a single database, and gain valuable insight into daily operations.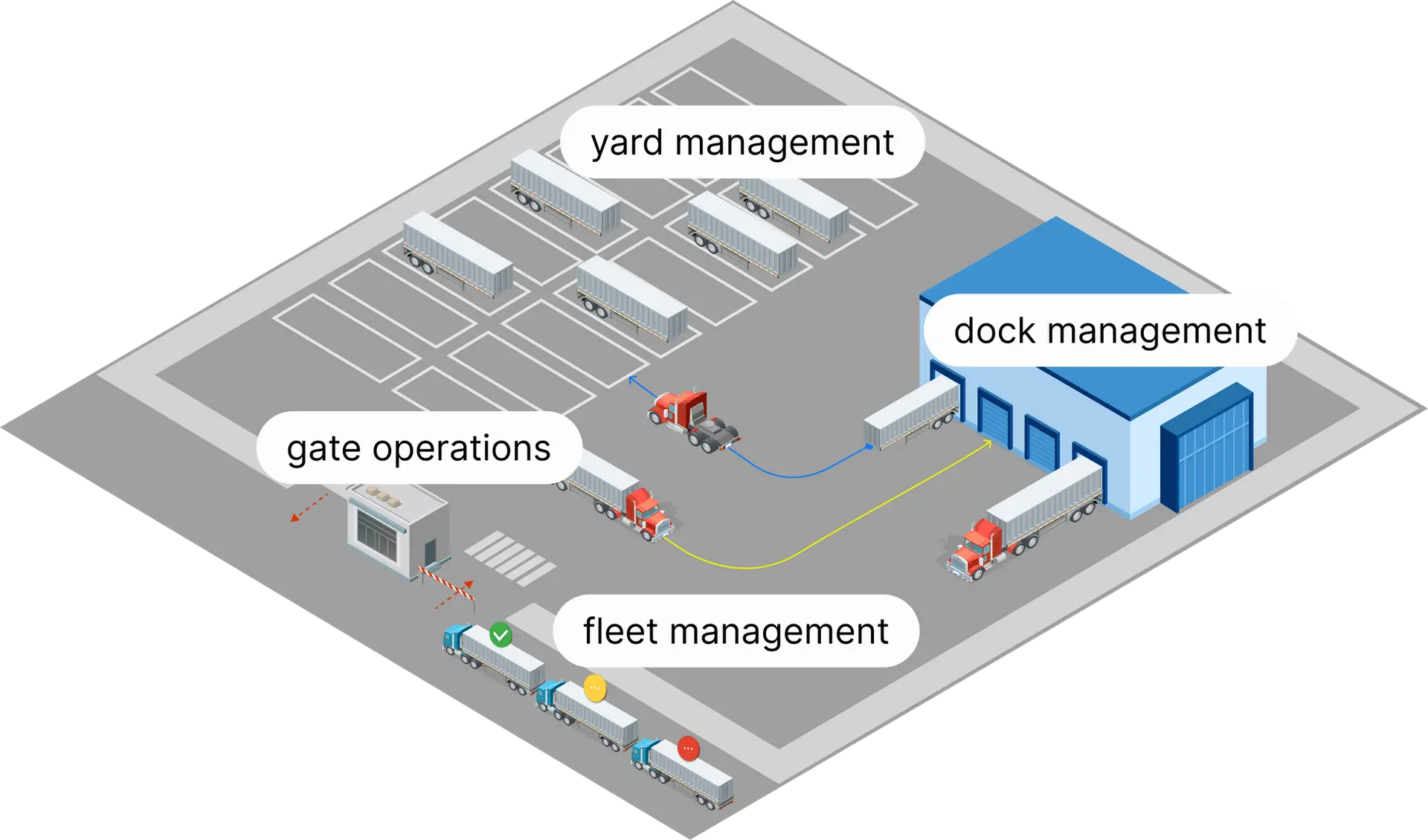 What main challenges yard management software can solve for you
Though no business is the same, there are some common inefficiencies that many logistics companies may encounter while managing yard operations. The majority of challenges come from the lack of automation and the prevalence of manual operations, as reported by about half of the respondents of the 2021 Yard Management Industry Report by FourKites.
When there is a busy movement in the yard, manual check-in and check-out can create serious obstacles for cargo smooth transfer. A paper-based approach creates long waiting lines, shipment delays, and piling detentions. Managing trucks that come in and out of the yard can become much more streamlined and time-efficient while managed with the help of digital solutions.
Inefficient resource allocation
If staffing numbers are not planned correctly, the result can be overstaffing or understaffing, creating a host of problems for businesses. Poor human resource allocation can result in nonfulfillment of orders, staff idling, costly overtime, and extra labor expenses. Knowing where the people are needed, scheduling their time, and work orders can't be managed efficiently without technologies such as HRMS, HCM, or HRIS software development. 
Lack of automation in scheduling dock activities and personnel
Dock management plays a crucial role in your yard activities, being a central point of goods loading and unloading from trucks and vans. It's highly important to keep these processes efficient, as they are directly proportional to the warehouse's profitability. 
Creating the schedule in a yard management system and sticking to it can ensure top performance while dealing with the inflow and outflow of goods. Manual scheduling is not that efficient, as one minor delay can ruin the whole organization of planned activities. 
Tracking assets may not be a problem for small-sized companies, but managing a big yard without visibility into where your trucks are at the moment and the location of the needed inventory becomes a real challenge. Digitally transforming those operations can bring the needed transparency into your yard management activities and help streamline the efficiency of loading and unloading trucks. 
What every company can benefit from is much better visibility into their yard inventory. When organizations have accurate, real-time data about the assets that move through their supply chain, they can operate with much greater efficiency and precision. Providing a link between items and their data helps companies collect up-to-date information essential to supply chain effective management. 
How to build an efficient yard management system your business will benefit from
Companies within various industries may focus on different things when building a YMS, basing their requirements on different priorities and objectives of what the system must do to fit their needs perfectly.
A truly efficient yard management system streamlines all the yard components and operations of a particular business, connects all siloed processes and helps businesses gain enterprise-wide visibility and control.
While developing a custom YMS, focus on these four main areas of yard management service digitalization:
Inventory management and asset tracking

Efficient planning and scheduling of the yard activities

Easy access to data

Loss prevention and security
To build a product that would simplify complex yard management service operations, make sure your YMS includes the following:
With scheduling functionality, logistics managers, carriers, and suppliers can effectively plan dock activities and their occupancy. With an online calendar or Gantt chart, you can ensure clear visibility of warehouse operations throughout the day, plan truck loading and unloading in advance, minimize truck queues, and measure set KPIs.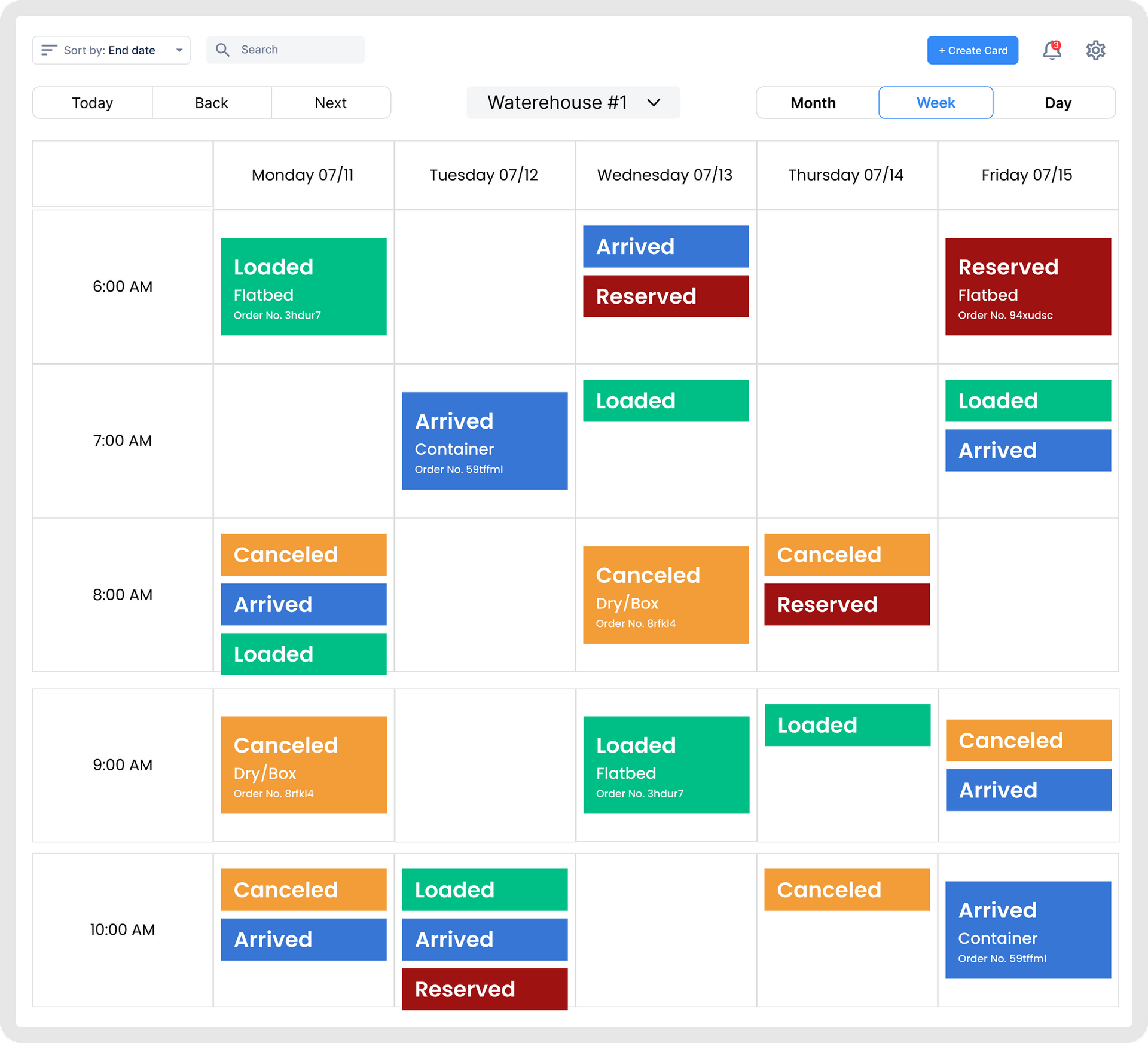 Managing a depot in a yard management system enables companies to maximize their productivity. You can use the software to keep track of container gate in/out status, work order progress, transfers, container storage statistics, and reports. In this way, you will be able to see where your inventory/containers are exactly at the moment, track their movement, manage container repairs, as well as manage daily work orders and their progress.
Managing tasks in a yard management system can help connect your management team with yard and dock personnel to ensure their effective collaboration. The functionality allows you to distribute and prioritize tasks among workers and send timely notifications of the tasks that need to be done in the yard. The system therefore can increase productivity, decrease idle time, and enhance the coordination of activities managed remotely. 
Ensure the efficiency of your fleet by monitoring your trucks. With GPS tracking and mapping, you can much better manage your trucks and have a clear vision of your trucks' current position (whether moving, idling, or parked). The yard management system can also: 
keep track of your drivers and monitor performance

create the best routes

provide all the details on orders and their dispatching

provide information on actual and forecasted arrival times
To keep track of all your physical assets, you can either scan barcode labels attached to them or use GPS or RFID tags that broadcast their location. In that way, you'll ensure a well-coordinated workflow in your yard, keep up to date with all yard movements, and eliminate the need for the manual search of your assets.
Keeping all the information in one system helps to boost analytics capabilities and present opportunities for improvement. You can get insights into your yard's productivity, performance at the gate, as well as your asset performance to make it easier for managers to ensure efficient work at the site. Reports and dashboards help bring all information together in a helpful format to make better use of the collected data.
Integration with other systems
Make sure your YMS can be easily integrated with other systems in your organization, such as Enterprise Resource Planning, a Warehouse Management System, or a Transport Management System, and enable smooth data flow across the supply chain management. When systems are connected, everything starts to function as a cohesive whole. It enables companies to automate processes, eliminate redundant tasks, and drive better decisions with real-time information.
Custom yard management software development to satisfy your unique business needs
To streamline yard operations management at your organization and address your particular challenges more effectively, focusing on business objectives and requirements is key. 
Before embarking on a digital transformation journey, it's worth mapping all the parts of your business activities and looking for opportunities of their improvement. Everything that is happening in your yard can be a subject of optimization, from scheduling and gate operations to the dock and fleet monitoring. 
Start by outlining your business needs and the benefits you want to gain. To get the most out of a yard management system adoption, consider custom software development. Custom solutions work as seamless extensions of your business. IT companies such as Apiko can help you build a YMS that would be based on your exact requirements and needs. 
To learn more about tech possibilities for your business, feel free to get in touch with our team!