Roadmap for Digital Transformation in the Manufacturing Industry with Technology And Strategy

Competition in the manufacturing industry pressures organizations to become more agile, reduce costs, and improve customer experience. This is a time of change for manufacturers, full of threats as well as opportunities. 
In every segment, there seems to be companies disrupting the industry with new value propositions by leveraging digital technologies in a strategic way. By creating new opportunities for themselves, other manufacturing organizations may feel threatened. However, it is a good time for them to become digital also. 
According to the Oracle report:
Digital transformation is rapidly moving into the mainstream; 82% of manufacturers already have or plan to develop a digital transformation strategy.
Though digital transformation in manufacturing can have an impact on multiple scales and bring fundamental changes to the way organizations operate, companies expect digital transformation to have the greatest impact in these four areas:
Digital transformation creates major efficiencies such as rethinking and improving processes, eliminating manual steps in the production, as well as equipping decision makers with better data. Innovative capabilities can also create new business opportunities, improve delivery times and service quality to support the business and drive its growth. 
Here are some of its most important benefits: 
Improvements in productivity.

Faster and better quality processes cause great productivity improvements. Through machine connectivity (IoT), organizations can also achieve higher productivity rates by transferring essential maintenance data that helps prevent deficiencies and improve outputs.

Overall quality improvements

.

Digital transformation causes better production monitoring, output measuring, and fine-tuning. Through the right use of technologies, the quality of products can be automatically assessed and the knowledge gained can be applied to improve the production parameters. 

Cost reductions.

By enhancing digital capabilities to analyze all the processes, machines, production line, and logistics data, manufacturing organizations can discover new cost reduction opportunities as well as manage their inventories much better.

Customization of product offerings.

Digital tools can open new possibilities for manufacturing organizations to develop new products, services or functionalities that better meet customer requirements and needs. 

Increased safety.

Digital transformation in manufacturing should lead to increased safety conditions for the production line employees. By employing sensors and IoT, organizations can add an additional layer of security, reducing human errors and the number of accidents.
Industry 4.0: Major focus areas for manufacturing organizations' transformation
Industry 4.0 can be summed up as the growth of automation and data technologies powered by the internet of things (IoT), the cloud, advanced digital tools, robotics, and people. It is the seamless integration of software, equipment, and people that fosters speed, reliability, and flow of data between all systems of a manufacturing organization. 
Industry 4.0 capabilities that manufacturing companies leverage the most are:
Data, computational power, and connectivity, such as sensors, the Internet of Things, cloud technology, and blockchain.

Analytics and intelligence, including big data, advanced analytics, artificial intelligence and knowledge-work automation.

Human-machine interaction, ranging from virtual and augmented reality to robotics and automation, robotic process automation (RPA), and chatbots.

Advanced production methods such as additive manufacturing and use of renewable energy.
Industry leaders are using digital transformation and enhanced digital capabilities to design new or better ways of operating their businesses. The most important focus areas of digital transformation are those that enable remote work, supply chain connectivity, and operational transparency according to the research.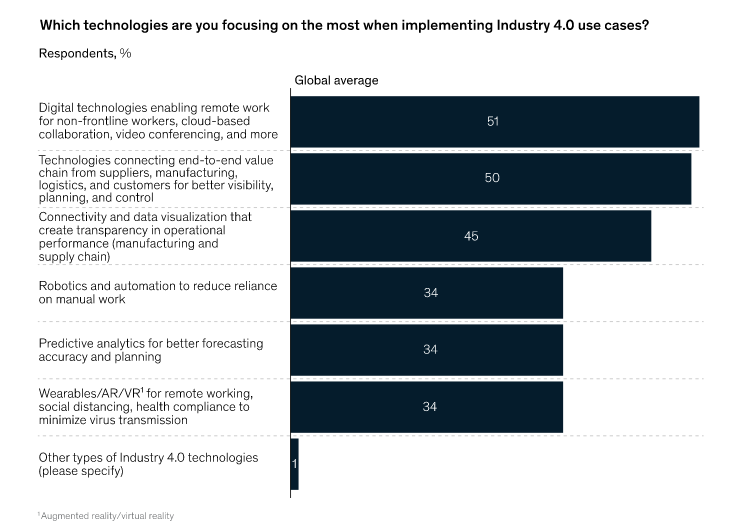 With the help of technological disruptrions, organizations can bring about major changes across the value chain that cause:
increased agility to scale operations up or down in response to market-demand changes

flexibility to meet customer demand

faster speed to market

increased resilience in manufacturing and supply chain to strengthen company for future disruptions

improved after-sales service and end-customer experience
Adopting industry 4.0 technologies can also have an impact on machine downtime reductions (30-50%), labor productivity improvements (15-30%), increases in throughput (10-30%), and decreases in the cost of quality (10-20%).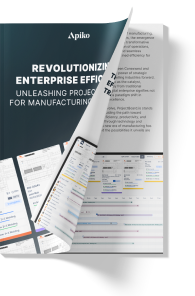 Unlocking Efficiency: The Conexwest Transformation Journey
Discover the key to optimizing your manufacturing operations with Conexwest's digital transformation story.
Value impact:
Greater process control
Increased revenue
Reduced wastes (asset misuse, workforce downtime) Effective human resource allocation 
Download our PDF guide and gain insights from Conexwest's success story.
Choosing the right digital solutions: how do manufacturers innovate to drive growth and value?
Successful digital transformation initiatives involve changes on different levels such as  processes, people, culture, operations, infrastructure, technology and resources. However every company approaches innovation differently, focusing on how those particular changes can satisfy their unique needs and goals.
When selecting the right digital solutions, companies should make decisions with a long-term perspective, considering what functionality they will need within the next five to ten years. Once a manufacturing company understands its objectives, it can determine if a particular software would be a good fit.
There is a great variety of ready-to-use digital solutions available on the market, however SaaS solutions have their limitations. Custom manufacturing software can be tailored precisely to meet your organization's unique needs and, as your business grows, you can easily update it with new functionality.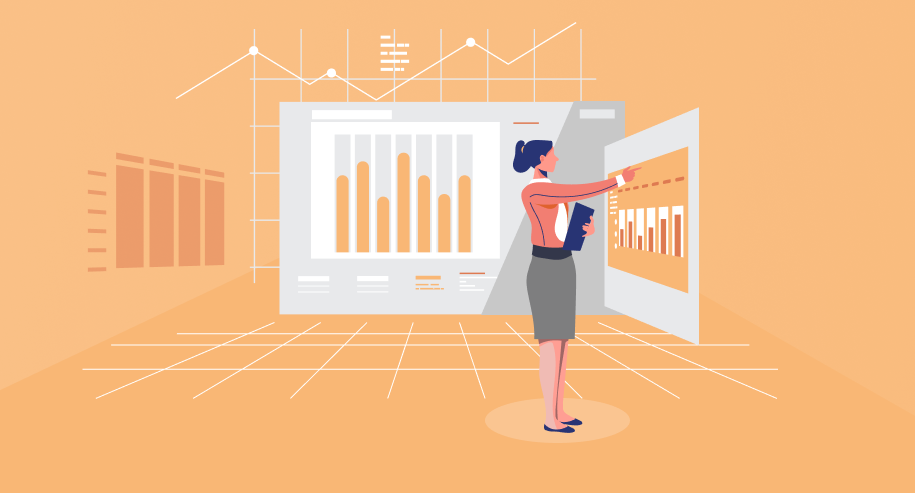 Your choice of digital solutions will heavily depend on what priorities your organization has when it comes to digital transformation.
For example, if you want to optimize your supply chain processes, you need a solution that at minimum handles financial and operations management. If what you want to improve is the customer experience, you need a system that can take care of marketing and customer relationship management. 
Here are some of the key innovation areas you should consider while deciding on the right tools for your manufacturing business.
Information and insights
What helps manufacturing companies succeed in digital transformation is their ability to find and use the right data in meaningful ways. To gather better information and maximize its input, manufacturers need a scalable data solution that adapts to their needs by providing managed and optimized resources, automatically scaling for data growth, delivering top-notch security to protect the data, and delivering predictive analytics that increases value. 
The success of digital transformation in manufacturing comes from adopting a modern data environment that can support and capitalize on technologies enabling the collection of tons of data and sifting through them. Big data analytics systems can utilize machine learning and AI technologies to quickly process the collected data and give decision-makers the information they need to make improvements across an entire manufacturing operation.
Unified business operations
Modern manufacturing operations are connected and automated from top to bottom. With modern CRM, ERP, and customer & field service programs, organizations can optimize their main functions leveraging data for informed decision making. 
In a manufacturing organization that adopts digital transformation, these technologies will enable the following:
ERP system: The software can handle finances, projects, talent management, and deliver the tools organizations' need to connect and manage internal operations in a united, integrated setting. With ERP software, you get better visibility and control over your business, which can help you identify and react to new opportunities and improve performance in real-time. 
CRM system:

Digitizing customer relationship management empowers manufacturing organizations to centralize customer data, act on its insights, and deliver more responsive and customized marketing and customer services.  

Work order or field service management software:

Manufacturing businesses can drive true productivity improvements by creating work orders, assigning employees, tracking their progress and receiving status updates about the performance.
Modern infrastructure 
One of the drivers of Industry 4.0/manufacturing digital transformation is the microservice architecture and its Cloud-enabled capabilities. Modernization allows businesses to replace their legacy applications, data, and infrastructure with the cloud services that are secure, managed, and optimized to meet organizations' needs.
Cloud migration allows businesses to take advantage of the following benefits:
Faster delivery of new applications and digital transformation acceleration.

Real-time scalability for systems as your business needs change. Cloud computing can support larger workloads and more users than on-premises infrastructructure.

Cost-effectiveness. While cloud providers take over maintenance and upgrades, it allows manufacturing organizations to spend much less on IT operations, but more on innovations and new products.
To store such vast volumes of data created in an Industry 4.0 environment, manufacturing organizations no longer need to use massive amounts of physical space. That's why cloud storage is a must for a connected factory. It enables data sharing across the entire enterprise at a lightning speed as well as remote access and monitoring of all data, empowering organizations with great visibility into operations and efficiencies. 
Enhanced capabilities 
With digital transformation, manufacturing businesses can evolve their ordinary operations, such as supply chain management, into intelligent workflows in order to achieve higher levels of productivity and responsiveness. 
Supply chain 4.0 offers a smarter approach to inventory management, production, procurement, logistics and distribution. By placing IoT-enabled sensors, creating smart networks, automating operations, and analyzing data companies can significantly improve performance and customer satisfaction.
With the implementation of intelligent technology, big data, robotics and predictive analytics, manufacturing organizations can identify patterns and trends hidden in data. It helps decision makers better understand market trends, detect weak points or areas of possible risks, analyze the demand and establish appropriate pricing strategies.
Supply chain management (SCM) software is meant to manage quotes, suppliers, finances, inventory, and other key areas within a single system. It greatly improves the visibility of the entire supply chain process, minimizing the risks associated with unexpected costs and overruns. Businesses streamlined with SCM software can operate optimized metrics from previous orders and financial data that increase the supply chain's overall productivity. 
Organizational efficiency
Digital technologies in a manufacturing organization can increase the output delivered using the same resources, thus increasing the efficiency of the whole organization. A modern workplace means implementing technology to create opportunities for employees to do their jobs better. 
Such systems as HR and KPI management software provide the staff of organizations with connected environments, intelligent dashboards, and a unified digital experience to collaborate and communicate as efficiently as possible. 
Let's keep in touch
Want to digitalize manufacturing processes? Let's discuss how the Apiko Team can assist you in developing a robust and intuitive software to meet your business objectives.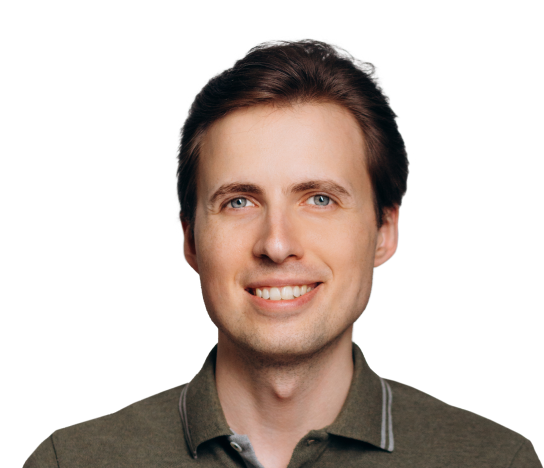 5 key steps on how to capture the full potential of digital transformation in manufacturing
Though it is a high priority for most manufacturing organizations to implement digital transformation initiatives, the rate of deployment of Industry 4.0 technologies is not the same for everyone. Actually, at least 70% of manufacturers are now experiencing the so-called pilot purgatory. 
Companies are struggling to go ahead with digital transformation because of many reasons. The established culture is the most significant challenge to scaling. Apart from that, the companies' path to success is often hindered by the lack of essentials, such as:
Strategy.

It defines the direction of digital transformation regarding where and how technology may bring real benefits and create new incentives to increase business value. 
Necessary capabilities.

To truly understand and implement the desired changes, manufacturing companies must possess and employ in the right way technical, managerial and transformational capabilities.
Sensible data and robust IT infrastructure.

The way data is gathered is often uncoordinated and patchy. So instead of becoming a driver of progress, it becomes a bottleneck in the success of many digital transformation projects. 
So, to make the most of your manufacturing digital transformation, here are the main principles you should follow:
1. Keep business value at the heart of digital transformation. 
Most manufacturing organizations do not have the time or budget to transform every single process, nor is this necessary in most cases. Implementing advanced technology without improving any processes provides limited value. 
To succeed, the modernization of manufacturing processes must come from the company's digital strategy, with clear financial and operational performance goals. These goals must in turn become tangible targets linked to real business needs and spread across the organization.
2. Innovate through an integrated approach
For digital transformation changes to take place, an organization must follow an integrated approach at each of its sites and address an extensive set of capabilities in a structured way. 
Create digital tools and custom manufacturing software based on value-driven use cases centered around user journeys to maximize ROI and enhance sustainability.

Invest and form new roles and capabilities, and help your organization to embrace the changes with a reskilling and upskilling program.

Establish a cross-functional set-up and follow an agile approach to work. It's much more efficient to build minimum viable products first, learn along the way and then make adjustments where necessary. It ensures rapid and cost-effective deployment.
3. Make capabilities for deployment
The manufacturing organization needs a strong community of specialists such as software engineers, digital change agents, data scientists, and IT architects to ensure effective implementation of new digital solutions.
Custom software development can ensure your organization has functionality that precisely suits all your business needs. Combining new and existing capabilities will help maximize value from digital transformation. It will also help to have "translators", who can facilitate interactions between technical experts and business people.
4. Scale deployment, capabilities, and technology
A company on the journey to digital transformation needs to keep driving innovation on a continuous basis. It's important to have clear objectives on how to drive the development and scaling of the use cases, as well as promote positive collaboration across the network. 
A roadmap for the scale-up should be created with adapted deployment models that best fit the organization's context and needs, scaling mechanisms, and a resourcing strategy. The sequence and timeline of scaling should be in line with the organization's priorities about which use cases to implement, where to implement them, and when to start implementation and scale up. To create the order, you should also consider your business needs, value at stake, potential ROI, and site readiness.
5. Sustain impact
Right from the beginning, an organization must ensure that the digital tools capture the operational and financial benefits. Continuously assessing the performance and monitoring if the digital transformation is heading in the right direction will help an organization to sustain impact and ensure its growth for the years to come.
Implementing technology solutions alone will not drastically enhance performance. Only by closely monitoring the new and existing resources and capabilities as well as their performance will help you manage the health of transformation. That will keep your company on the right track to innovation.  
Driving your digital transformation forth with custom manufacturing software development
The root of digital transformation in manufacturing is connected devices and people, all powered by robust technology solutions and data analytics. An individual strategic roadmap is critical for companies that want to put investments and time to a good use. 
There are no easy and fast fixes. Industry 4.0 will require the removal of functional silos, willingness to change, a supportive culture, and data transparency across entire value chains. To support their digital transformation ambitions, companies will need the right people and the right tools in place.
If you need any technical help with your digital transformation project, our experienced software development company can help you stay competitive in your industry. Contact our team today to get started.