B2B Platform for Agriculture: Buy and Sell Food Marketplace Development for Farmers and Suppliers

We have all seen how quickly our whole lives can change because of the pandemic, and our food buying habits are not an exception. Less or even no visits to food markets, lower demand for restaurants, increased e-commerce deliveries, and a rise in eating at home had an irretrievable effect on how, where and what kinds of food we buy. 
Local food system has also suffered changes. Though many farmers have encountered different challenges due to the restaurant and market closures or restrictions, there is undoubtedly a growing trend for fresh products from regional providers. One way to help local food producers connect directly with the customers (B2C) or with the restaurants (B2B) is to consider buy and sell food marketplace development for farmers and suppliers.
To make the development process of an online marketplace for farmers and farm owners easier, we've gathered all the details you may need in one guide. 
Keep reading to find out how to build your own online multi-vendor marketplace for the direct marketing of agricultural products to connect producers and consumers!
Farmers' markets during COVID-19: What has changed?
The Sustainable Food Center conducted a deep analysis of the top selling months for vendors at the local farmers' markets (March through June) to see how the pandemic affected this typically fruitful period. They looked at sales numbers and the number of vendors selling at different markets to discover the change in March - June 2020 compared to March - June 2019. 

Source: https://sustainablefoodcenter.org/latest/blog/how-has-covid-19-affected-sfc-farmers-markets
As you see, the amount of vendors selling at farmers' markets has considerably dropped. Though there were fewer vendors, sales numbers remained almost the same in 2020 as in 2019. With less competitors, every vendor increased their normal sales, but it too differs by the region, type of vendor, and market. 
Those vendors who choose not to attend after weighing down the risks, found other ways to sell their fresh products. Most common among them is to offer preorders, which customers can pick up on the farm. 
Despite different challenges farmers and ranchers encountered in their businesses this year, we can still see a jump in total sales of locally grown foods. Why is that? It can be accounted for by the new eating habits of many families, who now tend to cook more at home, buy more organic food, shop in bulk, and spend less in restaurants.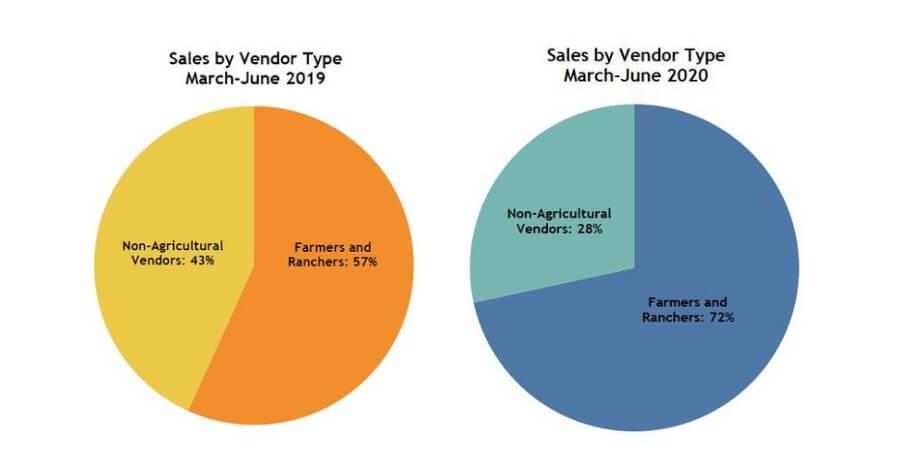 Source: https://sustainablefoodcenter.org/latest/blog/how-has-covid-19-affected-sfc-farmers-markets
B2B platform for agriclture: The role of online platforms in buying and selling agricultural products
Though our lives have already been digital and most of the transactions have happened online, probably we have never felt its impact so strongly as during the pandemic. Online platforms are the key players in today's world giving rise to the economy even when everything else is shut. 
To distinguish an economic sphere that has not been influenced by online platforms is problematic. They offer various business advantages, including a way to buy and sell goods and services, easier access to abounding information, fresh opportunities, and choices. B2B platforms for agriculture differ in industries, types, and sizes, from small to world-famous businesses. That also includes the food sector. 
People buy food online typically in the form of groceries or ready meals. Food producers or traders may build their own selling website or use third-party digital solutions for their business. Eating places may use delivery services to reach their clients offering for their choice the whole menu.  
We are all familiar with some popular food delivery platforms such as Uber Eats or Instacart, which are closely tied to our everyday lives. The business of delivering groceries or meals to homes is rapidly growing, so as the demand for food delivery apps (read more about their development https://apiko.com/blog/locked-in-and-hungry-grocery-delivery-apps-to-the-rescue/)

Fresh, local food delivery during COVID-19 pandemic
The worldwide pandemic has only emphasized the importance of B2C and B2B food delivery platforms, which you can use to buy and sell food products. Though we may stay at home, our shelves will still be packed with goods.
Consumers tend to turn more to online grocery providers instead of going to the stores, mainly because of the safety reasons. Bars and restaurants closures have also forced many businesses to grow or build from the scratch their online presence. And that's not all.
With the rise of popularity for fresh, non-GMO products, more people choose online food platforms that make a real impact on the environment. These include apps connecting farmers (and farm owners) to consumers and farmers to restaurants. Learn the details of such buy and sell food marketplaces development for farmers. 
Buy and sell food marketplace development
Technology has opened many doors for farmers to keep in close touch with their clients. Buy and sell food marketplaces are really appealing to food producers, as they can connect to customers online without having to build their own websites. Using an e-marketplace for agriculture allows them to:
Reach more customers 

Establish an online presence;

Promote their shop

Deliver products conveniently 

Track orders

Limit human contact in COVID-19 times
Lots of farmers and ranchers have implemented or are looking for a way to implement a new digital approach of transferring their produce to our kitchens. However, the transition of agriculture to an online world which COVID-19 started will not likely stop after its end, but will only widespread and grow.
Here is the list of some popular e-marketplaces for agriculture that already caught the attention of farmers and their clients:
WhatsGood - online marketplace for farmers and farm owners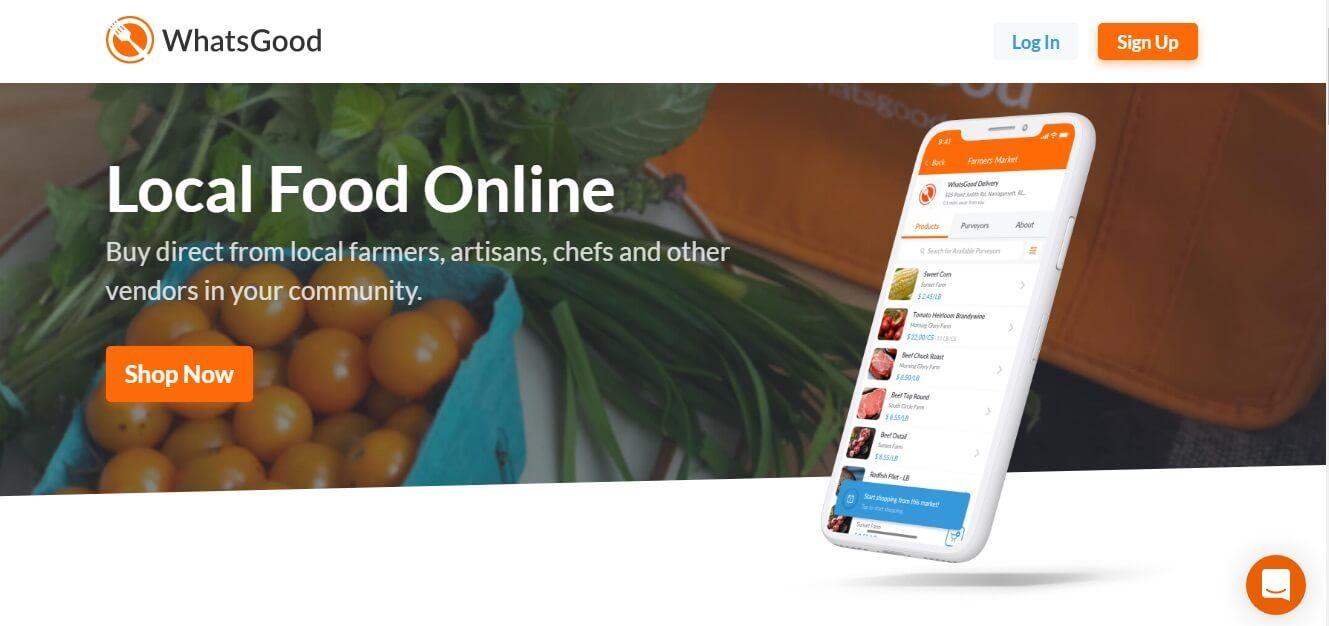 WhatsGood is an online food marketplace for buying and selling local food that keeps lots of consumers directly connected to farmers and food producers in communities around the USA. There you can choose your region and then discover all the markets in that location, products they offer, details such as their working hours, address, and their chosen method of delivery (it may be pick up or delivery).
Since its launch in 2014, the idea of the marketplace has evolved from a platform just for chefs to an online marketplace that connects buyers with local farmers and vendors. Their mission statement is clear: to create a link between communities and people growing their food.
How does the online food platform work?
To start selling farm produce online, vendors need to:
Sign-up for a vendor account on WhatsGood

Fill out your profile and provide necessary business information 

Verify your bank account, which WhatsGood will use to send you the funds

Set the preferred delivery method (pick up and/or delivery)

Add products and start selling
Customers choose the region, shop directly with farmers locally, choose convenient pickup or delivery options.
Whole Foods Market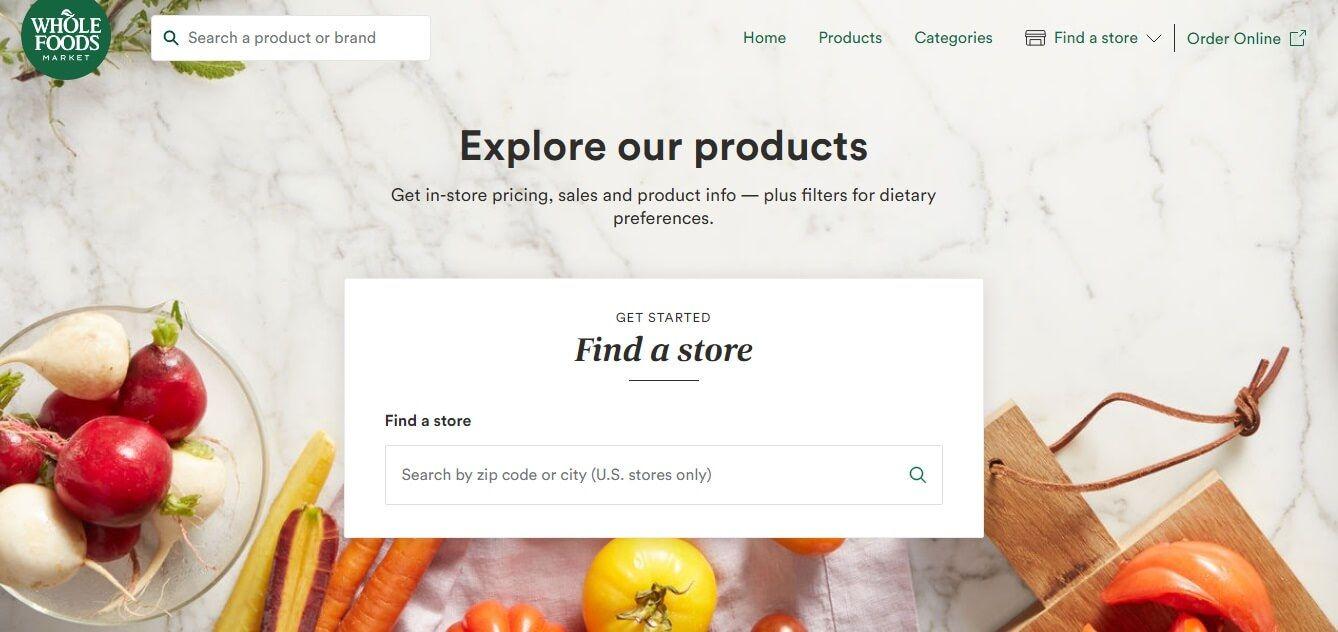 Whole Foods Market  is an American supermarket chain with many stores in the US and the UK, which particularly sells products free from hydrogenated fats and artificial colors, flavors, and preservatives.
It is a marketplace with a mission. They search for the best natural and organic foods available on the farmers' markets with the highest quality standards to offer these products for the general use of the customers. In this way, local farmers' brands can be discovered by ordinary consumers in retail.
To become a WholeFoods' supplier, food producers simply need to send an email with complete and accurate information, though this doesn't guarantee their products' acceptance. 
How does the B2C food platform work?
When you enter your city, and choose the shop you prefer, the website will take you to the page with products available at that shop. You can sort out the products according to such filters:
Best value 

Spotlight

By category 

By dietary preference
The variety of filters are designed to help you choose the right type of products.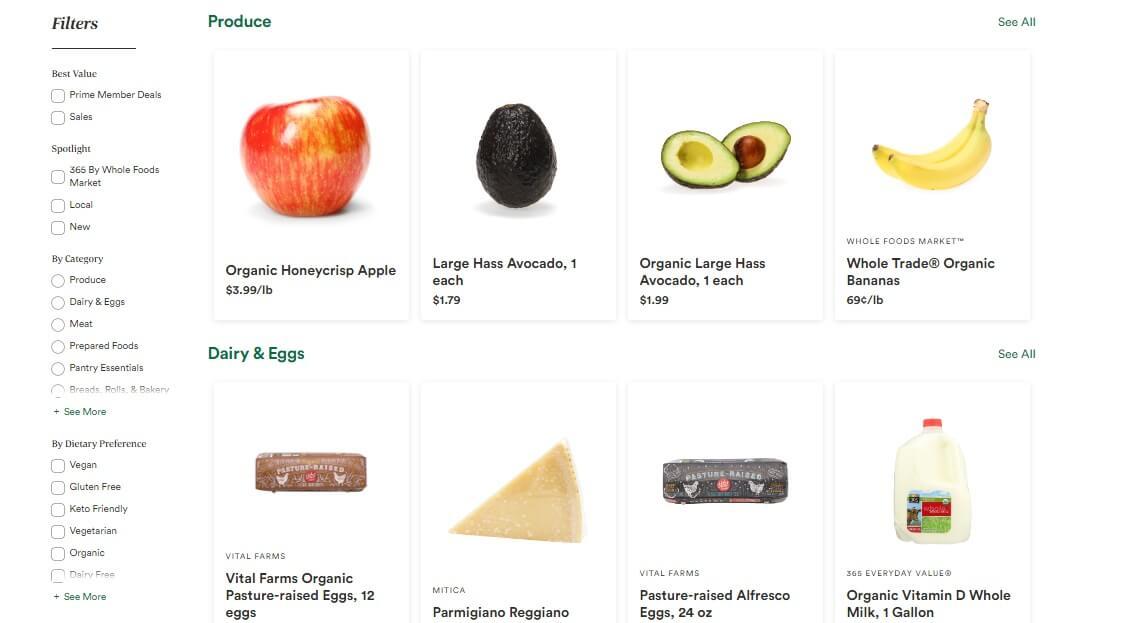 Online Ordering
To order online, the ecommerce platform for healthy foods will redirect you to Amazon Prime. You can opt for the grocery delivery and pickup, shop side dishes, appetizers, and even full meals for pickup at your local store. 
OurHarvest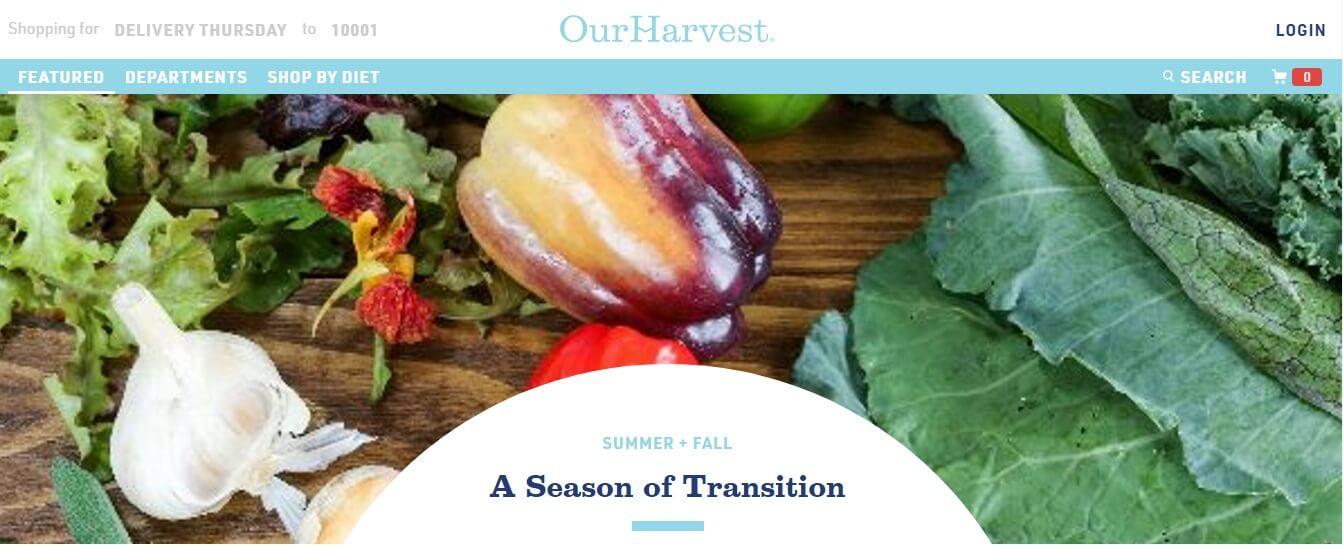 OurHarvest is New York's online marketplace for farmers with grocery delivery services.  It connects suppliers of local, farm-fresh, organic ingredients directly with consumers.
While shopping with OurHarvest, customers get:
Easy shopping. 

There is a curated selection of high-quality products near their location. 

Fresh products. 

The products available at the website are super-fresh, sometimes harvested just hours before delivery at the local farms.

Zero trouble. 

Without any trouble of traffic or long lines, customers get their orders delivered right to their doors. 
OurHarvest collaborates closely with their trusted selection of farmers and suppliers, and gives them the means to sell their products directly through an e-commerce platform to consumers.
How does the buy and sell platform work?
When customers choose their location, they will be able to opt for the delivery window perfect for them and start searching for the right products. There are three categories:
Featured products

Departments (include produce, meat, poultry, seafood, dairy & eggs, pantry, bakery & sweets, drinks, frozen, kitchen & household, meal kits & bundles)

Shopping by diet (organic, grass-fed, gluten-free, kosher, paleo, vegan, no-sugar-added, dairy-free)
After finding the right products, customers simply add them to the cart and proceed to the checkout. At this step, they will be asked to log in or register on the platform, add credit card details, specify delivery address, and add delivery notes, which are not required but can help you get your order more safely (just choose a contactless delivery option).
Main features of a buy and sell food marketplace app for farmers
Having seen some of the popular online marketplaces for farmers, suppliers, and consumers, we can highlight the essential features needed for a successful farmers app development.
If it is a buy and sell marketplace, the features for two roles have to be well-thought-out.
Buy and sell food marketplace features for sellers:
Quick and uncomplicated signup for vendors.

Save your clients time by simplifying the onboarding process.

Efficient product management.

Farmers should be able to easily add or remove any products they own, specify prices, and provide the necessary details.

Comfortable order processing with notifications.

Vendors need to see exactly what was ordered, how much, the delivery details, and be notified about different changes in the delivery process.

Communication tools.

Sellers and buyers need to communicate with each other to quickly resolve any queries. 

Review or rating system.

The buyers always want to be sure that they can trust the seller. By enabling feedback from previous buyers, farmers can build trust with their potential customers. 

Products promotion.

For farmers and suppliers to sell more, the buy and sell food marketplace should provide tools to promote their products, such as featured products or discount campaigns. 
Buy and sell food marketplace features for buyers
Customer registration / login.

Customers should also access the e-commerce platform effortlessly.

Attractive UI/UX.

The appealing and user-friendly design can make all the difference. Create a platform for your clients that they want to use and continuously return to. 

"Your location" choice.

Buyers can shop locally, from the farmers near their location, to always get the food fresh.

Convenient search with filters.

In your buy and sell marketplace development, product search plays an important role. Buyers should easily sort out among different types of food to find specifically what they are looking for.

Easy checkout.

The process of

adding products to carts and proceeding to pay for them has to be smooth. It should include payments with various credit cards and providing details about the delivery.

Delivery options.

Users need to

schedule the day & time for delivery. They may be able to pick up at the local farm or store, or choose delivery to the doors. In the time of pandemic, people are more worried about safety, so make sure you provide them with the contactless delivery option.

Order tracking with notifications.

Customers' order tracking has to be transparent and accurate. Add notifications to make the process less fussy, but more satisfying for your clients.
To find out more about different types of push notifications, read this guide: https://apiko.com/blog/push-notifications-for-your-project-development-70-ideas/
Some additional tools business owners should think about in their buy and sell food marketplace development include:
Suitable payment gateways

Notifications and alerts

Moderation tools

Marketplace overview 

Search engine optimization

Social media integrations ь

Monetization tools: vendor subscriptions, selling fees, featured products, etc. (Read more in this

buy and sell marketplace development guide

) 
If you are wondering how much hours and money are needed for the development of such a marketplace, feel free to use Apiko's web or mobile app development cost calculator.
Conclusion
The food supply chain is a complex web, which involves producers and consumers, processing and storage, transportation and marketing, etc.  The functionality of the buy-and-sell app has to be so extensive and practical as to provide the necessary operations for these complex interactions. 
Building such a two-sided food marketplace with the needs of your end users in mind may seem a complicated and draining task but not for the experienced developers. Hiring the right app developers will save you lots of time, money and nerves by delivering a reliable platform that is able to stay the test of time and sustain your business growth. If you need help or have questions, contact us and we'll do our best to assist you!
Read more: