How to Start Your Own Enterprise Marketplace: Beginner's Guide

The impact of COVID-19 and lockdowns will be felt for years. But it also gave a great boost to eCommerce. And prompted interest in enterprise marketplace development. The numbers are quite promising as Gartner predicts "15% of mid-and high-gross eCommerce organizations build their own marketplace".
What's more, marketplaces have evolved and implemented some digital transformation approaches. Many companies noted that they've overlooked the value marketplaces as distribution channels. 58% This is how many online retail sales came from marketplaces in 2019. No wonder that retailers, manufacturers, distributors got allured by developing their own enterprise marketplaces.
How to opt-in for

business software development

?

What is behind the enterprise marketplace trend?

How to choose between B2C vs B2B vs P2P marketplaces?

Is there a good example of a marketplace to follow?

How to create a powerful marketplace like eBay, Etsy or Amazon?
If you've asked yourself these questions, you're in the right spot. Keep reading to learn more.
What is an online marketplace?
The online marketplaces are certainly not new. This is an independent platform that connects vendors and customers. No warehouses, just a database with services or goods descriptions and pictures.
Despite all the trends and innovations, they follow the key aim: beef up the exchange of goods and services. A brief overview of the online marketplace history is something like this:
In the 90s, marketplaces looked like

a listing service

. Contact offline and no way to check the vendor's credibility. 

In the 2000s, they were

Craigslist-structured services

tailored for specific industries. The navigation craved for improvement. Contact is still off the platform. The credibility still questioned. 

In the 2000s, the functionality evolved and appeared the

home services websites

like Angie's List. The options like buyer reviews, certified vendors, quote request forms were a breakthrough. Customers go offline to contact vendors.

Along with mobile adoption in the 2010s,

on-demand marketplaces

started popping up like mushrooms. They helped you in a couple of clicks to book a service, rent an apartment or find a job.

Currently, the marketplaces are mostly

managed

. So the operators focus on delivering quality services and work on ensuring the trust between providers and customers.
Despite the type of marketplace, the competition is severe. That's why such features as fraud detection and real-time tracking are trending now.
Details matter: overview of enterprise marketplaces
All right, you want to build your own enterprise marketplace. How to get the most profit from your efforts? Focus on the right audience and choose the appropriate business model and management type.
Audience: Who are the participants?
B2C marketplace

serves businesses and customers. There is no third-party interference in the selling of goods or services. But the emotional response to the brand and product plays a vital role in the bottom-line numbers. The vivid representatives are AliExpress, Bonanza, eBid, eBay, App Store, Google Play.
B2B marketplace platform helps businesses with their goods or services to other businesses. To put it simply: the platform extends the distribution channels, enhances getting on with the new partners, and selling in bulk as well. Such an online marketplace is managed by a third party. The operator handles the processes automation, invests in customer experience and deals transparency.

 

Besides, Gartner says that "at least 70% of the enterprise marketplaces launched will serve B2B transactions". The samples of B2B marketplaces are Alibaba, Amazon, Rakuten, Mercateo, Labelcorner, Global Source, Made-in-China, and eWorldTrade.
P2P marketplace is also sometimes called customer-to-customer (C2C) marketplace. The platform helps customers sell their products or services to each other. The peer-to-peer marketplace comes as a part of the sharing economy: People use resources optimally. They rent them, don't buy. So today you're a customer and tomorrow you're a provider.

 

A few statistics here would be useful: PwC predicts that peer-to-peer marketplaces will be worth $355 billion by 2025. The prominent samples are Etsy, Amazon, Uber, Postmates, Airbnb, eBay, Upwork.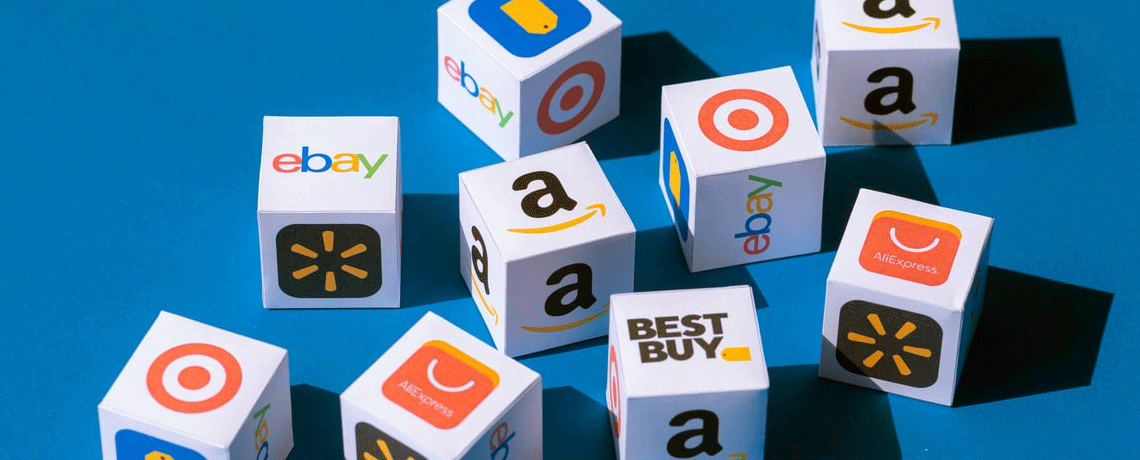 Building a marketplace platform: What revenue models are available?
Subscription or membership
The subscription business model is used mostly in B2B marketplaces. Some or all users have to pay a recurring fee for accessing the marketplace. You can set a few tiers which differ depending on: number of offered goods or services, available features, or visibility in search results. 
This revenue model resonates with the providers that offer high-value offers, unique experiences or their targeted customer engaged in several transactions. Who uses such a model? LinkedIn, StackOverflow Careers, Skillshare, Studiotime, Venuu, Love Home Swap and Home Exchange.
This model is beneficial for your providers. They get charged when the lead has contacted them. How does it work? A customer leaves a request on the platform and the provider pays the bid for this customer. For whom does it suit? For B2C or B2B services providers who build long-lasting customer relationships or recurring purchases. Thumbtack uses this model quite successfully.
This model shares big popularity for being lucrative for B2C and B2B marketplaces. It works like this: Once a customer purchases from a provider, the marketplace simplifies the payment and charges a fee or percentage. Benefit for the providers: They pay after getting some value from the platform. Usually, the commission goes from 10-30% for each transaction. Alibaba, Etsy, eBay, Airbnb, Uber, Fiverr and Booking.com apply this model.
The model is quite simple: Once you decide to list an item, you have to pay a flat fee. That works well if the provider gets value from the number of listings. The classified ads platforms use this approach. They aggregate lots of listings to a single source and guarantee visibility. Examples of this model are Craigslist, Etsy, Mascus.
The freemium model goes in hand with the paid premium services. The basic features are free. You hook customers and suggest paid premium services (i.e., insurance, delivery, promotion, featured listing, etc.) The pain point of this model is identifying the value feature your customers would be ready to pay for.
Another way to use this model is an additional revenue stream. For instance, Etsy offers paid direct checkout, listing promotion, shipping labels to providers that show persistent growth.
Advertising and featured listing
You provide a free listing on your marketplace. The featured listings will be interesting for providers who strive for more visibility. As a rule, the featured goods or services appear on the home page or at the top of a specific category. Gumtree and Etsy offer such an option.
Often, P2P platforms offer to third-parties CPI (cost per click), CPC/PPC (cost/pay per click), or cost per specific period (day, week, month, etc.). Another important thing about this eyeballs selling is a decent amount of users and a really specific niche. This way, you generate meaningful revenue and show relevant ads which are less annoying.
Industry focus: What is the focus of your enterprise marketplace?
Vertical

type is a rather narrow one - it focuses on a defined niche, industry, or type of customer. At this marketplace, you can't sell anything to anyone. 
The good: You offer higher value, save on marketing campaigns, succeed in platform management, and earn more from a smaller audience. Not-so-good: Don't expect a high transaction number from a narrow approach.
The example of a vertical marketplace is Hired, Uber, Airbnb, TaskRabbit, Udemy, 99designs, StyleSeat, Beepi, Instacart, LoveCrafts.
Horizontal

type covers all imaginable products and services targeted at as large audience as possible. 
The good: You sell to many audiences so get a high transaction number, low operation costs. The not-so-good: You need to build a complex marketing strategy, profit margin may be lower, severe competition, and invest more in customer support.
eBay, AliExpress, and Amazon are the samples of the one-stop-shop platforms.
What is the management approach?
Usually, the P2P marketplaces are unmanaged. Here customers make their purchase decisions based on ratings and reviews. The marketplace operator doesn't run background checks or feedback analysis. Such online marketplaces have a lower fee. The samples are Etsy, Craigslist, Upwork, eBay and Fiverr.
The listing at such a marketplace presupposes background checks, verifications, and quality control. The marketplace operator cares about the quality of content, credibility of sellers, and customer protection. For instance, Uber, Grubhub, Shutterstock and Airbnb invest in background checks, content quality and user verification. 
This type of enterprise marketplace takes on the whole process: monitor access to the market, supply, operations, and transactions. That brings a great user experience for all participants. The samples of such marketplaces are Opendoor, Luxe, and thredUP.
What product/service types are there?
Online marketplaces help to improve the visibility of 
goods sales

booking services

rental services

consulting services

project marketplaces (e.g., crowdfunding)

hybrid type supporting goods and services
What are the challenges?
Before deciding to outsource the enterprise software development, investigate what are the challenges of running online marketplaces.
B2C marketplace

Targeting a specific niche increases your chances of gaining a competitive advantage.

The pricing system takes time for development to fulfill the needs of providers and customers.
B2B marketplace

Brand awareness and credibility boost take time and expect a certain amount of investments.
P2P marketplace

Fail to offer effective solutions to fix targeted audience issues.

Include an overwhelming range of products and services. Take a narrow focus and a quality supply at the beginning.
Before you break into enterprise marketplace development, define your whys
The market leaders like Etsy, Amazon, eBay, Airbnb become billion-dollar businesses and it brings courage to build a custom marketplace. Thus, it isn't a common vendor-customers relationship.
Why do I need to invest in marketplace technologies?
It's important to figure out the answer to this question well before you begin developing a business plan and hire a developer agency.
Personalized distribution channel.

You can build an online marketplace to fit your business needs.

Multiplatform.

The custom marketplace can be compatible not only with smartphones and tablets but also with external services. Some B2B customers integrate marketplaces with their procurement or

ERP solutions

.

Secure environment.

The off-the-shelf marketplaces might have mediocre security features. Building your own enterprise marketplace you choose the security options: a) to ensure data privacy and b) prevent fraudulent and malicious activity.

Scalable for growing business.

Plan and build your online marketplace with the potential to handle the high volume of listings, customers and transactions. That's essential for balanced growth.
Should I develop a native mobile app for my marketplace?
That depends on your marketing concept and targeted audience preferences for online shopping. We run lives on smartphones right now, so quick access to different products resonates with us. No wonder that many U.S. retailers are investing in marketplace apps. Besides, the real-time interaction with customers may bring exponential growth. Quick fact: eBay's app was downloaded more than 51 million times, localized, and available in over 195 countries.
The marketplace business is successful and lucrative, but complex and competitive at the same time. Out there you can find dozens of variables for operational processes, audience and revenue models.
Enterprise marketplaces to learn from
Now having a crash course on what an online marketplace is, you think about what are the examples of online marketplace worth following (or replicating in another niche.)
Here are Statista's most popular online marketplaces according to online sellers in the U.S.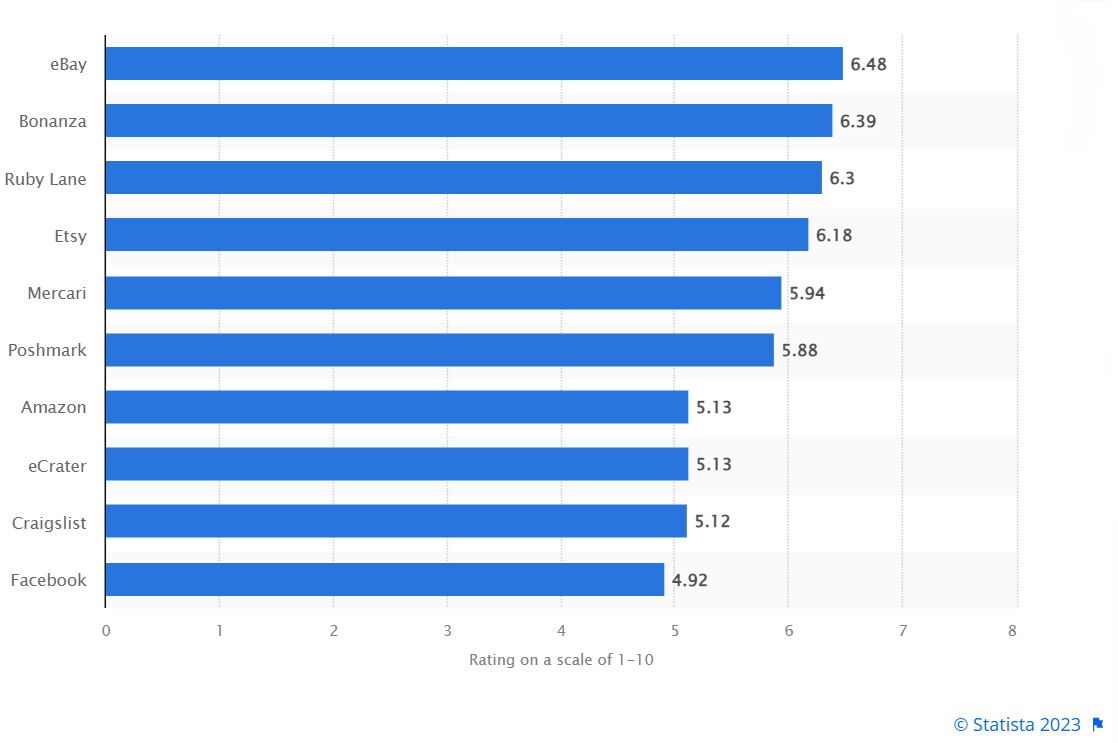 Facebook marketplace has several benefits: It's free and has a large targeted audience. AI-powered search helps customers to find the best offer. Plus, you can check the customers' reviews and ensure those are real people. But you can't sell real items, services, animals, or healthcare goods. Also, Facebook won't show the offers with misleading descriptions or pictures and listings with before and after pictures.
Craigslist is a free classified advertising site with jobs, internships, housing, personal advertisements, services, for sale/barter/wanted, services, community, and pets categories. It uses a listing fee model. Most listings reach a wide, but local, geographic audience. The active users overflow 20 million so the scam incidents here or there.
eCrater works in the retail industry. It offers an online marketplace and a free web store builder. Here you sell and buy nearly everything. The platform delivers decent customization for store owners. eCrater has a selling commission: if you bring a customer yourself, no charges. But if you got sales with the help of the platform, you pay a commission of nearly 3% of an item.
Amazon marketplace supports the selling and buying of anything from retail to services. The platform has a monthly listing fee and commission fee while the number of product listings is unlimited. The platform gives marketing and reporting tools to optimize your sales and better control your presence. The "Dispatched by Amazon" option is a logistical tool that helps providers to run their sales globally.
Poshmark is a social online commerce site where users can buy and sell fashion items such as clothing, shoes, and accessories. You can sell both new and used items for women, men, and children. It charges a fee for selling via the app. For sales under $15, it's a flat rate of $2.95. For sales of $15 or more, it's 20% of the item's selling price. Poshmark guarantees that items listed for sale arrive as described.
Mercari is a P2P marketplace that helps to buy and sell almost anything: things you don't use, never used, or simply outgrew. The platform uses identification verification and reviews to ensure all parties are fully informed. Mercari charges sellers 2.9% plus $0.30 for each payment received from the customer. It works via an app and automates the selling, shipping and tracking processes.
Etsy is an online marketplace where vendors typically sell a variety of handcrafted or vintage goods. Some artists sell digitally downloaded items (i.e., art prints, stationery designs, planners, or other printable documents). Etsy doesn't require sellers to have a business license to open a shop. The platform charges fees for listing and selling items. Etsy also offers additional services: payments, ads, shipping fees, and currency conversion.
Ruby Lane is one of the biggest curated marketplaces for antiques, vintage collectibles, vintage fashion, fine art and jewelry. The marketplace operator takes care of keeping fakes and reproductions off of its platform. The store setting up and listing is free, but the maintenance fee goes from $54/mo for up to 50 listed items.
Bonanza is an online marketplace divided into multiple categories to help buyers find exactly what they're looking for. Here providers sell everything from unique and handmade items, washing machines to apparel and jewelry. The platform supports Google integration and Product Sync. Bonanza has a commission model (base fee 3.5% of the sold item price) along with the advanced membership with separate price/feature tiers.
eBay is an online B2C and P2P marketplace. Providers sell via Buy it Now and bidding option. The revenue model is an item listing fee, a commission on the sale, and advertising. eBay invests in the authentication policy, offers a return policy, collects feedback, reviews and customer reports on fake and unauthenticated products.
A feature box of successful online marketplace software
Either you want to develop a B2B platform or P2P marketplace, you need a platform to help and deliver an outstanding experience to providers and customers.
The basic feature set includes admin tools, seller tools, order and financial management, and monetization tools. Gartner suggests a well-thought list of features that fulfill the needs of all counterparts of the enterprise marketplace: an operator, a seller and a buyer. That's good stuff to save for further iterations.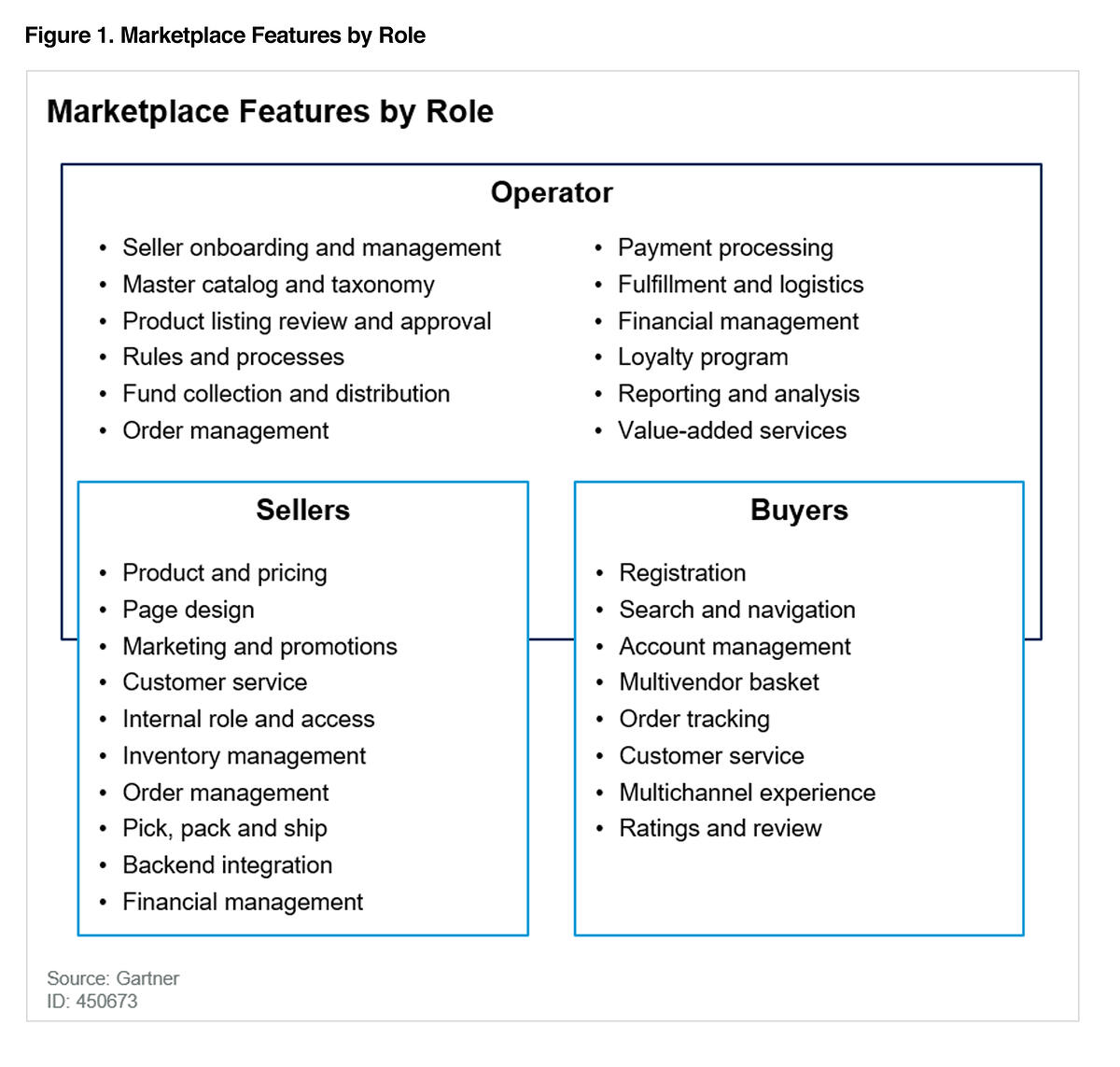 If you've decided to build a custom marketplace, you should start with an MVP and test the business idea or attract investors. Take a look at this MVP marketplace functionality list:
Platform operator:
Registration

is like the keys from your marketplace. The multiple sign-up options are great to offer, but one registration option is good for an MVP marketplace. 

User profiles

are coming in two variations: a provider and a customer. Ensure this depicts all the necessary information.

Operator panel

is a must-have for the marketplace owner. Here you change or customize settings (fee/membership, listings, filters, categories, payments, shipping) for providers.

Payment methods

show how a customer can pay for - card types and payment gateways. The more payment options, the better buying experience.

Shipping

is a must-have feature for selecting the most convenient delivery way.

Notifications improve user experience and accelerate many processes. To put it simply: with one click either a provider or a customer will shift to a specific page.
Vendor:
Product listing

helps to distribute an item or service to potential customers.

Provider dashboard

delivers data on listings, customers, payment methods, shipping, and the like.

Order management

helps to keep track of new orders and arrange labels for dispatched, canceled, and order return/refund.

Marketing campaigns

. Enable features to promote the visibility of the products, run discounts, or set bidding option.
Customer:
Customer account

shows the personal information, previous orders, and a wishlist.

Search

is a vital feature. It smoothes the navigation and saves time from simple monitor-shopping. Also, customers can check out the items or services offered by a specific provider.

Product page

helps vendors to sell. To gain more reliability, it should provide high-quality pictures or videos, detailed descriptions. 

Shopping cart

performs an obvious role - it contains selected products. Add here also the number counter for products, a delete button, payment methods and shipment costs.

Ratings/reviews

impact customer's final decisions and add up to marketplace credibility.
Marketplace development strategy: Where to start?
What should you do if you just have an idea about the custom marketplace buzzing in your mind? 
Start with identifying

the niche

. Whose issues does your enterprise marketplace going to solve? Where you can widen distribution channels? Analyze the growing trends and identify a niche that resonates with your business model and functionality. 

Audience.

Who is going to use your platform to sell and buy? Look outwards, think about the providers or customers that are overlooked by others.

Revenue model.

It is better to be chosen in the initial stage of defining your niche and targeted audience. In the beginning, try to appeal to both vendors and customers with free services. Later you can introduce a commission of fee for one or both sides. Or maybe you come up with some unexpended business model.

Marketing.

At the dawn of creating, your marketplace comes with a vicious cycle. Customers won't come if there are no vendors. And vendors won't come because there are no customers. The fix: they should come simultaneously. How to make it happen? Invest in a marketing team before your marketplace goes live.

Tech stack.

During wireframing your design, keep in mind the main problem your marketplace is going to solve. The technology, however, is also essential for managing growing volumes of products, active users, and transactions.
How to build an enterprise marketplace?
Each wants to be more successful than the others. The technical and operational side of your online platform impacts the bottom line. There are a few ways (varying in complexity) to develop your enterprise marketplace. The brief checkout to route your mind further.
Use the open-source software
You can download or buy a one-time fee open-source marketplace tool, host it on your servers and customize it to your preferences. It's a fast and cheap way that costs more in customizing and further maintenance.
You can get your marketplace without coding. Just create a SaaS solution with included hosting and white label feature. Your go-to-market time will be short as the customization abilities of the platform.
WordPress + plugins and extensions
Use WordPress to create a website. The extensions and plugins help you to make it look like and perform like a marketplace. The benefit is the low maintenance expenses, but dragging UX and vulnerability because of the plugins interplay.
Hire a development team or agency to build an enterprise marketplace from scratch. The good news: you add any functions, design and UX you like. The bad news: it takes time and investments to fulfill. Thus, you can turn your attention to outsourcing agencies from Eastern Europe.
Wrap up
The pandemic in 2020 gave a strong boost to eCommerce. And the enterprise marketplaces weren't left behind but kept on conquering the retail industry. The win-win benefits for sellers and customers: outreach in the right places with the right offer plus enhanced shopping.
Hope that our enterprise marketplace overview helped you wireframe the idea of your future marketplace. Anyway, if you are looking for a reliable development partner, the Apiko team will gladly help to build an online platform for you. Schedule a call to discuss your project ideas.